Tennessee Beats N.C. State: The Good, the Bad and the Ugly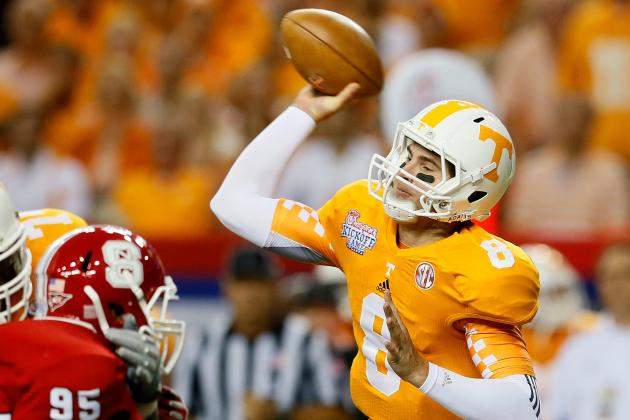 Kevin C. Cox/Getty Images

It's football time in Tennessee and like every other year, expectations are high for Derek Dooley and the Volunteers.
This year, the Vols opened up the season with a big win against North Carolina State, 35-21.
Tonight showed us a lot about the Vols and what to expect from them for the remainder of the year. Without any significant injuries, it looks as if the Vols may be able to contend with the upper half of the SEC.
Tonight wasn't all great, though, as we also saw what Tennessee should work on for Week 2 against Georgia State.
Before we get to next week, let's take a look back at tonight's action with the good, bad, and ugly from Tennessee's victory over North Carolina State.
Begin Slideshow

»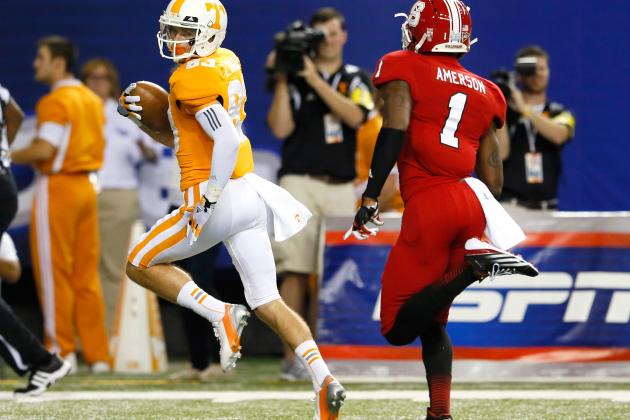 Kevin C. Cox/Getty Images

Tennessee did a lot of things well tonight. The biggest question was how the Vols would replace Da'rick Rogers at wide receiver. Simple, with Cordarrelle Patterson.
Patterson played out of his mind in his first game with Tennessee as the junior college transfer racked up 93 yards receiving and a touchdown as well as 72 rushing yards and a rushing touchdown.
I had no doubts that quarterback Tyler Bray would play well. Before his thumb injury last season, he was one of the top quarterbacks in the SEC. Tonight, he once again looked every bit of that as he produced 332 yards passing with two touchdowns.
For Bray, it was his seventh career 300-yard passing game and Vol fans are expecting a few more as the year rolls along.
Tennessee also established a nice running game in the second half with the combination of Marlin Lane and Rajion Neal.
Tennessee played very good defense late in the game and showed that this will be the team that can close out games with a late lead, something Vols fans have been hoping for for a few years now.
The Vols only committed one turnover in the game, albeit controversial. Bray fumbled the ball while trying to score from the goal line. It appeared that he broke the plane with possession and the fumble should have been overruled to a Tennessee touchdown.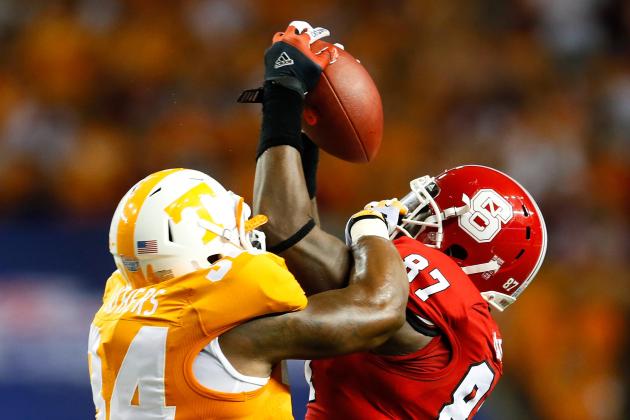 Kevin C. Cox/Getty Images

If you're looking for bad things to take away from this game, we'll start and mainly focus on the defensive side of the ball.
Tennessee had some nice interceptions late but at times, the secondary struggled with talented N.C. State quarterback, Mike Glennon.
Also, Tennessee showed many times their inability to finish drives and convert short third downs. This is a key improvement Tennessee needs to make when they face tougher competition in the SEC.
Kevin C. Cox/Getty Images

The game wasn't the prettiest, especially the second half, but it wasn't a very ugly game neither.
One thing that does continue to play in my mind is Justin Hunter's drops.
Hunter played well in his first game back from his tragic ACL injury that cost him the majority of last season. But when targeted more often in the second half, Hunter dropped nearly five balls that hit him in the numbers.
Bray landed a perfectly-thrown ball right in his hands that would have likely been six for Tennessee.
Although the majority of the drops came in the second half when it appeared Tennessee had already locked the game up, Hunter will be the go-to guy on this team.
Patterson had a great game, but it's hard for me to believe that this one game will move him to the No. 1 receiver spot.
All together, this Tennessee squad looked great, but the same was said last year after their win over Cincinnati. Hopefully this Tennessee team can, stay healthy and finish the season strong to show they're ready to compete in the SEC.