5 Reasons Detroit Lions Fans Have to Be Excited for the 2012 Season
Gregory Shamus/Getty Images
In less than one week, the Detroit Lions will kick off the 2012 season against the St. Louis Rams, and excitement is at an all time high. That's because, after decades of losing, the Lions are finally competitive—and fun to watch.
They have two superstars in Matthew Stafford and Calvin Johnson who give them a chance to win every time they take the field, and the nation has taken notice.
Not even in the Barry Sanders era were the Lions, dare I say, respected on a national level. It's a new experience for fans of the silver and blue.
That's not to say they don't have concerns that threaten their success. The running game, the secondary and maturity issues linger. Then again, what NFL team doesn't have a concern or two?
The "old" Lions are no more, and this current group have given fans every reason to be optimistic. They finished 10-6 last season, and there is no reason they can't repeat that success.
Here are five more reasons that fans have to be excited for the season to come.
5. The Rookie Impact
Kirby Lee-US PRESSWIRE
The Lions cut down their roster to 53 players on Friday. Not surprisingly, they kept all seven of their recently drafted rookies.
Martin Mayhew has repeatedly shown a commitment to the players he drafts, and that philosophy has paid off in the win column for Detroit.
Not all the rookies will have huge impacts this year. Travis Lewis, Ronnell Lewis and Tahir Whitehead will be backups and special teams players. All have shown considerable promise during preseason, though.
If the veteran starters ahead of them go down, each one of them could step in, and there would not be that great of a drop-off.
Riley Reiff, Ryan Broyles and Bill Bentley will get considerable playing time and will have major roles in the success of the Lions this season.
Reiff could provide considerable improvement to the offensive line, particularly in the area of run blocking.
Broyles joins a crowded receiver group but could emerge as an early rookie-of-the-year candidate. He excels out of the slot, and given the pass-first offense the Lions will rely on, he could be the beneficiary of many Matthew Stafford bullets.
Bill Bentley is the favorite to win the starting cornerback job opposite Chris Houston. He'll struggle at times, but his big-play potential is undeniable.
They're all rookies, so none of them are sure things. However, Lions fans should be excited about the potential each of them has to impact the Lions this season.
4. Prove the Critics Wrong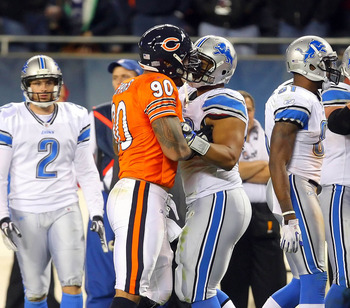 Dennis Wierzbicki-US PRESSWIRE
Most experts acknowledge that the Lions are not the same dismal franchise they used to be. They have been shown respect on a national level and are even considered by many to be a top-tier team.
However, few predict the Lions will take the next step this season. The reason for that is simple. The Lions' secondary is a mess, and their well-documented maturity issues raise more red flags than a Canadian pride parade.
In the latest issue of Sports Illustrated, the great NFL writer Peter King predicts the Lions will finish 9-7. That's one more loss than last year.
He also predicts that they finish behind the Green Bay Packers and the Chicago Bears in the NFC North and that they miss the playoffs.
That should get fans' blood boiling.
King is not alone, though. Many experts talk up the Lions as a great team with dynamic stars on offense and a potentially great defensive line. Most of them rate the Lions third-best in their division though.
Pat Kirwin and Pete Prisco, both of CBS Sports, predict a similar fate for Detroit as does ESPN's Kevin Seifert in his NFC North Blog. Truth be told, only one ESPN analyst—Jeffri Chadiha—predicts the Lions will finish ahead of the Bears.
Fans should be excited at the chance the Lions have at making everybody eat their words.
3. Mikel Leshoure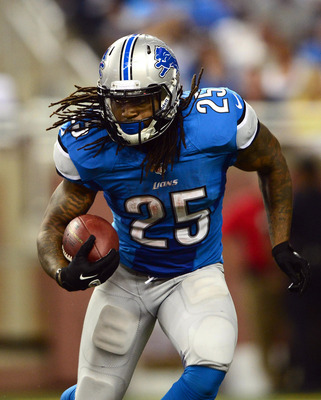 Andrew Weber-US PRESSWIRE
Mikel Leshoure hasn't exactly lit the world on fire during his two games of action this preseason. According to ESPN, he carried the ball 20 times for 44 yards and one touchdown against Oakland and Buffalo.
His stats aren't the point. Leshoure is finally healthy. He appears to be fully recovered from the Achilles injury that robbed him of his rookie year and looks like the player the Lions drafted.
Despite averaging only 2.2 yards per carry, he showed off a power-running style and an ability to make defenders miss. That's exactly what he was brought in to do.
The Lions run blocking for Leshoure was atrocious. It wasn't his fault. That will be something the offensive line will have to work on.
Regardless of that, Leshoure showed that he can be "the man" in the Lions' backfield and carry the load. That's particularly important given the loss of Jahvid Best.
With Leshoure, the Lions' rushing attack won't be as weak as it was last season, and fans should be excited about seeing what he can do.
2. Prime-Time Action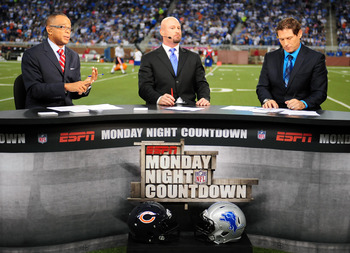 Andrew Weber-US PRESSWIRE
There's really nothing more exciting than watching your favorite team under the lights in a nationally televised prime-time matchup.
The Lions are now worthy of such games.
Prior to the Mayhew-Schwartz era, the Lions rarely got consideration but now they're a valuable commodity. The NFL wisely scheduled Detroit for four prime-time games in 2012.
The fact that they're are at night should get fans fired up. The fact that these games are against bitter rivals (both new and old) should make fans giddy with anticipation.
In Week 7, the Lions get the Chicago Bears on Monday Night Football for the second year in a row. They get the San Francisco 49ers in Week 2 and the Green Bay Packers in Week 14, both on Sunday night. Finally, they take on the Atlanta Falcons in Week 16 for a Saturday night affair.
Lions fans haven't seen this much football at night since...well, never.
They should get used to it. With players like Matthew Stafford and Calvin Johnson gaining popularity on a national level, prime-time games will become an annual tradition.
1. Matthew Stafford to Calvin Johnson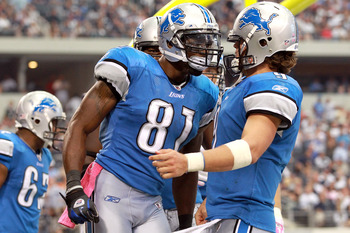 Ronald Martinez/Getty Images
The Lions' superstar combination of Matthew Stafford and Calvin Johnson is arguably the most dangerous quarterback-wide receiver tandem in the NFL.
They clearly demonstrated that last season.
Johnson became the best receiver in the league. He's capable of routinely beating double- and triple-teams and nearly impossible to stop in the red zone.
Stafford is a future Pro Bowler capable of putting the ball in places only Johnson can get it. He proved his elite status with a 5,000-yard passing season in 2011.
The scary thing is that they're just starting to learn to play together. 2011 was only their first full season playing together. Their relationship on the field will only get better.
For that reason, the best is yet to come. 2012 might not be their "best," but there is no reason to think it won't be better than last. Stafford is still maturing, and that will only make the pair better.
With Stafford and Johnson, the Lions always have a chance to score—from anywhere on the field—and that should excite Lions fans above all else.
Keep Reading

Detroit Lions: Like this team?