Dallas Cowboys: 10 Things We Learned from the Season Opener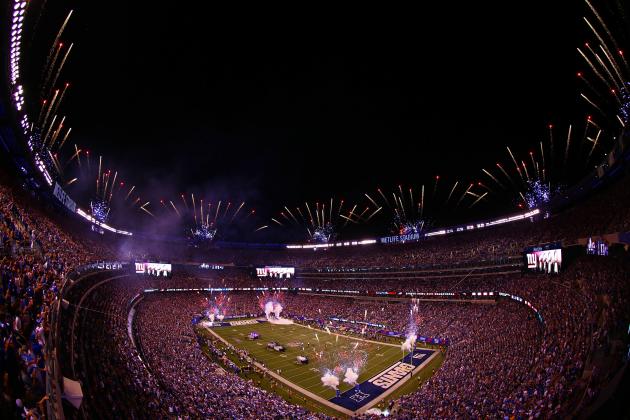 Michael Heiman/Getty Images

Two-hundred forty-nine days have passed since the New York Giants defeated the Dallas Cowboys in the regular-season finale that propelled them toward their second Super Bowl title in five years.
For 249 days, head coach Jason Garrett and his men began preparation for the season opener, and upon the NFL's announcement that the opening game would be a repeat of the last time they took the field, salivated at a chance to spoil the Giants opening night.
After 60 minutes, the Cowboys ended up on top, 24-17 in an entertaining season opener.
Here are some things we learned about the Dallas Cowboys from tonight's game.
Begin Slideshow

»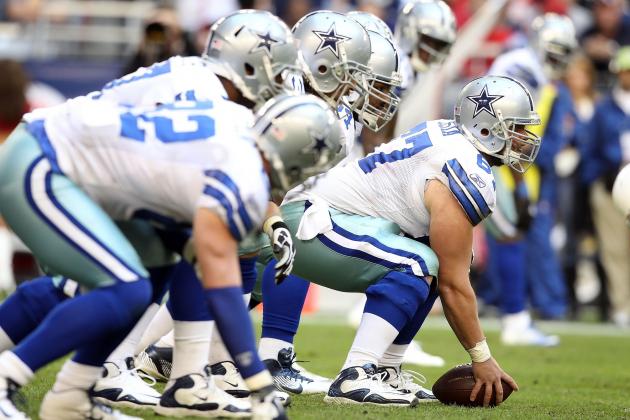 Christian Petersen/Getty Images

Injuries plagued this offensive line throughout the preseason, and with barely a handful of practices together, they came out and performed.
The illusive repertoire of Tony Romo and the hard-nosed running by DeMarco Murray made this offensive line look good. Tyron Smith didn't look nearly as polished as he did his rookie year, and for Romo's sake, he better pick himself out of this "sophomore Slump."
I don't envy the amount of push-ups Tyron is going to have to do to pay for all the false-start penalties he committed.

Pass protection wise, the offensive line didn't do horribly, considering the last time the Cowboys played the Giants, Tony Romo was on his back six times.
There is room for improvement, but we are 1.0625 of the way through the season. Expect the coaching experience of Bill Callahan to improve this group as the year goes on and they get gain more cohesion through practice and play time.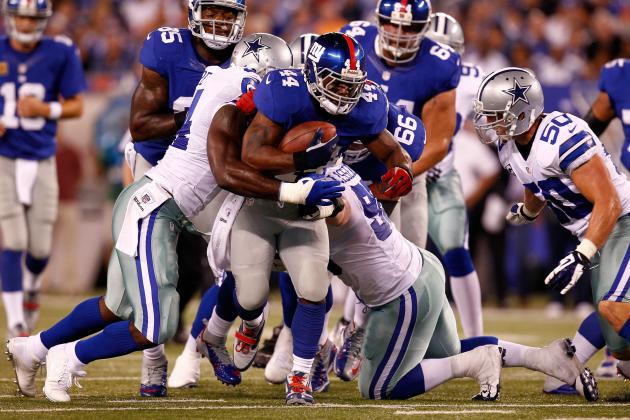 Jeff Zelevansky/Getty Images

With two sacks on the night, Ware came ready to play. His new-and-improved secondary friends behind him helped quite a bit as well.
On both of the sacks, Eli Manning seemed to hold onto the ball for forever, running through what seemed like third and fourth reads. Further look at the tape will reveal exactly the impact of new cornerback additions Brandon Carr and Morris Claiborne.
It seemed that as per usual billing, Ware was double-teamed to no end and still managed to get through to the QB. Any doubt as to who is the best pass-rusher in the NFL should be assured. Ware only needs 20.5 more sacks to tie Michael Strahan and 15 games left to do it.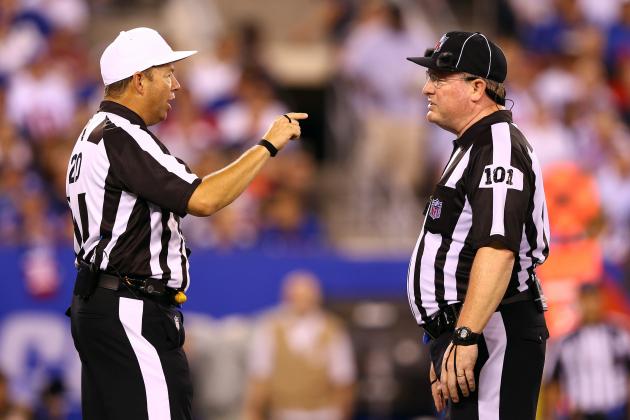 Al Bello/Getty Images

The penalties that have plagued Dallas in the past continue to plague Dallas in 2012.
The Cowboys were flagged 13 times for a total of too many yards (86 to be exact). At one point in the game, the Cowboys had 1st-and-30 due to multiple penalties. Luckily, Tony Romo and Miles Austin bailed the Cowboys out with a touchdown pass, but if these penalties persist, don't expect Romo to bail the Cowboys out.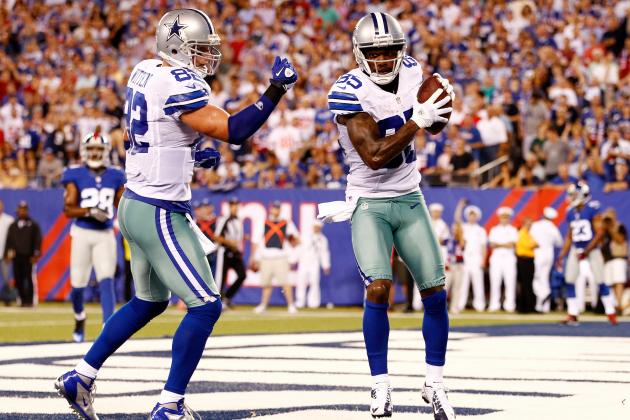 Jeff Zelevansky/Getty Images

Kevin Ogletree was the man of the night and will be one of the top fantasy football waiver-wire pickups this upcoming week.
Finishing the game with eight catches for 114 yards and two touchdowns, Ogletree has, for now, solidified himself as the No. 3 wideout for the Cowboys. His performance against the Giants was exceptional, however, it should not be expected week in and week out.
I hate to be Mr. "Buzz Killington," but the Giants were without Terrell Thomas, due to being placed on IR, and Prince Amukamara, due to a high ankle sprain, to start the game, and Michael Coe went down halfway through the game with a hamstring injury.
Ogletree did not have the best competition covering him. Regardless, his effort should get him an "atta boy" from head coach Jason Garrett.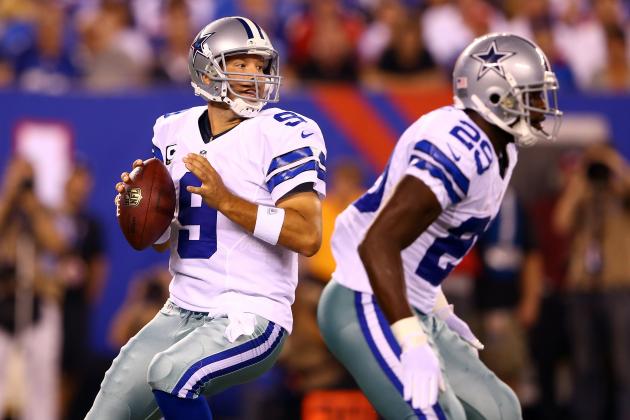 Al Bello/Getty Images

Tony Romo got the job done tonight. He didn't have a "cakewalk" of a game either for those that think less of Romo. Constantly dodging Jason Pierre-Paul, Justin Tuck, Mathias Kiwanuka, Rocky Bernard and Linval Joseph, Romo was able to put up 300 yards, three TDs and only one interception.
On December 11th, 2011, against the Giants, Romo missed a wide-open Miles Austin to seal the game. His "clutch-ness"' and playmaking ability were questioned. Tonight, Romo answered.
Staring at 1st-and-30, Romo killed the play, called an audible and hit Miles Austin for a touchdown. Upon further review, it looked as though Romo called the audible and then signaled with very intricate handle signals the route he wanted Austin to run. Miles saw it, and it led to a critical touchdown.
With the clock winding down, Romo also completed a critical pass to Kevin Ogletree to seal the win. Clutch is as clutch does, and we are going to see a lot more of this from Romo for the next 15 regular-season games.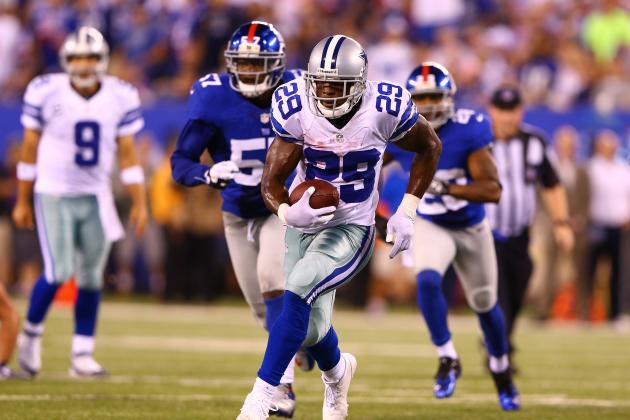 Al Bello/Getty Images

When DeMarco Murray has at least 20 rushing attempts in a game, the Cowboys are undefeated.
On 20 carries tonight, Murray racked up an impressive 131 yards (6.6 yards per carry). The late-game push for the win could be attributed to Romo's greatness, which was impressive down the stretch, however, the hard-nosed running by Murray, running over opponents and an in-the-way Dez Bryant, closed this game for the Cowboys.
His health will be key for Dallas' success through the season, but his repaired ankle doesn't seem to be holding him back one bit.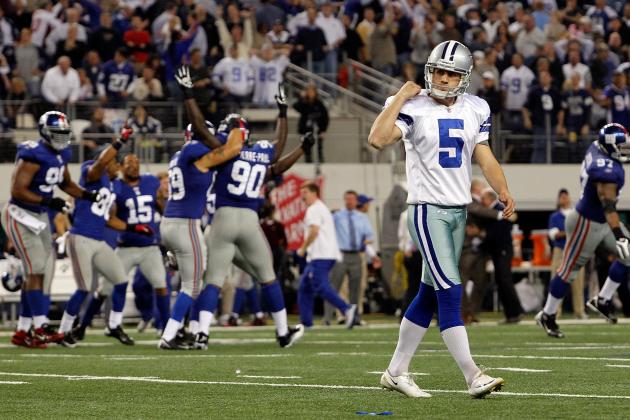 Tom Pennington/Getty Images

When Dan Bailey lined up for his field goal tonight, the only blood pressure that was on the rise was New York Giant's head coach Tom Coughlin.
There was no doubt that the football was going to sail right through the uprights, and it did. His kickoffs were not too shabby, either, with none noticeably short. If your fantasy league rewards accuracy (or punishes misses), then I hope you had the forethought to pick up Dan "The Man" Bailey.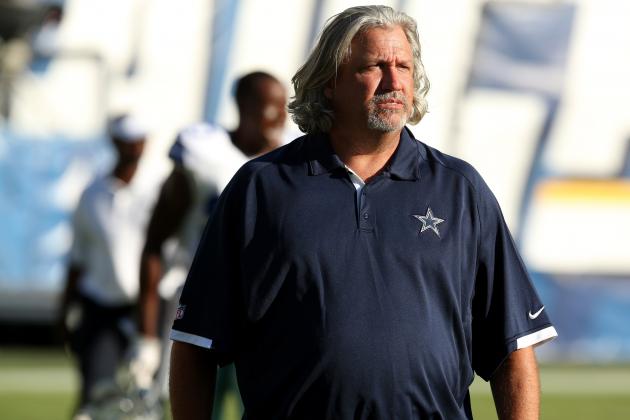 Stephen Dunn/Getty Images

With one full season and one full offseason under his belt, his unit is looking good. His secondary made Eli Manning look like a pedestrian with only 213 yards and a single touchdown. There was only one turnover, a fumble forced by Sean Lee and recovered by Barry Church, but it was enough to give the Cowboys the edge.
Scheme-wise, Ryan mixed it up extremely well, considering the down and distance of the situation. The Cowboys were not as predictable as they have been in years past, and the amoeba-like formations seemed to fluster little Eli.
At the end of the day, his defense succeeded and allowed less points than Romo and Company put up. Look for more excellence to come on September 16th, when Ratliff should be back from an ankle injury, and Mike Jenkins will return from offseason shoulder surgery.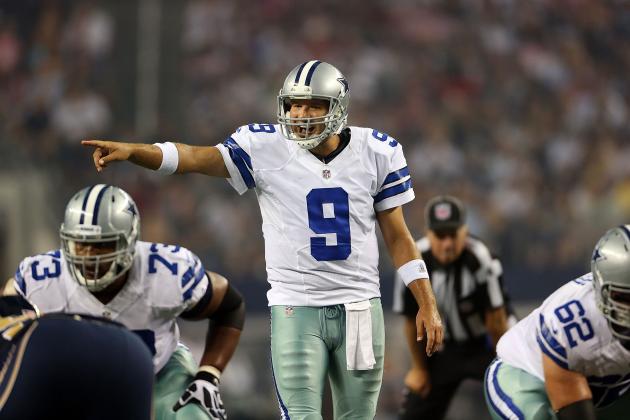 Ronald Martinez/Getty Images

Jason Garrett needs to make his play-calling more efficient in some form or fashion. Too many times tonight, the play clock dwindled down into the last remaining seconds. This not only hurts the Cowboys by making Romo rush through audibles and scrambling to get the snap off, but it also negates the advantage of the Cowboys knowing the snap count.
Penalties were an issue and even removing the one or two for delay of game can make a difference between a scoring drive and a punting drive.
Jeff Zelevansky/Getty Images

Witten was listed as "doubtful" on the Cowboys' injury report, and any news on whether Witten would be starting or not was sealed in a file, hidden inside Fort Knox and guarded 24-7 so it seems.
Fans/media were not made aware of Witten's game status until shortly before kickoff. Witten was medically cleared by his doctors although his impact on the game is not entirely significant on paper with two receptions for 10 total yards.

Luckily, it looks like Witten did not re-injure his spleen today and should be good to go with 11 days between now and the next Cowboys game against the Seattle Seahawks on September 16th.
Perhaps, Jason Garrett dialed his playbook back a little and removed the plays that left Witten exposed to big hits. Maybe Perry Fewell (New York Giant's defensive coordinator) chose to eliminate Witten from the equation and made the Cowboys beat the Giants without Witten.
One thing is for certain, after 140 consecutive starts, Witten is set to break the franchise record for career receptions midseason, and the Cowboys need his leadership going forward. Witten and his spleen can enjoy this victory and a few days of rest before the Cowboys start the process for Week 2.