Fantasy Football 2012: NFL Fantasy Sleepers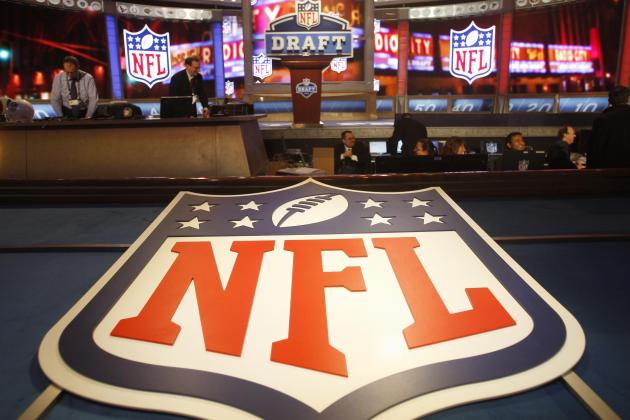 Jerry Lai-US PRESSWIRE
Draft your NFL Fantasy team could be nerve-racking, we're here to help.
As you get deeper into your drafts, most of the production tends to die down. You start picking players based on impulse and name because you figure these guys will just ride the pine the entire year, or you have been sitting at the draft table for hours and just want to get out of there.
Everyone knows that people start to get antsy after drafts last way longer than they should due to people being unprepared or showing up late. We have all been there.
However, some of these guys that you are overlooking with that mentality may actually turn out to be great spot-starters. Spot-start heroes and sleeper picks could be key to your team's success if you don't draft one of my "can't-miss" fantasy football elite players. So let me save you some time rummaging through your draft magazine or rankings in the late rounds and give you some names of the dudes who I believe could have breakout seasons this year.
Begin Slideshow

»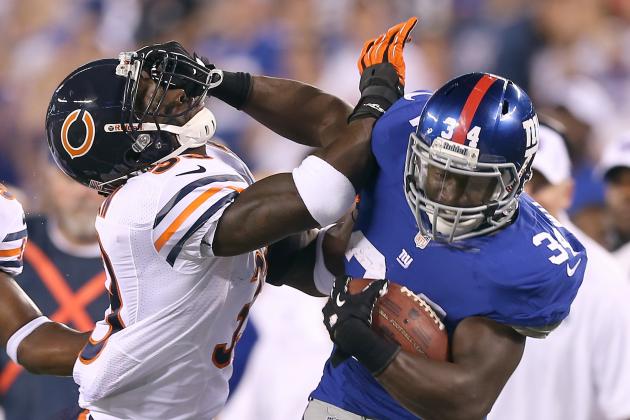 Elsa/Getty Images
N.Y. Giants RB David Wilson showing his strength in the Aug. 24 preseason game against Chicago.
David Wilson is the fastest and most explosive running back on the Giants' depth chart, but he is currently sitting at No. 2 behind Ahmad Bradshaw.
While Bradshaw is expected to take on the bulk of the carries all year, the Giants offense is known for utilizing two running backs and switching between them all game.
Whether or not Bradshaw remains healthy for the entire season, you can expect a lot of touches and ways David Wilson will be involved this year.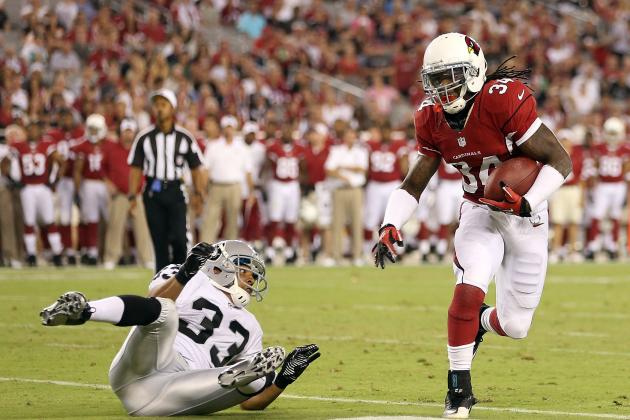 Christian Petersen/Getty Images
Arizona Cardinal RB Ryan Williams shaking off a defender in the Aug. 17 preseason game in Arizona.
The second former Hokie on this sleeper list, Ryan Williams missed his entire rookie season due to a patella tendon rupture.
With Chris "Beanie" Wells returning from a knee injury, the two will compete for the majority of the Cardinals' touches, and right now its looking pretty even.
Williams has the big-play-downfield ability the Cardinals need. However, it may take him a little while to really get going.
With Beanie Wells' inconsistency, Williams may be an NFL starter by Week 1.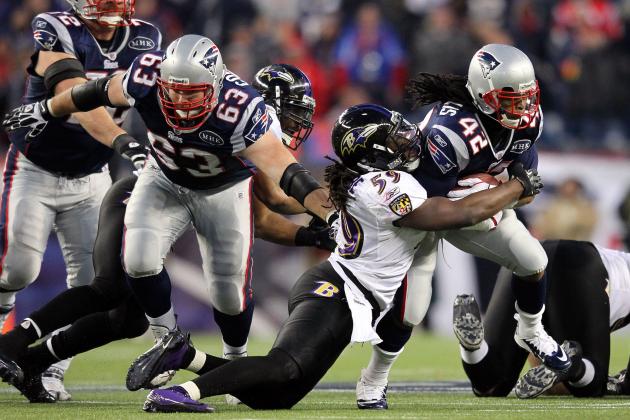 Jim Rogash/Getty Images
Now Cincinnati Bengals RB Benjarvus Green-Ellis trying to break a tackle in the AFC Championship game last season.
Now the featured back in Cincy, Benjarvus Green-Ellis will finally have a chance to emerge as a recognizable running back in a system that is a lot more run-balanced than New England's.
In New England, he grabbed 11 touchdowns, but he was never really cut loose; he was only given 180 touches in an offense that played three, maybe four running backs a game.
While Cedric Benson averaged close to 300 touches per year for the Bengals, BGE may not get that many attempts. However, he will see far more touches than he had with the Patriots, so get ready for a big production jump.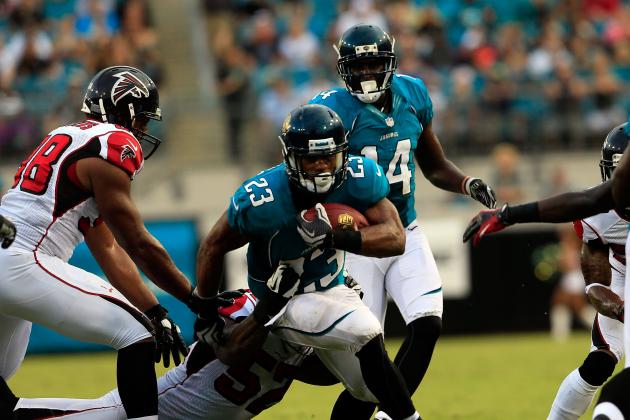 Sam Greenwood/Getty Images
Jacksonville Jaguars RB Rashad Jennings proving his worth in their Aug. 30 preseason game in Jacksonville.
With the question of whether Maurice Jones-Drew will return to the Jaguars, Jennings is an excellent late-round pick.
Jennings has been a great fill in for MJD while he's been down. In 2010, he averaged almost 100 yards per game in his absence, and he has also had a pretty good preseason.
Now completely healthy from last year's knee injury, Jennings has had almost a full fall camp of taking first-down snaps, and he is ready to assume the every-down role if MJD isn't around when the season begins.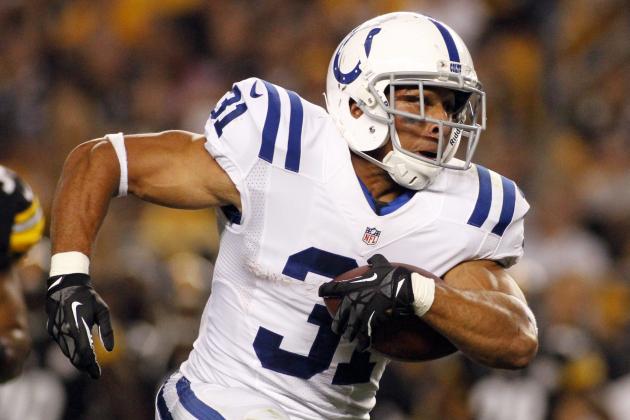 Justin K. Aller/Getty Images
Indianapolis Colts RB Donald Brown leading the running game in their Aug. 19 preseason game in Pitt.
Donald Brown has finally eclipsed the shadow of Joseph Addai and has claimed the top running back spot in Indy.
As Andrew Luck begins to feel out the ropes of the NFL, Chuck Pagano has already stated that he will rely heavily on a solid ground game all year. Brown will be called upon to shake a few tackles and open up some holes for the air attack this season.
A lack of depth in the Colts' O-line and the loss of Jeff Saturday may hurt Brown this year, so I recommend drafting with caution. Regardless, Brown looks decent in the preseason, and he averaged almost five yards per carry last season.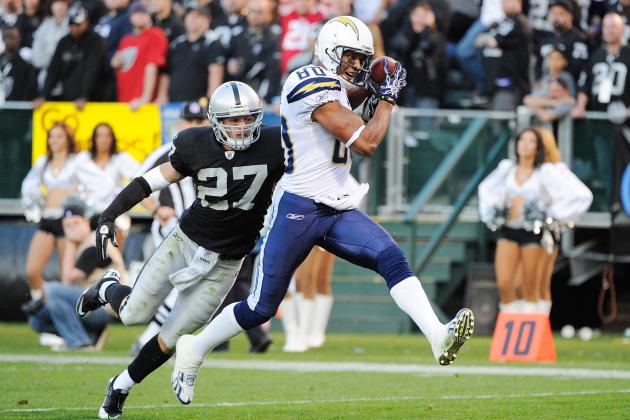 Thearon W. Henderson/Getty Images
San Diego Charger WR Malcom Floyd high-tepping into the end zone in a Jan. 1 game in Oakland.
Why aren't people talking about Malcom Floyd more often?
Now with Vincent Jackson out of San Diego, Malcom has to be Phillip Rivers' most trusted wide receiver. Currently going in the ninth round of drafts, the 6'5" Floyd towers over all other Chargers receivers and is sure to get the first end zone look.
In the last six games of the 2011 season, Floyd had four touchdowns and averaged 93 yards per game.
I am excited to see how Malcom emerges as the clear No. 1 for the Chargers.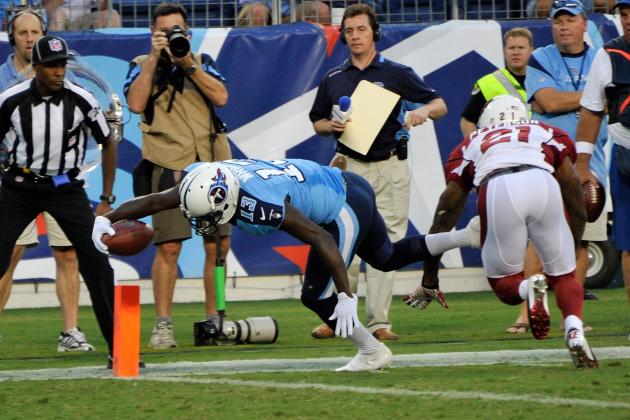 Frederick Breedon/Getty Images
Tennessee Titan WR Kendall Wright stretching for a touchdown in an Aug. 23 preseason game in Tennessee.
I am all on board with Kendall Wright. If you're looking for a really late-round WR pick who could have a lot of upside, Wright is your guy.
With a strong new quarterback in Jake Locker and a one-game suspension for Kenny Britt, Kendall Wright may get a chance early in the year to see some balls thrown his way.
He may not have a whole lot of value this year, but give him some time to mesh with Locker and in a year or two this could be a great combo.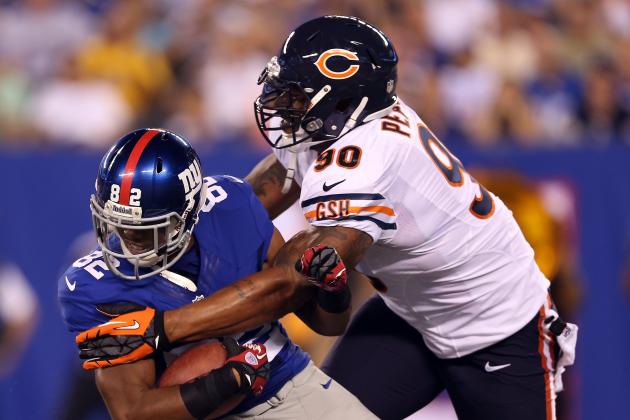 Elsa/Getty Images
New York Giants rookie WR Rueben Randle fighting for that No. 3 spot on the depth chart in a preseason game on Aug. 24.
While it may be difficult drafting a player that is fighting to inherit the No. 3 spot on the depth chart, Giants rookie receiver out of LSU, Rueben Randle, has shown enough promise to at least warrant a look.
In an offense that uses constant three-WR sets and airs the ball out, Randle may see a good amount of play time.
With Nicks still somewhat dinged up, Randle has the hands and speed to be called upon as a true deep threat early this season.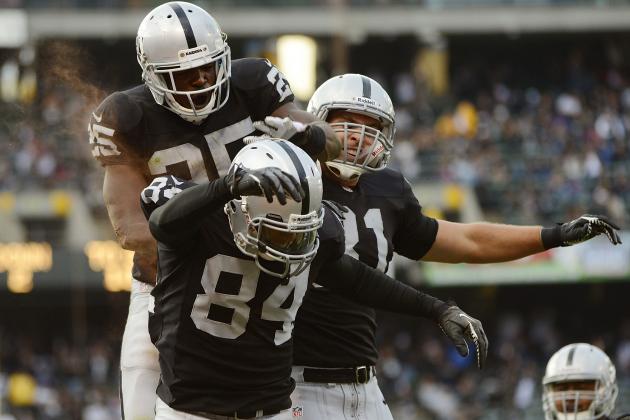 Thearon W. Henderson/Getty Images
Oakland Raiders WR Juron Criner celebrating a touchdown in their Aug. 25 preseason game.
For those of you in 14-team leagues who don't know where to turn, or if you face a ton of injuries during the season, Juron Criner is a big wide receiver that is working his way through the Raiders' depth chart.
Criner's 6'3", 220-pound frame makes him a more-than-viable option for Carson Palmer, as the top three wide receivers in Oakland are being bothered by continuous injuries.
I am in no way saying to draft Criner. However, if some wideouts in Oakland go down, he may be a great pickup.
I wish you all the best of luck with your fantasy football drafts and hope that one of the sleepers you draft will break out this year.
Twitter: @dpass18
Previously published on http://www.takingbadschotz.com/?p=8571