WWE 13: Exclusive Interview with WWE Games' Creative Director Cory Ledesma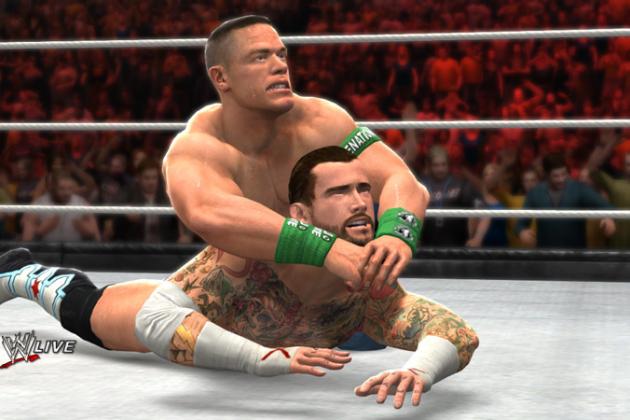 image from THQ
WWE '13 releases on Oct. 30 for Xbox360, PS3 and Nintendo Wii, but wrestling and video-game fans want to know as much as possible leading up to the release.
There are always a ton of rumors flying around, but it's always best to get the information from a trusted source.
There is no more trusted source on WWE games than creative director Cory Ledesma, AKA @RealCoryLedesma on Twitter.
He was nice enough to take time to discuss some details about WWE '13 with me.
The interview was conducted by phone, and there were a few things we couldn't discuss two months before launch. Most of those were related to character customization and details surrounding DLC (downloadable content).
But Cory did share some in-depth information about gameplay, create-a-arena, the Attitude Era single-player campaign and two details that most of you may not have known.
I broke this up into a slideshow, because our 30-minute conversation would have been the article-equivalent of watching a best-of-seven Falls match in traditional form.
Check out the information Cory shared with me.
Begin Slideshow

»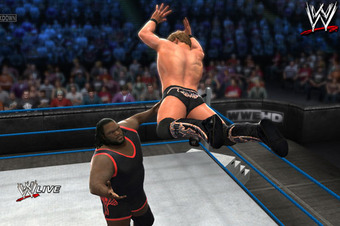 Brian Mazique: Before we get started with the official questions, Cory, I have one request.
It comes from my son, and he wants to know if you can include him in the game. He wants to be the size of Andre the Giant with Sin Cara's move set.
I told him I couldn't make any promises, but I'd put it out there.
Cory Ledesma: (Laughs) Well, he can definitely create a guy that size, but he would have some limitations. A guy with Andre the Giant's size can't do certain moves.
So he may be a little disappointed to hear that.
BM: I told him I couldn't make any promises, but I did my part by making his request known.
CL: That's it, Brian, make me the bad guy.
BM: Exactly. It was all Cory's fault, son. OK, let's get into the official questions.
BM: What aspect of the game do you think fans are going to be most impressed with?
CL: I think there's really two key areas I want to highlight with that question.
Just coming out of the SummerSlam weekend where we had our press event, we revealed a little bit more of the Attitude Era single-player campaign and the gameplay.
I think those two areas of the game are where fans are really going to be blown away with what they see this year.
The Attitude Era single-layer campaign received so much buzz. There is so much excitement about it, partially because it's such a fond time in WWE's history.
Fans still feel very passionate about the era, and the opportunity to relive that hasn't been done yet in a WWE game.
To have the opportunity to recreate those matches with some of the objective-based gameplay we have in the campaign is great.
I think it will really get people excited.
I think they are going to be impressed with the sheer depth of the mode. How long it is to play, the number of matches, and the licensed WWE content (videos and photos).
We have over 100 unlockables, so it's really a super-deep, long experience.
The second thing is the continued refinement on gameplay. We want to continue to polish the gameplay experience.
Most important to us is that it is authentic to what you see on WWE television.
Part of that is in the presentation: the camera-angles, the new WWE live sound experience. Also, the fun parts like the cool spectacular moments that we added.
Things like catching finishers change the way the game is played.
(Check the 2:57 mark of the video below if you're unfamiliar with catching finishers.)
BM: One thing I loved from the footage I've seen is how smooth the action looks.
There's nothing like watching a match where the action is flowing, move after move with symmetry. I noticed some elements of that in the footage.
Some of these seemingly small things have a huge impact on gameplay.
Can you expound a little bit on that?
CL: Sure, our goal is to offer smooth gameplay experience. We always have a magnifying glass on gameplay. We're always trying to find ways to have smoother transitions.
We want the game to be fluid and responsive. That is the No. 1 priority for any combat-based fighting game.
We were able to add some new additions with the technology. We included some new contextual animations, and it makes the game so smooth.
There are so many different situations in a WWE match.
Some of those situations have your back to an opponent, or situations where you have multi-man matches with three or four superstars active.
We have to support all of these situations with unique animations.
I used a couple of examples, but here's another: If you want to throw a punch, but you aren't facing your opponent.
Instead of throwing a punch from the front and looking odd, now there's a cool new animation where your player will turn around to perform a backhand slap.
In situations like that, it's important to key in on what a superstar would do in a situation like that.
We also did some cool stuff with targeting and attack homing. We increased the rotation amount for character models.
If you're not facing the guy, but you want to throw a strike, in the past you missed too often if your character model wasn't aligned properly.
This year, we allow your character to completely rotate, up to 180 degrees to land that strike.
It looks really natural, and it's more satisfying because there are a lot less misses. That was a key focus because a lot of missed attempts isn't very satisfying.
We want you to be able to hit, and hit consistently.
Also in previous games, if you wanted to be able to do a move off the top of the ladder, or you wanted to throw your opponent through a table, it was really challenging.
You had to perfectly align the table in the path of where the move would fall. As we're watching WWE action, it makes you want to be spontaneous. The new attack homing system allows you to do that.
Once you get to the top of the ladder, the game is going to auto-detect where the table is, and it's going to target the table for impact. This way you don't have to spend time perfectly arranging the table.
As you mentioned, things like this aren't on the back of the box, and you won't hear them talked about a ton. But these are the things that make gameplay feel smoother.
BM: That is extremely awesome.
That appeals to the YouTuber in me. WWE '12 was one of my favorite games to create videos for, and that was a problem at times.
I'd have a great idea for a stunt, but I'd have to spend a ton of time properly arranging the tables, etc. This targeting system will make this much easier.
CL: You are spot-on with that. Hit detection is a huge part of it.
In past games, we felt a little disappointed in the fact that some diving and springboard attacks had a higher rate of misses.
We really wanted to hone in on that for WWE '13. I have no doubt in my mind that when fans pick up the game they are going to notice that.
They'll see a lot less failed attempts, and because of that it speeds up gameplay.
BM: I think the Attitude era was a great time for professional wrestling, and some of what made it so amazing was the outstanding promos and mic work.
Are there any plans to incorporate the mic work, or even create a promo in WWE '13?
CL: That was really important for us as we took a look back at the Attitude Era. We didn't want to just focus on the great matches or the edginess.
They had some very charismatic stars that were great on the mic.
Highlighting those guys was very important to us for the single-player campaign.
We wanted to do two things with that mode, and one of them was to use real WWE footage. There is nothing like being in the arena to hear the Rock or Stone Cold Steve Austin deliver that fantastic promo.
We didn't want to try and recreate that moment, because the moment was already so great by itself.
That's why having WWE exclusive footage throughout the mode to help tell the story was so important.
We wanted to do it justice, and the moments were already done to perfection. Fans remember those moments, and they want to enjoy them again.
The second thing is that we pulled a lot of the sound from the actual footage. The mic performances were so great, trying to recreate that energy in a recording booth is a big challenge.
Especially 15 years later, when the superstar is out of that time frame and state of mind.
I think the fans are going to be able to see the authenticity in that.
BM: That said, some of the Attitude Era content was edgy.
Is there a way to sensor the Attitude Era story mode, or eliminate some of the raunchier aspects for those that may want to control the content?
Or is it just as is?
CL: I think the content is at a point where it's not as raunchy as fans remember back in that time.
We really focus on the main-event stories, and the content wasn't as raunchy as some people may believe.
There were some stories that took it to the edge, but I don't believe the mode takes things too far. We don't really want the Attitude Era to be defined solely by that.
Of course, there was some edginess. But it is also defined by the talent of the superstars and the great storylines.
We really wanted to focus on that aspect as well.
The content is edgier than current day WWE, and that's important to know. But we do have some options that allow you to control some things.
You can turn blood on and off.
Some of the matches in the Attitude Era mode are first blood matches, and if the blood option is off, you'd play an alternative match in that case.
If you don't want to see that, you can turn it off, and it will change the experience of the mode.
But I feel confident that if you're comfortable with the content in a teen-rated game, then you won't have anything to worry about with [WWE '13].
BM: What I take from that is that it's a nice blend between edginess and traditional content.
I don't personally have a problem with it, but there are so many different types of gamers, and it may be something fans wants to know.
CL: Yes, there is a definite balance there.
BM: I know there will be tons of detail to make the Attitude Era story mode authentic, but will that influence things like the weapons available, signs, gear, etc?
Can we look forward to the use of a bed pan?
CL: It affects a lot of things.
We spent a lot of time making sure gear, match rules, [colors of the chairs, steps and ladders were authentic to the matches from that time.]
These are the details the diehard fans will recognize and appreciate, and it gives a different feel from the exhibition mode.
There are some unique weapons like the Big Bossman will have his night stick, which is only available in the Attitude Era mode, which is really cool. (First time this was announced.)
There are alternate attires that are accurate with the matches from that time.
BM: I understand there are some changes and enhancements made to the Create-an-Arena options in WWE 13. Can you talk a little about that?
CL: Create-an-Arena was a feature we added last year. The focus was really just originally on the ring environment itself.
Last year we really wanted to nail that and give you full customization for that ring environment.
We were really looking to take a giant stop forward on that idea in WWE' 13.
Now you can customize a full stage area and control the size of the venue. You can decide whether you want it to be an indoor or outdoor venue.
You can decide the type of crowd you want, as well as the type of lighting in the arena.
We were excited about allowing you to really express yourself in the arena you create.
We wanted to help you get the nitty-gritty details of your creation; whether it's a historic recreation or your own custom creation.
We got such a great response from the feature last year, it was only logical to build that out. The arenas are not only available for exhibition play, you can also import the arenas into your WWE Universe, like last year.
The new customization options really allow you to put any show you want included in your universe.
[The expanded control over the customization in the arena] was really a positive step forward. Fans asked for it, and we were able to do it.
BM: Agreed.
That is always one of the biggest things: customization is king—right next to gameplay.
We all want to have the full developer's kit at our disposal, but yes, customizing the arenas is huge.
CL: That is our philosophy. We want the gamer to have ultimate control. We want you to be able to express yourself because everyone has their own opinion.
We all have our own thoughts on who's the best, what's the best arena, what era was the best, etc.
We want you to have the ability to create your own experience.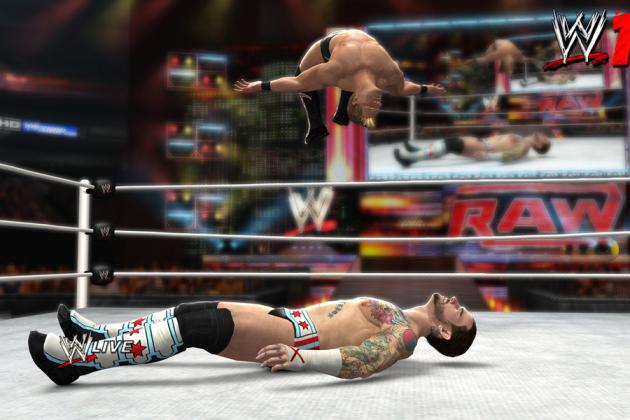 image from THQ
BM: In regards to move sets, are there any changes coming for in-game superstars?
CL: Absolutely, adding moves to the game was extremely important this year. New moves are probably one of the most talked-about items.
People want to know which new moves are going to make it into the game.
We love to get feedback on that, so that we can get the most popular moves in the game. We did polls this year to see what fans were looking for, and we added over 300 new moves to the game this year.
We've been able to update some moves as well.
Beth Phoenix has her new Glam Slam, Eve has her Booty-Pop Moonsault, we have the new Lion Tamer for Chris Jericho—which was a really popular request.
Previously, he only had the Walls of Jericho, but fans really wanted the Lion Tamer.
This is a breaking point submission, which is really cool. We did add a lot of new moves, but the new moves are not just for the [signature] roster members.
We also added popular moves that we just wanted to have in the game. Things like German suplexes were recaptured in some instances. We may have wanted to add a little more flair with that move.
Moves like the repeating power bombs is a move that we really wanted to get in. We thought that was just a good standard move to have in the game.
We know how important the moves are to the fans, and we enjoy doing the research and adding more moves each year.
BM: That's cool, because often times the only new additions that get publicity are the high-profile things like new roster members.
But sometimes the things that really add to the fun factor are things like additional moves beyond the finishers and signature moves.
CL: Yes, we are always trying to add to the [move-sets].
We have a lot of fun at the motion-capture sessions. We want to make sure the moves look authentic, painful and are sold really well.
Any hardcore WWE fan is passionate about the move-sets and the arsenal each superstar has.
BM: I saw one interview where you discussed weight disparity.
I never liked seeing the smaller guys doing the entire move-set to super heavyweights. You mentioned alternate moves for some of the lifting maneuvers when a smaller superstar is battling a super heavyweight.
Can you talk a little bit about that?
CL: Absolutely.
We felt the same way about smaller superstars lifting super heavyweights. We added a new weight detection system that allows moves to dynamically swap out for more realistic moves in these situations.
If your smaller character has a lifting move in his arsenal, he'll have a non-lifting maneuver to swap with the lifting moves against the really big guys.
You'll be able to customize what those alternative moves will be. This addressed a lot of the concerns consumer were having with the game
We also have something in place that some people may not recognize.
There is a different reaction when smaller superstars are engaged with the super heavyweights. The animations look a little different. It's more of a struggle for the smaller guys to lift, or easier for the smaller guy to be lifted.
The impact is different when bigger or smaller guys are dropped.
BM: I think this is a great way to approach it.
It isn't as if we wouldn't buy a smaller wrestler defeating a bigger guy, but we know there is a plausible way for that to take place.
It's nice to hear that will be reflected in the game.
BM: I absolutely love the WWE Live approach.
Often times developers tout, (notice I said tout) new features for games, but when you see it in action, it's barely noticeable.
That's not the case from what I've seen and heard with WWE Live.
Are there any other enhancements coming to the audio aspect of the game? Say a larger name database for the announcers or ring announcers?
CL: We've increased our audio team, and they have a strong passion for [their jobs]. We feel like every year our audio is getting stronger. WWE' 13 is our first big step in that process.
We yanked out all the crowd, all the sound effects and replaced them all with sounds from WWE television.
We are working a lot with commentary. We have over 30,000 commentary lines in WWE' 13.
We'll continue to add new lines and yank out old ones. For the first time, we had the commentators ad-lib.
We showed them some of the WWE' 13 footage and they were able to free-form and ad-lib commentary to that footage.
This obviously gives them that feel of being in the moment. As you can imagine, it brings authenticity as they are not just reading off a script.
We take the same approach to ring announcers and the database for more customization for what you can call yourself.
I want the fans to know that this is something that we take very serious. The audio is very important, and we want to build on that.
BM: Ad libs are certainly important, it adds to the game and makes the commentating sound more organic.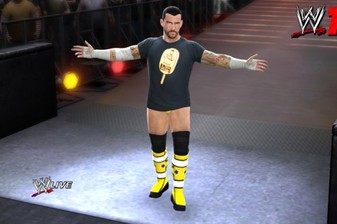 image from THQ
BM: Pre-order bonuses, talk about that.
We know about the Austin 3:16 edition, which will include Mike Tyson as a playable character. Any more info on other possible offers, or even DLC?
We know about Damian Sandow and A.J., but is there anything else you can tell us?
CL: We do have a very robust DLC deal that we'll be announcing closer to the release of the game. Fans can stay tuned to find out what that will be.
It's always exciting finding out who will be included in those packs. I know it's difficult to wait with two months before release, (laughs) but we like to torture our fans a little bit in that regard.
We do have another pre-order offer that I don't think you mentioned.
The CM Punk Gamestop offer (EB Games in Canada) where fans receive the CM Punk ice cream bar t-shirt from the Night of Champions pay-per-view in 2011.
BM: (laughs) Yes, I did forget to mention that, but I was aware of it. Sorry, Punk, I know how you are about disrespect.
image from THQ
BM: So is there anything as yet announced that you can give me to take back to the rabid Bleacher Report WWE community?
CL: You want something exclusive?
BM: Absolutely!!
CL: We did add some new comeback moves. We added three new comebacks, including CM Punk's signature comeback move.
(Note: This may have come out unofficially elsewhere, but consider it official now, as I just got word from the man in charge of the creative direction of WWE 13.)
BM: Well that is justified. He's been saying he isn't getting respect, he's the best in the world.
CL: The best in the world has to have a comeback move, right?
BM: Oh yes, it's mandatory.
Thanks so much for taking time to talk to me and allowing me to share some information with the Bleacher Report community.
CL: It was great establishing this relationship with you and Bleacher Report, and I'm sure we'll have lots to talk about in the future.
Follow Brian Mazique and Franchiseplay on YouTube and Twitter for reactions, analysis and news from the world of sports and sports video games