Chicago Bears: Power Ranking the Bears' Best Fantasy Football Options in 2012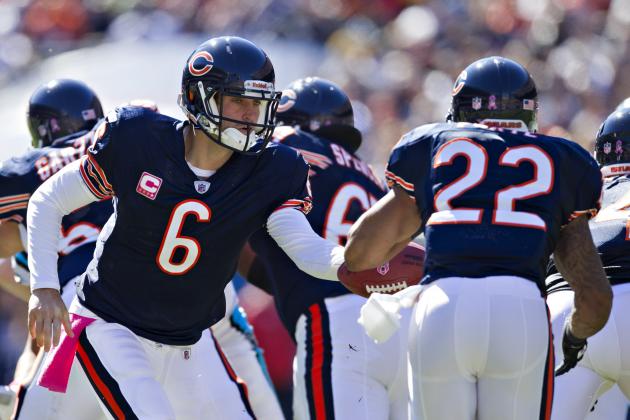 Wesley Hitt/Getty Images

The Chicago Bears have established their reputation in the NFL by being a hard-nosed, defensive-minded team that runs the ball down the opposition's throat.
This year is no different for the Bears, and with high expectations, Chicago is a strong contender to win the NFC North.
The additions of Brandon Marshall and Michael Bush give the Bears some depth offensively, something that has plagued them for the last couple of seasons.
While the "Monsters of the Midway" prepare to take on Andrew Luck and the Indianapolis Colts on Sept. 9, fantasy owners are hopeful that Chicago's fantasy options come through big this season.
Let's take a look at their five best fantasy players in 2012.
Begin Slideshow

»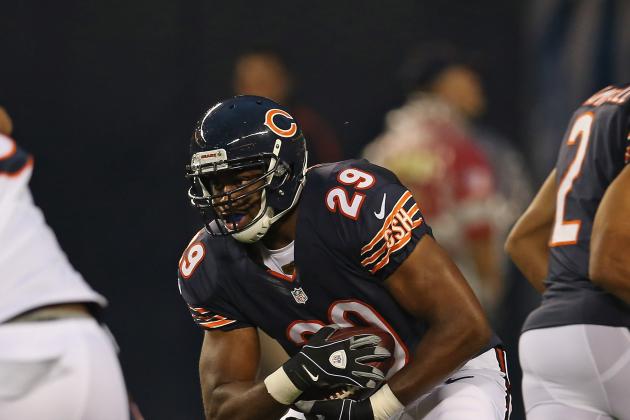 Jonathan Daniel/Getty Images

Being Darren McFadden's backup in Oakland wasn't good enough for Michael Bush, so he decided to be Matt Forte's backup in Chicago instead.
Regardless of where he is on the depth chart, Bush is still a solid running back and is a touchdown vulture.
After McFadden went down in Oakland last year, he took over the starting role and flourished in it. In his second game as a starter in 2011, he racked up 29 points in standard leagues and put up double-digit points in five of his nine starts.
Bush was also crucial to Oakland's passing attack last season, averaging 34 yards receiving to go along with his rushing numbers.
Forte has never been a strong goal-line back, and last season was no different. He only finished with three rushing touchdowns before spraining his MCL in Week 13.
With his ability to get the ball in the end zone as well as Forte's health concerns, Bush's fantasy value is greatly underminded, and owners should move on him if they can.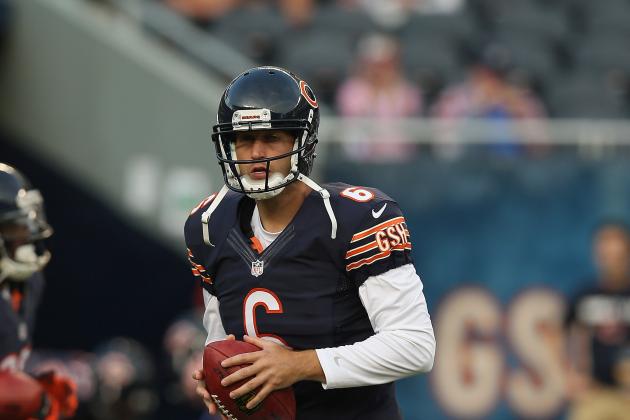 Jonathan Daniel/Getty Images

If Jay Cutler could stay healthy and had a better offensive line, he would be No. 1 on this list.
Unfortunately, his line is still pretty bad, and only time will tell if he can fully recover from the broken thumb he suffered in Week 10 last year.
With Michael Bush being able to power the ball into the end zone, Cutler may lose some fantasy value in terms of touchdowns. However, he's reunited with Brandon Marshall, and finally has a big-name receiver on his team for the first time since coming to Chicago.
Cutler will connect with Marshall on some deep bombs. But as horrible as the Bears' offensive line is, he may only be able to throw it to Matt Forte in the flat before three defensive linemen drive their helmets into his chest.
Cutler only had two games where he threw for over 300 yards in 2011 and also had two games where he didn't throw for more than 123 yards.
He will make for a solid No. 2 option, but with the amount of talented quarterbacks who are out there, he's not worth starting.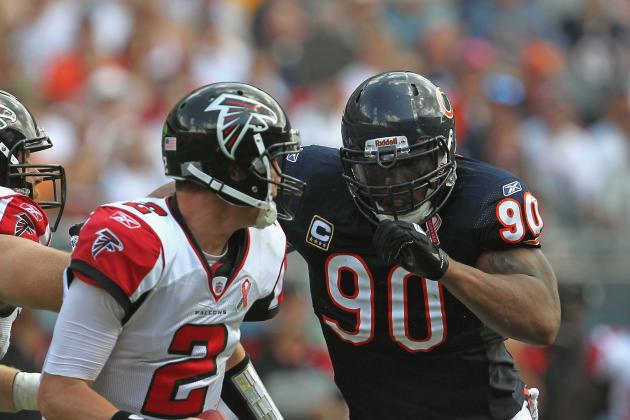 Jonathan Daniel/Getty Images

The Bears D/ST finished second in the NFL in terms of fantasy value in 2011 (via ESPN.com). Their defense scored six touchdowns last year, and with the addition of Brandon Marshall, the Bears can now let Devin Hester focus solely on special teams.
The "Devin Hester Experiment" was a complete failure for the Bears' passing game, and having him focus on special teams will benefit them in the long run, as well as owners of their defense/special teams unit.
Julius Peppers will still be a threat on the outside, but he's the only dangerous pass-rusher on Chicago's defensive line.
Zachary Finkelstein of CBS New York projects the Bears to be the second-best defensive unit in the league this season behind the San Francisco 49ers.
Unfortunately for the Bears, Brian Urlacher, the nucleus of their defense, is still dealing with knee problems. Whether or not he plays will alter the value of Chicago's defensive unit.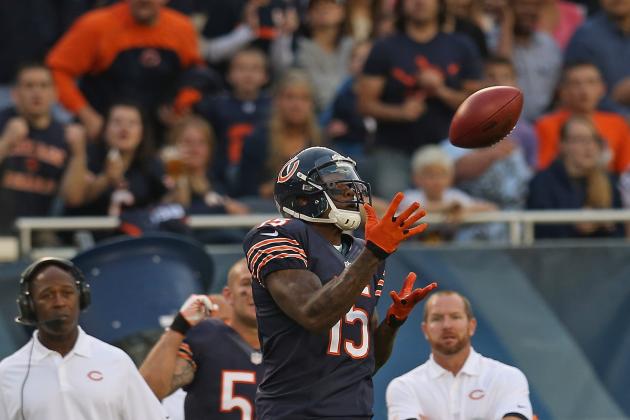 Jonathan Daniel/Getty Images

In 2011, Brandon Marshall finished with over 1,200 yards and six touchdowns with Chad Henne and Matt Moore throwing him the ball in Miami.
Think about what he'll do now that he's reunited with Jay Cutler in Chicago.
Marshall had five games of at least 100 yards last season and found the end zone in three consecutive games toward the end of the year.
Only twice last year did he finish with less than four catches in a game. He also had seven games with at least 10 fantasy points.
His inconsistency should scare owners a bit, but with defenses focused on stopping Matt Forte, Marshall should have his share of breakout performances.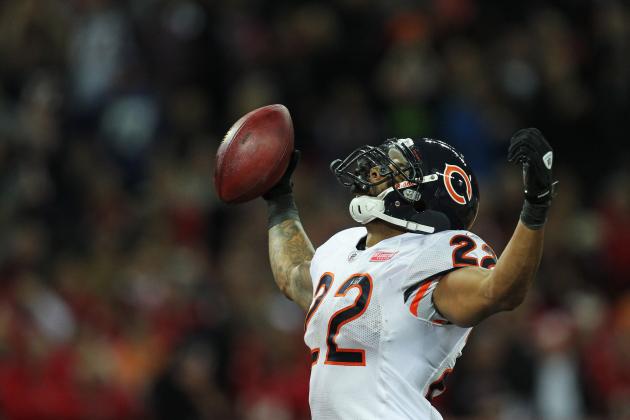 Streeter Lecka/Getty Images

Matt Forte has been the centerpiece of the Bears offense since his rookie year in 2008 and has always produced in fantasy leagues.
He's had at least 1,000 rushing yards in two of his four seasons in the NFL, but an MCL injury sidelined him in Week 13 when he was only three yards away from 1,000.
Forte is one of the most versatile running backs in the league and is just as dangerous in the passing game as he is in the running game.
He's had 223 catches since coming into the league and has had at least 470 receiving yards in every season during that span.
While Forte will rack up the yards, he'll continue to have a difficult time finding the end zone. He only had three rushing touchdowns last season, while then-backup Marion Barber finished with five touchdowns in a seven-game span.
Forte has always been the primary receiver in Chicago because the team hasn't had a reliable No. 1 since he was drafted. Brandon Marshall's arrival may diminish Forte's value in the receiving game, but if opposing defenses double up Marshall, Forte could explode for big chunks of yards.
He may even score some touchdowns here and there.