New England Patriots right tackle Marcus Cannon has struggled thus far in the preseason. Luckily for Tom Brady and Co., his struggles will take a backseat with the return of right tackle Sebastian Vollmer from a back injury.
But a setback with Vollmer's back could push Cannon back to the forefront. Vollmer was spotted walking gingerly off the practice field a few weeks ago, looking much older than 28 in doing so. He hadn't even taken a rep, as he was still on the physically unable to perform list.
Here's what ESPN Boston's Mike Reiss had to say about Vollmer's back:
I think Sebastian Vollmer will ultimately return and help the Patriots at right tackle this season, but in watching him closely during warm-ups at practice in Tampa, he appeared stiff while running (and finished last among his teammates for what it's worth). He also didn't bend over to touch his toes in stretching. Don't want to read too much into it, but I wouldn't be surprised if loosening up his back is an issue he's dealing with all year.
His stiffness could be the byproduct of a "small procedure" that was reported by Greg Bedard of The Boston Globe in mid-June, but back problems, along with an ankle injury, were among the reasons he missed time last year.
Vollmer's back issues have started early, and the problems at right tackle that have plagued the Patriots in the preseason could rear their ugly head in the regular season if they persist.
Why has Cannon struggled?
There are a few sources for this problem. For starters, a lot of the players on the offensive line haven't played together extensively. There have been communication issues that have made the struggles look worse than they've actually been, as seen in the play below.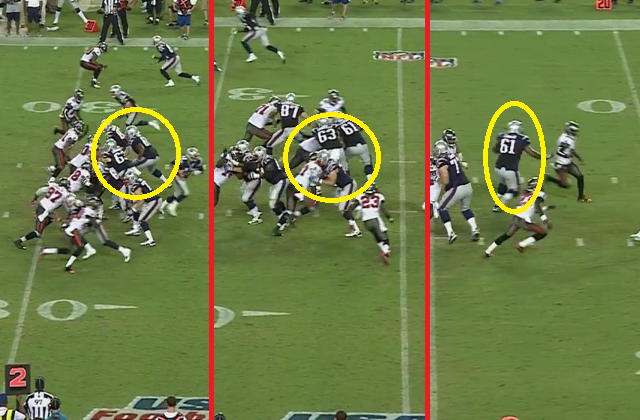 Cannon slides inside to help the guard (second frame), but misses the blitzing safety, which forces Brady to quickly get rid of the ball under duress.
Those communication issues can be fixed, and we'll never know who was truly at fault—was Cannon supposed to take the blitzer, or was tight end Rob Gronkowski supposed to chip?—but regardless of the blame, those are only the beginning of Cannon's struggles.
Beyond that, communication issues won't be a feasible excuse in the regular season.
Even Brady has taken some of the blame for the pressure he's been under.
"It was just hold[ing] on to the ball too long," Brady said of the sack fumble forced by Bucs defensive end Michael Bennett (via ESPN). "Brandon [Lloyd] was starting to work away from the coverage and they just got me as I was throwing the ball. Have to try to eliminate those and try to eliminate turnovers, they certainly kill us. Those just aren't very good plays."
But it's hardly all on him; far from it.
Bedard alludes that Cannon may be a better fit at guard, and Pro Football Weekly suggested before he was drafted that his "pure mass...may be best suited for the interior," but head coach Bill Belichick doesn't see it that way.
"He's big, he's strong, he's in good condition [and] he's got the feet to be able to play out there in space," Belichick said (via Patriots.com). "It's the position he played in college; he has a long history of playing there. [I] think he can play the spot."
Thus far, it looks like his lack of athleticism is what's been getting him in trouble. He got beat off the snap at least twice against the Buccaneers by defensive end Michael Bennett.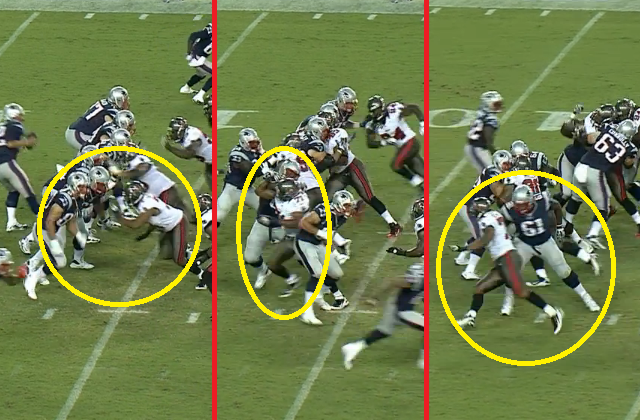 Bedard also points out that strength seems to be his weakness.
Cannon just has a really tough time against strength. We saw that again when veteran DL Tim Bulman used a push-pull-rip move to easily get around Cannon. DE Rob Ninkovich, who usually prefers speed moves, used a power bull rush against Cannon the second time. Seems like the book on him is to just muscle Cannon.
That's interesting, since Cannon was among the top performers at the 2011 NFL Scouting Combine with 33 reps on the bench press. Those combine performances don't always translate to the football field, but the book on Cannon coming out was that he was a mauler.
It's easy to want to write off his preseason struggles because...well, it's the preseason, but it should be noted that Cannon only saw heavy playing time in one regular season game in 2011. In a Week 16 game against the Miami Dolphins, Cannon—playing right tackle—gave up a hit and three pressures (per Pro Football Focus). The Patriots failed to score any points in the first half partly because Brady faced overwhelming pressure.
Thus far, the struggles he saw in that game have carried over to 2012.
It wasn't all bad for him against the Buccaneers.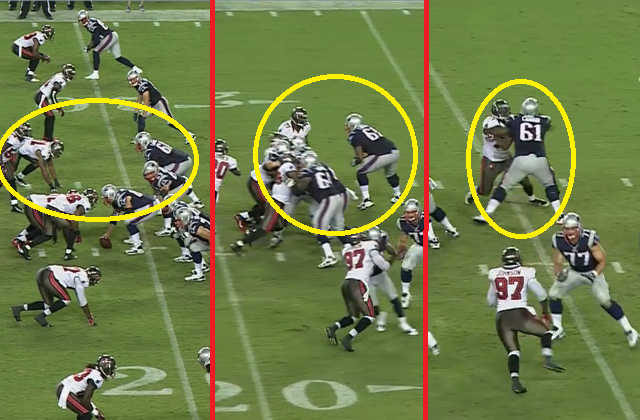 In fact, on this 3rd-and-13 in the second quarter, Cannon held his own in giving Brady enough time against Bennett, allowing the quarterback to pick up the first down with a 13-yard strike to wide receiver Deion Branch.
Are you confident with Marcus Cannon as the backup to Sebastian Vollmer?
Overall, Cannon's three pressures and the sack fumble were much better than the six total pressures (three pressures, two hits, sack fumble) he gave up against the Saints.
Perhaps it's also not fair to expect the backup to be as talented as the man he's behind on the depth chart. But he has to have Vollmer's back in case Vollmer's back gives.