Washington Redskins: Preseason Standouts Who Will Carry Through to Season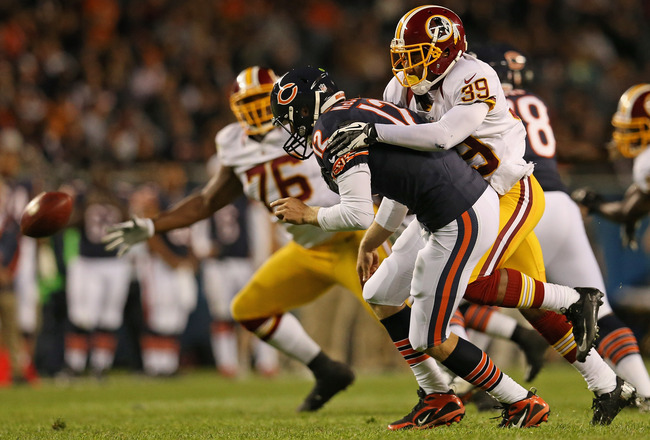 Preseason has been a good opportunity for players on the bubble to stake their claim for a roster spot.
Jonathan Daniel/Getty Images
Some players get a chance in preseason and never look back. The Washington Redskins have uncovered a few standouts who will take the momentum they have built up and force their way onto the field in the regular season.
Preseason is a time when the term "vanilla offense" clogs up the pages of sports websites and newspapers. This is used both to deflate and encourage, as if the regular season bears no relation to anything seen in the games preceding it.
The fact remains, however, that all teams field their starters for the early parts of the games. If a player shines in preseason, they'll get another chance to succeed. That's just how it works, vanilla offense or not.
Let's take a look at some players who are already making their voices heard.
Richard Crawford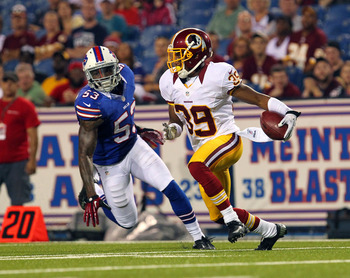 Richard Crawford is getting better as the preseason goes on.
Timothy T. Ludwig-US PRESSWIRE
Kevin Barnes was traded to Detroit. That pretty much sums up Richard Crawford's performance during the preseason. It started during the first game against the Buffalo Bills, when Crawford grabbed an interception and a 17-yard punt return.
It was against the second-string Bills, granted, but when Jim Haslett praised him a few days before it was clear he was expecting good things from him. Mike Jones reported Haslett's comments for the Washington Post:
I like Crawford. He loves football. He works. He'll do anything. He'll play nickel, corner, dime and he'll punt return, so he does a lot of different things.
This versatility is something that Haslett and Raheem Morris have been trying to instill into the secondary. Crawford epitomizes that mentality and has shown this in his play.
Crawford's usefulness continued against the Chicago Bears, where he broke up a pass—although it should really have been an interception—and showed determination in blitz packages by getting to the quarterback on two separate occasions.
The third game was his most difficult, as the Indianapolis Colts' receivers looked to have the better of him at times, drawing him in and making him miss tackles. It was more a question of patience and experience than technique, though. This will only improve with time.
It was initially assumed that Cedric Griffin would be ahead of Crawford on the depth chart, but Griffin has been so ineffective that Crawford must have left him behind. Griffin's ineptitude in coverage hasn't improved from last year and he looks to be a liability at this point.
Crawford, on the other hand, is on the rise. From a good training camp performance to a good preseason, he's only going to get better as the season goes on.
The secondary has long been considered the weak point of the 2012 Redskins, but Crawford has provided some hope ahead of the year.
It's completely unreasonable to expect him to immediately become Darrelle Revis, obviously, but the promise he has shown thus far doesn't look like it's stopping any time soon.
Alfred Morris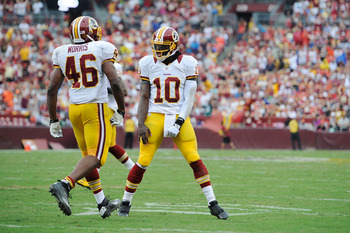 Alfred Morris and Robert Griffin III have been an effective partnership.
Patrick McDermott/Getty Images
Ignoring the mania surrounding Robert Griffin III's every move, Alfred Morris has been perhaps the biggest talking point of the Redskins preseason. His skill set is geared towards Shanahan's one-cut, zone-read system and he's always straining for extra yards after the tackle.
The Redskins went into the preseason with some questions at the running back position. Injuries to Roy Helu and Tim Hightower were not encouraging, so it looked as if Evan Royster would be carrying the running game.
Morris stepped up in the first game and ran for 107 yards, despite dwindling production as the game went on. This was the first sign that Shanahan had picked another good, late-round back.
Throughout camp, however, Morris showed the same inconsistency with his blocking as the other backs, so expectations weren't especially high. This continued through to the Bears game, where Morris' error in reading the defense led to a sack/fumble.
The turning point came against the Colts, when Morris showed that he could pick up the blitz and react accordingly. Morris extended the play for Griffin by taking the linebacker out of the equation as he went through the holes in the offensive line.
This point was then hammered home as Morris was executing a fake. When talking to John Keim of the Washington Examiner, Morris explained the play:
I was on a play fake and [Fili Moala] came off the O-lineman and he was free and I hit him right in the mouth. I bent him back and he was like, "Yeah, you better help your O-linemen out." I was like, "Yeah, you'd better get your back checked."

I got tackled a couple times on my fakes because I was running so hard they thought I had the ball. I was carrying out my fake and my coach says never pass color and I saw color flash and I hit it. It happened to be a D-lineman.
This is the kind of attitude that will get Morris some starts in the regular season. If you had to bet all your money on one position where Shanahan would get results from a rookie, it'd be on a running back.
The best thing about the Redskins backs is that they all have different attributes for different situations. An every-down workhorse back isn't what Shanahan's system requires. He needs quick cuts, consistent blocking, good field vision and the ability to gain yards via an already-wide, ever-expanding playbook.
From what we've seen of Morris, he can do this. He's going to be another in a long line of successful backs brought up from the late end of the draft and repaying Coach Shanahan's faith.
Tanard Jackson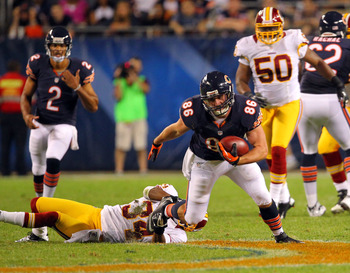 Tanard Jackson (No. 34) has started to gain some momentum.
Dennis Wierzbicki-US PRESSWIRE
When Brandon Meriweather picked up an injury against the Bears, it signaled another blow to an already-vulnerable secondary.
However, Tanard Jackson stepped in against the Colts and looked like someone who belonged in the starting lineup. He made big—verging on vicious—hits and looked solid in coverage. In other words, precisely everything that had been lacking from the Redskins' safeties this preseason.
He also showed adaptability by switching safety positions with Madieu Williams, showing no noticeable lack of focus or discipline at either position.
Williams started with Jackson and didn't have the same sort of game. He was at fault for the touchdown pass to T.Y. Hilton and didn't look as confident when taking his angles. He has looked useful in preseason so far, but was outperformed by Jackson on this occasion.
Up until this point it was Williams and Meriweather who were the assumed starters, but Jackson will certainly have given Shanahan something to think about.
It won't hurt that Raheem Morris will be pushing for him, having coached him in Tampa Bay. After Jackson ended a Hail Mary attempt by flattening a Colts receiver, Morris was visibly excited by the hit as the team left the field for halftime (via SBNation.com).
The concerns with Jackson are off the field, but he looked dedicated and hungry. He also provided good support against the run. Hopefully Morris can keep him motivated and ensure that his drug problems are in the past.
His performances have got better the more time he has spent on the field, which is exactly what Morris and Shanahan wanted as the new season approached.
With all the concern about the Redskins' secondary, a safety controversy isn't likely to ignite much excitement among the fans.
It's unlikely that any of the Washington safeties will tear the NFL apart this year, but Jackson's performance has shown that there is at least some depth to be found.
Keep Reading

Washington Redskins: Like this team?