Ohio State Football: Finalizing the Week 1 Depth Chart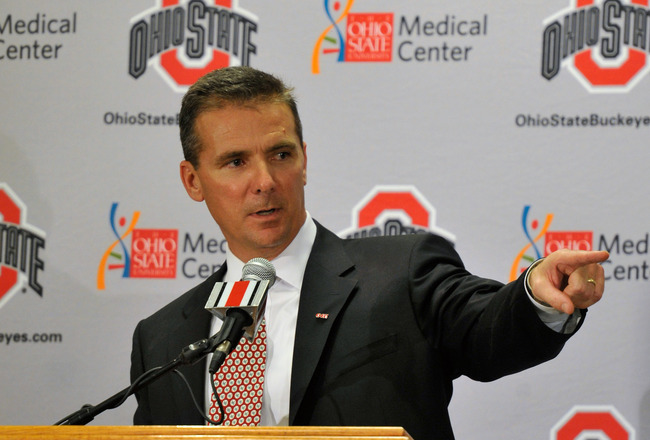 Jamie Sabau/Getty Images
Ohio State head coach Urban Meyer released the official depth chart for the 2012 season opener against Miami University.
After months of grueling competition through spring and fall camps, the Ohio State coaching staff has settled on their two-deep roster. There aren't too many surprises with the first team, but the second team is littered with more than a few unexpected players.
Find out who landed where as the Buckeyes make their final preparations for opening week.
Defensive Line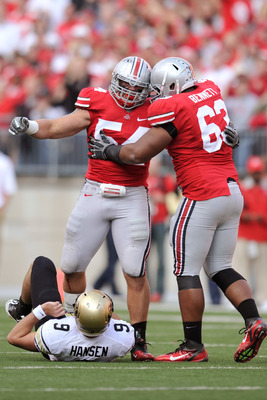 Jamie Sabau/Getty Images
As expected, Ohio State will start the season with John Simon on the weak side, Johnathan Hankins and Garrett Goebel on the inside, and Michael Bennett on the strong side. Those four create a formidable front, but the depth of this unit is what makes it one of the best in the country.
Sophomore Steve Miller and freshman Noah Spence are listed together as Simon's backup. Miller reportedly had a fantastic offseason and Spence is one of the most talented freshmen in the country.
On the inside, Hankins is backed up by a freshman duo of Adolphus Washington and Tommy Schutt. Washington came to Columbus as a defensive end, but with so much depth on the edge for Ohio State, he was able to add both weight and strength to make the move inside. Goebel, playing the nose tackle position, will be backed by Joel Hale.
Senior Nathan Williams was expected to be listed as the second strong-side DE behind Bennett, but the senior hasn't fully recovered from last year's knee injury. Williams has operated through most of fall camp at about 90 percent, but the coaching staff is being careful with his situation rather than rushing him on the field.
With Williams out, J.T. Moore is listed as Bennett's backup. If Williams can't convince the coaches he's ready to go by Saturday, he should be back by Ohio State's Week 2 game against UCF.
Linebackers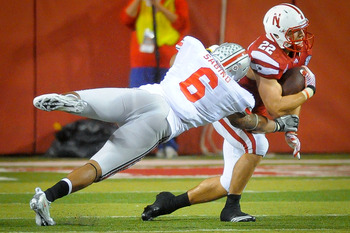 Eric Francis/Getty Images
When Ohio State plays in its base 4-3 defense, Ryan Shazier, Curtis Grant and Etienne Sabino will be the trio of linebackers for the Buckeyes.
Surprisingly, each starter is backed up by a freshman.
Sophomore Grant will be starting for the first time in his career as Ohio State's Mike (middle) linebacker. Grant battled with Storm Klein for the top spot this spring and emerged as the starter going into summer workouts. Klein, who would've been listed in the two-deep if not for an offseason arrest, has been replaced by true freshman Camren Williams.
Sabino is Ohio State's most experienced linebacker. The redshirt senior came to Columbus five years ago with a tremendous amount of hype, but struggled to adjust to the speed and intricacies of Jim Tressel's system. He finally cracked the first-team rotation last year and played admirably.
Sabino tends to struggle against faster teams, but a solid bowl performance against Florida and a great offseason have the coaching staff excited. Sabino will be backed up by another true freshman, Josh Perry.
Shazier rounds out the linebacker corps. The sophomore from Florida had a fantastic freshman season last year, racking up 56 tackles (three sacks) despite playing sparingly in Ohio State's first nine games. In fact, 40 of his 56 tackles came in the last four games of the year, highlighted by his 15-tackle performance against Penn State.
Conner Crowell is listed as Shazier's backup.
Secondary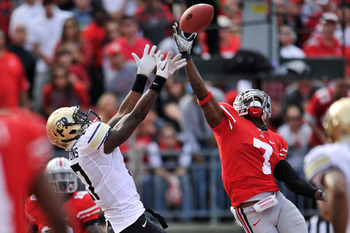 Jamie Sabau/Getty Images
Ohio State's secondary returns all four starters from a year ago. Although erratic at times in 2011, another year of experience and a boatload of talent give the Buckeyes one of best secondaries in the conference.
Bradley Roby and Travis Howard will be the starting cornerbacks. Roby's position was never in doubt, but Howard had to fight off rising sophomore Doran Grant through fall camp to keep his first-team status.
When Ohio State needs a third cornerback on the field, it'll be Grant (who backs up Roby). Adam Griffin—son of two-time Heisman Trophy winner and Buckeye legend Archie Griffin—is Howard's backup.
C.J. Barnett and Christian Bryant round out the secondary.
Barnett is a preseason first-team All-Big Ten selection and should have a good year. Bryant was solid in 2011, racking up 67 tackles and a team-high eight pass breakups. Both players were caught out of position a few times in 2011, but another year of experience should benefit them greatly.
Orhian Johnson and Corey Brown are listed as the backups.
Offensive Line/Tight End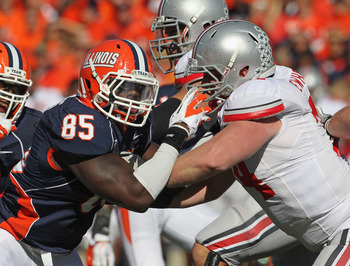 Jonathan Daniel/Getty Images
The offensive line is probably Ohio State's most shallow position. The former coaching staff really had a tough time recruiting offensive linemen, and Urban Meyer will feel the brunt of those shortcomings this year.
The starting line is a solid group. Jack Mewhort, Ohio State's best lineman, has successfully transitioned from the guard position he played last year to left tackle. Andrew Norwell is the left guard, Corey Linsley has made huge improvements to become the starting center and Marcus Hall secured the right guard position.
The battle at right tackle between converted tight end Reid Fragel and true freshman Taylor Decker has been going on for months, and frankly, it hasn't ended.
Fragel got the nod and will start this week against Miami based on seniority, according to The Plain Dealer. With both players essentially viewed as dead-even as far as talent goes, expect both of them to rotate in and out quite a bit.
If any injuries occur up front for Ohio State, they'll have to call on some unproven players. Darryl Baldwin will back up Mewhort, Antonio Underwood will back up Norwell, freshman Jacoby Boren is slated behind Linsley and converted defensive lineman Chase Farris will back up Hall.
The tight end position is in much better shape. With redshirt freshman Nick Vannett and sophomore Jeff Heuerman showing so much promise through spring and fall camp, Meyer decided to move Jake Stoneburner to the wide receiver group in an effort to get as much talent on the field as he can.
Wide Receiver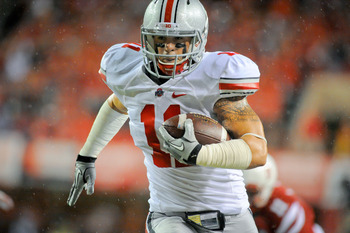 Eric Francis/Getty Images
It's no secret how Meyer feels about his current wide receiver group.
No wideout on Ohio State's roster eclipsed 300 yards receiving in 2011, and Meyer wasn't able to add a freshman who'd be able to step in and start right away in his first recruiting class.
The good news is some players have stepped up.
As previously noted, Jake Stoneburner has moved over to the wide receiver corps and will start as Ohio State's slot receiver. Sophomore Devin Smith will be the split receiver, and junior Corey Brown will be Ohio State's flanker.
The three receivers behind Stoneburner, Smith and Brown should see a lot of time this year, especially with new offensive coordinator Tom Herman's pass-spread philosophy. The second-team receivers are freshman Mike Thomas (who had 12 catches for 131 yards in Ohio State's spring game), sophomore Evan Spencer and junior Chris Fields.
Expect a lot of shuffling with the group as Meyer continues his search for playmakers.
Backfield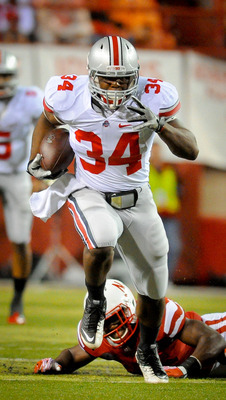 Eric Francis/Getty Images
To no one's surprise, Braxton Miller will start at quarterback. Kenny Guiton is Miller's backup.
Also as expected, Carlos Hyde will start at running back for the Buckeyes as Jordan Hall continues rehabbing his injured foot.
The biggest surprise from this week's depth chart came in the form of Hyde's backup: Freshman Bri'onte Dunn got the nod over sophomore Rod Smith. Smith saw his playing time disappear last year because he couldn't hold onto the ball, and it looks like he's struggling with consistency in fall camp. Dunn is a bruising back more in the mold of Hyde than the speedier Hall.
Rounding out the backfield is senior fullback (and team captain) Zack Boren. Meyer praised Boren for his toughness running the ball and his ability to catch the ball out of the backfield, so look for a few plays specifically designed to get the ball in his hands.
Boren will be backed up by Adam Homan.
Special Teams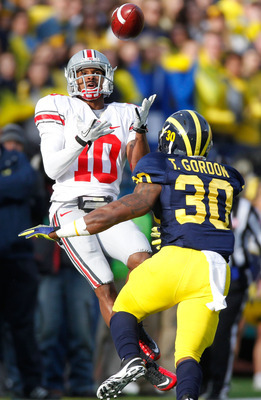 Gregory Shamus/Getty Images
Ohio State has two of the most experienced specialists in the conference in Drew Basil (starting kicker) and Ben Buchanan (starting punter). Both started in 2011 and only needed to avoid injury to reclaim their positions.
With Jordan Hall out, Ohio State will have Corey Brown returning punts. Brown also is listed as the top kick returner next to Bri'onte Dunn—another surprising spot for the freshman running back.
When Hall is fully recovered, expect him to reclaim both return positions he held last year.
Keep Reading

Ohio State Football: Like this team?