7 Reasons San Francisco 49ers Fans Should Be Confident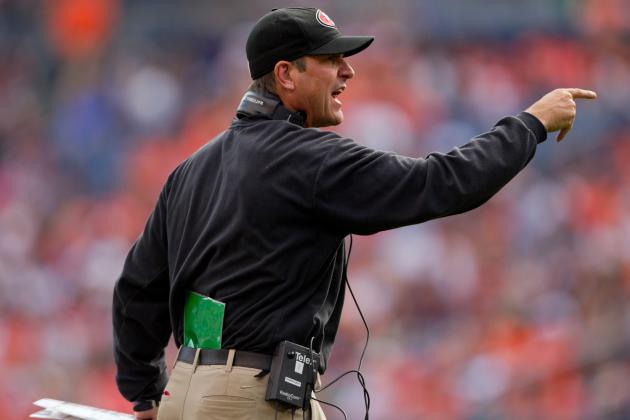 Justin Edmonds/Getty Images

A week from today, the Giants and Cowboys will kick off the NFL season. The long-anticipated regular season cannot get here soon enough, as fans are anxious to see the finished product of their 2012 team.
For the teams that are ascending, those fan bases in particular find themselves at the edge of their seat. The San Francisco 49ers faithful are in that class of NFL fans.
The Niners stock has been on a steep climb since the arrival of Jim Harbaugh. This team is now on a fast-track to the Super Bowl, having tasted it in a deep postseason run last season.
The 49ers 2012 offseason is almost complete. With that in mind, fans want to know what they have to look forward to. In this slideshow, we'll break down seven things 49ers fans everywhere should be excited about heading into Week 1.
Begin Slideshow

»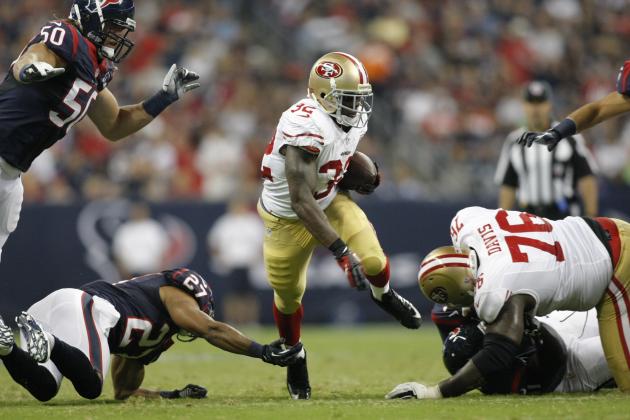 Brett Davis-US PRESSWIRE

Without discussing the new additions to the 49ers' stable of running backs, Frank Gore and Kendall Hunter look ready for the regular season. Both backs, in limited time, appear fresh, focused and revitalized after having the wind taken out of their sails in the NFC championship.
The 49ers' one-two punch at RB played inspired; especially Hunter who averaged 5.8 yards per attempt between Weeks 1 and 3 of the preseason.
San Francisco prides themselves on being able to run the ball efficiently against any opponent. Last season, the Niners' rushing attack ranked 8th best in the NFL. Entering 2012, the 49ers have the makings of a No. 1 ranked ground unit.
Gore and Hunter look like two capable 1,000-yard rushers on their own. Not necessarily inferring they will reach those numbers, but their performance certainly indicated they were capable of it. Add to the mix a LaMichael James and Brandon Jacobs, and you have quite the formidable unit of runners.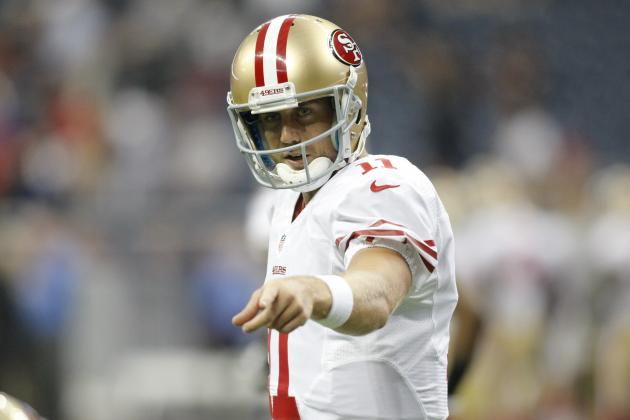 Brett Davis-US PRESSWIRE

Even though it was preseason action, the 49ers starting quarterback played his brand of football.
Alex Smith went 13-for-19, completing 68.4 percent of his passes and throwing four first downs, two touchdowns and zero interceptions while earning a 123.6 QB rating.
These numbers were a sign that Smith's stylistic approach to the game has carried over from last season.
In the preseason, Smith has played to the system, was safe with the football and took his shots when they were there. Even though it didn't look like the 49ers first-team offense was pushing the ball down field, two of Smith's 13 completions went for 20-plus yards, including a 44-yard touchdown to Vernon Davis.
Smith's mechanics have seen improvement, including his throwing motion and footwork. He also appears to have a firm grasp of the system and thus more command of the offense.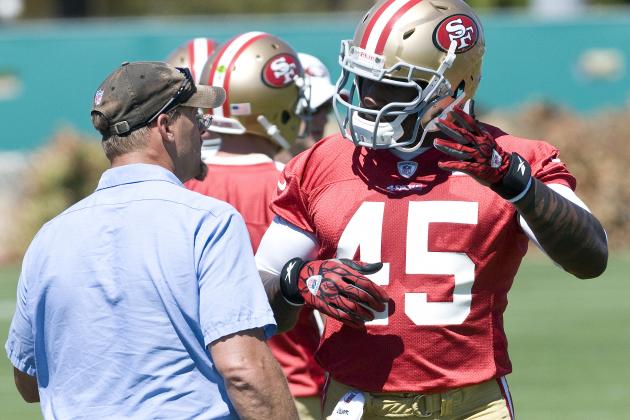 Ed Szczepanski-US PRESSWIRE

One of the 49ers' new additions at running back, Brandon Jacobs, unfortunately sustained a leg injury on his first carry against the Houston Texans. The good news for Jacobs and the Niners is that the injury is not serious, and Jacobs should be ready to go by the beginning of the season.
Before he sustained the injury, the NFL got a good look at Jacobs in red and gold when he faced off against the Minnesota Vikings in his Candlestick debut. The 6'5" tailback carried the ball four times for 31 yards, including a 23-yard scamper. On each one of his attempts, Jacobs achieved a first down.
Jacobs will allow the 49ers to have a productive rotation of backs that can stay fresh not only through the duration of games but also deep in the season and into the playoffs. Jacobs is a former two-time 1,000-yard rusher now here to fill a role with San Francisco.
Brandon Jacobs looks to be in the best shape and mindset of his playing career and could work wonders as a situational player for this 49ers offense.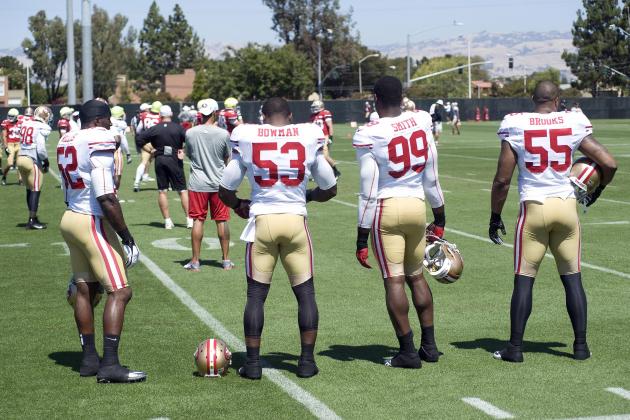 Ed Szczepanski-US PRESSWIRE

It's going to be awfully hard to replicate the defensive performance San Francisco put up in 2011. But this season—when breaking down their offseason moves and the work they've put in—the Niners have a lot of reasons to expect growth.
Each defensive player has worked on learning the assignments of the positions around him. In 2011, the 49ers defenders knew what to do but now they've had an opportunity to learn how, when, and where. They will be as knowledgeable as coaches, which should enable them to play faster, more instinctual football.
The 49ers have also upgraded their defense by transitioning Aldon Smith to a starter and adding depth to the front and secondary.
As good as San Francisco was last year on defense, they could progress in 2012.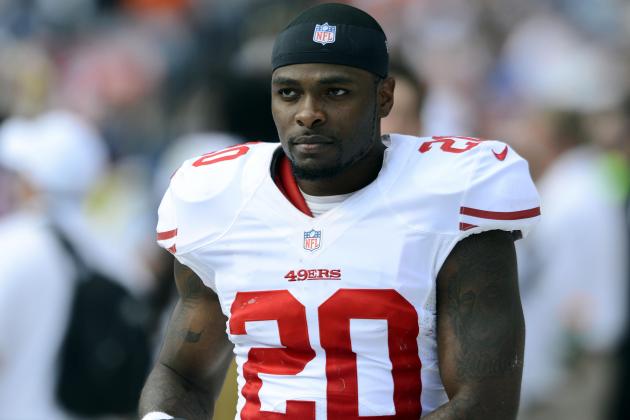 Ron Chenoy-US PRESSWIRE

The San Francisco 49ers signed free-agent cornerback Perrish Cox off the street this offseason—no doubt at the behest of his former coach, Ed Donatell.
Donatell coached Cox, when he started 15 games for Denver. The secondary coach and promising young talent are now reunited in the Bay, and, so far, Cox's performance has been encouraging; Cox has registered two interceptions thus far in preseason action.
San Francisco already has Carlos Rogers and Tarell Brown as the No. 1 and 2 starting corners. Chris Culliver has also showed a lot of potential since his arrival, providing great depth for the Niners. Cox will make the final 53-man roster, increasing the talent on the 49ers' back-end.
The Cox signing is great news for San Francisco, now four corners deep, with an extremely challenging, pass-heavy schedule looking them in the face.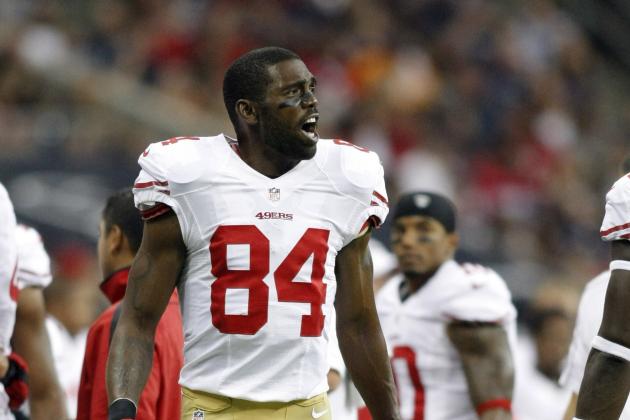 Brett Davis-US PRESSWIRE

The Niners have been without a 1,000-yard receiver for a decade. Annually, the team has had consecutive disappointments seeking out a pass-catcher. Every attempt to upgrade the position has been an exercise in futility.
The last time the 49ers had a receiver that broke the mark, Matchbox Twenty was in the top 10 of the Billboard Top 100—so obviously it's been a while.
It seems like this year the organization collectively said: "No more!"
But it wasn't about signing one big name; it was about balance, depth and the right fit for the system. In this group of newly acquired pass-catchers, Randy Moss headlined them all.
It's probably because amongst them, Moss is the lone five-time All-Pro selection (1998, 2000, 2002, 2003, 2007). For a team that was in desperate need of someone to take teams vertical, San Francisco might have the steal of free agency.
The Niners didn't overpay for someone like Vincent Jackson or give up too much for a Mike Wallace or Dwayne Bowe. The 49ers had a need, and they addressed it with a low-risk, (sky)high-reward free-agency deal.
And not a bad move if you consider the man's resume:
NFL Records
Most touchdown receptions in a season–23 (2007)
Most touchdown receptions by a rookie in a season–17 (1998)
Most seasons with 17 or more touchdown receptions–three (1998, 2003, 2007)
Most games in a season with at least two touchdown receptions–eight (2007)
Most yards receiving in a Pro Bowl game–212 (2000)
Most 1,200-plus yard receiving seasons to start a career–six (1998, 1999, 2000, 2001, 2002, 2003)
Fastest player to reach 5,000 career receiving yards–59 games
Youngest player in NFL history to record 100 receiving touchdowns–29 years and 235 days
Youngest player in NFL history to record 120 receiving touchdowns–30 years, 313 days
He doesn't have to be 1998 or 2007 Randy Moss for this to be a game-changing move.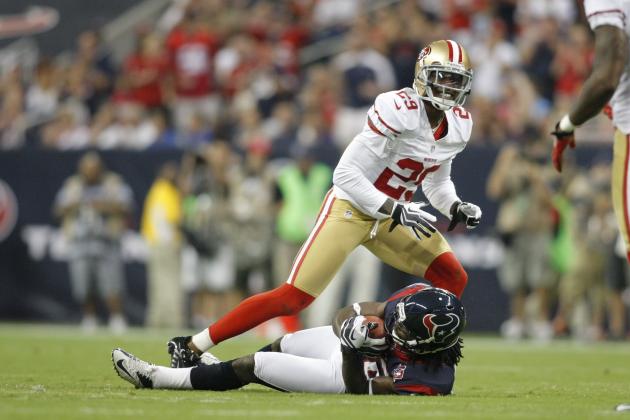 Brett Davis-US PRESSWIRE

Heading into the regular season next week, I believe the 49ers accomplished the goals they set for themselves in the offseason.
Aldon Smith should be ready to go, Alex Boone will start the season at right guard and, overall, they've successfully deepened their roster throughout.
On offense, San Francisco is incredibly deep at running back and wide receiver, with a promising backup quarterback in Colin Kaepernick. There have been a lot of positive strides and indications that this unit will take a step forward this season.
On defense, the Niners have further established their depth among the defensive line, while their cornerback group may be the deepest in the league in terms of talent. The safety and linebackers positions have also added some fresh faces; players who are in a great position to learn from the league's best.
All in all, the San Francisco 49ers had another successful offseason with Jim Harbaugh and Trent Baalke at the wheel. As a whole, this organization should be fielding a better football team, building on the identity they established in 2011.