Oklahoma State Football: 2012 Season Preview for the Cowboys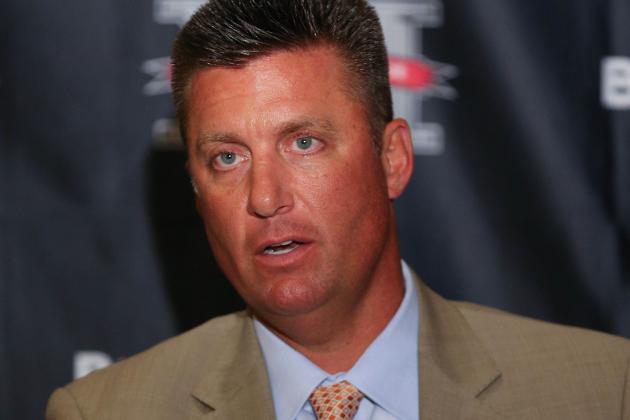 Kevin Jairaj-US PRESSWIRE

The 2012 college football season has finally arrived, and the Oklahoma State Cowboys and their fans are more than ready for it. Last year is gone, but the Cowboys are hoping to use it for momentum.
After a season for the ages last year, the Cowboys will look to prove that they are still a player in the national college football landscape, despite the losses of Brandon Weeden and Justin Blackmon. It will be a tall order, especially considering how strong and balanced the Big 12 conference looks this season.
What follows will be a complete season preview for the Oklahoma State Cowboys' 2012 season. Everything you need to know and all the predictions you could ever want are in this slideshow. By the time you're finished reading it, you will be 100 percent ready to start the 2012 season.
Begin Slideshow

»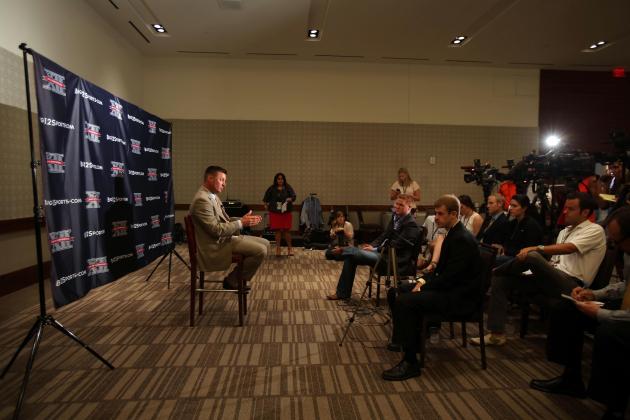 Kevin Jairaj-US PRESSWIRE

This offseason has been a good one for Cowboy football in most respects. The NFL Draft, a high-profile quarterback battle and solid recruiting were the high points of that offseason.
The Cowboys had two outgoing players taken in the first round of the NFL Draft. Star wide receiver Justin Blackmon was taken at No. 5 overall by the Jacksonville Jaguars, and 28-year-old quarterback Brandon Weeden was taken at No. 22 overall by the Cleveland Browns. While Blackmon is another entry in a long line of drafted Cowboy wide receivers, Weeden will likely become the first quarterback in Oklahoma State history to start his first NFL game.
A heavily-covered quarterback battle was also a huge story for the Cowboy program this offseason. Redshirt junior Clint Chelf, redshirt freshman J.W. Walsh and true freshman Wes Lunt all battled it out for the starting job vacated by the NFL-bound Weeden. Lunt was eventually named the starting quarterback, and he has kept that position since the spring with Walsh as the backup.
Recruiting has also been good for the Cowboys, as they will have a number of new players playing significant minutes this season. Besides Lunt at quarterback, true freshman C.J. Curry and junior college transfer Blake Jackson will get significant minutes at the wide receiver positions. Another junior college transfer Calvin Barnett will start at defensive tackle, and cornerback will also feature a few young players in backup positions, with true freshmen Kevin Peterson and Jonovan Griffin each playing in the season opener according to Mike Gundy in his press conference last week.
Not everything that happened in the offseason was good for the Cowboys, though. Special teams coordinator and defensive backs coach Joe DeForest left to become the defensive coordinator for new Big 12 opponent West Virginia. This is a big loss for the Cowboys, who have been elite in special teams for the decade that DeForest was there. Former University of Tulsa assistant coach Van Malone replaced DeForest as the defensive backs coach, and the special teams' duties are now split between assistant coaches.
Third-string running back Herschel Sims was also an offseason departure. He was dismissed from the program after stealing money from a teammate's bank account. Sims has since transferred to Lamar University. Desmond Roland will fill his role as the third-string back and, while it will not affect the Cowboys much this season, and it could be a big deal in a few years.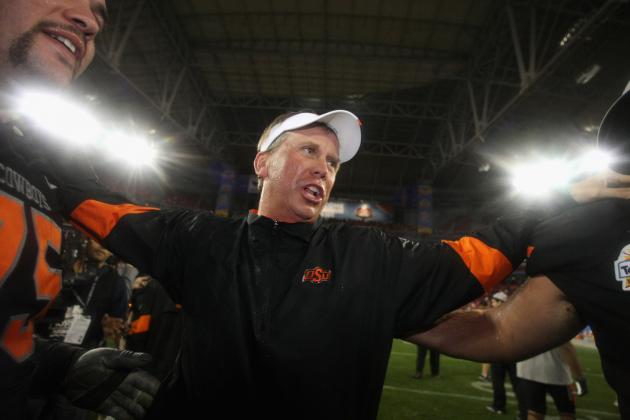 Donald Miralle/Getty Images
Offensive Coordinator Todd Monken
The Cowboy offense will remain the up-tempo, pass-heavy one that it has been over the past two years, despite starting a true freshman at quarterback. However, as any knowledgeable fan knows, the Cowboys have not abandoned the running game by any stretch.
With Joseph Randle and Jeremy Smith both showing that they were big-time playmakers last season, it stands to reason that the Cowboys will lean on the running game a little bit more in order to help out true freshman signal-caller Wes Lunt.
The receiving core that Lunt will be working with is greener than last season, but it is certainly not short on talent. Replacing Justin Blackmon will not be easy, but spreading the ball around should do the job pretty well. Returning wideouts Tracy Moore, Isaiah Anderson and Josh Stewart will be leaders in this unit, and JUCO transfer Blake Jackson will also be a big part of the group.
The offensive line probably will not miss a beat. All of the starters on the line this season have experience, and Joe Wickline has built a reputation as the best offensive line coach in college football.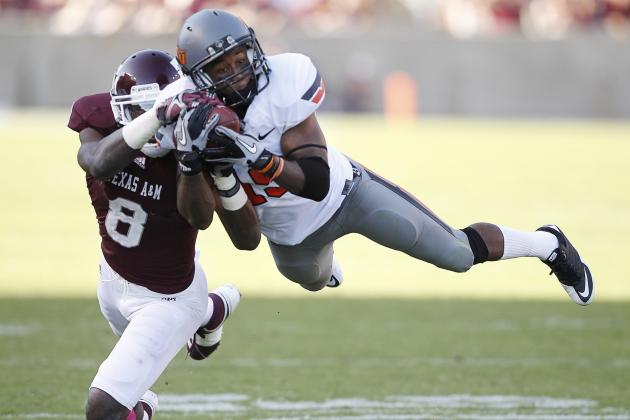 Bob Levey/Getty Images
Cornerback Brodrick Brown
Last season, the Cowboys' defense led the nation in turnovers and was one of the most underrated defenses. Despite losing a few key pieces, most of the defense is returning and it should be an improved unit.
The defense should continue to be its impressive, turnover-forcing self. Both starting cornerbacks return in Justin Gilbert (Fiesta Bowl MVP from last year) and Brodrick Brown. Daytawion Lowe also returns at safety. The defensive tackle should be even better than last season, with the addition of JUCO transfer Calvin Barnett. The stellar linebacking core is also fully returned and goes two or three deep at every position.
The key losses for the Cowboys could be significant as well. Defensive ends Jamie Blatnick and Richetti Jones are gone, along with star safety Markelle Martin. Filling those positions will be critical, but the Cowboys will have talent there, if not necessarily experience.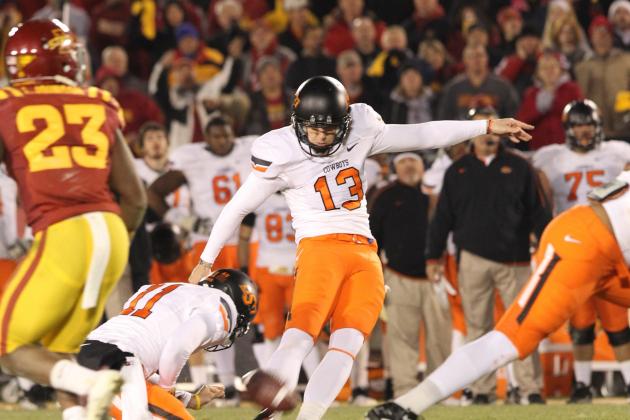 Reese Strickland/Getty Images
Punter/kicker Quinn Sharp
The loss of Joe DeForest as special teams coordinator will be something that will have to be overcome. Under DeForest, the Oklahoma State special teams were stellar for a decade. Hopefully he has left enough of a legacy that the Cowboy coaching staff and players can continue on without him.
Senior Quinn Sharp will assume the punting and place kicking duties again this season. He was among the nation's best at both last season, and made a solid case that he was the most valuable special teams player in the nation.
Charlie Moore and Justin Gilbert will take over the punt returning duties since Josh Cooper has graduated to the NFL. Gilbert and Jeremy Smith will return kicks. The punt and kick return games were one of the few areas in which the Cowboys struggled last season. With a true freshman at quarterback, good field position will be important, so this is an area that really needs to improve.
Christian Petersen/Getty Images

Other than the departure of Joe DeForest and the arrival of Van Malone, the Cowboy coaching staff has stayed the same. That is a luxury for head coach Mike Gundy who has had plenty of coaches leave for jobs during his tenure.
Todd Monken did a great job last season of taking Dana Holgorsen's offense and really making it his own. He also did a very good job with the quarterbacks and will be key in the development of Wes Lunt. Bill Young's defense has improved every season, and there is no reason to think this year will be different.
Below is a list of the current coaches for the 2012 season.
Head Coach—Mike Gundy
Offensive Coordinator/Quarterbacks—Todd Monken
Defensive Coordinator/Defensive line—Bill Young
Wide Receivers—Kasey Dunn
Cornerbacks—Jason Jones
Assistant Coach/Safeties—Van Malone
Inside Receivers—Doug Meacham
Running Backs—Jemal Singleton
Co-Defensive Coordinator—Glenn Spencer
Offensive Line—Joe Wickline
Strength and Conditioning—Rob Glass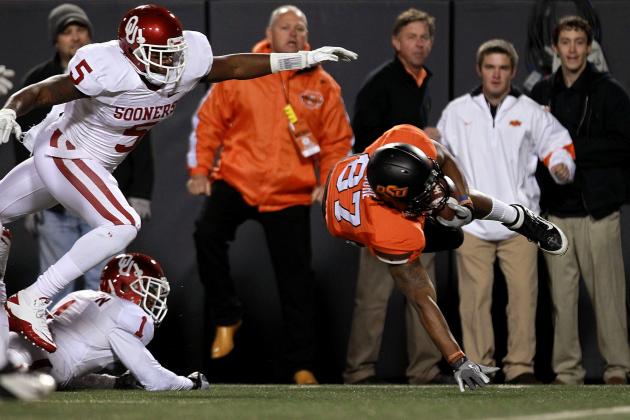 Ronald Martinez/Getty Images
Wide receiver Tracy Moore
The schedule shapes up pretty favorably for the Cowboys this season. Almost all of their away games are extremely winnable, with the obvious exception of playing the Oklahoma Sooners in Norman on November 24th. Playing at Kansas State will always be pretty tough, and home games with Texas and TCU could be as well.
September 1—Savannah State
September 8—at Arizona
September 15—Louisiana (Lafayette)
September 29—Texas
October 13—at Kansas
October 20—Iowa State
October 27—TCU
November 3—at Kansas State
November 10—West Virginia
November 17—Texas Tech
November 24—at Oklahoma
December 1—at Baylor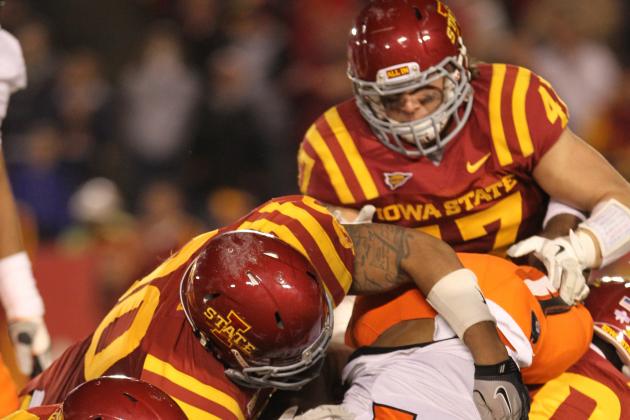 Reese Strickland/Getty Images

October 20—Iowa State
Going with the season opener against Savannah State would be so easy it would feel like cheating, so I am disqualifying that one. The October 20th game with the Iowa State Cyclones will be one that every Cowboy fan and player has circled on their calendar.
The Cyclones were the only thing that kept the Cowboys from competing for a national championship last season, and revenge will be wanted. It will be gotten, as the Cowboys will not make the same mistake of being unprepared for Paul Rhoads' team twice. Plus, this time around the game will be in Stillwater and not in Ames, Iowa on a Friday night.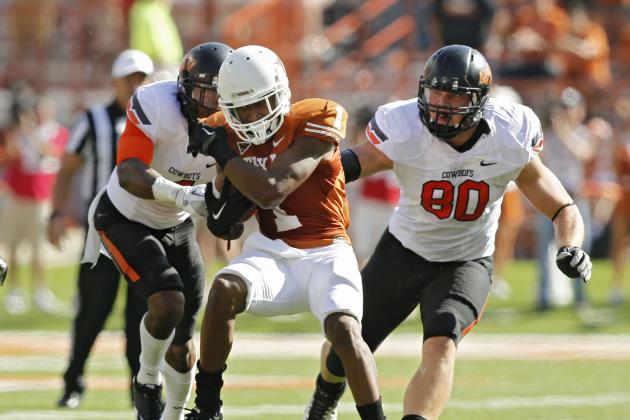 Erich Schlegel/Getty Images

September 29—Texas
No one really seems to know what to expect from this game. Both teams feature a ton of talent on both sides of the ball, and while Texas does appear to be on the upswing, the Cowboys have beaten them two years in a row in Austin. This game will be in Stillwater, adding another advantage to the Cowboys.
The game will probably come down to whether or not the Texas defense can get to and bother Wes Lunt. If he is able to play well in the face of the constant pressure they throw at him, the Cowboys should have a great shot at winning. It will also help if they can run the ball.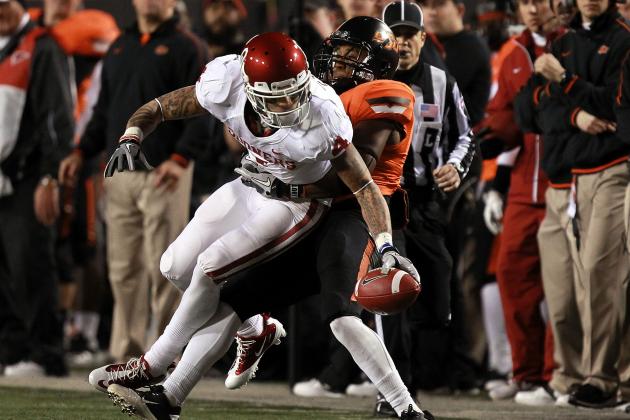 Ronald Martinez/Getty Images

November 24—at Oklahoma
This is by far the toughest game on the schedule. The Sooners look like they improved, and they will clearly want revenge after the 34-point beatdown the Cowboys put on them last season. Mike Stoops has returned as defensive coordinator and defensive backs coach, which should make the Sooner defense better. It does not help that this game is in Norman, one of the toughest places in the nation to win as a visitor.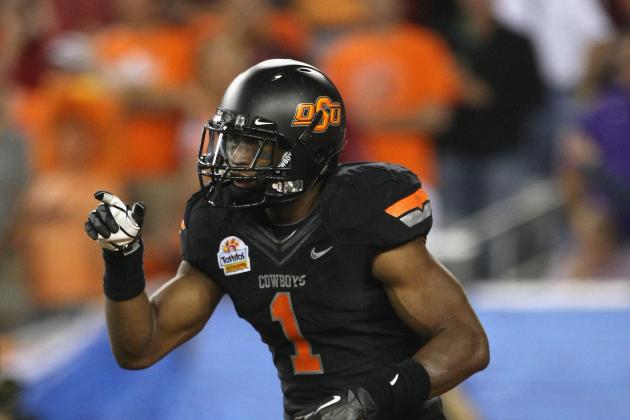 Donald Miralle/Getty Images

Joseph Randle
Joseph Randle is on everyone's radar after his fantastic, under-the-radar year last season. He rushed for 24 touchdowns and 1,216 yards in the 2011 season. Whether or not he will be able to match those numbers exactly is hard to determine, but he will be a major focal point of the offense and the main motor that makes it run. His success will depend on the how well Wes Lunt does in the passing game, and that depends on how well he (Randle) runs the ball. Hopefully, both will do well.
Other Contenders: Tracy Moore, Wes Lunt, Jeremy Smith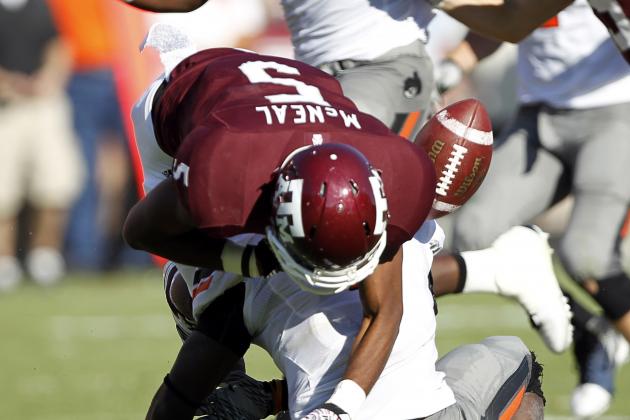 Bob Levey/Getty Images

Daytawion Lowe
After leading the team in tackles as a sophomore last season, Daytawion Lowe will be the leader of the defense again in 2012. He is a great complement to the rest of the defensive backfield, as he is the only one who is a true bruiser. Big hits are his specialty. He closes fast on the ball-carrier, and he can force fumbles (three last season). He will be a force on this defense and make it even better than last season.
Other Contenders: Shaun Lewis, Brodrick Brown, Justin Gilbert

Courtesy of OKState.com
Blake Jackson
Of all the newcomers on this team, Blake Jackson will have the biggest impact. The Scottsdale Community College transfer will start at inside receiver for the Cowboys and will be a safety option for Wes Lunt. At 6'3" and 238 pounds, Jackson has the body of a tight end but the speed of a wide receiver. He will be a difference-maker immediately for an Oklahoma State team that could use it since Tracy Moore will no longer be playing at inside receiver.
Other Contenders: Calvin Barnett, Wes Lunt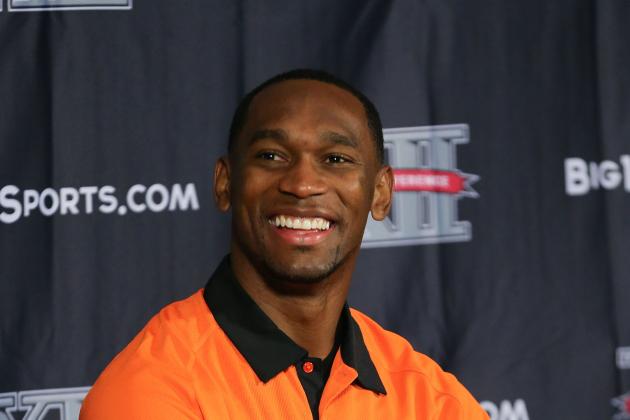 Kevin Jairaj-US PRESSWIRE

Joseph Randle
Randle is the best NFL prospect on this team right now, and he will add to that by having a great 2012 season. The offensive system he plays in might count against him a little bit, but he has almost everything you could want in a running back prospect already. He is a big, powerful back with good speed and vision. He also is lethal when it comes to catching passes out of the backfield.
Other Contenders: Justin Gilbert, Brodrick Brown, Tracy Moore, Lane Taylor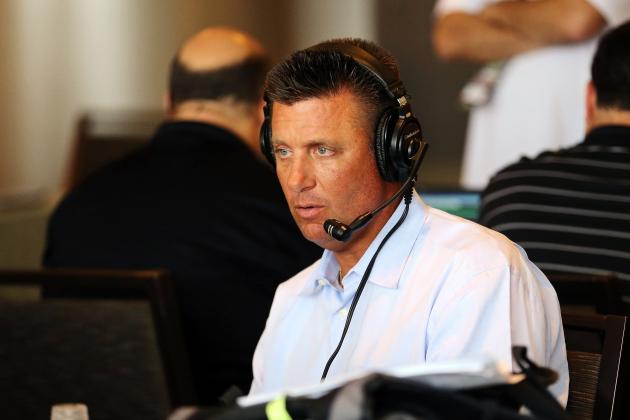 Kevin Jairaj-US PRESSWIRE

Kevin Klintworth
Klintworth is the Associate Athletic Director at Oklahoma State, and he is a great source for all kinds of good information about the football program that you normally cannot get from anywhere else.
Mike Gundy
Who could be a better follow than the head coach himself? Coach Gundy is not the biggest "tweeter" out there, but he does give some great info.
Gina Mizell
Gina Mizell is the beat writer for Oklahoma State football for The Oklahoman. She does a great job of covering the team and always has great info and insight into what is going on.
Kelly Hines
Kelly Hines covers the Cowboys football team for the Tulsa World and does a great job. Much like Mizell, she does a good job of providing info and insight into the team and its goings-on.
Cowboy Football
This one is the official Twitter of Oklahoma State football, so it only makes sense to follow it if you are a fan. The account gives constant links of great Oklahoma State football content.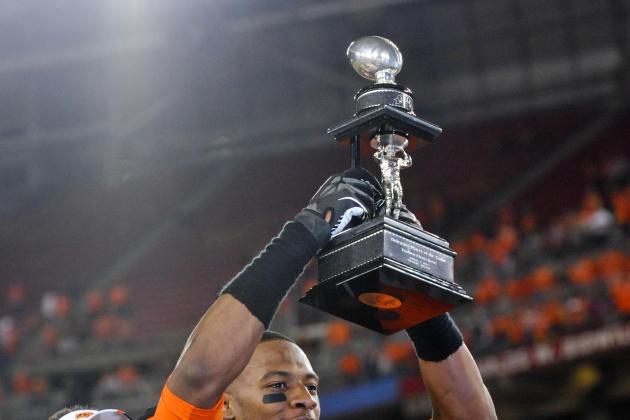 Chris Morrison-US PRESSWIRE
Cornerback Justin Gilbert
According to LasVegasSportsBetting.com, the odds are 8-to-1 that the Cowboys will win the Big 12. Those seems about right, especially with the Cowboys losing some key contributors heading into this season. According to that same site, the odds of the Cowboys winning the BCS title are 100-to-1, which seems extremely low considering that the Cowboys are a ranked team.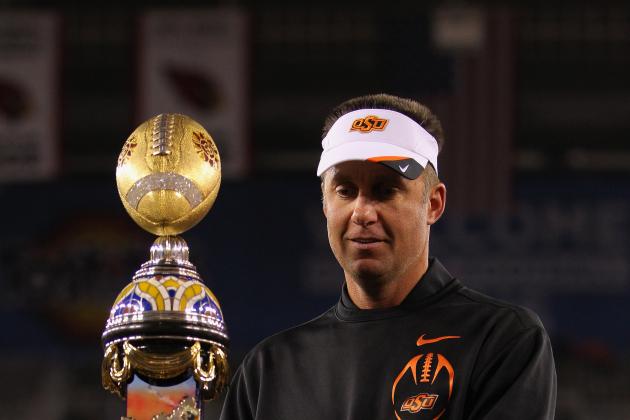 Doug Pensinger/Getty Images

Bowl Prediction: Alamo Bowl
The Alamo Bowl is a very logically place for the Cowboys to end up. Their record will probably be 8-4 or 9-3, which is about the range from which the Alamo Bowl picks a team. It also makes sense geographically, as Oklahoma State fans will travel to San Antonio in droves, and the area is a nice recruiting base for the Cowboys.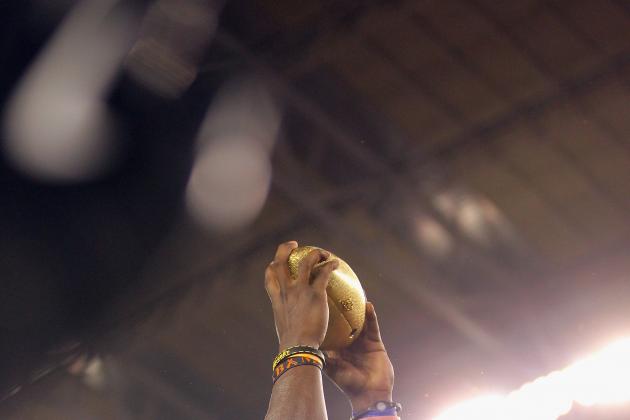 Doug Pensinger/Getty Images

Record: 9-3, third in Big 12
The Cowboys will have a very good year despite their loss of star players. Their losses will be to Oklahoma, Texas and Kansas State. One of those last two could possibly be replaced with a loss to West Virginia.
The Cowboys will finish third in the Big 12 behind Oklahoma and Kansas State/West Virginia. This will be the year that proves that this program is here to stay, with the potential for double-digit wins for a third straight season. Mike Gundy will be in contention for Big 12 Coach of the Year, and the Cowboys will not get blown out in any games.
All in all, 2012 looks like it will be a great season in the continuing development of the Oklahoma State football program. It will be particularly important for the Cowboys to show the nation how good they can be, and they will accomplish that goal.