St. Louis Rams: Biggest Concerns Heading into the Season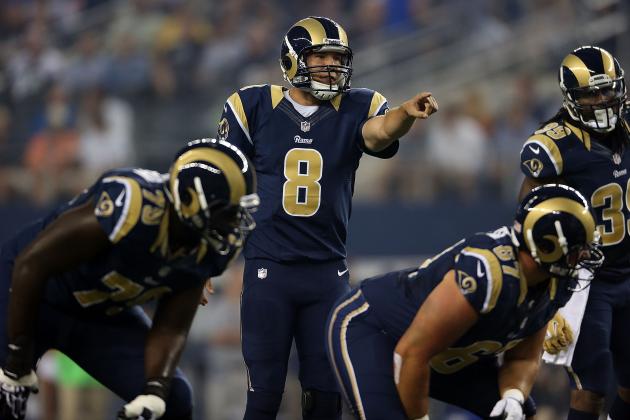 Ronald Martinez/Getty Images

The St. Louis Rams have one more meaningless dress rehearsal, also known as the fourth game of the preseason. After that it's lights, camera, action Rams fans.
So heading into the regular season, what are you most worried about?
I think the Rams are already leaps and bounds better than last year's walking M.A.S.H. unit, but there are definitely still some weak spots to be addressed. Read along and today as I lay it out for you. As always, thanks for reading and the comments you give.
Begin Slideshow

»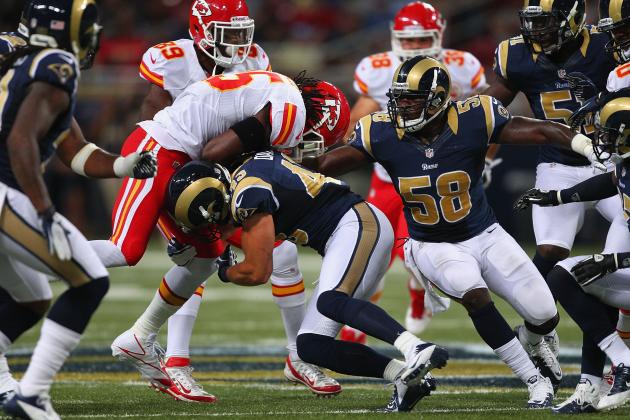 Dilip Vishwanat/Getty Images

We could put the whole defense on notice here, but I, for one, am not worried at all about the defensive line or the secondary. I think both of those areas will be a strength for this football team.
The linebackers are another story altogether.
These linebackers have struggled to cover anybody in the passing game, and they've been even worse at trying to wrap up and tackle in the open field. Even James Laurinaitis, a potential superstar at middle linebacker, has been a matador in the middle of the Rams' D.
Part of the problem is the linebackers are adjusting to a new scheme, the Cover-2, in which they have to sit back a little deeper prior to the snap. The other part of the problem is the Rams only have two linebackers, Jo-Lonn Dunbar and James Laurinaitis, that are competent in pass coverage.
Luckily for the Rams, the NFL is so pass happy that the Rams will be in nickel coverage about 35 to 40 percent of the time, meaning they will only need two linebackers on the field at a time. Because if they absolutely had to play three linebackers, I'd have this concern ranked even higher on the list.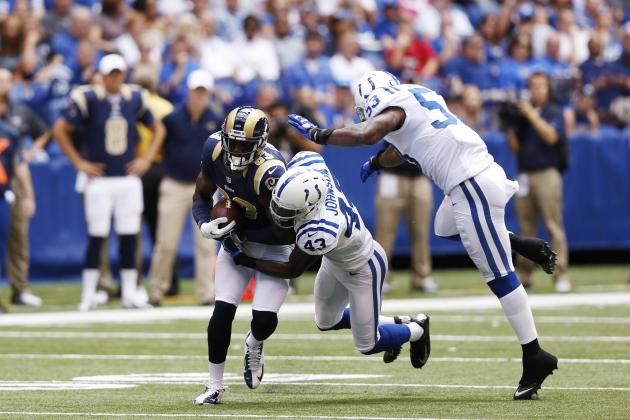 Joe Robbins/Getty Images

I have no doubt that the Rams have more play makers at receiver, but I wonder if there is one elite play maker in this group. The receiving corps of Steve Smith, Danny Amendola, Austin Pettis, Brian Quick, and Chris Givens easily gives Sam Bradford the most talent he's had to work with in St. Louis.
I just wonder if any of those aforementioned receivers can get open against an elite corner.
Because if they can't, as we saw Sunday in Dallas, it means Sam Bradford will be once again throwing into very tight windows. I believe Quick has some big play ability in him, but it might be a matter of time before he establishes himself as that type of receiver.
Until then, the Rams will have to rely on moving receivers around and trying to take advantage of matchups. A really strong running game is a must for the Rams to win more games than they did a year ago.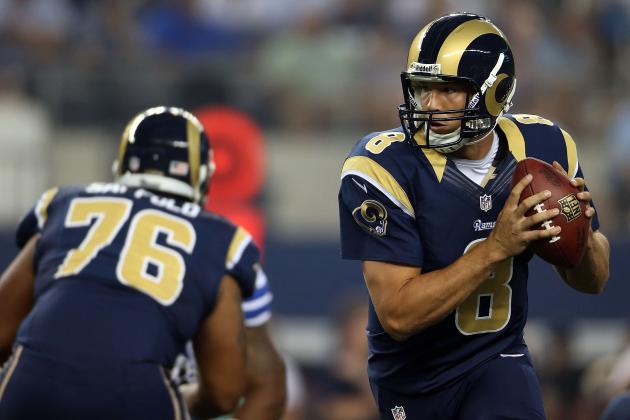 Ronald Martinez/Getty Images

Does Drew Brees make his receivers better, or does he simply have enough time to throw to a deep corps of talented players? What came first, the chicken or the egg?
Ask 10 different football fans, and you're going to get multiple opinions on this topic.
So what do we make of Sam Bradford as he enters year three of his pro career? For the Rams to take that next step as a football team, Bradford has to make "the leap" as a QB. As we just discussed, he doesn't have Calvin Johnson or Larry Fitzgerald to throw to. That makes a difference, no doubt about it.
At the same time, Bradford has to squeeze every ounce of talent out of a group that is finally, for the first time in his career, at least above average. I still believe Bradford is an elite QB in the making. If the Rams are going to even sniff .500 in 2012, Bradford has to elevate himself as a QB.
Dilip Vishwanat/Getty Images

How did the Rams go from 7-9 (2010) to 2-14 (2011) so fast? Two reasons—a brutal schedule and a streak of bad luck in terms of injuries.
If the Rams had just stayed healthy they would have won four, maybe five games last year. The schedule would have still forced them to take a step back, because this was still a very flawed roster, but the Rams wouldn't have been holding the RG3 pick in the draft if they had simply stayed relatively healthy.
Injuries are part of football. They're unavoidable in a game where large men collide at full speed on every play.
Having said that, the Rams are still very thin at key positions on this football team. Steven Jackson isn't a spring chicken anymore, and as limited as the Rams' passing game is, Jackson needs to be a durable workhorse for the Rams to improve significantly.
While the receivers are better, should Amendola or Smith go down again—both coming off of serious injuries a year ago—that would force the Rams to rely heavily on rookies in the passing game. Ditto for the offensive line. If you think things are bad now, just think back to last year when we had street free agents starting football games.
The Rams are a lot better than they were a year ago, but unlike the Niners, they don't have the depth to sustain a major injury to one of their key players.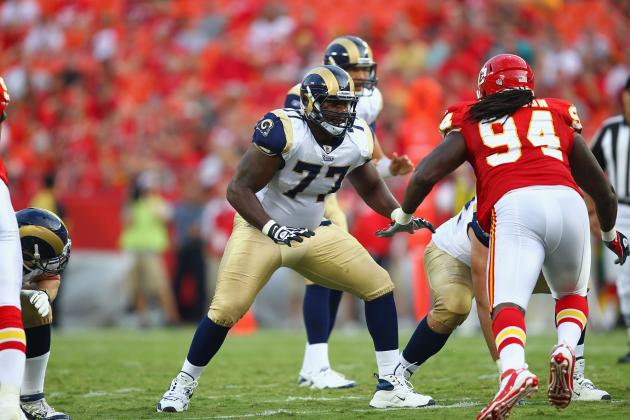 Dilip Vishwanat/Getty Images

Come on, you knew this was going to be first on the list before you started reading, right?
The O Line struggled mightily against the Cowboys starters, with sacks and penalties killing the Rams' first three drives. More than anything else, I think this group is still going to struggle with edge pass rushers, something that will no doubt be addressed with one of our first-round picks next April.
Having said all of that, I do think the O Line is better than it was a year ago. Scott Wells, who missed most of the preseason as a precaution as he recovered from injury, is a major upgrade at center. Harvey Dahl is solid at right guard. Rodger Saffold is actually a good left tackle, and so far has looked like the promising rookie we saw back in 2010.
However, the O Line is only as strong as it's weakest link.
That would be left guard and right tackle, where the Rams don't have a competent starter at either spot. It looks like Quinn Ojinnaka or Robert Turner will win the left guard spot, while Barry Richardson has the upper hand on Jason Smith so far at right tackle.
Forgive me if I'm underwhelmed by the talent at both positions.
Eventually rookie Rokevius Watkins will win the job at left guard, and the Rams are going to draft a tackle in April. In the meantime, the O Line is the biggest concern on this football team. If they don't play better, the Rams won't be able to run the ball, and Sam Bradford will continue to get abused dropping back to pass.
Expect Jeff Fisher to help that right tackle with a tight end or fullback. He won't let Bradford get killed. That will take a receiving option out of the passing game, but at least it will help Bradford stay whole as he continues his ascent to elite QB status.
Bottom line, this O Line is by far the weakest area of this football team.