New York Jets' Defensive Line Could Carry the Defense as a Whole in 2012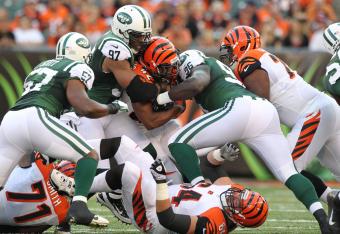 Matthew Emmons-US PRESSWIRE
The Jets defense held the Panthers to 17 points, but that number does little justice to its performance.
There's no reason this unit can't be a top-five overall defense for the fourth year in a row. Yes, it has its weaknesses; linebacker Bart Scott is still suspect in coverage at the second level, as is cornerback Kyle Wilson in the slot. But New York's incredible talent on the defensive line could cake those warts in mascara.
Between defensive ends Aaron Maybin and Calvin Pace, defensive tackles Sione Pouha and Kenrick Ellis, and versatile linemen Muhammad Wilkerson and Quinton Coples, it's not hard to see why there's so much talent up front. That's four former first-round picks (Maybin, Pace, Wilkerson, Coples) and two third-round picks (Pouha, Ellis). That's not to mention defensive tackle Mike DeVito, the Jets' diamond-in-the-rough undrafted free agent.
These guys (except Pouha and DeVito, who didn't play) were all over the field on Sunday night against the Panthers. That's saying a lot, considering the Panthers have one of the better offensive lines in football. They did it partly with scheme, but mainly with raw talent and hustle.
Coples had motor questions entering the 2012 NFL draft, which caused some scrutiny among observers who questioned the Jets' ability to corral the North Carolina pass-rusher.
He may still have motor questions if Rex Ryan's postgame comments are any indication (h/t NJ.com), but on the field, it looked like his motor was running on overdrive on Sunday night in pursuit of Panthers quarterback Cam Newton.
He chased down the scrambling quarterback and continued to do so through the whistle.
Not to be outdone, Maybin followed that up just a few minutes later with his own high-motor play, chasing down Newton as he scrambled into his own end zone.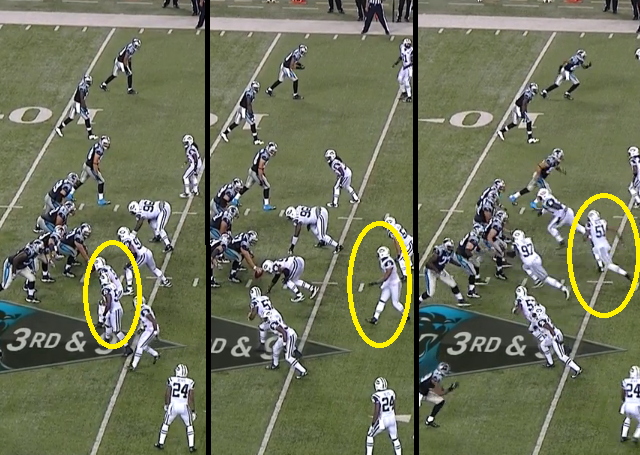 The Jets drew up a beauty here, with Maybin moving around before the snap. He blitzed the A-gap, between the center and guard, and had Cam in hot pursuit.
Were it any other quarterback besides Newton (and maybe Michael Vick and Tim Tebow), Maybin might have logged the safety.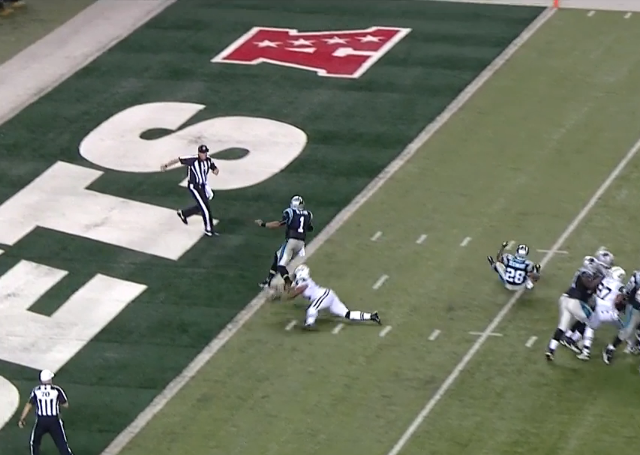 Had the Jets logged that safety, the tenor of the game could have changed dramatically.
But the pressure the line got on Newton only begins to tell the story of this unit.
Kenrick Ellis made a couple of nice plays up front for the Jets, as well. Truth be told, he looked more like a veteran than a second-year defensive tackle with just five games of NFL experience.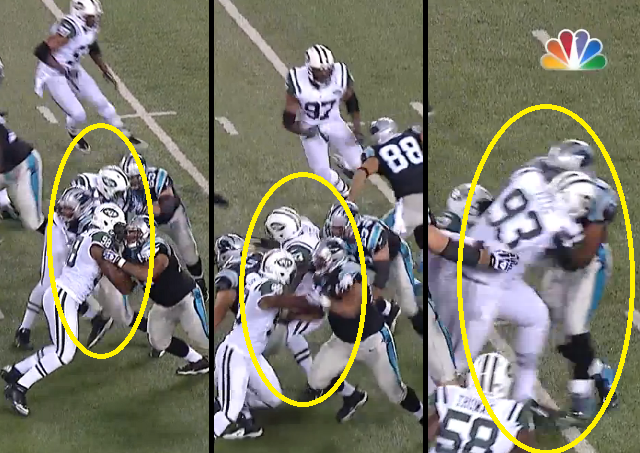 He was trumpeted for his quick feet coming out of college, and we saw him put those feet to use as he rolled right off a double-team.
He did a great job of keeping his eyes in the backfield while on the double-team, and he made a great read on the gap through which the play was being aimed. Then, he let his feet do the talking and stuffed Panthers running back Jonathan Stewart at the line of scrimmage.
He showed up in the passing game, too, batting a pass at the line of scrimmage.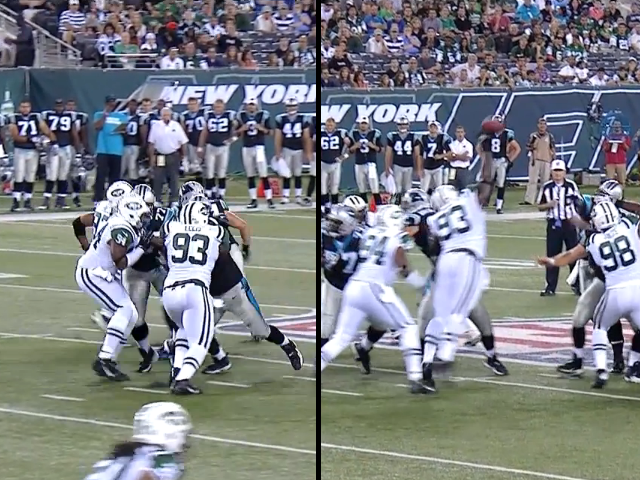 Once again, he was able to ward off his blocker in order to keep his eyes in the backfield, and when he realizes the pressure won't get home in time, he makes the wise veteran move of putting his hand up.
The blemishes in this defense are few, but the blemishes in the defensive line are almost nonexistent. Arguably, the only weak link on the unit is Pace, but the wily veteran provides a nice complement at defensive end next to three athletic talents in Coples, Wilkerson and Maybin on passing downs, while a veteran group of Pace, Pouha and DeVito instills confidence in running situations.
The unit will only get deeper when the Jets get back Pouha and DeVito, but the absence of those two didn't stop the Jets defensive line from making plays all over the field anyway.
Erik Frenz is the AFC East lead blogger for Bleacher Report. Be sure to follow Erik on Twitter and "like" the AFC East blog on Facebook to keep up with all the updates. Unless specified otherwise, all quotes are obtained first-hand.
This article is
What is the duplicate article?
Why is this article offensive?
Where is this article plagiarized from?
Why is this article poorly edited?

New York Jets: Like this team?