NASCAR Power Rankings: Top 20 Drivers Coming out of Bristol
Jared C. Tilton/Getty Images
Denny Hamlin led the way at Bristol, but who leads the way in this week's Power Rankings?
The boys of NASCAR took to the high banks of the northern-Tennessee bullring this week for the annual Summer Classic, the Irwin Tools Night Race at Bristol.
Several drivers escaped the 500 laps of chaos and came away with outstanding results, including one bubble driver who had slipped in recent weeks and a pair of wild-card contenders in need of a solid performance.
Other drivers were not so lucky, including the man who had mastered Bristol in recent events and a pair of wild-card contenders who could not afford a slip-up.
The Power Rankings got quite a shake-up again this week as the top spot changed hands for the second race in a row.
How do the drivers rank coming out of Bristol? We've got you covered!
Begin Slideshow

»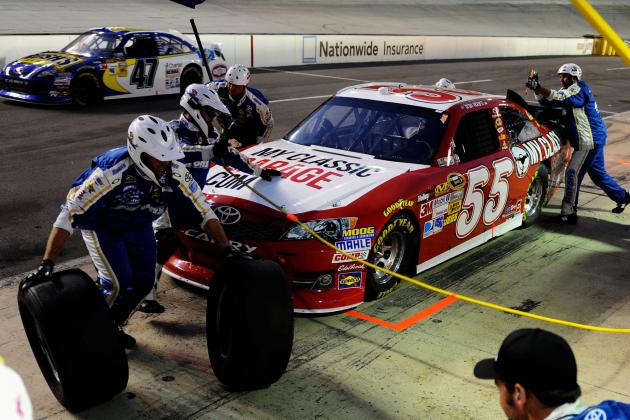 John Harrelson/Getty Images
Brian Vickers finished fourth at Bristol
Last week: NR
Brian Vickers is hands down the best stock car driver in the world without a full-time NASCAR Sprint Cup Series ride.
Want proof? Here it is.
Vickers has three top fives in six Cup starts this season in Michael Waltrip Racing's No. 55 car. That's a .500 average, for you baseball fans out there. The only other driver with an average that good is Jimmie Johnson, with 12 top fives in 24 starts.
Mark Martin, who shares the No. 55 with Vickers, has two top fives in 15 starts.
He may not be able to keep numbers like that up for a full season. But regardless, if Brian Vickers doesn't have a full-time Cup offer on the table for 2013 after this season, something is wrong.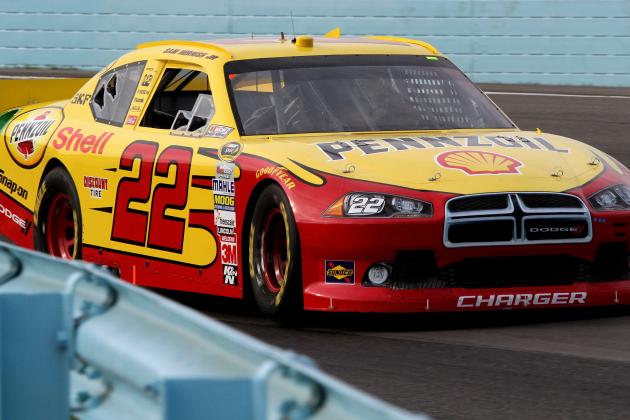 Jerry Markland/Getty Images
Sam Hornish Jr. finished 34th at Bristol
Last week: 18
I loved that picture of Sam Hornish Jr's No. 22 ride from Watkins Glen so much, I decided to use it again.
What I didn't love was Hornish's night at Bristol one week after I bragged on him a little.
Hornish had a myriad of problems that started early, when he got in the wall and did some damage to the right side of his car. The night got worse later when he took some damage to the left-front and spent some time in the garage.
Overall, the Cup race at Bristol was forgettable for Sam. The good news is his Nationwide performance is staying up and the Cup performance has been solid in recent weeks, the race at Bristol notwithstanding.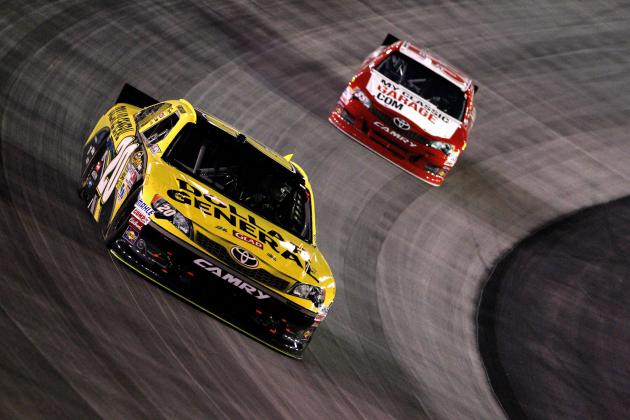 Tyler Barrick/Getty Images
Joey Logano finished eighth at Bristol
Last week: 19
I feel bad I didn't move Logano up higher in the rankings this week.
Really, after winning the Nationwide race (which really holds too much power in these rankings) and leading the most laps on Saturday night, Logano probably deserved to be ranked a lot higher.
The problem is, Logano didn't win. And that's what he has to do if he's to have any shot at beating the guys ahead of him for that final wild-card spot and leap over them in the rankings.
Until then, 18th-place Logano will stay at that same spot in the Power Rankings.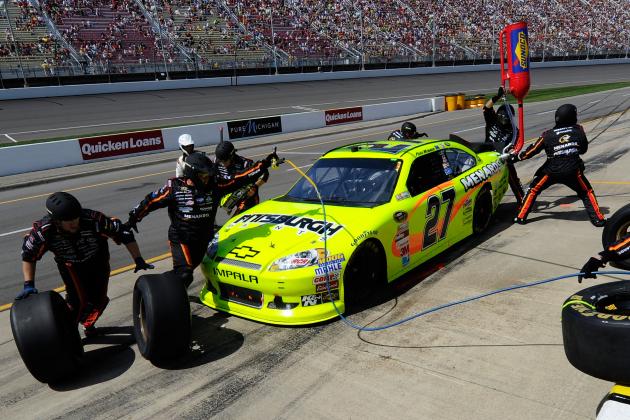 John Harrelson/Getty Images
Paul Menard finished seventh at Bristol
Last week: 17
See: Logano, Joey.
Menard had almost as good of a night as Joey Logano. Actually, he had a better night than Logano in the final finishing order, but since when has NASCAR been about where you finish? Am I right?
Anyway, Menard put together another solid finish Saturday night and now has five top 15 finishes in a row.
Unfortunately, the magic word these days in NASCAR is "win," as in that's what you have to do in order to make the Chase, which is all that really matters at NASCAR's top level. Also, he lost two spots in the standings this week.
By the way, that comment about NASCAR not being about where you finish? Sarcasm. Though, I hope that was implicit.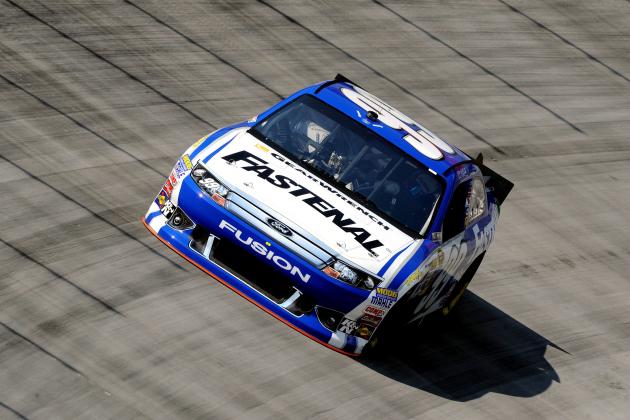 John Harrelson/Getty Images
Carl Edwards finished 22nd at Bristol
Last week: 13
If Saturday night's race had been called the Irwin Tools 465-lap Night Race at the New Old Bristol Motor Speedway, Carl Edwards would be in the top 10 in this week's rankings.
But it wasn't named that, and we are very grateful for it.
Cousin Carl was in a position to win the race with 35 laps to go before getting freight-trained in the closing stages and eventually running out of fuel.
In a matter of moments, Edwards fell from 11th in the standings, the final wild-card spot and within striking distance of the top 10, to 12th in the standings and into a tough predicament with two races to go before the Chase.
Who says NASCAR isn't unpredictable?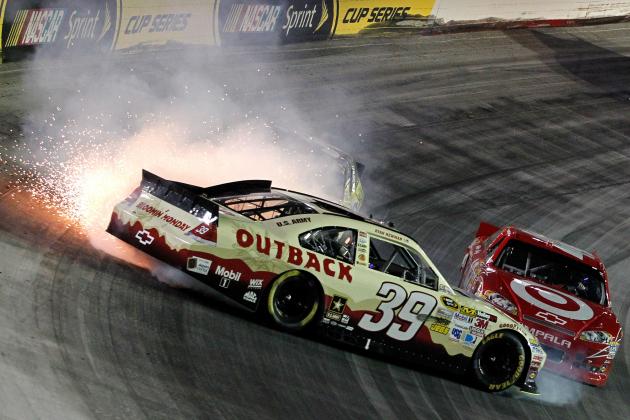 Tyler Barrick/Getty Images
Ryan Newman finished 36th at Bristol
Last week: 12
Darn that Juan Pablo Montoya.
Last week, the Bullseye took out wild-card contender Joey Logano. This time around, he took a shot at his old buddy, Ryan Newman.
The result was a DNF for Rocketman, a two-spot drop in the standings and a whole slew of Outback jokes.
Among my personal favorites, "After getting spun by Montoya, Newman finished way Outback," and "After the race, Newman took Montoya Outback for 15 rounds of bare-knuckle boxing."
Actually, I just made those up. If you can come up with a better one, let me know.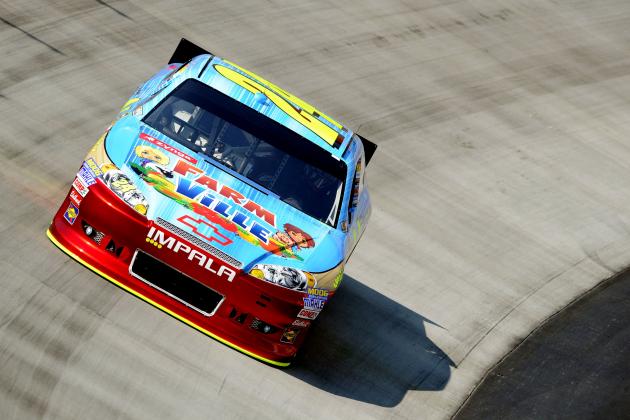 John Harrelson/Getty Images
Jeff Gordon finished third at Bristol
Last week: 16
A Farmville car at Bristol? Welcome to NASCAR in 2012.
To be honest, I really was diggin' (that word is still cool, right?) the sky-blue paint job, as well as the result Jeff Gordon earned driving it.
Gordon put himself back in a good spot for the Wild Card Saturday night, finishing highest among all the contenders and moving to within 16 points of the final spot.
Jeff's in a good position heading into Atlanta, where he won a year ago.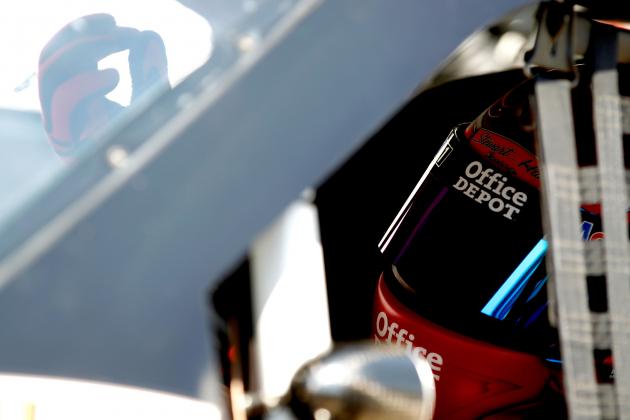 Jeff Zelevansky/Getty Images
Tony Stewart finished 27th at Bristol. His helmet did not finish the race
Last week: 11
The helmet throw is not dead.
Tony Stewart appealed to NASCAR fans everywhere by taking his helmet with both hands and slinging it at Matt Kenseth's car in disgust following an accident with the No. 17 while racing for the lead with 150 laps to go.
While Kenseth's car took a quite a shot, it was Smoke's helmet that got the worst end of the deal as it wound up getting stranded on pit road by its owner before being condemned to an unholy place.
Stewart, meanwhile, should get tops in the rankings simply for giving us the first helmet toss at the Sprint Cup level since 2005.
Unfortunately, that's not how power rankings work, and Stewart now sits on the Chase bubble with two races to go.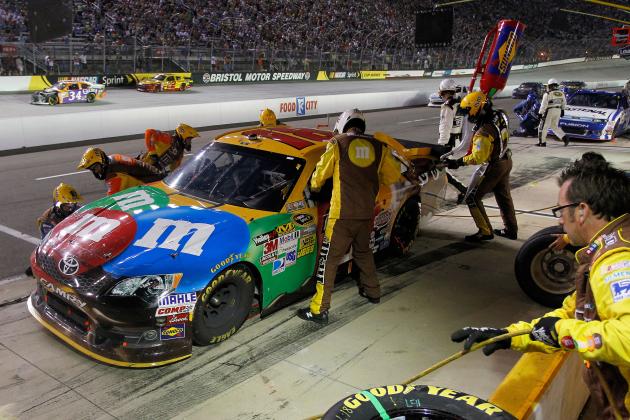 Wesley Hitt/Getty Images
Kyle Busch finished sixth at Bristol
Last week: 15
I have plenty of good things to say.
For starters, the only Busch brother in the rankings finished in the top 10 for the second time in three weeks, posting a respectable sixth-place effort on a surface he referred to as "terrible."
In addition, Busch grabbed the second wild-card spot this week and holds a 16-point lead over Jeff Gordon.
Finally, Busch stayed under the radar this week and didn't make headlines for all the wrong reasons. That's always a plus.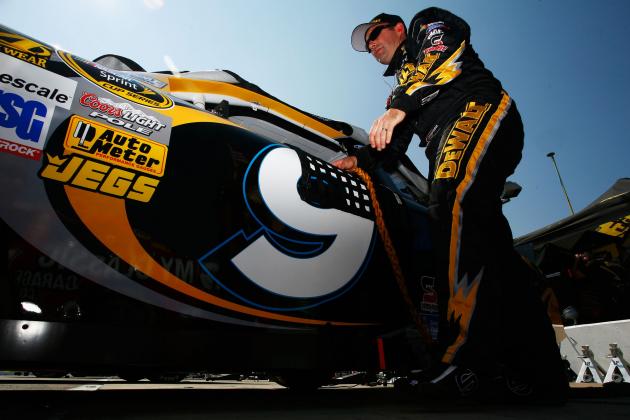 Tyler Barrick/Getty Images
Marcos Ambrose finished fifth at Bristol
Last week: 14
I admit, I may be the biggest Marcos Ambrose fan in the sports media/blogosphere.
I mean, let's face it. Since when has Marcos Ambrose been the 11th-best driver in NASCAR? Surely I have him ranked way too high, especially considering he's 16th in the standings.
But two things need to be brought to everyone's attention: He has three-straight top fives for the first time in his career, and he's had as good of a chance to win in each of the last three races as all the wild-card contenders...or better.
Not to mention he's now just 28 points out of the final wild-card spot.
How are we not talking about the Tasmanian alongside Jeff Gordon, Ryan Newman and Kyle Busch as a contender for that final wild-card spot?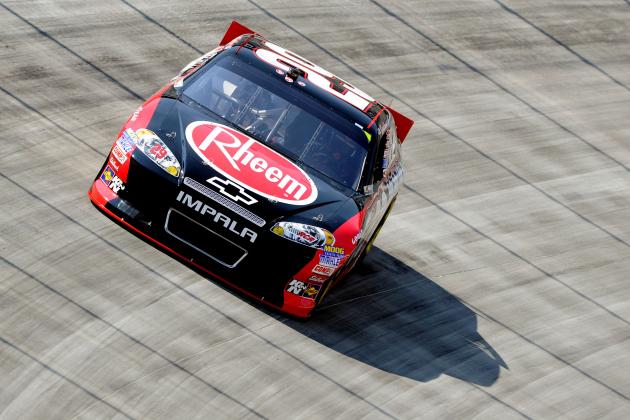 John Harrelson/Getty Images
Kevin Harvick finished 15th at Bristol
Last week: 10
Once again, Kevin Harvick sported an unimpressive result. And once again, it doesn't seem to matter very much.
Harvick finished 15th at Bristol but still has a bit of a cushion over 11th-place Kasey Kahne.
But that cushion is getting smaller each week. His last four finishes are 16th, 15th, 16th and 15th, respectively.
The gap over 11th has shrunk to 37 points, which is still almost a full race. However, with two races to go and the way Kahne is capable of running on any given week, one bad finish in the final two could drop Harvick out of the playoffs.
There's no use playing around. The time to hit the panic button is now, before it's too late for the No. 29 team.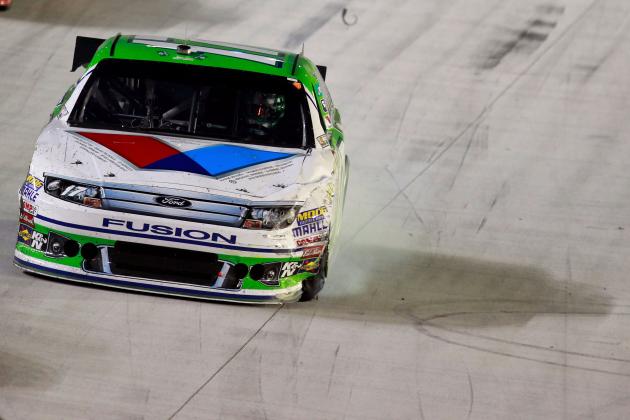 Geoff Burke/Getty Images
Matt Kenseth finished 25th at Bristol
Last week: 6
Props to Matt Kenseth for not only getting Tony Stewart fired up, but also for being a sport and taking that hit.
Kenseth was the unfortunate recipient of Smoke's helmet heave, with the front of his No. 17 car taking the brunt of the hit.
But Matt really got a bad rap in that incident. While Stewart's reaction indicated the wreck was all Kenseth's fault, replays showed it was really just a racing deal, albeit initiated by contact from Kenseth.
Regardless, Kenseth's result was poor and his fall in the rankings this week reflects just how bad it was.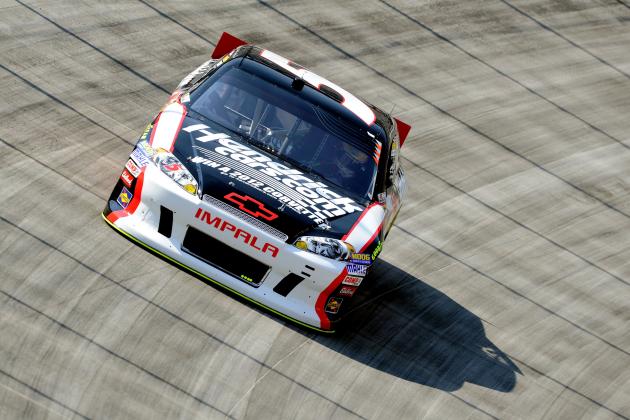 John Harrelson/Getty Images
Kasey Kahne finished ninth at Bristol
Last week: 7
Kasey Kahne and the No. 5 team demonstrated what champions are made of Saturday night.
Kahne pounded the wall while leading the race when David Ragan blew up in front of him and Kahne slipped in his oil.
The result was one lap spent on pit road and a beat up right-front fender.
But Kahne pulled it together and rallied for a solid top 10 finish. Although he didn't earn the win he could've had, the fact that he and his team managed that kind of a result considering the adversity they faced was very impressive.
If he can get a little luck on his side, look out for Kasey in the Chase.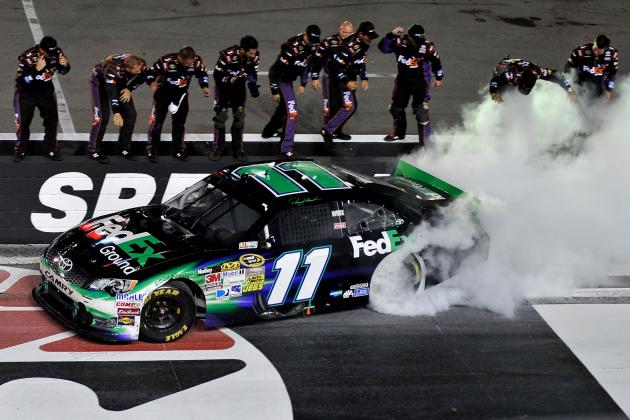 Pool/Getty Images
Denny Hamlin won at Bristol
Last week: 9
Denny Hamlin was on the verge of falling outside the top 10 in points and having to fall back on a wild-card spot.
Keyword: "was".
Hamlin and crew chief Darian Grubb teamed up to use strategy and Hamlin's innate driving ability to race up through the field on four fresh tires in the final 85 laps to earn his third win of 2012.
Denny launched himself from 10th to eighth in the standings, and with a baby on the way, that extra diaper money will sure be nice.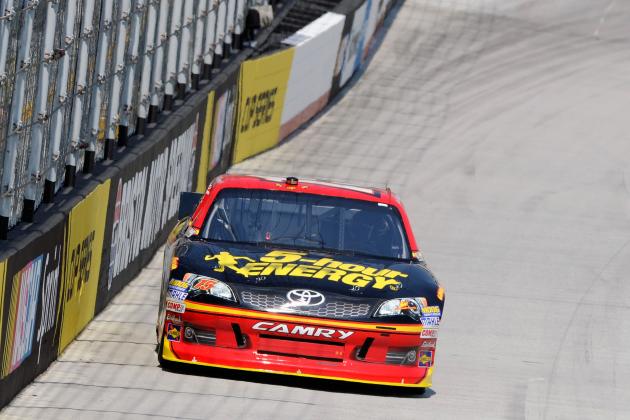 John Harrelson/Getty Images
Clint Bowyer finished seventh at Bristol
Last week: 8
The MWR boys just keep getting it done.
Clint Bowyer led the charge for the full-time Michael Waltrip Racing drivers, taking home a solid seventh-place finish and leaping into the sixth position in the standings.
At this point, Bowyer and his teammate, whom we shall speak of in a moment, are virtual locks to make the Chase and can officially do so with good finishes at Atlanta.
If the MWR cars can improve just a little more, they may just be legit title contenders.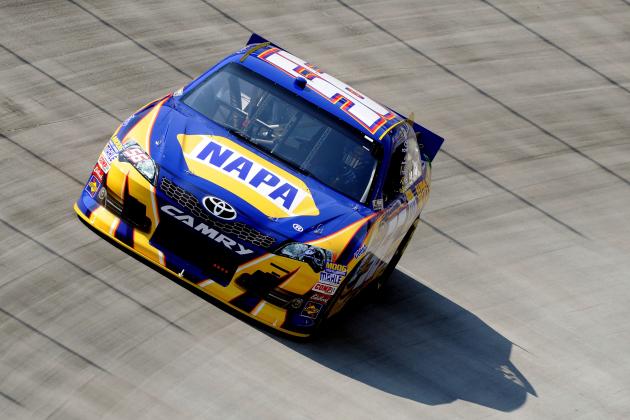 John Harrelson/Getty Images
Martin Truex Jr. finished 11th at Bristol
Last week: 5
Fact: While teammate Clint Bowyer has four top 10s in the last five races, Martin Truex Jr. has not finished worse than 11th since Daytona.
Saturday night, Truex finished 11th and was the worst MWR driver at Bristol. That's how good the team was on Saturday, and that's how good it's been all year.
Truex jumped back into the top five in the standings after yet another solid run Saturday night.
As for the Chase and title situations for the MWR duo, see: Bowyer, Clint.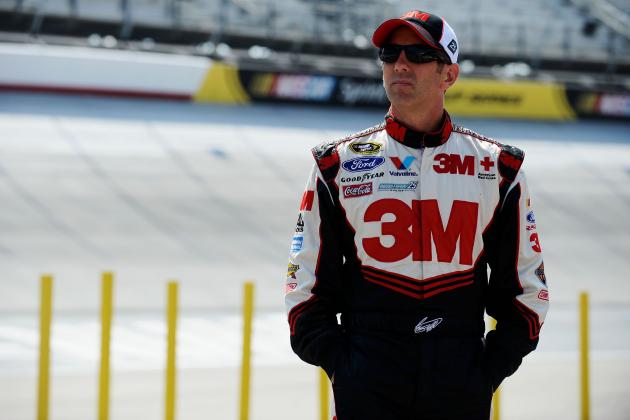 Jared C. Tilton/Getty Images
Greg Biffle finished 19th at Bristol
Last week: 4
Regarding The Biff, I have some bad news, some good news and some great news.
First, the bad news: Biffle struggled all evening at Bristol, ending the evening with a battered front-end and a disappointing 19th-place finish.
The good news: Biffle did retain the points lead.
The great news: Biffle officially clinched a spot in the Chase, and Bristol is not on the schedule in the final 10 races.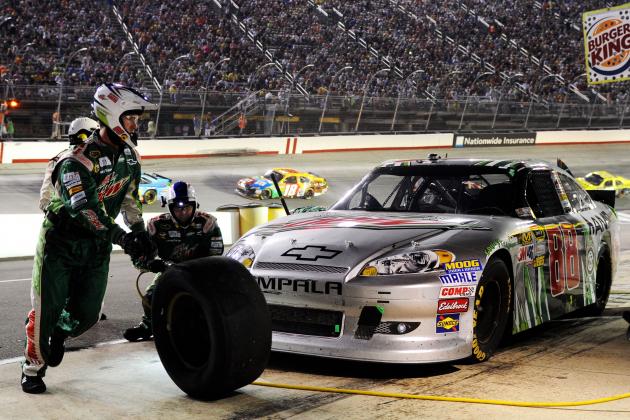 John Harrelson/Getty Images
Dale Earnhardt Jr. finished 12th at Bristol
Last week: 3
Dale Earnhardt Jr. did two things right this week: clinched a spot in the Chase and stayed far away from Jeff Gordon.
Earnhardt Jr. ended the night in 12th, which wasn't spectacular considering he led some laps and looked capable of much better.
However, Junior did the one thing every driver hopes to accomplish when the season starts and made the 12-man Chase for the second year in a row.
In addition, Junior managed to stay clear of his teammate after ticking him off the first time the circuit hit Bristol and then again a week ago.
All-in-all, it was a great week for the No. 88.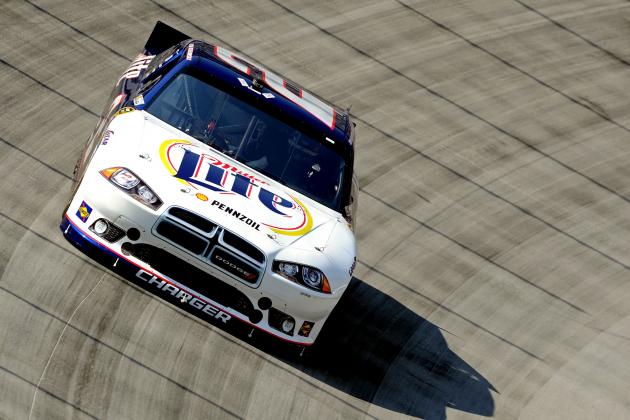 John Harrelson/Getty Images
Brad Keselowski finished 30th at Bristol
Last week: 1
Brad's retro paint scheme was nice, but it was the only good thing about Keselowski's race Saturday night.
The Blue Deuce wasn't much of a factor at Bristol, where Keselowski had won the last two races, even before he crashed out of the event and finished 30th.
In fact, after a dominating performance in the Spring, B.K. failed to even lead a lap Saturday night, suggesting that the new surface may have affected the No. 2 more than anybody else.
Still, Keselowski has been one of the hottest drivers in the sport with seven top 10s in his last eight races, which is why Brad only falls to second in the rankings despite dropping to seventh in the standings.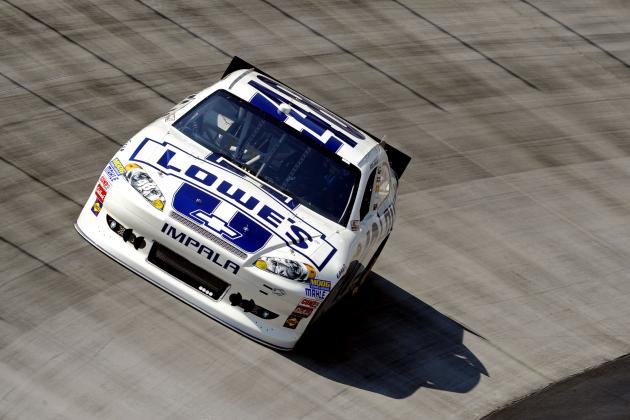 John Harrelson/Getty Images
Jimmie Johnson finished second at Bristol
Last week: 3
He's baaack.
J.J. returns to the top of the rankings this week after putting together another championship-caliber performance, coming from the 37th starting spot to challenge for the win.
Even better, Johnson was one of three drivers to clinch a spot in the Chase at Bristol, meaning he'll be going for that sixth title here in 2012.
As though a Chase berth for the No. 48 was ever really in doubt.