5 Reasons Toby Gerhart Will Be the NFL's Biggest Surprise at RB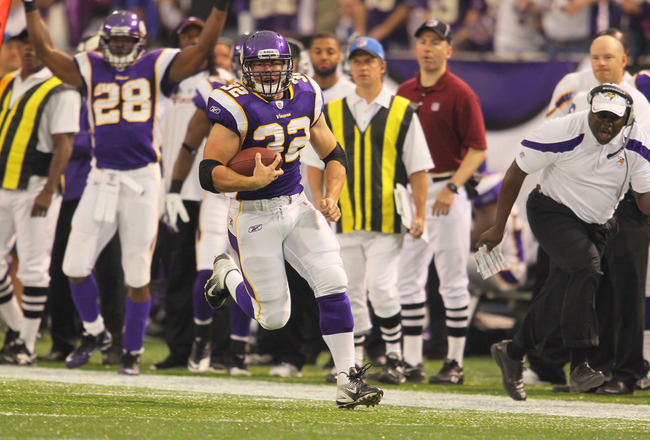 Adam Bettcher/Getty Images
Minnesota Vikings running back Adrian Peterson made an appearance in Friday's third preseason game against the San Diego Chargers—sort of.
Peterson was in uniform and participated with the team during pregame warm-ups. But when the Vikings took the field for the opening kickoff, he was on the sidelines in street clothes, just as head coach Leslie Frazier had confirmed in last Tuesday's press conference.
In the offseason Frazier also indicated that Gerhart was going to play a larger role in the Vikings offense in 2012. Not a very surprising statement, since at the time Peterson was just recovering from surgery to repair both the ACL and MCL in his left knee. Yet, Gerhart, who enters his third season with the Vikings, is due.
The 2009 Heisman runner-up will have a breakout season as the Vikings' featured back until Peterson can demonstrate his knee is fully recovered.
Coming off his own knee injury, Gerhart is poised for a breakout season after two years playing behind Peterson. While this is a situation the Vikings were hoping to avoid, they absolutely have the right player ready to carry the load for Minnesota.
Here are five reasons Toby Gerhart will be the NFL's biggest surprise running back.
Toby Gerhart Has a History of Success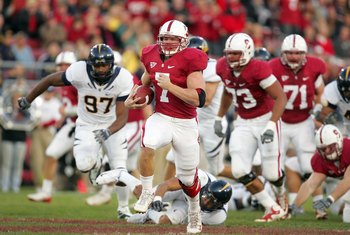 Ezra Shaw/Getty Images
In 2009, during his senior season at Stanford, Toby Gerhart led the nation in carries (343), rushing yards (1,871) and touchdowns (28).
His 28 rushing touchdowns not only set a Stanford Cardinal record, but is also the Pac-12 record for the most touchdowns in a season.
He won the Doak Walker Award, given to the nation's best running back, and finished second to Mark Ingram in the Heisman Trophy voting. Only 28 votes separated him from the award, the closest margin in the 75-year history of the trophy.
Gerhart also owns the California state high school record with 9,662 career rushing yards playing for Norco High School.
As Adrian Peterson's backup the past two years, he has not had the opportunity to showcase what he can do at this level.
The Offensive Line Will Be Much Improved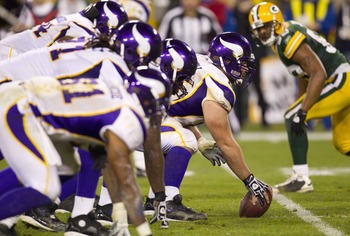 Jeff Hanisch-US PRESSWIRE
Last season Toby Gerhart averaged 4.9 yards per carry, an increase of almost a full yard from his rookie season in 2010.
The Vikings' offensive line will be younger and should be better than last season with two new starters from last season.
Gone are guards Steve Hutchinson and Anthony Herrera. Charlie Johnson moves from left tackle to left guard, and second-year player Brandon Fusco takes over at right guard.
First-round draft pick Matt Kalil is set to anchor the left tackle position, and Phil Loadholt, a second-round draft pick in 2009, has only missed only one game in the last three seasons.
John Sullivan returns at center. According to rotoworld.com, Pro Football Focus ranked Sullivan the third-best center in the NFL last season.
Gerhart Knows How to Score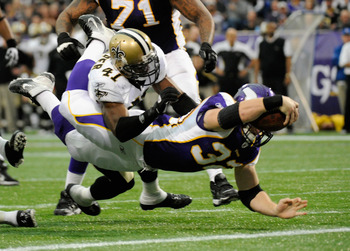 Hannah Foslien/Getty Images
Even though Toby Gerhart has only scored five touchdowns in his two seasons with the Vikings, he has a nose for the end zone.
Not only does he own the Stanford single-season record for touchdowns with 28 as a senior, but his 44 career touchdowns in his career are also a record.
Playing behind Adrian Peterson, who averages 13 rushing touchdowns per year, has limited his opportunities to break the plane of the end zone.
The one area that Gerhart may actually excel at over Peterson is touchdown catches. In five seasons Peterson has only three receiving touchdowns. Gerhart caught three touchdown passes last year.
Toby Gerhart Is as Good as AP
Brace Hemmelgarn-US PRESSWIRE
Toby Gerhart has had two seasons to work along side Adrian Peterson, the best running back in the NFL.
Gerhart is not the same type of runner as Peterson. At 6'0" and 235 pounds, he's built more like a fullback than the 6'2", 217-pound Peterson, but he was just as effective out of the backfield.
Last season Peterson averaged 4.7 yards on 208 carries, while Gerhart averaged 4.9 yards on 109 carries.
Before anyone points out that Peterson played a little banged up before his knee injury, his career average over five seasons is 4.8 yards per carry. In his rookie season Peterson averaged more than 4.9 yards per carry. In 2007 he had a 5.6-yard average.
Gerhart Is Going to Get the Carries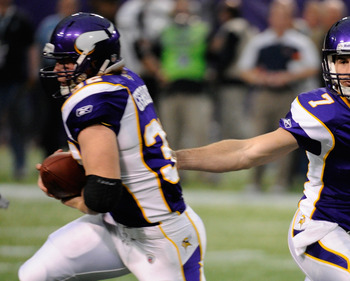 Hannah Foslien/Getty Images
When the Vikings open the season September 9 against the Jaguars at the Metrodome, Adrian Peterson will have not carried the football in a game since Week 16 of last season against the Redskins.
All the running, jumping and cutting that he has done cannot take the place of carrying the football in a game situation with defenders hitting you.
When he returns to the lineup, he will be rusty.
Gerhart, who is second on the team through three preseason games with 17 carries, will be more prepared for when the games start to count.
With only 199 carries over the past two seasons he has not taken as many hits as Peterson, and should be in great condition to carry the bulk of the running game for the Vikings.
Last season he finished with 531 yards, second on the Vikings to Peterson's 970 yards, on 99 fewer attempts.
Gerhart, with the bulk of the team's carries as season opens, will surprise many with how effective he will be.
Once Peterson returns to form, the Vikings will have a formidable tandem at running back.
All Gerhart needed was a chance to step out from Peterson's shadow, and now he has it.
Keep Reading

Minnesota Vikings: Like this team?