Iowa Football: 2012 Season Preview for the Hawkeyes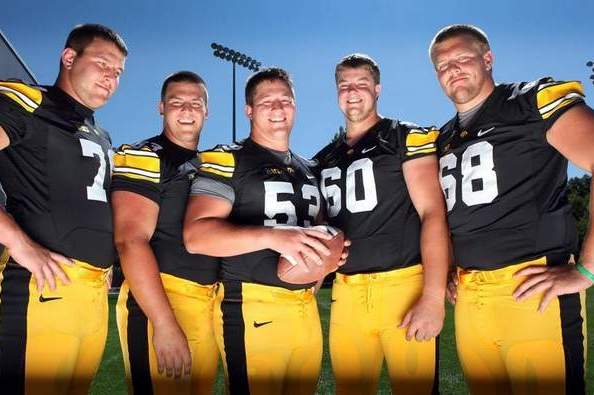 Via Rodney White of the Des Moines Register
After nine months and countless running backs thrown on the pile of AIRBHG (Angry Iowa Running Back Hating God), the football season has finally arrived.
And with it comes a slew of questions that will eventually generate answers.
Some of those answers will be good, and some of those answers will not be so good.
However, with only seven senior starters listed on the Northern Illinois depth chart—the fewest senior starters in the Ferentz era—there is only one thing for certain, and that is that nothing is certain for the 2012 Hawkeyes.
Begin Slideshow

»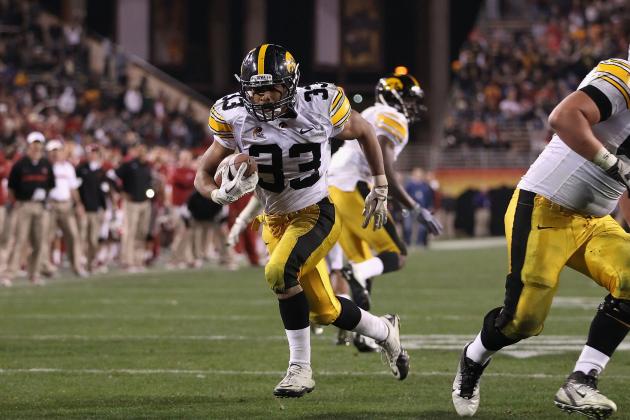 Christian Petersen/Getty Images

The key offseason storyline concerned the continued wrath of AIRBHG, the full history of which—dating back to the beginning of the Ferentz era—is nicely detailed in a Hawkeyenation forum.
As for this past offseason, on Jan. 4, true freshman Mika'il McCall announced his intention to transfer (per Blackheartgoldpants.com). Shortly thereafter, per Yahoo Sports, 2011 leading Hawkeye rusher Marcus Coker opted to transfer.
On March 29, CBS Sports announced that Iowa's likely starting tailback, Jordan Canzeri, had torn his ACL and would probably miss the 2012 season.
At the beginning of fall camp, third-year sophomore De'Andre Johnson had two run-ins with the police in three days. This led to his dismissal from the team (per ESPN).
Finally, last week, AIRBHG unleashed his wrath on true freshman Barkley Hill, tearing his ACL (per USA Today).
This will leave the Hawkeyes with two scholarship tailbacks—true sophomore Damon Bullock and true freshman Greg Garmon—as well as two notable walk-ons—true freshman Michael Malloy and junior Andre Dawson—to begin the season.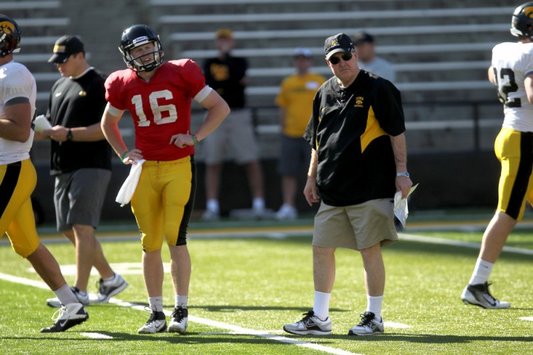 Via Hawktalk.com
Iowa will replace its offensive coordinator (OC) of 13 years in Ken O'Keefe.
The new coordinator is former Texas OC Greg Davis.
Under Davis, Hawkeye fans can expect a more West Coast-based approach to the passing game. That means that the ball will get out of the quarterback's hands more quickly, passes will be spread to more players and receivers will catch the ball on the run.
Also, receivers will have more responsibility to read the coverages and react.
Along with this, there will be more shotgun looks, more no-huddle and more effective use of the no-huddle than Iowa has had in the past.
Finally, this year's offense will make extensive use of the tight ends.
The running game will be essentially the same zone scheme that is and has been Kirk Ferentz's trademark, though there will probably be more runs out of the shotgun.
It's hard to say how successful the new O will be, especially given the offense's youth—four senior starters—and the attrition at running back.
Nevertheless, this offense is as ideally suited to quarterback James Vandenberg's talents as any offense he can possibly work under.
Also, the hurry-up offense can only get better.
For a more detailed breakdown of the Hawks' offense check this and this out.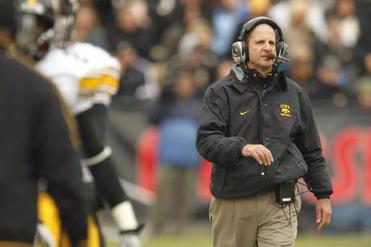 Via The Cedar Rapids Gazette
Iowa will also replace its defensive coordinator (DC) of 13 years in Norm Parker, though the new DC is a face that is familiar to Hawkeye fans.
Phil Parker (no relation) has been the Iowa defensive backs coach since Ferentz was hired in 1999. Before that, he worked under Gary Pinkel at Toledo and Nick Saban at Michigan State, respectively.
This year, Iowa's base defense will be the same 4-3, Cover-2/Tampa-2 zone that Hawkeye fans came to know under Norm Parker.
Nevertheless, this year's defense will be more aggressive. It will have to be, as it is woefully underexperienced, with three seniors cracking the starting lineup. This inexperience will be most egregiously felt on the defensive line.
For this reason, as Parker told the Cedar Rapids Gazette, the Hawks will blitz more, drop more safeties into the box and press their cornerbacks more than the Hawkeyes have done at any time during the Ferentz era.
Make no mistake, the Iowa defense will not take on the aggressiveness of Michigan State, but it will be more aggressive than Hawkeye fans are used to.
This will lead to more big plays given up. On the other hand, it will also hopefully improve on Iowa's issues with getting off the field on third down—an area in which the Hawks ranked 99th in the country last year.
Due to inexperience, it is unlikely that the Hawkeye D will improve on last year, but the building blocks are there for a quality group down the road.
For a more detailed breakdown of the Hawks' defense check this out.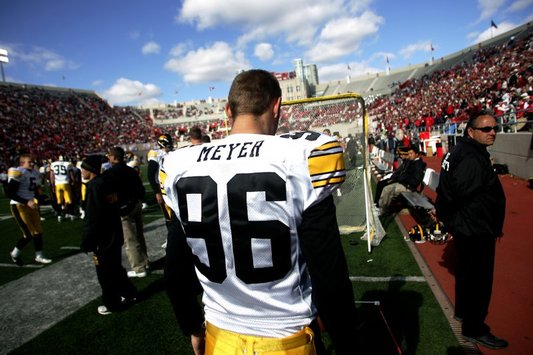 Via the Cedar Rapids Gazette
It's impossible to predict college football special teams, as they are fluid with so many underclassmen playing a major role.
On the other hand, after beginning his tenure in Iowa City with consistently outstanding special teams, Kirk Ferentz's special teams have been consistently inconsistent over the past six years.
This season, it will be tough to improve given a number of new faces.
Place kicker Mike Meyer began his sophomore campaign hitting 12-of-14 field goals before falling off, making only two of his final six.
Furthermore, he, and Iowa, ranked dead last in Big Ten touchback percentage on kickoffs with 5.88 percent.
Look for Meyer to maintain his place-kicking duties, but he will be pushed in the kickoff game by redshirt freshman walk-on Marshall Koehn.
Micah Hyde wasn't impressive on punt returns in 2011, and, speaking as a Hawkeye fan, I hope Kirk Ferentz opens up the competition for punt return duties. That said, Hyde is the only player on the team with collegiate punt return experience.
The top kick returner—Jordan Bernstine—has graduated, as has punter Eric Guthrie.
The punter will be true freshman Connor Kornbrath.
Kick-return duties are wide open, though receivers Keenan Davis and Kevonte Martin-Manley and running back Damon Bullock have collegiate returning experience. However, none of them have been impressive in limited opportunities, and all of them are too valuable to risk in the return game.
In effect, some true freshmen will have opportunities here.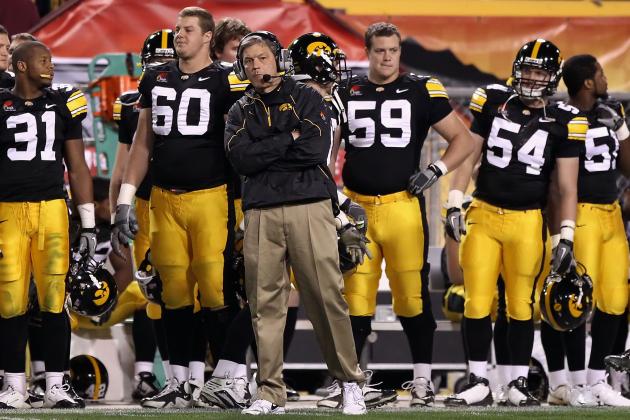 Christian Petersen/Getty Images

Kirk Ferentz is the longest-tenured head coach in the Big Ten, as he enters his 14th year as the head man in Iowa City. He is also the fourth-longest tenured coach in all FBS.
In 13 years, he has earned a 96-66 record. His conference record is 57-47. He has shared two conference championships—2002 and 2004—been to two BCS bowls and compiled a 6-4 bowl record.
More recently, his last two teams have arguably underachieved, with the underachievement of his 2010 team not especially arguable.
As Cedar Rapids Gazette's Mike Hlas pointed out, Iowa has nine losses as double-digit favorites since 2006, which is second-worst of all Big Ten teams. And as Iowa fans remember each of those losses vividly, they also remember how uninspired and apathetic the Hawks looked. They also remember how Ferentz was repeatedly outcoached by his opponent.
On the other hand, as Iowa blog Blackheartgoldpants pointed out, Ferentz produces NFL talent at an unprecedented rate.
Furthermore, over the last five years, at 8-8, Ferentz has the best winning percentage in the Big Ten against ranked opponents—even better than Ohio State when OSU's record is adjusted for its vacated 2010 season.
Somehow, he can regularly beat Michigan and Penn State but has trouble with Northwestern and Minnesota.
This is the enigma and the high and low of Kirk Ferentz that Hawkeye fans have come to know.
Despite the early hope that Iowa would become an elite program under Ferentz, most Hawkeye fans have come to accept that it will never happen. On the other hand, Ferentz brings consistency, stability and occasional greatness to the program.
As Michigan blog Maize N' Brew's Zach Travis points out, that is more than a small accomplishment given Iowa's inherent recruiting disadvantages.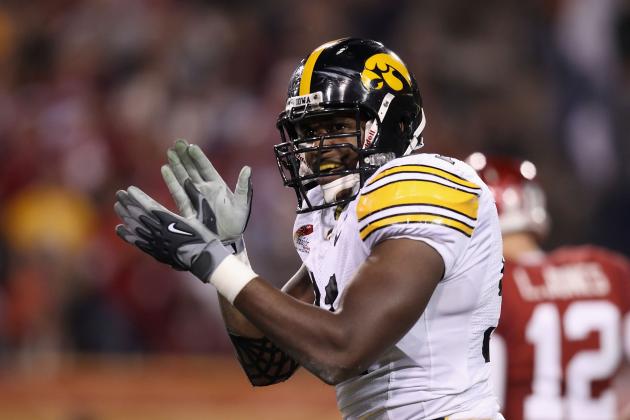 Christian Petersen/Getty Images

09/01: Northern Illinois Huskies at Soldier Field, Chicago
09/08: Iowa State Cyclones
09/15: Northern Iowa Panthers (FCS)
09/22: Central Michigan Chippewas
09/29: Minnesota Golden Gophers (Homecoming)
10/06: OPEN
10/13: At Michigan State Spartans
10/20: Penn State Nittany Lions
10/27: At Northwestern Wildcats
11/03: At Indiana Hoosiers
11/10: Purdue Boilermakers
11/17: At Michigan Wolverines
11/23: Nebraska Cornhuskers
Missing from the conference slate: Wisconsin, Ohio State and Illinois
For a more detailed look at the Hawks' schedule, hit this link.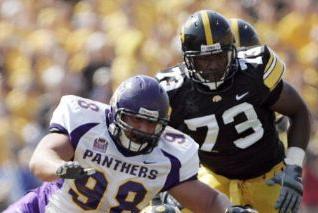 Via Hawktalk.com
Most would put the Central Michigan game in this spot, as the Chippewas have won only six games over the last two years, while scoring over 30 points only six times during that span.
However, this year, with 16 returning starters, CMU will be much improved.
Meanwhile, Northern Iowa returns seven offensive starters and five defensive starters, plus both specialists. Specifically, this year's team replaces its entire defensive line (per the Waterloo-Cedar Valley Courier) and its quarterback.
The Panthers will be able to score on the Hawks, but Iowa will run right at UNI and wear its young front four down. By the latter part of the third quarter, the Hawkeyes will be able to enforce their offensive will on a tired Panther defense.
FCS teams have fewer scholarships. This handicaps them, particularly as a game wears on and depth becomes an issue. This, more than inherent talent, makes it difficult for FCS programs to compete with FBS squads.
This is a classic strength-on-weakness matchup that works in Iowa's favor, and it is intensified by the shallower FCS roster.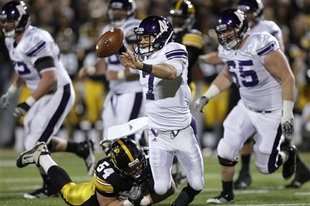 Via Hawkdaily.com
Northwestern will replace Mr. All-Everything quarterback Dan Persa, but his replacement, Kain Colter, is an amazing athlete that gained three starts at quarterback last year, had the third-most receptions on the team and was NU's top rusher.
The Cats also have a strong group of receivers and an improved defensive front seven.
On the other hand, the secondary has a slew of issues, as does the offensive line, and by extension, the running game.
Man for man, I like Iowa in this game, as the key matchups are strength on weakness—Iowa's passing game versus Northwestern's secondary—and strength on strength—Iowa's secondary versus Northwestern's receivers.
However, as Hawkeye fans know, NU head coach Pat Fitzgerald has Kirk Ferentz's number. Plus, this one is in Evanston and it's homecoming, though Iowa fans will still come close to outnumbering Northwestern fans.
Kirk Ferentz has a lifetime record of 5-6 against the Wildcats, 2-4 against Fitzgerald and 2-3 at Ryan Field.
Just to put that in perspective, Ferentz has a better career record against Michigan and Penn State; and a better record in the Big House and Happy Valley.
Tossup might be giving Iowa too much credit in this game.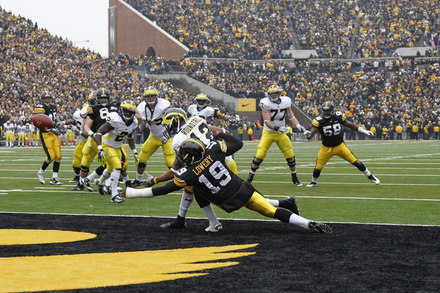 Via Cedar Rapids Gazette
This will be Michigan's senior day.
These seniors have never beaten Iowa. They and their fans are still sore over the loss last year, especially as the above non-called pass interference played into it. Senior quarterback Denard Robinson has been handled fairly well by the Hawkeyes for the duration of his career.
This will be Michigan's best offense since 2006. The team will be salty and will see Iowa as a flyspeck on the way to Ohio State the next week.
Though Iowa's green defensive line will be much improved from the beginning of the season, Michigan's offensive line is likely the best front five they will see all year.
This is a strength-on-weakness matchup—Michigan's offensive line versus Iowa's defensive line—that works against Iowa.
In order for Iowa to win, it will have to play lights out football and hope the Wolverines are looking past them toward OSU.
It doesn't look good for the Hawks to win their fourth straight against Big Blue.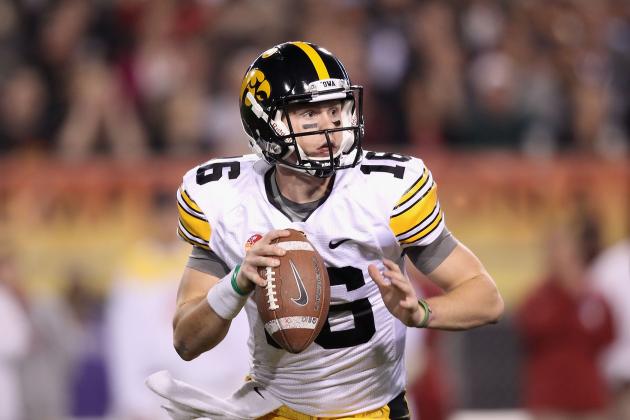 Christian Petersen/Getty Images

Though junior tight end C.J. Fiedorowicz will have the best season at his respective position, 2012 will go as senior quarterback James Vandenberg goes.
If Vandenberg can bring consistency to his game, particularly on the road and against ranked foes, the Iowa offense has the raw tools to be amongst the best in the conference.
Though JVB will not have mind-blowing stats or production, the new offense will work to his strengths and he will finish 2012 with one of the top-10 seasons (statistically) of any quarterback in Iowa history. In truth, that sounds more impressive than it actually is.
In the end, the key will be consistency.
Iowa fans know Vandenberg can beat teams. They saw it when Vandy torched Pitt in the second half of last year's game. The question is can he carry his team from kickoff to the final gun?
Either way, the success or failure of this offense hinges on the senior signal-caller.
As previously mentioned, this season's defense will be more aggressive than the Iowa defense has been in the past.
Consequently, the cornerbacks will be left on an island much more than they ever have in Iowa City. Moreover, the corners will press their assignments, and their ability to stifle receivers at the line will have a direct impact on how successful the pass rush is.
For this reason, cornerbacks Micah Hyde and B.J. Lowery will be this season's unlikely co-defensive MVPs.
In a season in which the Hawkeyes won't face any experienced precision quarterbacks, the cornerbacks will have a chance to shine. Of course, if a cornerback does his job, then one never notices him.
For a more detailed breakdown of the importance of Iowa's cornerbacks in this year's defense hit this link.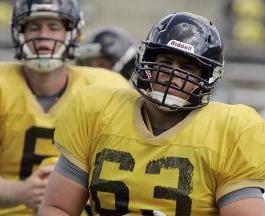 Via the Cedar Rapids Gazette
Though running back Greg Garmon will likely be most fans' Newcomer of the Year, one of the key players that will pave the way for Garmon is my key newcomer.
Redshirt freshman Austin Blythe was listed as the starting right guard on Iowa's first depth chart of the season.
Blythe came to the Hawkeyes via Williamsburg, IA, where he was not only a top football player, but also a champion wrestler. According to the Cedar Rapid Gazette's Marc Morehouse, he holds the state record for 143 pins.
Blythe could compete for starting the center spot next year, or he could stay at guard. Either way, he will have an impressive future and an impressive first year.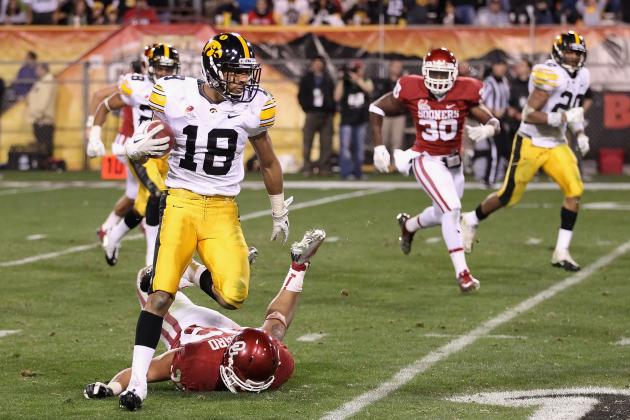 Christian Petersen/Getty Images

With only seven seniors in this year's starting lineup, there are only so many 2013 NFL draft prospects for a team that has put a Big Ten-high 12 players in the last two NFL drafts (two in the first round). If only putting players in the NFL meant something on the college level—outside of recruiting fodder, of course.
Regardless, at least two, and possibly three, Hawkeyes have a good chance of going in this year's draft, with cornerback Micah Hyde showing the most potential.
At the pro level, he could play safety or cornerback. He also has special teams experience.
Walterfootball.com currently has Hyde going in the second or third round. CBS Sports concurs, ranking Hyde the eighth-best cornerback and 75th-best overall.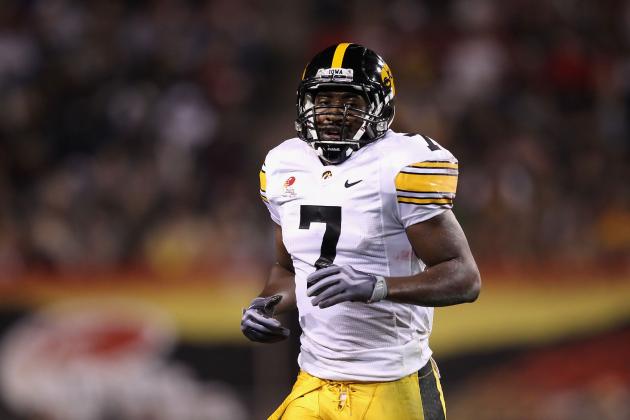 Christian Petersen/Getty Images

Offensive line coach Brian Ferentz: It is still mostly coachspeak inanities, but he is much more candid than his father.
Another day #PreparingToBeTheBest. Iowan by birth, #Hawkeye by the grace of God!

— Brian Ferentz (@CoachBFerentz) August 17, 2012
Recruiting coordinator and special teams coach Eric Johnson: This is the first place at which you will find the latest Hawkeye recruits.
We've got a new member of the #Hawkeye family. #GoHawks #Iowa

— Coach Eric Johnson (@HawkeyeCoachEJ) June 24, 2012
Cedar Rapids Gazette Columnist Marc Morehouse: Always quality stuff.
Garmon, Malloy, Kornbrath and Buford are the four frosh on Iowa's two deeps.

— marcmorehouse (@marcmorehouse) August 24, 2012
Former Hawkeye wide receiver Marvin McNutt: Once a Hawkeye, always a Hawkeye.
Humbled by the experience everyday #wbww #itsgodgiven

— Marvin McNutt (@McNutt7wr) August 12, 2012
Wide receiver coach Erik "Soup" Campbell: Again, mostly coachspeak, but some insight into what goes on behind closed doors.
Good Luck to all the new Hawkeyes tomorrow with the first day of classes. Get that Degree!

— Coach Erik Campbell (@ErikCampbell) August 19, 2012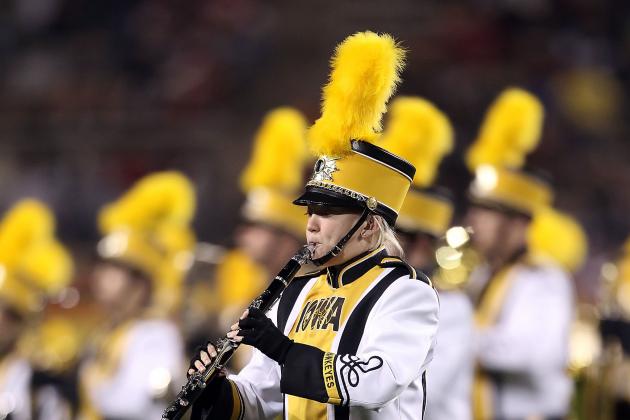 Christian Petersen/Getty Images

The Spread.com lists as Iowa as a 20-1 shot to win the Big Ten. Meanwhile, gamingtoday.com lists the Hawkeyes as 500-1 to win the BCS national title.
Finally, Maddux Sports has Iowa's over/under win total at 7.5.
Personally, I wouldn't touch Iowa to win the Big Ten and certainly not to win the BCS national title.
On the other hand, given the schedule, Iowa has a reasonable chance of winning eight games.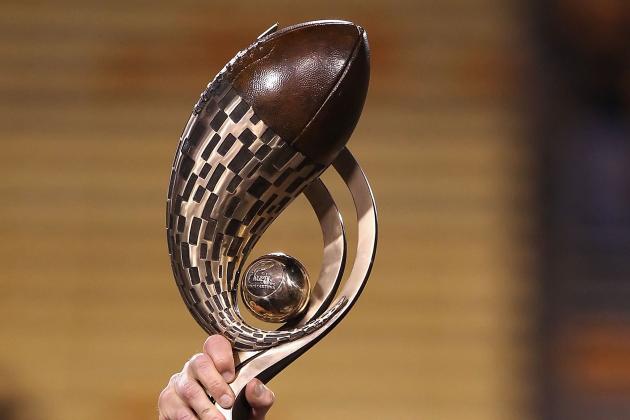 Christian Petersen/Getty Images

Iowa's bowl destination, as well as that of most of the Big Ten, will be inflated due to Ohio State's exclusion from a bowl game.
If the Big Ten puts two teams in the BCS, which I have it doing, then Iowa will go to the Gator Bowl.
If the Big Ten only puts one team in the BCS, Iowa will fall to the Meineke Car Care Bowl. The Valley of the Sun Bowl—formerly the Insight Bowl—picks before the Meineke Car Care Bowl, but it is unlikely the Valley of the Sun would bring Iowa to Tempe three years in a row.
On the other hand, Iowa, even for the third year in a row, would be a guarantee to bring in more fans—and thus, more spending money—than any of the other likely options—Illinois, Purdue, Northwestern, Minnesota and Indiana.
The Hawkeyes will go 8-4.
They will lose to Michigan State, Michigan and Nebraska.
Iowa will also lose at least one of the following: Iowa State, at Northwestern, at Indiana or Purdue.
Officially, I have the Hawks dropping the early-season home game to ISU, as Iowa will still be getting the kinks out of its offense. Either way, I don't see the Hawkeyes sweeping those four games, though they will likely be favored in all of them.
For a more detailed look at my full breakdown of the Hawkeyes' season, click this link.