Iowa Football: Power Ranking the Hawks' Schedule from Easiest to Toughest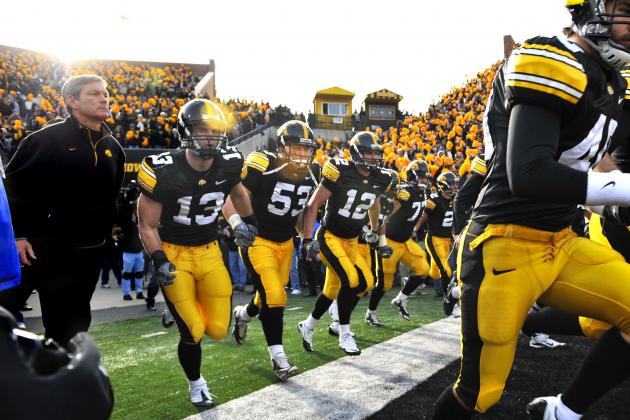 David Purdy/Getty Images

Since the end of last season, it has been evident that this season's Big Ten won't have many surprises.
The top of the conference consists of five teams; the bottom consists of three teams, and the other four teams will fall somewhere in the middle—better than the bottom teams, but not as good as the top of the conference.
Iowa falls into that middle category, and it will play three of the teams in the top category.
It will also face Iowa State, two MAC foes and FCS school Northern Iowa.
The following slides will document how challenging each of the Hawks opponents are, starting with the easiest and ending with the toughest matchups.
The degree of ease or toughness is not based strictly on which team is best. Rather, it takes into consideration which opponents are best, where the game is played, how Iowa matches up against said team and what sort of emotional elements are brought into the stadium on both teams' parts.
Thus, the "hardest" team is not necessarily the "best" opponent, and the "easiest" team is not necessarily the worst.
Begin Slideshow

»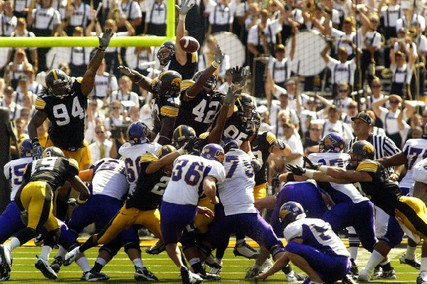 Via thehawktalk.com
When: Sept. 15, 2012
Where: Kinnick Stadium, Iowa City
The Lowdown
Year in and year out, UNI is one of the best teams in the FCS (Football Championship Subdivision). It has won two Missouri Valley Conference championships in a row. The Panthers are not a slouch, and Iowa cannot afford to take them lightly.
Overall, Northern Iowa returns seven offensive starters and five defensive starters, plus both specialists. Specifically, this year's team replaces its entire defensive line (per the Waterloo-Cedar Valley Courier) and its quarterback.
The Panthers will be able to score on the Hawks, but Iowa will run right at UNI and wear its young front four down. By the latter part of the third quarter, the Hawkeyes will be able to enforce their offensive will on a tired Panther defense.
Remember, FCS teams have fewer scholarships. This handicaps them as they have to just rely on inherent talent, so that is why it is impossible for them to keep up with the big boys.
This is a classic strength-on-weakness matchup that works in Iowa's favor, and is intensified by the shallower FCS roster.
Iowa's Chances of Winning: 95 percent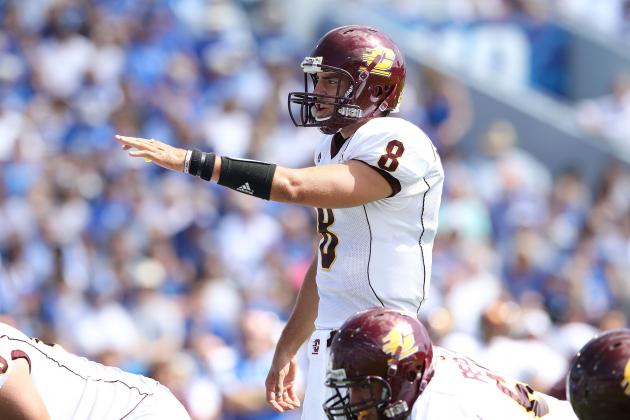 Andy Lyons/Getty Images

When: Sept. 22, 2012
Where: Kinnick Stadium, Iowa City
The Lowdown
Two-year head coach Dan Enos has had a rough start in his first foray into the head coaching ranks. His Chippewas won three games each over the last two seasons. Most predict Central Michigan to finish fourth or fifth in the MAC West this year, but some, such as VanDelaySports.com, pick them to finish last.
Either way, this is Enos's best team by far. CMU returns 16 starters—eight on each side of the ball along with both specialists. The Chippewas return their senior quarterback, four-fifths of their offensive line, their entire defensive line and all but one key pass-catcher.
Despite the returning starters, quarterback Ryan Radcliff is not what one would call a precision passer—56.7 percent completed last year—and he is not a threat to beat teams with his legs. Both of these elements of a quarterback's game have been Achilles heels to the Iowa defense over the years.
Also, remember that these returning defensive starters played a part in letting up 33.3 points-per-game (PPG) last season—35.5 in MAC play alone.
Continuity and experience will give the Chippewas a chance, but it won't be much of a chance.
Iowa's Chances of Winning: 87.5 percent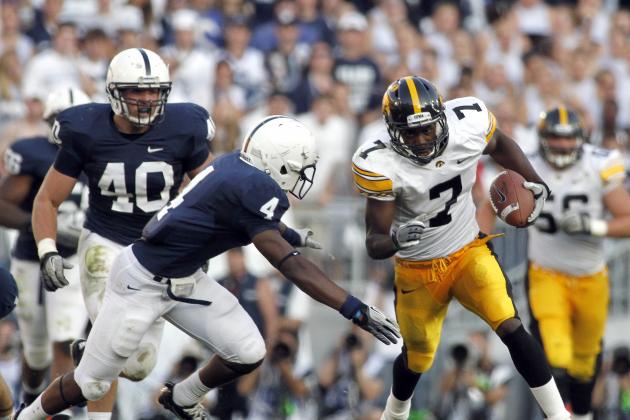 Justin K. Aller/Getty Images

When: Oct. 20, 2012
Where: Kinnick Stadium, Iowa City
The Lowdown
Even before the sanctions and transfers, Penn State didn't promise to be impressive this year. Pre-transfers, I had them them struggling to get to five wins. Now, even five wins seems like a reach.
The Nits return two offensive starters—quarterback Matt McGloin and center Matt Stankiewich. Last year, the offense scored 19.3 PPG with running back Silas Redd, who has transferred to Southern Cal. This year, Bill O'Brien might be able to get more out of what he has, but not much more, as he doesn't have much.
Meanwhile, the defense returns five and will be formidable. Nonetheless, it has serious issues in the secondary, depth issues in the front four and won't be as formidable as Penn State had consistently been under Joe Paterno.
Plus, this will be a night game, the Big Ten Network will be in town and Kinnick will be electric.
Penn State will be playing for pride this year and for the next four years, but pride won't be enough.
Iowa's Chances of Winning: 81 percent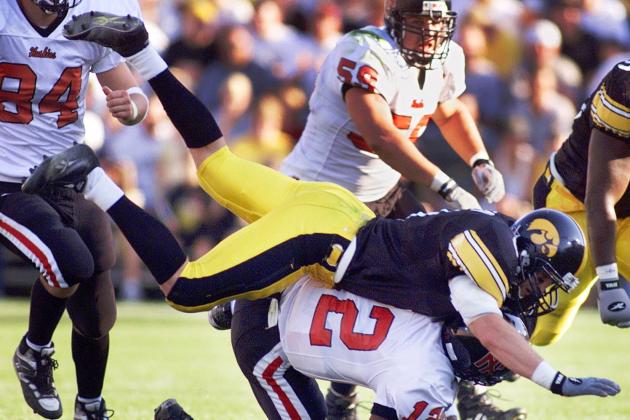 Via the Cedar Rapids Gazette
When: Sept. 1, 2012
Where: Soldier Field, Chicago
The Lowdown
NIU has gone 22-6 over the last two years, winning two MAC Western Division titles in a row.
This year, the Huskies will be a serious contender for their third division title in a row, but they do not appear to be as good a team as they have been the last two years, especially early in the season.
Last year's team was an offense-dominant squad scoring 38.3 PPG. This year's offense will have to replace its record-setting quarterback. It also returns only one starter on the offensive line, but that starter, guard Logan Pegram, fractured his leg (per the Courier News) and will be out indefinitely.
The skill position players will still be dangerous but won't be enough to make up for the losses at quarterback and up front.
Meanwhile, the defense returns eight from a group that let up 30.3 PPG last year. It returns its entire secondary and three of its front four. It will be much improved, but not so much improved as to be able to shut Iowa down.
Though Iowa will have early season issues of its own, playing the Huskies in September works in the Hawks' favor.
That said, though Hawkeye fans will easily outnumber Husky fans, playing in Chicago works in NIU's favor.
Iowa's Chances of Winning: 79 percent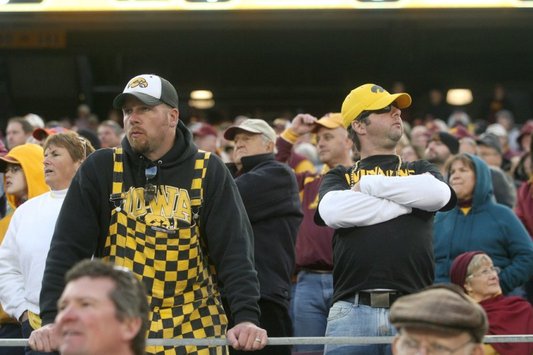 Via Cedar Rapids Gazette
When: Sept. 29, 2012
Where: Kinnick Stadium, Iowa City
The Lowdown
Minnesota is a better team than at least two of the teams ranked ahead of them in this slideshow. It returns five on offense, including a quarterback that while he is not a good passer, is extremely dangerous on the run.
Overall, the Gopher offense, which scored a measly 18.4 PPG last year, will be much improved in its second year under head coach Jerry Kill.
Meanwhile, the defense returns five and has an influx of JUCO players. Last year, it let up 31.7 PPG. This year, it will be slightly improved.
Regardless what the Gophers bring into this game, the battle for Floyd will be up to Iowa.
The Hawks have been embarrassed by the Gophers two years in a row (both in Minneapolis). This will be homecoming. If Kirk Ferentz loses this contest, he and his team will get booed off the field.
The Hawkeyes will be ultra-motivated, and if they're not, then something is extremely wrong.
Iowa's Chances of Winning: 75 percent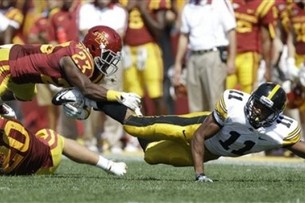 Via Hawkdaily.com
When: Sept. 8, 2012
Where: Kinnick Stadium, Iowa City
The Lowdown
ISU should have a cohesive and solid offense, returning seven starters, including their quarterback and four-fifths of the line. Also, head coach Paul Rhoads might get creative and give backup signal-caller Steele Jantz some time against the Hawks, as Iowa seems to be the only team he plays well against.
Meanwhile, the defense returns five, and the defensive dynamic is similar to Iowa. ISU replaces three up front, as well as two in the secondary, but has a superb pair of senior linebackers in Jake Knott and A.J. Klein.
If this were in Ames, Iowa State might be the favorite, but in Kinnick, where the Clones haven't won since 2002, the Hawkeyes have a decided advantage.
This will be a close one and could come down to special teams and turnovers.
Iowa's Chances of Winning: 62 percent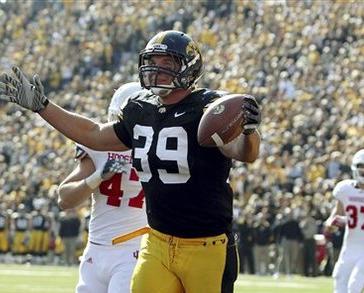 Via HawkDaily.com
When: Nov. 3, 2012
Where: Memorial Stadium, Bloomington
The Lowdown
Per Phil Steele of Phil Steele's Football Blog, Indiana is tied for the fourth-most returning starters in the country. The Hoosiers will improve in the second year of Kevin Wilson's tenure. They will improve tremendously. The issue is even tremendous improvement might still fail to achieve bowl eligibility for IU.
The defense returns nine starters and has an influx of JUCO players. Last year, it let up an embarrassing 37.3 PPG. This year, it may let up a touchdown less per game, and it could still wind up the worst defense in the conference. In other words, Iowa will be able to score on Indiana, though perhaps not as liberally as last year when the Hawks put up 45 points.
Meanwhile, the IU offense returns eight, including dangerous true sophomore quarterback Tre Roberson.
Roberson is the kind of quarterback that has the ability to burn Iowa, and he plays in an offensive system that is tailor-made to score on the Hawkeyes.
Last season, as a true freshman, Roberson had his first start against the Hawks in Kinnick. He had his best game of the year posting an efficiency rating of 149.37 and rushed for 84 yards. Some of it was in garbage time, but again, he was a true freshman starting his first game in unfriendly confines.
This contest is a nail-biter that is doubly scary because it is in Bloomington and because it looks to be a shootout.
Iowa's Chances of Winning: 55 percent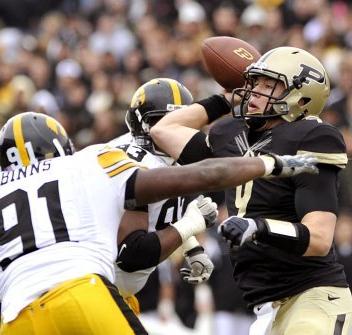 Via Hawktalk.com
When: Nov. 10, 2012
Where: Kinnick Stadium, Iowa City
The Lowdown
The Boilers are arguably the most realistic dark-horse team in the Big Ten.
They boast eight returning starters on offense, including a gazillion experienced quarterbacks. They have seven returning starters on defense, including arguably the best defensive line prospect in the Big Ten. They have solid, underrated playmaking cornerbacks and a strong punter and kickoff return game.
The big issue is the coaching. Specifically, fourth-year head coach Danny Hope has had issues coaching up his defense. He has overhauled almost his entire defensive staff, but that is rarely the answer.
Nevertheless, Purdue has the guns to beat Iowa soundly, but they had the guns last year and that game, which the Hawks won, was in West Lafayette.
Iowa's Chances of Winning: 51 percent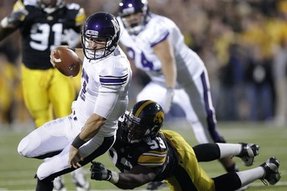 Via Cedar Rapids Gazette
When: Oct. 27, 2012
Where: Ryan Field, Evanston
The Lowdown
Northwestern will replace Mr. All-Everything quarterback Dan Persa, but his replacement, Kain Colter, is an amazing athlete that gained three starts at quarterback last year and had the third-most receptions on the team.
The Cats also have a strong group of receivers and an improved defensive front seven.
On the other hand, the secondary has a slew of issues, as does the offensive line, and by extension, the running game.
Man-for-man, I like Iowa in this game, as the key matchups are strength-on-weakness—Iowa's passing game vs. Northwestern's secondary—and strength-on-strength—Iowa's secondary vs. Northwestern's receivers.
However, as Hawkeye fans know, NU head coach Pat Fitzgerald has Kirk Ferentz's number. Plus, this one is in Evanston and it's homecoming, though Iowa fans will still come close to outnumbering Northwestern fans.
Iowa's Chances of Winning: 50 percent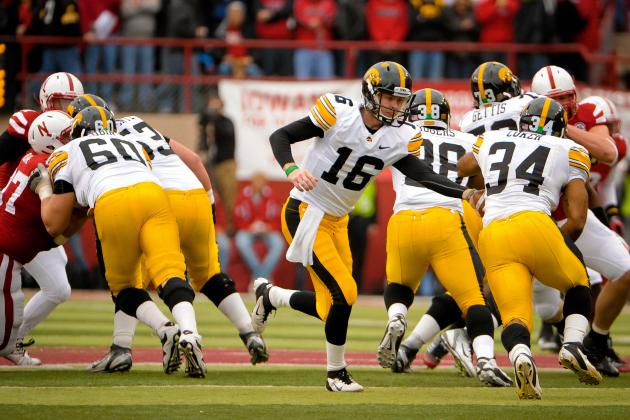 Eric Francis/Getty Images

When: Nov. 23, 2012
Where: Kinnick Stadium, Iowa City
The Lowdown
The Western Division battle will be close, and Nebraska could be playing for all the marbles in this one. It is unlikely Iowa will be in the same boat.
Beating Nebraska, as usual, will be a simple formula—stop the running game and force them into passing situations. Unfortunately, stopping that running game is not as simple as it sounds, especially for this year's Hawks.
Hopefully, playing a game on six days rest won't hurt the Hawks like it did last year. That is, hopefully, they rotate running backs.
Iowa will have a realistic chance at pulling the upset because it is at Kinnick, it is senior day and the Hawkeyes can throw everything they have into a solid possession passing attack.
Iowa's Chances of Winning: 31 percent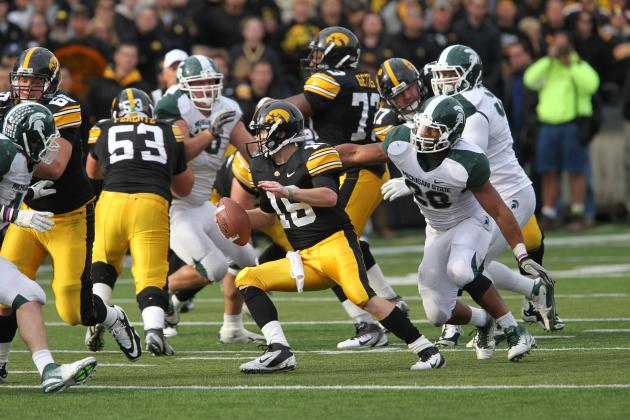 Reese Strickland/Getty Images

When: Oct. 13, 2012
Where: Spartan Stadium, East Lansing
The Lowdown
The Spartans will have the best defense Iowa will face all year. It will be homecoming.
Michigan State returns the most experienced offensive line in the conference (per Phil Steele). The Spartans have a load of a running back in 6'2", 237 pound Le'Veon Bell.
On the other hand, MSU could be looking ahead to its intra-state battle against Michigan the following week. Also, while MSU's O-line vs. Iowa's D-line is a strength-on-weakness matchup, the Hawks will have a strength-on-weakness advantage in the Hawkeyes' secondary vs. MSU's inexperienced receivers.
That said, Iowa will have a tough time scoring points against the Spartan defense, probably too difficult a time to make this one anything more than a long shot.
Lastly, Kirk Ferentz has a career record of 1-4 at Spartan Stadium
Iowa's Chances of Winning: 23 percent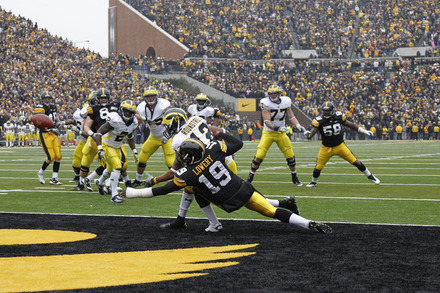 Via the Cedar Rapids Gazette
When: Nov. 17, 2012
Where: Michigan Stadium, Ann Arbor
The Lowdown
This will be Michigan's senior day.
These seniors have never beaten Iowa. They and their fans are still sore over the loss last year, especially as the above non-called pass interference played into it. Senior quarterback Denard Robinson has been been handled fairly well by the Hawkeyes for the duration of his career.
This will be Michigan's best offense since 2006. The team will be salty and will see Iowa as a flyspeck on the way to Ohio State the next week.
Though Iowa's green defensive line will be much improved from the beginning of the season, Michigan's offensive line is likely the best front five they will see all year.
This is a strength-on-weakness matchup—Michigan's offensive line vs. Iowa's defensive line—that works against Iowa.
In order for Iowa to win, it will have to play lights out football and hope the Wolverines are looking past them toward OSU.
Iowa's Chances of Winning: 15 percent