6 Drivers Who May Need a Change of Scenery to Jumpstart Their Careers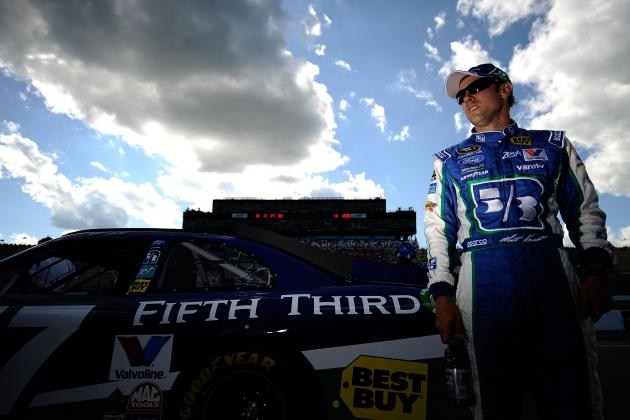 Jared C. Tilton/Getty Images
Matt Kenseth's new home for 2013 is on the horizon. But why are so many other drivers reluctant to change teams?
There's no question that change in NASCAR is cyclical. Today's heroes can be next year's answer to "Whatever happened to...?" (And no, cynics, I'm not talking about what's happened to Carl Edwards this season)

As the late Frank Sinatra sang in "That's Life," "You're riding high in April, shot down in May." Such is the life of NASCAR drivers.

But oftentimes, drivers are afraid of change. They grow comfortable within an organization and team and stay there—oftentimes overstaying their welcome in the eyes of some observers. Or, they become so readily identified with a sponsor that they decide to stick around as long as the sponsor does.

As a result, their performance and careers both suffer. And then, maybe 10 years after they retire, they're left asking themselves, "What might have happened if I had gone to Team X?"

Even when they know their careers are stuck in neutral, instead of looking at new pastures and horizons, some drivers wind up essentially embracing a "same thing, next year" or "second verse, same as the first" kind of mindset, not to mention their place in a season's final standings. If they finish 15th or 20th or 25th one year, it's not a total surprise if they finish 15th or 20th or 25th the following year…or years.

And frankly, given the money some drivers make, it's not surprising why some ride out a string with one team for far too long—even though they ultimately might be better off pulling a Lebron James and taking their talent elsewhere.

Sure, there are some drivers that haven't been afraid to change teams. Look what it's done to the careers of guys like Kyle Busch (Hendrick Motorsports to Joe Gibbs Racing), Brad Keselowski (Hendrick Motorsports to Penske Racing).

And let's not forget that Matt Kenseth is leaving his longtime home at Roush Fenway Racing and moving on to what he hopes are greener pastures—we're still waiting if it's indeed the rumored Joe Gibbs Racing or some surprise alternate—after this season.

Granted, with only a small number of seats coming open at the end of each season, wholesale changes of multiple drivers from one team to another isn't likely. But how many drivers have turned down overtures of "Why don't y'all come race for me?" by other team owners over the years?

Going to a new team, with new personnel and new ideas, is good for the driver, team and sport, for that matter. Would we ever have been blessed with the greatness of Dale Earnhardt had he not decided to leave one team for eventual greatness at Richard Childress Racing?

Or, how many teams did NASCAR Hall of Famer and beloved broadcaster Darrell Waltrip drive for in his career? He wasn't afraid to make changes, and more often than not, those changes led to even greater success for old DW.

Bleacher Report decided to look at some of the veteran drivers on the Sprint Cup circuit today and compile a list of those who may be better off with other teams, where new energy, new sponsorship and a totally brand new mindset would be nothing short of a positive—not to mention a jumpstart for what to many has been a sagging career the last few years.

Here's our picks, listing their current team and potential teams that might bring about performance and career reinvigoration if the opportunity arose.
Begin Slideshow

»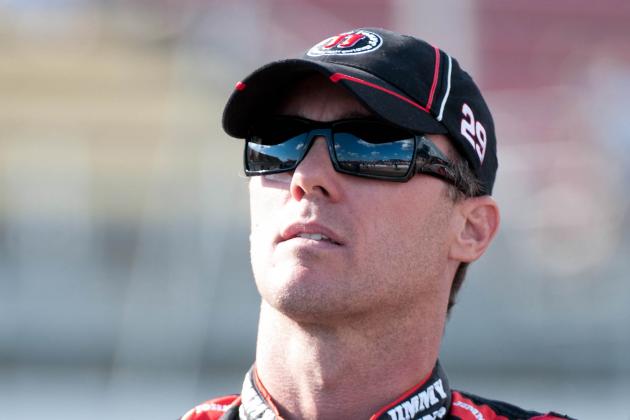 Tim Fuller-US PRESSWIRE
Kevin Harvick would be a perfect fit at a team like Stewart Haas Racing.
Kevin Harvick endured one of the hardest tasks any driver has ever had to do in NASCAR history: Try and fill the footsteps of the legendary Dale Earnhardt after the driver of the legendary No. 3 Chevrolet was killed in a last-lap crash at Daytona in February 2001.
Harvick has had some good years—and admittedly, some not so good years—since then at Richard Childress Racing. And even though he'll likely make the Chase this season (provided his car and team don't self-destruct in the next two races; he's already been reunited with former crew chief Gil Martin prior to Saturday's Bristol race), one has to wonder whether Harvick would have the same up-and-down career with another team that he's had at RCR.
Other homes where he may shine: Stewart Haas Racing (he's great friends with Tony Stewart), Michael Waltrip Racing (up-and-coming organization that, if it's good enough for former RCR teammate Clint Bowyer to go to, why not Harvick?)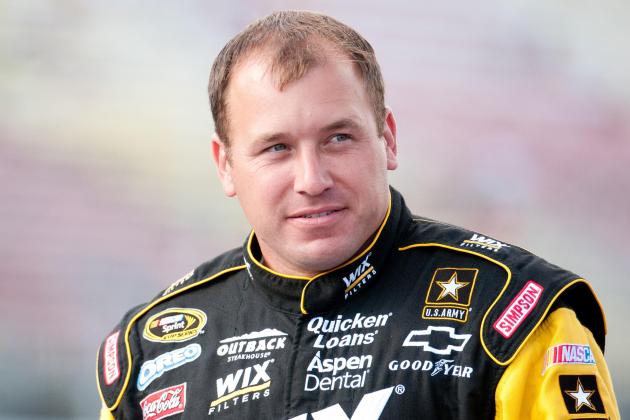 Tim Fuller-US PRESSWIRE
Will Ryan Newman ever be a No. 1 driver?
One of the most underrated drivers in Sprint Cup racing, Newman's career has been marked by one significant distinction: He's always been the No. 2 driver, no matter where he's been at.
He was an understudy (and not exactly the most gracious teammate) to Hall of Famer Rusty Wallace and played second fiddle to Kurt Busch at Penske Racing and he's been Tony Stewart's wing man the last four years at Stewart Haas Racing.
Rumors that he may be leaving SHR at the end of this season if adequate sponsorship for the No. 39 Chevy can't be found have faded, so it's looking more likely that he'll be back in 2013. But if Newman is to ever take his career to the next level, a new home where he'd be the undisputed No. 1 driver should definitely be in the cards.
Other homes where he may shine: Richard Childress Racing, Joe Gibbs Racing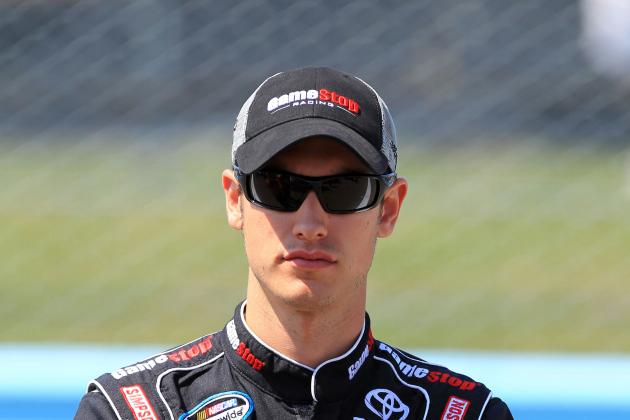 Kevin Hoffman-US PRESSWIRE
Is Joey Logano thinking to himself, "Should I stay or should I go?"
There's no question Joey Logano is a very talented driver. But when he was brought up from the Nationwide Series—where he probably could have used another year or two more of seasoning—to replace the departing Tony Stewart, Logano was left in a no-win situation.
Trying to learn on the job in Sprint Cup just isn't practical or prudent, even if a driver like Logano had the same crew chief that took Stewart to two of his three Sprint Cup championships in Greg Zipadelli.
Ironically, Logano finds himself in the final year of his current contract and the subject of lots of rumors; whether he'll remain in the No. 20 Toyota for Joe Gibbs Racing next season, whether he'll move to a proposed fourth JGR car and be replaced in the No. 20 by Matt Kenseth, as has been rumored, or will Logano move on to another team? He's already said he's had interest from other teams.
If indeed Kenseth comes to JGR and Logano remains and drives for a fourth team there, he's only going to fall further on the organization's depth chart. Now is the time for him to go somewhere else, even if it means to a less-talented team.
Other homes where he may shine: Richard Petty Motorsports, Penske Racing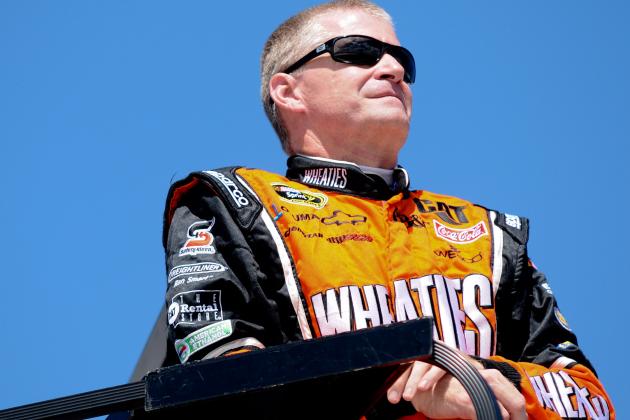 Tim Fuller-US PRESSWIRE
With his leadership, Burton would be a great addition to a team, especially as a mentor to an up-and-coming driver.
Jeff Burton is the whole package: Talent behind the wheel, great personality, media-savvy, a great spokesman for sponsors and a fan favorite.
Unfortunately, for much of three of the last four seasons, Burton has been all but invisible in the Sprint Cup standings, let alone on a competitive level.
While he's served as a great spokesman and representative for Richard Childress Racing over the last eight years, Burton just isn't performing up to standards, especially those he sets for himself. There have been crew changes, personnel changes and unfortunately, it invariably has wound up being more of the same.
When Richard Childress' grandson, Austin Dillon, is ready to make the big jump to Sprint Cup—most likely in 2014—there's going to be one driver that's odd man out, and that person will likely be Burton.
The best thing for him would be to find another team to take his talent to before he gets involuntarily released from the team.
Other homes where he may shine: Richard Petty Motorsports (would be a match made in heaven), Penske Racing (as a foil between Brad Keselowski and the eventual replacement for A.J. Allmendinger, be it Sam Hornish Jr. or another driver like Joey Logano). Of course, there's always retirement, too, but we think Burton still has some gas left in his tank—it's just a matter of burning that gas somewhere else than RCR.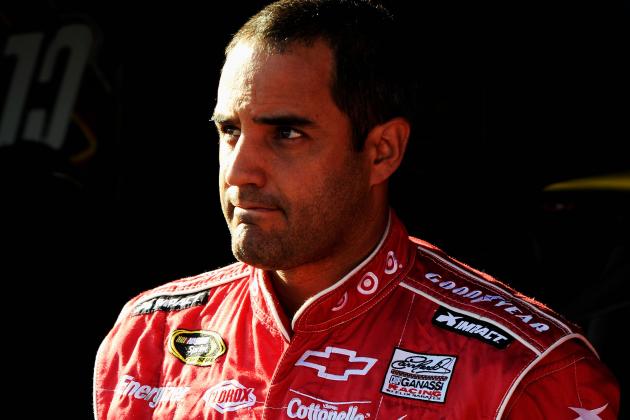 John Harrelson/Getty Images
Juan Pablo Montoya hasn't come close to the success he had in the open-wheel world.
It there's one word that describes Juan Pablo Montoya the best, it's "loyal." Both he and team owner Chip Ganassi have been an almost constant pairing since Montoya's open-wheel days.
And while Montoya has been the team's No. 1 driver since he came to Sprint Cup racing in 2007, let's face it: Other than 2009 when he made his first and only appearance in the Chase, Montoya has had nothing but struggles in stock car racing.
He has just two wins to date, a far cry from his days as an open-wheel winner, not to mention champion.
While Montoya and Ganassi have been seemingly joined at the hip since the late 1990s—save for Montoya's six-year foray into Formula One—their close friendship has not translated to close racing.
Montoya is the perfect example of what we meant earlier when we said change is good. For him to become a better race car driver—and a more successful one at that—it would probably be in the best interests of both he and Ganassi if they went their separate ways. There are things Ganassi just can't seem to give to Montoya to increase his chances of success, and in turn, there are things Montoya can't give back to Ganassi in the stock car world.
Like race wins and championships.
Other homes where he may shine: Richard Petty Motorsports (the Colombian native would make for a great international pairing with Australian native Marcos Ambrose), Richard Childress Racing (it would be better to see Montoya as a teammate to Kevin Harvick, rather than being the fierce foes that they've been over the last five years). Then again, Montoya is still a relatively young 36. Maybe he might entertain the possibility of moving back to open-wheel racing. He'd be readily embraced in the Izod Indy Car Series, rejoining former teammate Dario Franchitti, and potentially even back in F1.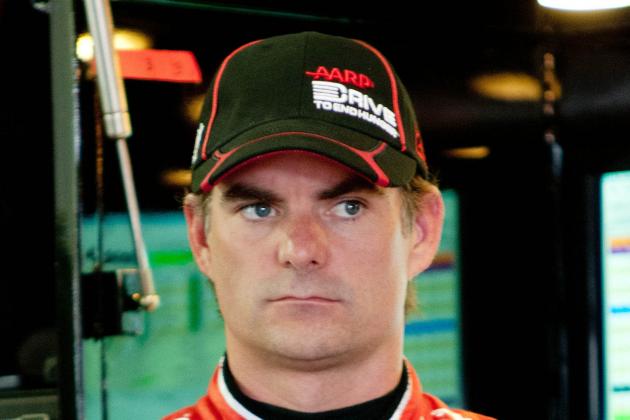 Tim Fuller-US PRESSWIRE
Jeff Gordon has not had much to be happy about in 2012. If he misses the Chase, he could end up with the worst season of his Sprint Cup career.
We were really torn on including Jeff Gordon into this category because he always has been and always likely will be a Hendrick Motorsports driver. He's also co-owner of Jimmie Johnson's team, so why would he turn his back on all that and go elsewhere, right?
Well, statistics could be incentive:
1) Gordon has not won a Sprint Cup championship since 2001 (his fourth).
2) Johnson has gone on to pass Gordon with five Cup championships. As such, a strong case can be made that Gordon is no longer HMS's No. 1 driver—and probably hasn't been for the last three or four years.
3) Even after finishing third in Saturday's race at Bristol, Gordon is still at risk of missing the Chase for only the second time in its nine-year existence. He has to win at least one of the two remaining pre-Chase races to give him even an outside shot at making the Chase.
Gordon was once one of the most competitive drivers in Sprint Cup racing, but now at 41, he seems willing to play out his string at HMS until he retires. Let's just hope that 10 years after he retires, Gordon doesn't look back and start asking himself, "What might have been if I had gone to another team?"
Other homes where he may shine: It may seem sacrilegious, given Gordon's long affiliation with Chevrolet, but two potential new homes—if space was available—would be in a Roush Fenway Racing Ford or a Joe Gibbs Racing Toyota. Will we ever see it? Doubtful, but if Gordon ever wanted to become No. 1 again with a team and make a serious push for a fifth Cup championship, and given that Johnson is likely never going anywhere else, Gordon might just be better off doing it somewhere else.