FC Barcelona vs. Real Madrid: Grading the Barca Players in Their 3-2 Victory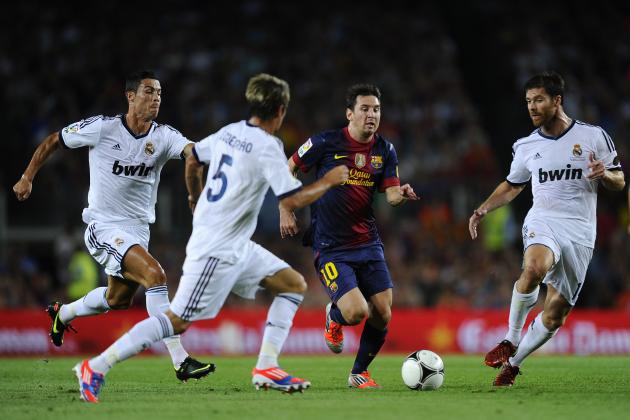 David Ramos/Getty Images

FC Barcelona and the tiki-taka once again prevailed over Real Madrid.
Tito Vilanova and his team won round one of this two-round fight as Barcelona defeated Real Madrid 3-2 in the first leg of the Spanish Super Cup.
Barcelona dominated the first half as the tiki-taka was in full display. Lionel Messi had two good looks at the goal but misfired. Xavi and Andres Iniesta started off well, finding Alexis Sanchez and Pedro on the wings to set up the attack.
Cristiano Ronaldo and Karim Benzema had a quiet first half as the Barça possession held the two powerful forwards at bay.
Like in all recent Clásicos, it's in the second half where we saw the game begin to come to action.
Ronaldo got things started with a tremendous header we are used to seeing from CR7 as he pushed it past a frozen Victor Valdes for the 1-0 lead.
For Culés, it felt like it was going to be one of those nights like the one we saw in April when Ronaldo's goal defeated Barcelona.
But Pedro responded immediately and got the equalizer within a minute of Cristiano's goal as a great pass from Javier Mascherano freed Pedro past Fabio Coentrao and the Canarian shot it past Iker Casillas for the 1-1 tie.
In the 69th minute, Andres Iniesta was taken down by Sergio Ramos inside the box and was awarded a penalty. Lionel Messi—with the world watching—put the ball into the back of the net and made it 2-1 Barcelona.
Iniesta was clearly the man of the match as his dribbling skills helped Don Andres find Xavi wide open and made it 3-1 to El Blaugrana in the 77th minute.
The play most are talking about is what Victor Valdes did in the 85th minute.
With the game—perhaps even the Super Cup—in control, Valdes received a pass from Adriano to kick the ball forward. With a charging Angel Di Maria coming towards him, Valdes should have kicked the ball as far as he could.
Instead, Valdes decided to keep the ball and—I guess—tried to dribble the ball away from Di Maria.
Di Maria stole the ball and scored, making it 3-2, which is how the game ended.
I don't know what VV was thinking, but that is completely unacceptable. Especially when you are playing in a Clásico. Just awful.
Aside from Valdes' brain cramp, FC Barcelona dominated and deserved this victory.
It's time to give Tito Vilanova's players their report cards for this game.
Here are my grades for each FC Barcelona player in their 3-2 victory over Real Madrid in the first leg of the Spanish Super Cup.
Begin Slideshow

»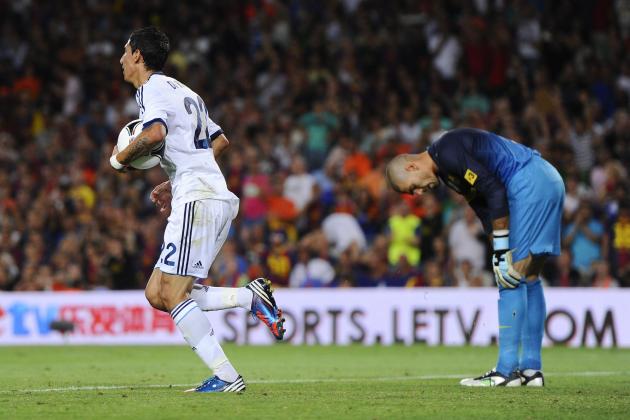 David Ramos/Getty Images

Victor Valdes: Good punch out of the ball by VV in the 36th minute on a corner kick or else Real makes it 1-0.
Valdes made the huge mistake of the game in the final minutes as he did not kick the ball away and allowed Angel Di Maria to steal the ball from him and score the second Madrid goal.
That Valdes mistake may not worry his Barcelona teammates, but it sure worries all of us fans and it also brings Real closer to matching this Super Cup.
For that mistake, I'm giving Valdes an "F." You can't make those kinds of mistakes against any football team, let alone Real Madrid.
Grade: F
Adriano: The surprise of the night was the Brazilian starting the game instead of Jordi Alba. He had a solid game overall. Don't be surprised if he starts again in the second leg.
Grade: B
Gerard Pique: Good job by Pique in the third minute as he stopped one of Ronaldo's runs. He also stopped the potential Benzema breakaway in the eighth minute.
Pique did miss a few chances at heading it in with corners, but it's OK.
Grade: B
Javier Mascherano: El jefecito did a great job stopping a potential Ronaldo breakaway in the 24th minute. A fantastic pass to Pedro to set up the equalizer.
Grade: A
Dani Alves: Good speed in the first half by Dani. He was causing problems for Real all game on that right side as Alves would come up to play. Not a loud game by Dani, but it was enough.
Grade: B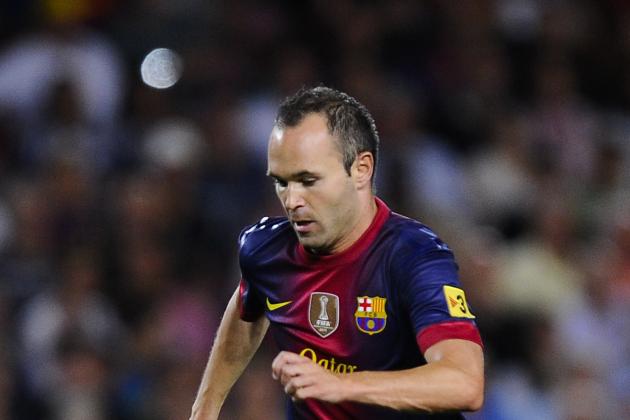 David Ramos/Getty Images

Sergio Busquets: Busi took a couple of hits in the opening minutes of the game. Typical Busi game: made the passes needed and helped control the Barcelona tempo.
Grade: B+
Xavi: Had a solid look at goal in the 28th minute but the Real defenders made a good block. Xavi had the lovely goal in the second half as he got the ball from Iniesta in the 87th minute and slipped it passed his good friend Casillas for the 3-1 lead.
Grade: A
Andres Iniesta: In the first half, we saw typical Don Andres: passing by defenders and setting up the offense. Got the penalty called in his favor in the 70th minute. A fantastic through ball to Xavi to make it 3-1. Andres was a master in this game; just toying with the Real defense.
If Lionel Messi and Cristiano Ronaldo didn't exist, Andres Iniesta might well be considered the best player of our generation.
Even with Messi and Ronaldo, Iniesta is still one of the best players of our generation.
Grande Andres!
Overall: A+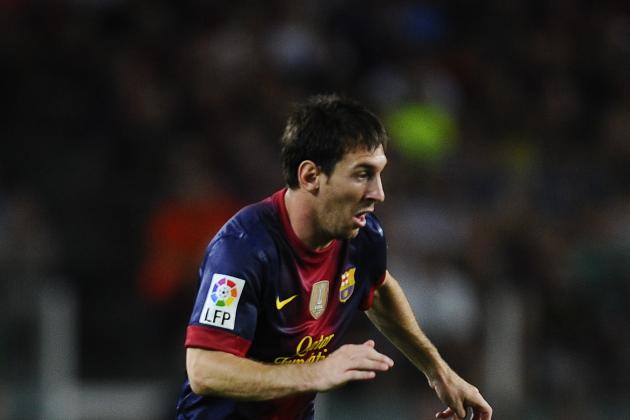 David Ramos/Getty Images

Pedro: Great through-ball was given to Pedrito, but he couldn't find a player when he crossed the ball. What a terrific shot Pedro took at Iker Casillas in the 32nd minute. Pedro saved Barcelona's morale in the second half by responding in lightning time to Ronaldo's goal as he got past Fabio Coentrao and blasted the ball past Casillas. Solid game from Pedro.
Overall: A-
Alexis Sanchez: Controversial on-call late in the first half as Sanchez appeared to be taken down inside the penalty box by Sergio Ramos.
Alexis had his moments to make plays, but just couldn't make magic happen. Look for Alexis to get another shot to start in the second leg at the Santiago Bernabeu.
Grade: B-
Lionel Messi: King Leo had a great chance in the 20th minute as he was by the box line and put it to the left of the post. Messi was able to get away from a few defenders to take a good look at goal in the 29th minute only to miss just right of the net.
Messi made the penalty in the 71st minute after the penalty was given to Iniesta on a Ramos foul. Leo walked up and put it on the right side as Casillas flew the other way.
Leo almost made it 4-1 but a great Casillas stop prevented it.
Messi needed to score a goal and respond to Ronaldo's goal. Yes, El Clasico is not just Messi vs. Ronaldo. But having played poorly in the April loss at the Camp Nou and with Ronaldo coming through for his team with a header, it was required that Messi respond.
Yes, it was a penalty. But a goal is a goal.
Messi needs to score at the Bernabeu in the second leg in order for this team to win the Spanish Super Cup.
Grade: A
A "pass" grade is given to Jordi Alba, Cesc Fabregas and Cristian Tello as they in came in as substitutes, but had no impact.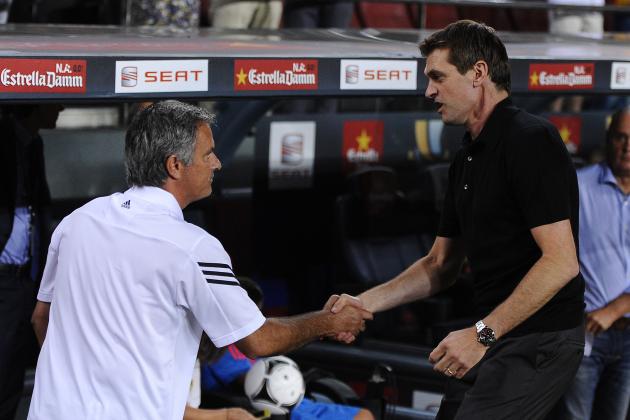 David Ramos/Getty Images

My overall grade for FC Barcelona in their 3-2 victory over Real Madrid is an A-.
So what did we learn from the first leg of the Spanish Super Cup?
Jose Mourinho and Tito Vilanova shook hands and showed respect to one another. Nice to see by Mou and Tito.
Another game, another Iniesta performance that leaves us in awe.
Ronaldo's head comes up big against Barcelona again.
Leo Messi needed that goal more than most people think.
Angel Di Maria saved his team from essentially losing the Supercopa at the Camp Nou.
Victor Valdes is just terrible when he tries to move with the ball. Remember last year's Clásico at the Bernabeu? One minute into the game and a Valdes giveaway made it 1-0 to Real. Valdes needs to just clear the ball at all times whenever he receives a pass from the defenders, period. And not just for the next game, for the rest of his career.
Tito Vilanova is proving that he is a natural at managing.
And finally, the tiki-taka cannot be stopped by Real Madrid. Once the tiki-taka is on full blast, Mou and Real are done. If you disagree, just think of how the goals came for Real: a corner kick and a Valdes screw-up. Not many good chances on goal other than those two. If Barcelona can contain the counterattack and continue the tiki-taka, it's Adios Madrid.
Great win by Barcelona. Let's celebrate this win, but not too much as there are still 90 minutes of football to be played at the Santiago Bernabeu in this Spanish Super Cup.
Real Madrid will give it all at La Casa Blanca. But Barcelona has won at the Bernabeu the last two times they've played there.
But we'll talk more about the second leg next week.
For now, there's a Liga game against Osasuna on Sunday.
Visca el Barça!
PS: "The Barça Report"—my weekly editorial on FC Barcelona and all football news—is coming next week. Look out for it!
Xoel, The Voice of FC Barcelona on Bleacher Report.
Don't forget to check out my other columns:
Barcelona vs. Real Sociedad: Grading the Barca Players in Their Liga Opener