Ranking the 3 Best Fantasy Football Options on the San Diego Chargers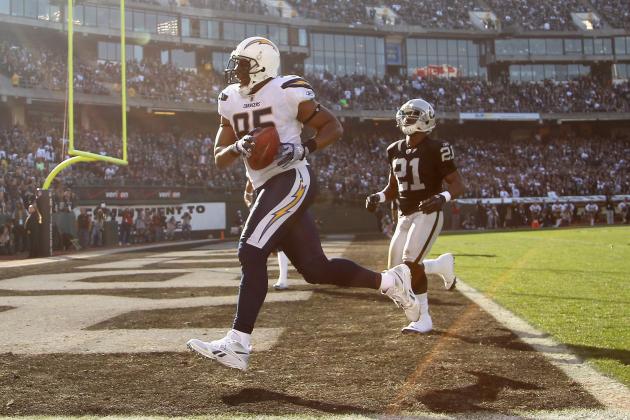 Ezra Shaw/Getty Images

The San Diego Chargers have normally been a team that holds great fantasy football value. With an explosive offense, many fantasy football participants look to grab as many Chargers players as they can. Then last year came and went, and it seemed to ruin all the Chargers players' fantasy value.
Philip Rivers, who normally is one of the top-rated quarterbacks heading into a new season, is now somewhat of an afterthought following a poor year in 2011. Ryan Mathews, who surprised many people last year with his breakout season, is once again hurt, causing his fantasy value to fall.
Vincent Jackson, one of the most productive wide receivers in the entire league, is no longer on the roster, leaving Malcolm Floyd, Robert Meachem and Eddie Royal to fill his void.
Despite the injuries and free-agency departures, the Chargers still have many solid options on their roster that could help make your fantasy football team an instant contender in your league.
Begin Slideshow

»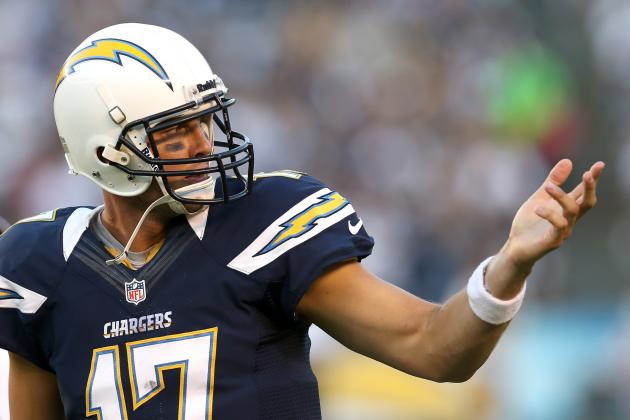 Stephen Dunn/Getty Images

A lot has been said about Philip Rivers' poor season he had in 2012. Most of the talking has come from the outside media who love to ridicule a man who wears his emotions on his jersey sleeve. Rivers came out and said he was not hurt in 2011 and is looking forward to the new season.
If Rivers can manage to cut down his turnovers, which really hurt his fantasy value in 2011, he has the potential to be top-five quarterback in fantasy football. Last year he set a career-high in total turnovers. Both his interceptions as well as his fumbles helped produce many fantasy owners scratching their heads, as Rivers finished last year ninth out of all fantasy quarterbacks.
In most standard scoring leagues, Rivers totaled 246 points. If you take away half his turnovers, he scores approximately 25 more points bringing his total to 271 which would put him just behind Eli Manning who finished with 273 points, which was good enough for sixth overall.
Losing Vincent Jackson hurts Rivers' fantasy value, but with the additions of Robert Meachem and Eddie Royal, Rivers should find himself with his usual fantastic numbers. Royal is what really makes Rivers' fantasy value rise.
The Chargers have been looking for a playmaker like Royal ever since Darren Sproles left San Diego. Royal has the ability to make plays from any spot on the field, which will help Rivers on third down. In return, Rivers will be on the field longer allowing his stats to rise along with his fantasy value.
Rivers may not be a top fantasy football quarterback, but do not be afraid to draft him if you are in need of a starting quarterback and Rivers is still on the board.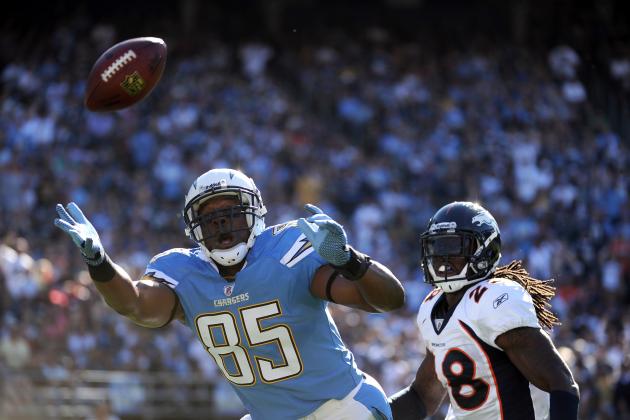 Harry How/Getty Images

Antonio Gates is probably the Chargers' best fantasy option for 2012. When healthy, he is one of the best tight ends in all of football. He has showed up this training camp in perfect shape, which is a good sign for both the Chargers and anyone who has the luxury of Gates on their fantasy roster.
Last year Rob Gronkowski and Jimmy Graham showed us that having a dominant tight end on your roster will help pave your wave to fantasy football glory. Last year in standard scoring leagues, Gronkowski and Graham posted 233 and 187 points respectively.
Those are huge numbers, but is what scary is the 60-point drop-off between Graham and third-place tight end Aaron Hernandez. This is where Gates comes into the picture when discussing tight end value. I don't believe he will have the same success as Gronkowski and Graham, but he is more than capable of having a better season than Hernandez did last year.
If I had to project Gates' points, I would put it somewhere in the 140-150 range, which is phenomenal, but nothing Gates can't accomplish. Gates is as healthy as he has been the past couple of years and looks to be locked and loaded when it comes to having a terrific season in 2012.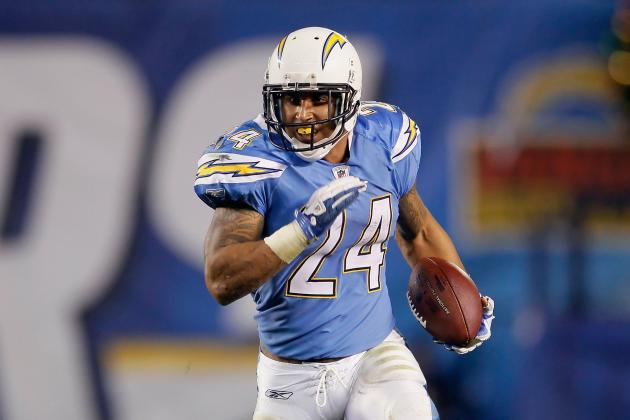 Jeff Gross/Getty Images

To be honest, I had to think long and hard about including Ryan Mathews on this list. His durability issue has really become a problem for the Chargers and everyone who is mapping out their fantasy draft plan.
After a buzz-filled offseason, which boosted Mathews into having his name included into the game's top running back discussion, stories flew out of Chargers camp that he was built for a heavy load this year, but he lasted only one carry.
It is disappointing for everyone involved with either the Chargers organization or the Chargers fanbase. The excitement surrounding Mathews was the highest for a Chargers running back since the great LaDainian Tomlinson diced up the AFC for the Bolts.
If Mathews can get back to being healthy and show that he can handle the beating, he once again becomes a must-start in all fantasy leagues. Not only does he rack up yards on the ground and through the air, but he also showed late last year that he has the ability to score around the goal line, which is what really boosts his fantasy value.