Maurice Jones-Drew: Weighing Pros and Cons for Trading Jacksonville Jaguars RB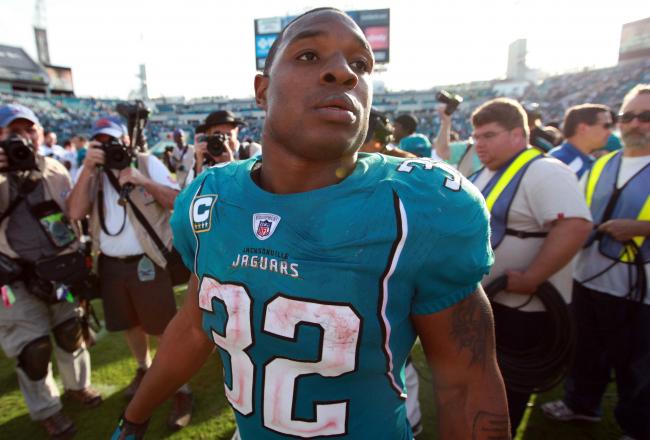 Matt Stamey-US PRESSWIRE
Trading Maurice Jones-Drew would be an intriguing move by the Jacksonville Jaguars.
And as we found out earlier this week, MJD is open to a trade, according to ESPN's Adam Schefter:
In light of Jaguars owner Shad Khan's recent public remarks, Jacksonville's RB Maurice Jones-Drew is now open to being traded, per source.

— Adam Schefter (@AdamSchefter) August 21, 2012
Obviously, parting ways with their best player would have an immediate effect on the Jaguars' 2012 season. However, just like any other trade—or potential trade, no matter how slim the possibility—there are two sides to the coin.
In short, there are pros and cons that must be weighed to decipher how the aftermath would impact an unpredictable future. For Jacksonville's sake, let's analyze what splitting with Jones-Drew would entail.
Pros
Should the Jaguars trade MJD?
What the Jaguars get offered certainly depends on those interested in dealing for Jones-Drew.
Despite being 27 years old and having already played six seasons, MJD has missed just three games. That kind of durability from a running back is impressive in pro football, and when you combine his overall production, Jones-Drew is worth at least a first- and fourth-round draft pick.
After all, the Jaguars passing offense ranked dead last in 2011, yet Jones-Drew led the league with 1,606 rushing yards. Plus, he did this against defenses like Houston, Pittsburgh, Baltimore, Cincinnati and Atlanta (all of which ranked in the top 10 for rush defense).
Through his first three NFL seasons, MJD didn't get worn down, either, splitting time with veteran Fred Taylor from 2006 through 2008. So, you can bump his career ahead one more year, which leaves Jones-Drew with a minimum of four years of solid play remaining.
That only enhances MJD's appeal and gives the Jags more leverage to help build the offense quicker.
Mel Tucker's defense is already one of the best in the NFL, and if Jacksonville can add two or three more draft picks, then it only presents a stronger long-term future.
In a division where the Indianapolis Colts are back on the rise and the Houston Texans remain the standard, Jacksonville can't afford to fall behind unless Jones-Drew is dealt for retooling the offense.
Cons
Obviously, the downside of breaking up with Jones-Drew is losing the NFL's best and most complete running back.
Yes, it's MJD, because he's played with much less talent around him by comparison to other elite ball-carries and has averaged 1,795 total yards in each of the past three seasons. This kind of presence on every down is rare throughout NFL history, and Jacksonville definitely needs him for a postseason shot.
Rashad Jennings isn't a bad option otherwise, but he did miss all of 2011, is also 27 years old and has compiled less than 1,000 total yards between 2009 and 2010. Even when splitting time with Taylor, MJD still averaged over 1,300 total yards per season from 2006 through 2008.
Jennings is simply a deep step back from Jones-Drew. And with a young quarterback in Blaine Gabbert, as well as a rookie receiver in Justin Blackmon, Jacksonville's offense needs a more threatening ground game to complement the improved passing attack.
The absence of Jones-Drew reduces the balanced approach and puts even more unwanted pressure on Gabbert. Multiple draft picks in exchange are a feasible alternative, but a lot comes down to whether the Jaguars want to win now or invest in the unknown.
What Should the Jaguars Do?
This decision at its core can be boiled down to the inexact science of the NFL draft.
No matter when or what kind of players the Jaguars could draft from receiving additional picks via a trade, each selection is a risk. Now, just based on the law of averages, more selections certainly help increase the odds of finding those gem prospects.
Nevertheless, everyone entering the NFL remains unproven until the real games begin. Jones-Drew is already a proven player and among the best in the league (regardless of position).
So the risk of investing more in Jones-Drew is significantly less than any rookie.
Therefore, Jacksonville has to retain its star running back and find common ground. If not, then the Jags miss an opportunity for a better-than-expected 2012 and a more promising chance in 2013.
Follow John Rozum on Twitter.

This article is
What is the duplicate article?
Why is this article offensive?
Where is this article plagiarized from?
Why is this article poorly edited?

Jacksonville Jaguars: Like this team?