Maurice Jones-Drew Trade Rumors: 3 Reasons There Is Zero Chance He'll Be a Jet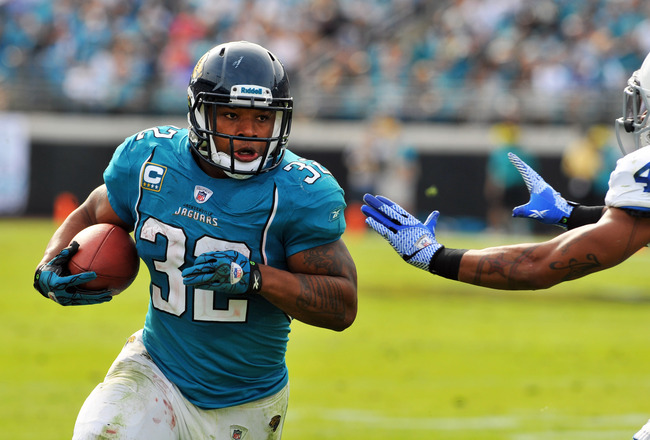 Al Messerschmidt/Getty Images
The Jets Are Too Close to the Cap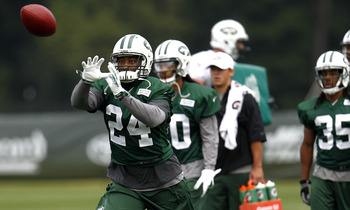 Jeff Zelevansky/Getty Images
The New York Jets currently have $6.0 million left in cap space. However, the Jets' management has tried to keep that number over $6 million all offseason and are unlikely to spend any more money. A big part of this is the contract of star cornerback Darrelle Revis.
Revis is already on the books for a $7.5 million in salary this season. Moreover, due to the structure of his contract, the expectation is for him to renegotiate after the coming season. This will most likely increase that cap hit in 2013 and 2014.
The rest of their highly paid players are indispensable or untradeable. Linebackers Calvin Pace and Bart Scott are not viable trade options and cannot be cut without taking huge cap penalties. Linebacker Josh Mauga cannot be cut while the Jets still run a significant amount of 3-4 defensive schemes.
Even if the Jets could dump enough salary to get Jones-Drew on the books for this year—which they cannot—it would destroy their 2013 cap strategy.
The Jets Have Already Back-Loaded Contracts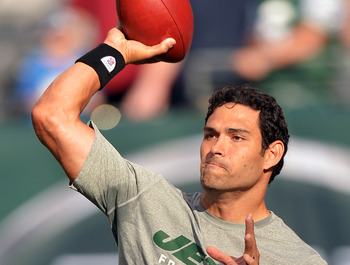 Drew Hallowell/Getty Images
This past offseason, general manager Mike Tannenbaum heavily back-loaded the Jets roster. Mark Sanchez, Sione Pouha, Mike DeVito and others restructured contracts to push the cap burden back to 2013 and 2014. For the Jets to add a high-profile contact under a multi-year deal at this point would be unthinkable.
This was the reasoning behind offseason deals made by the Jets front office including several one-year deals with players like safety LaRon Landry. It was also part of the motivation for guaranteeing more of the contract of heavily criticized right tackle Wayne Hunter. By guaranteeing this year's money for Hunter and appeasing him in the short term, the Jets avoided having to extend Hunter or find a long-term solution at tackle. This provides them with the opportunity to sign a more expensive offensive tackle in 2013, something they could not afford to do this past offseason.
Jones-Drew is not looking for a one-year deal, and there is no deal in New York that can satisfy him.
The Jets Have Bigger Needs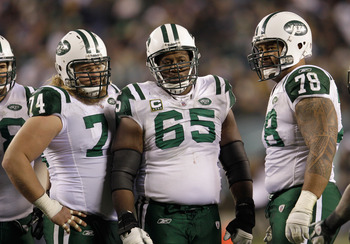 Rob Carr/Getty Images
The Jets front office has made it clear that running back is not a priority. They like Shonn Greene, they have depth at the position and the coaches prefer to employ running back by committee.
More importantly, they have other key needs that have not been filled for cap reasons. The Jets passed on right tackle Eric Winston this offseason because the $5 million per year price tag was too much to fit their salary cap.
If the Jets will not pay $5 million to vastly upgrade the biggest hole in their offense, they will not pay an even higher price to improve on an already strong position with an aging star.
If you are a Jets fan, save your effort and ignore the Mojo trade rumors.
Keep Reading

New York Jets: Like this team?