After Trade Buzz, Holdout, What Is Maurice Jones-Drew's Fantasy Stock for 2012?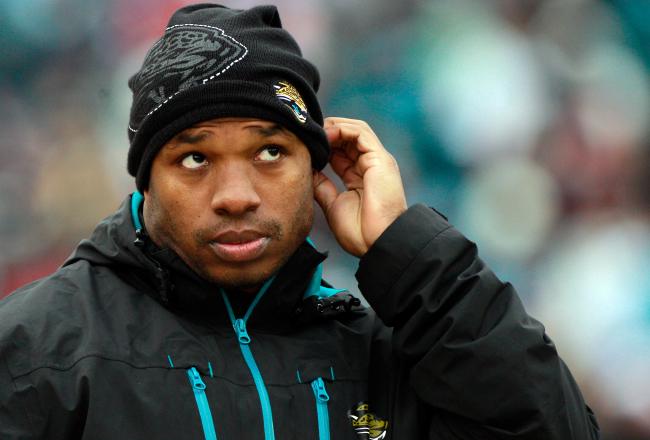 Sam Greenwood/Getty Images
Maurice Jones-Drew has put his fantasy football owners in an interesting position regarding his holdout.
According to Adam Schefter of ESPN:
In light of Jaguars owner Shad Khan's recent public remarks, Jacksonville's RB Maurice Jones-Drew is now open to being traded, per source.

— Adam Schefter (@AdamSchefter) August 21, 2012
For the Jacksonville Jaguars and their fans, this is an extremely unfortunate set of circumstances. Jones-Drew is a top five running back in the league, and with the Jags' receiver upgrades from the offseason, 2012 offered increased optimism.
Now, however, the tide's remained unturned.
And for those who have already completed their fantasy drafts and selected MJD, you are in a pickle. Unfortunately, Benny "The Jet" Rodriguez can't help us here.
That said, let's check out Jones-Drew's current fantasy value and find the most plausible angle to approach this season.
Dropping Value But Don't Make Any Sudden Movements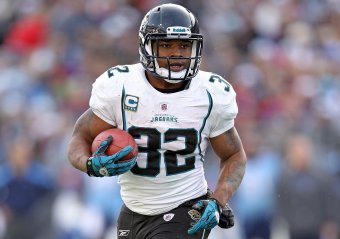 Andy Lyons/Getty Images
We're still roughly 2.5 weeks away from kickoff in Week 1, so there's no reason to panic right now.
A lot can happen between now and then, and because he's such an elite player, it's tough to believe that MJD won't be suited up in September. It would certainly be a shock if the Jaguars traded him as well, because last season he was their entire offense.
Jacksonville fielded the worst passing offense and against a tough schedule, MJD constantly faced a stacked box with defensive game plans isolating to stop him. Still, it was to no avail as he compiled 1,606 rushing yards (led NFL) and added 374 receiving yards as well.
So even if a trade occurs, and regardless of whom it's with, Jones-Drew would have to be the feature back. His season may start off a little sluggish, but standards and expectations drop after missing most of the offseason anyway.
In short, wait out until the week leading up to opening kickoff. Certainly plan ahead with trade ideas in your league and look at the players on other rosters. Adding free agents to the "watch list" helps as well, because it's better to have a fail safe than no other options.
Jaguars Can't Afford to Play Without Him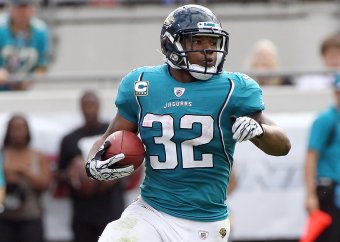 Sam Greenwood/Getty Images
Maurice Jones-Drew is simply too valuable to the Jaguars' offense.
Rashad Jennings is certainly a reliable ball-carrier, but he did miss all of 2011. Plus, when he played in 2009 and 2010, Jones-Drew still managed to accumulate over 1,600 total yards each of those years.
And provided he does remain but refuses to show up even once the season begins, we have to remember that the first goal is to make the postseason—fantasy football isn't any different. MJD is a beast in any short-yard situation and is the best back with downfield vision on screen passes.
The rest of Jacksonville's offense opens up because of him, and MJD's presence alone takes much pressure off Blaine Gabbert. Presenting one of the NFL's best defenses from a year ago, Jacksonville is a playoff sleeper with Jones-Drew in the backfield.
Without him, the playoff odds quickly take a nosedive.
Despite the improved receiving corps, Jacksonville's passing game isn't threatening enough to be solely relied on. Gabbert would get blitzed significantly more, and opponents would quicken the pace to force the Jags into more passing situations.
If Jones-Drew resides in the backfield, however, then teams would need to keep Jacksonville's offense off the field with a slower pace. In turn, that would allow Mel Tucker's defense to really take over.
One player will never make a team, but one player such as Jones-Drew does present a stronger impact than others.
Are you willing to select MJD despite current situation?
If Your Fantasy Draft Has Yet to Commence...
For those that have yet to take part in their fantasy draft, it's a good idea (at this moment) to select Jones-Drew but not until the middle rounds—at the earliest.
MJD would be a great steal pick if he ends up playing in 2012 and it would add to your running back depth as well. Contrary to the NFL's pass-happy movement, running backs are still the most important position in fantasy.
Quarterbacks can still only rack up passing yards and receivers only the obvious receiving yards (a few add rushing yards on jet sweeps and reverses). Running backs, though, gain yards in both facets, and it's a smart way for offenses right now to game-plan.
With so much passing occurring, it's only expected that defenses adjust accordingly. Therefore, offenses with a back like MJD have a distinct advantage when facing a nickel/dime front as opposed to a traditional 4-3 or 3-4.
As long as it's not too soon in the draft, Jones-Drew remains a viable option despite the current situation.
Follow John Rozum on Twitter.

This article is
What is the duplicate article?
Why is this article offensive?
Where is this article plagiarized from?
Why is this article poorly edited?