How Jason Witten's Injury Alters the Dallas Cowboys' Offensive Game Plan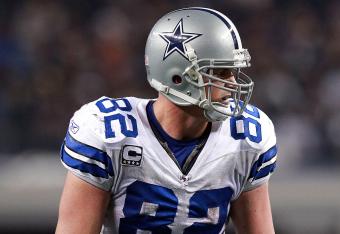 Ronald Martinez/Getty Images
When news spread about Jason Witten's injury—officially listed as a lacerated spleen—sustained during the preseason opener against the Oakland Raiders, Dallas Cowboys fans immediately went to panic mode.
And why shouldn't they? Witten is Tony Romo's favorite target. Last year, he was good for 79 receptions and 942 yards. There's a strong case to be made that he's the most reliable tight end in the whole league.
What makes Witten such a crucial component to the Cowboys offense is his least-heralded skill: He's an excellent blocker. And with the offensive line still struggling, that loss is a huge blow.
As of now, it looks like the Cowboys will open up their regular season in two weeks against the New York Giants without the versatile tight end (though he is hopeful to return).
Witten's injury actually comes at a fateful time for Dallas. Just when it looked like the defense was going to capture the headlines for being costly and lackluster for another season, now it's the offense that could jeopardize the Cowboys' high hopes for the playoffs.
The Cowboys still have that season opener looming, though, and if Witten can't play, the show must go on. The Cowboys' game plan changes significantly without their reliable tight end.
Adding more intrigue to the drama surrounding Witten is that the Cowboys also have to determine how severe Miles Austin's hamstring injury is.
Jerry Jones has confirmed he'll be gone the rest of the preseason: "We're basically just wanting to make sure he's ready for New York," he said to radio station KRLD-FM in Dallas. Without Witten, Austin is surely Romo's top target.
Though the casual NFL fan may only recall Austin as a one-time Kim Kardashian boyfriend, the Cowboys have come to rely on him as a Renaissance receiver.
The receiver was good for 43 receptions and 570 total yards last year. Those statistics aren't at all impressive until you remember he was limited to just 10 games in 2011.
If the Cowboys find themselves needing to rely on an offense sans Witten, it's safe to assume Austin will be the preferred red-zone target for Romo (especially with Laurent Robinson gone to free agency).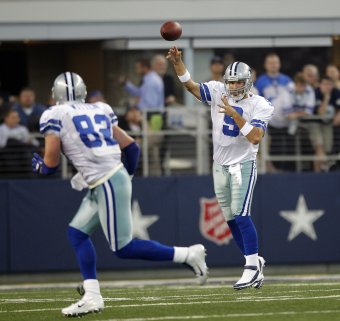 Layne Murdoch/Getty Images
The worst-worst case scenario is, of course, if Witten and Austin are limited. If that's the case, the third receiver slot—already under intense scrutiny—becomes all the more crucial.
Kevin Ogletree managed some impressive catches during both preseason games against the Raiders and San Diego Chargers. Enough to quiet some of the talk on Cole Beasley, who himself went for 104 yards against San Diego.
While Ogletree has shown flashes of brilliance during his three years with Dallas, what's gotten the most attention during preseason are his smoother routes. That's even prompted some words of encouragement from Romo, who is not alone in noticing the improvement from training camp.
Another intangible for the Cowboys right now is their running game. Felix Jones was one of the most promising additions to the Cowboys in nearly a decade.
His athletic prowess, however, has been eclipsed by the injuries that have sidelined what should be a stellar, headline-in-the-waiting career.
Add in the fact that he failed a conditioning test and looked unmotivated during the preseason, and you begin to see why Dallas so eagerly named DeMarco Murray the starter at running back.
In his rookie season, Murray electrified the Cowboys in what would become a stale season. Had he not gone out from an ankle injury in Week 14 (against the Giants), it's hard not to imagine his play would have dictated the Cowboys' season.
The struggles with the offensive line add to the aggravation about intensifying the running game. If Murray starts to take more than 20 touches and regularly logs 100-plus yards per game, the Cowboys can certainly get their offense rolling.
The final piece to the puzzle is, of course, Dez Bryant.
He made headlines for all the wrong reasons earlier this summer and is now trying to get back on the right side of Jason Garrett and Jerry Jones.
He had a stupendous catch against the Raiders in the first preseason game, but after suffering a case of patella tendinitis earlier this week, he is most likely done for the preseason. He's vowed to play against the Giants, and nobody more than him probably wants to get on the field and show what he's made of.
Last year, Bryant caught 63 passes and reached the end zone nine times. If the injuries to Witten and Austin fare worse than excepted, Bryant will be the No. 1 wideout. He's been able to demonstrate a freakish athletic ability that rejuvenates a stagnant offense.
It is still undetermined if Jason Witten starts against the Giants on Sept. 5. Again, he's optimistic that he gets the go-ahead.
If he does miss significant playing time this season, it's up to a lot of the younger players to make up for his receptions and blocking.
This article is
What is the duplicate article?
Why is this article offensive?
Where is this article plagiarized from?
Why is this article poorly edited?

Dallas Cowboys: Like this team?