Alabama Football: Why Tide Fans Will Never Worry About Defense Under Nick Saban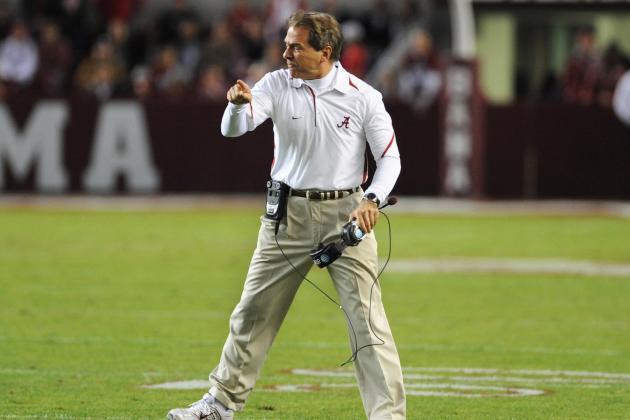 Al Messerschmidt/Getty Images
As long as Nick Saban is roaming the sidelines clad in Crimson, Alabama fans should rightfully expect to field a dominant defense.
Nick Saban enters his sixth season in charge at Alabama, and even with the massive attrition from last year's unit, most fans and media experts expect the Crimson Tide to field a dominant and suffocating defense this fall.
Only four starters return from the group that limited LSU to 91 yards of total offense in the 21-0 BCS National Championship Game victory, which may cause some outsiders unfamiliar with the program to scoff at the lofty standards that Tide supporters have set for the defense.
This year's unit features a mix of seasoned veterans plus an influx of ultra-talented newcomers that will be coached by a staff that has compiled a record of 48-6 over the last four seasons.
So why are Alabama fans expecting big things from a defense that must replace three first-round draft choices?
Here are five reasons why Tide fans will never worry about defense as long as Saban is in charge.
Begin Slideshow

»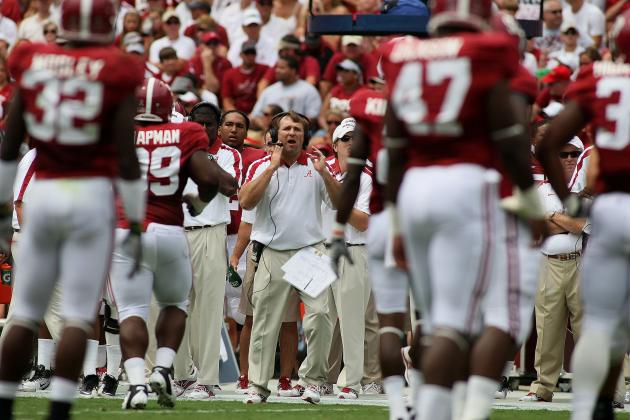 Greg McWilliams/Getty Images
Saban and Smart have proven resumes with molding dynamic defensive units.
For starters, the team's recent history under Saban is hard to ignore.
Saban and defensive coordinator Kirby Smart have constructed a system that has brought unprecedented results—with the Tide finishing in the top five nationally in total defense in each of the last four seasons.
Last season's defense topped the nation in all four major defensive categories (total defense, scoring defense, rushing defense and passing defense).
While this unit may not approach the dominance of the 2011 squad, Saban has plenty of talent ready to step up and carry on the tradition of outstanding play on the defensive side of the line of scrimmage.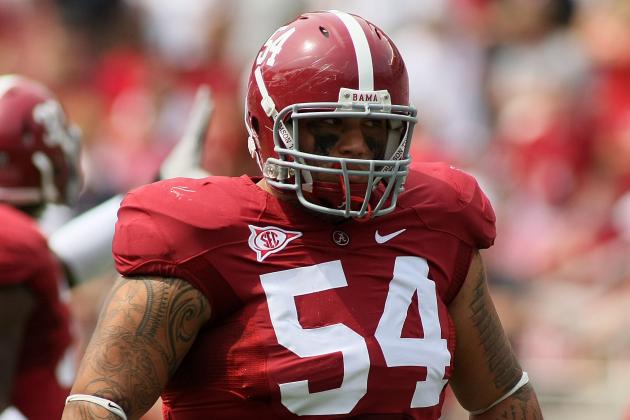 Greg McWilliams/Getty Images
While Williams will line up at nose tackle this fall, he has the ability to line up at any of the 3 positions in the Tide's defensive front.
Saban and Smart have employed the 3-4 scheme with tremendous success—but the brilliance of their system comes with their ability to adjust seamlessly when countering an offense's adjustments.
The Tide's defense is equally effective when switching to nickel and dime situations in pass coverage, or putting an extra defensive lineman up front to a 4-3 look.
Another undervalued aspect that contributes to Alabama's success on defense is the versatility of several players who are able to play multiple positions or specialize in roles tailored to a player's individual strengths.
Whether it's a defensive lineman that can play inside or on the edge (like Jesse Williams for example) or a linebacker that can drop down and put his hand in the dirt, or a defensive back that can play safety or drop down and cover a slot receiver or a tight end as an extra corner—this luxury helps Alabama adjust quicker than most defenses.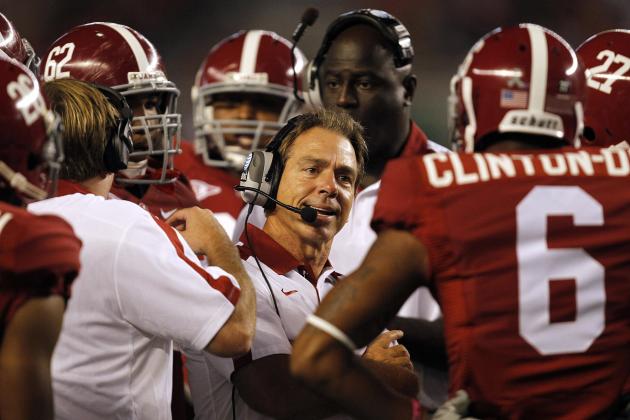 Butch Dill/Getty Images
Saban has lured talents like Ha'Ha Clinton-Dix that will be significant contributors this fall.
Considering the success Saban has had in sending players to the professional level, the Crimson Tide are currently recruiting at a level of past college football dynasties (examples of the last decade include Florida at its peak under Urban Meyer and USC under Pete Carroll).
While Saban and his staff are lauded for their ability to pull top-tier talent, perhaps they do not get enough credit for developing the players they get and helping them maximize their potential in the Tide's system.
It is a simple concept in theory, but several schools that annually finish with top recruiting classes are unable to carry that success over to the gridiron in the fall.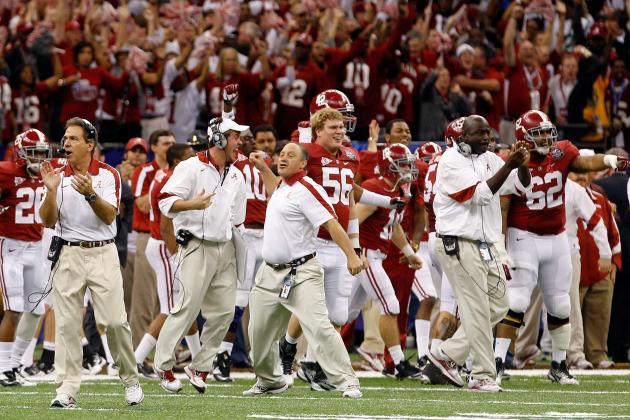 Chris Graythen/Getty Images
Saban has assembled a top-notch collection of assistant coaches that are responsible for maintaining the program's consistency.
As much as any scheme used by the Tide coaching staff, Saban's methods rely largely on the concept of each player maintaining a high level of accountability on and off the field.
That discipline is evident whenever his teams take the field.
It is a trait that also helps him and his staff deal with situations like the roster turnover without suffering a steep decline.
Additionally, Smart's profile has risen to the point where he may be the nation's most coveted assistant coach when the coaching carousel heats up at season's end.
Smart's rapid ascension up the coaching ranks further adds to the list of coaching careers he has developed in the same manner he does his players.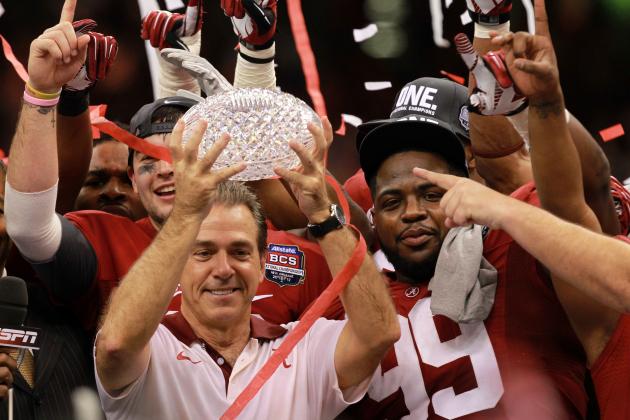 Ronald Martinez/Getty Images
Considering the success Alabama has enjoyed since he arrived, fans should expect the Tide to be consistently among the nation's top defenses as long as he is in charge.
Saban's famed "process" has been so successful that his influence is now felt all across the country. (h/t Andy Staples, Sports Illustrated)
The pro-style culture that he has instituted since arriving in Tuscaloosa has manifested into a program that prides itself on promoting the importance of the journey the team goes through to get ready to play rather than just focusing on the end result.
With the devoted legion of Crimson Tide fans firmly behind him, there is little doubt that Alabama will continue to field a dominant defense as long Saban is leading their program.