Alabama Football: "Saban Effect" Gives Tide Players an Edge in NFL Draft
May 9, 2012

Rob Carr/Getty Images
Nick Saban's record during his stint coaching the Miami Dolphins may have been average at best, but it may have been the best thing that ever happened to him—and the University of Alabama. 
His experience as a head coach in the NFL—plus his history working under Bill Belichick in the Cleveland Browns organization—has fostered his belief in a pro-type culture that he has brought to Tuscaloosa.
After seeing four of his former players come off the board in the first-round of the NFL draft for the second consecutive year, Saban's dominance on the field (two national titles in five years) and on the recruiting trail (signed the nation's top recruiting class in February) has translated into the Crimson Tide becoming the NFL's premier talent development hub. 
It's hard to argue with those results—but from an NFL perspective, does that mean that players coming out of Alabama get a bump in their stock considering how Saban's program is run like an NFL club? 
Saban's pro pedigree is influential in the way his team plays—smart, with discipline and toughness similar to what is demanded of players when they reach the pro level. 
Add to the fact that he has recruited elite talent to Tuscaloosa, it is not surprising layers like Trent Richardson and Dre Kirkpatrick—who were former 5-star prospects—turned into first-round picks.
While Saban is often recognized as one of the finest defensive coaches in the game—players like De'Quan Menzie and Josh Chapman were picked in the fifth round—which suggests they did not necessarily have a leg up on players in their same position group on draft boards across the league.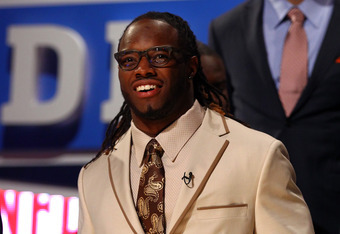 Al Bello/Getty Images
But that does not mean they will not have productive NFL careers either. 
According to Andrew Gribble of al.com, 10 of the 16 Alabama players drafted since 2009 have started at least nine games—which seems to verify the theory that the transition from college to the pro level comes naturally for former Crimson Tide players that learned under Saban. 
Alabama may be recognized for sending more defensive stars to the NFL, but Saban's attention to detail has filtered over to his offensive players.
One year after his predecessor was drafted in the first round (Mark Ingram), Richardson became the highest drafted running back since Reggie Bush went second overall in 2006—in part, because of his ability to master all aspects (pass-blocking and pass catching) of a pro-style offense. 
Considering what Saban teaches his players, and their success in handling everything he threw at them, it is easy to see the attraction to Alabama players from the perspective of NFL front-office personnel.