Report Card Grades for Every Chicago Bears Rookie Through Preseason Week 2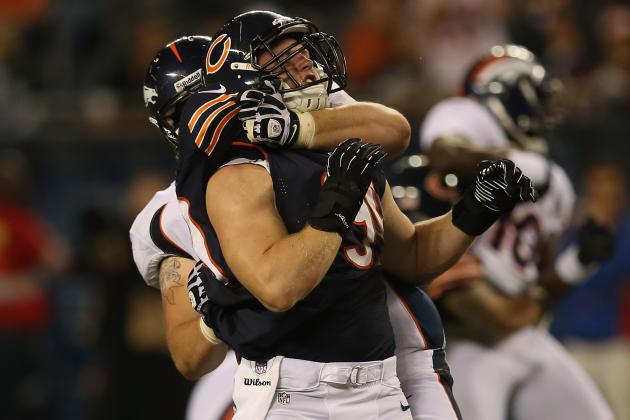 Jonathan Daniel/Getty Images
Shea McClellin
Training camp and the preseason is the perfect time to get a good look at the rookies. After the second game you should have a good idea on what a player's strengths and weakness are as well as who is going to make the team.
The Bears' rookie class is led by their two high-profile standouts, Shea McClellin and Alshon Jeffery. How have they done thus far and what about the rest of the class?
Remember there is still time for a rookie's grade to change. There are two more preseason games for guys to make an impression on the coaching staff. Here is how they all grade out so far.
Begin Slideshow

»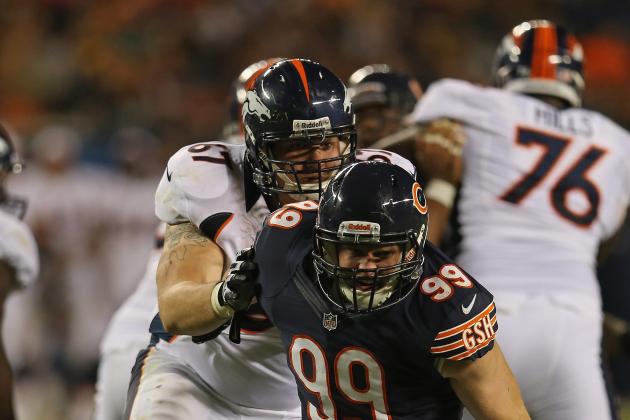 Jonathan Daniel/Getty Images
Shea McClellin
At the beginning of camp first-round pick Shea McClellin struggled. He was pushed off the line by undrafted free-agent rookies and was really down on himself.
Since then he has turned it around. He has had a solid camp and has shown good pressure on the quarterback. His speed is what stands out, but unfortunately so does his lack of strength in the run game.
His grade is based on his work ethic and desire to get better.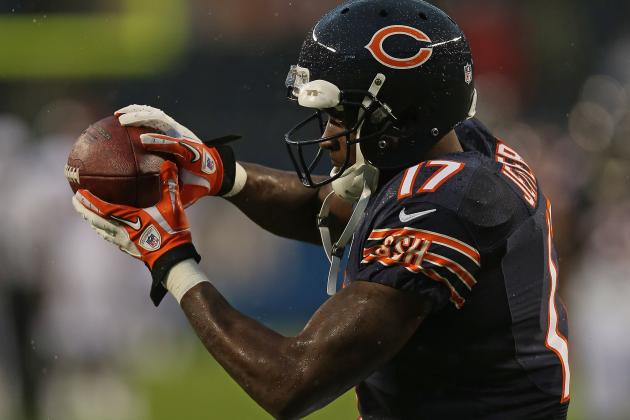 Jonathan Daniel/Getty Images
Alshon Jeffery
Without a doubt Alshon Jeffery has been the talk of camp and preseason among rookie players so far. He has shown tremendous ability in camp and has latched on to the role of NFL wide receiver very early.
Jeffery's work in camp has translated to the field in preseason. He has seven catches for 97 yards in two preseason games. Most importantly he has shown an ability to make big plays down the field and has developed a chemistry with Jay Cutler.
Jeffery will be tested going forward like the incident with Redskins' defensive back DeAngelo Hall. He will have to continue to play within himself and shake off those kinds of things. Still, his future is bright going into the season.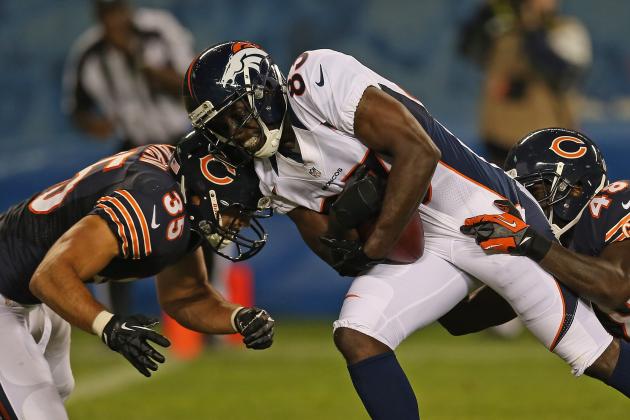 Jonathan Daniel/Getty Images
Brandon Hardin
The one thing you didn't want to Brandon Hardin happened on Saturday. He got injured.
By now you already know Hardin missed all of last season due to injury. The Bears still decided to draft him in the third round and switch him from corner to safety.
The learning curve for Hardin has been fairly tough so far. He has had trouble with reads from the safety position as well as assignment discipline. What has made up for all of it so far is his athleticism. His speed and tackling ability is above average and can really stand out on the field.
Now we look at what happened on Saturday. You should be concerned with the injury as well as the poor tackling technique. What the Bears don't want is a player who is injury prone. They also need a player at this level who knows how to tackle correctly. By having his head out of position on the tackle, he put himself in harm's way and was the one who took the brunt of the hit.
Hardin has said he's OK and can play if needed. The Bears are going to practice more caution and take their time getting the rookie back on the field.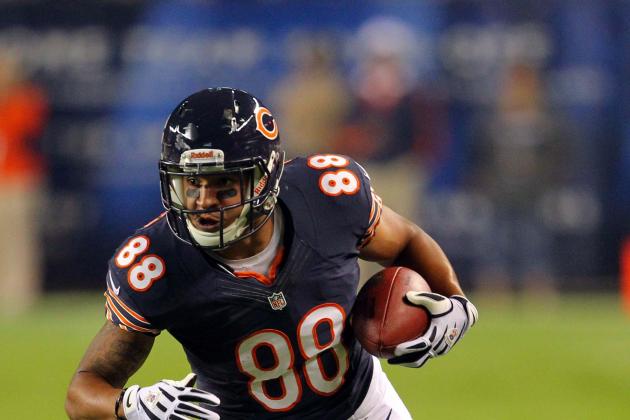 Dennis Wierzbicki-US PRESSWIRE
Evan Rodriguez
It's tough to get a good read on Evan Rodriguez because the Bears don't want to really show off how they are going to use him quite yet.
Even still he has had a strong camp and made some good impressions on offense in the first two preseason games. After the first game he got praise from special teams coordinator Dave Toub for his work on the third phase and he was targeted three times against the Redskins catching all three passes for 49 yards.
Rodriguez has a roster spot locked up, but if he continues to impress on special teams and on offense, he will be an intricate part of this Bears team in the regular season.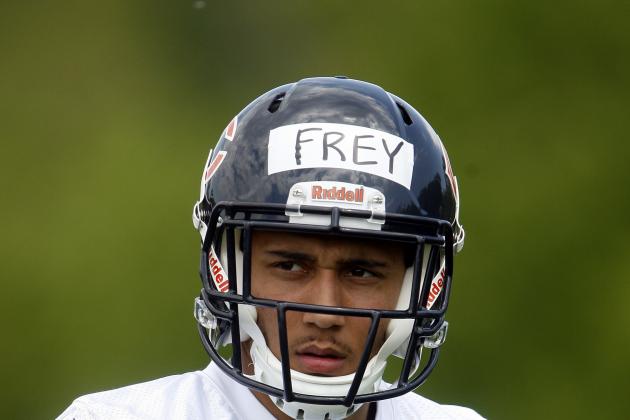 Jerry Lai-US PRESSWIRE
Isaiah Frey
When you get drafted in the late rounds and you are looking to make the team, you must stand out on special teams. Isaiah Frey has not done that.
The Bears kick coverage in the first two preseason games has been poor to put it at best. On Saturday they gave up 91-yard punt return for a touchdown. This was not all on Frey obviously but he is a part of this.
He has made some plays at corner in training camp but again has struggled on the field during games. This is to be expected coming from a young player picked in the late rounds.
Frey is going to have to step it up on special teams or could risk being cut.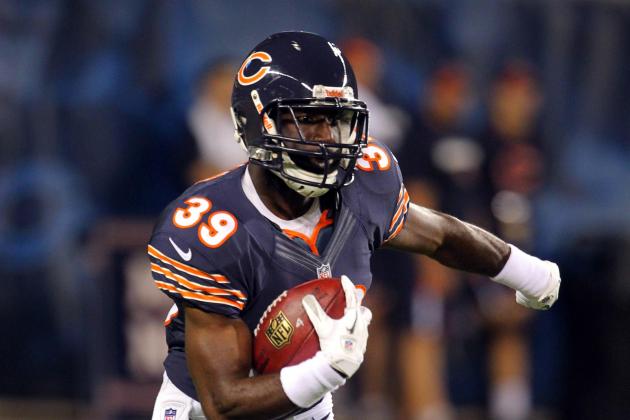 Dennis Wierzbicki-US PRESSWIRE
Greg McCoy
Greg McCoy is one step above Isaiah Frey right now because of his ability to return kicks but not by much. Like Frey, McCoy is going to need to make his mark on special teams to make the roster and he just hasn't done it.
McCoy has had some chances in the kick return game. He hasn't done bad but then again he wasn't great either. With Devin Hester and Eric Weems he doesn't have much chance to get on the field here. Instead he needs to focus more on kick coverage and again is a part of a unit that has struggled so far.
There are a ton of veterans on the Bears at the corner position so McCoy and Frey have to do better on special teams or the team will cut them in favor of others who will.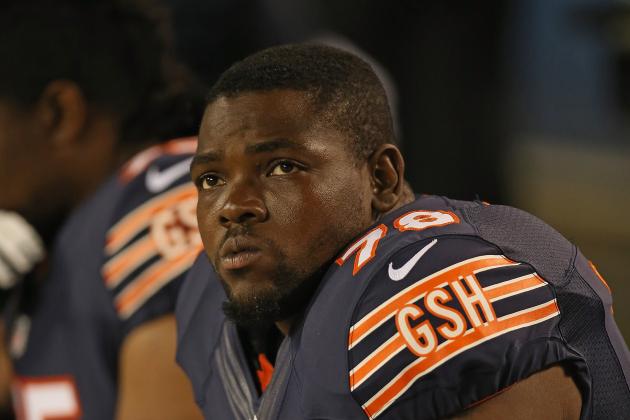 Jonathan Daniel/Getty Images
James Brown
There has been a lackluster battle at the left tackle position so far. The two veterans going at it have both struggled and it has taken heat off of undrafted rookie James Brown.
It's simple, when you see Brown play in a game you realize he is an undrafted rookie. He has had a good camp and has made tremendous strides towards making the team but that is more indicative of the lack of skill and depth at the position.
Brown has struggled at times during his first two preseason games often showing poor footwork and getting pushed around. He made a good early impression which has bought him some time but he is going to have to play better if he still wants to make this roster.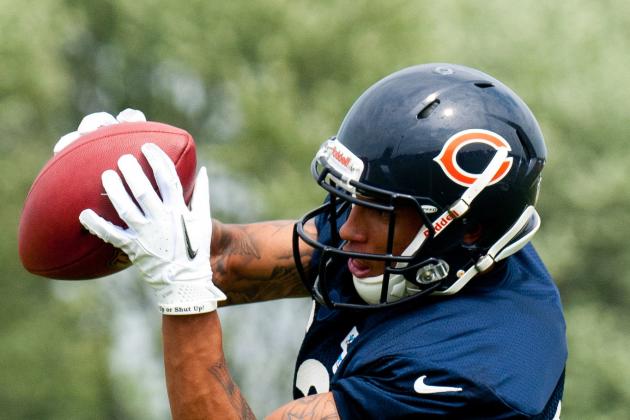 Bradley Leeb-US PRESSWIRE
Brittan Golden
There is a glut of talent at the wide receiver position on the Bears this year. Still undrafted rookie Brittan Golden has found a way to get noticed.
Early on in camp Golden stood out catching passes and making people miss. His speed is solid and could be looked at as a special teams contributor. His first preseason game he caught two passes but failed to get a grab in two targets against the Redskins.
At this point the Golden love has subsided somewhat. He still has a chance to make an impression in the last two games and maybe make the practice squad but it will be tough to beat out one of the veterans for the final spot.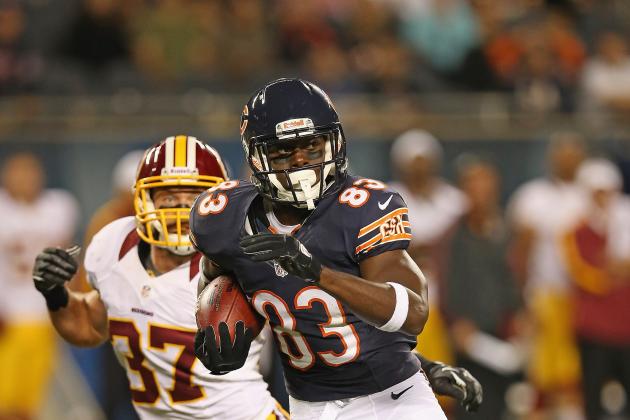 Jonathan Daniel/Getty Images
Chris Summers
Chris Summers has been the sexy pick among fans this entire training camp. People love his size and potential playmaking ability. He has shown some good things but it is clear he still has a ways to go to be a NFL player.
There is no doubt the undrafted rookie's size is something to marvel at. Listed at 6'5", 213 lbs, he poses a threat to defenders. He still needs time to learn the position though. He shown good things in camp but the fumble on Saturday hurts as well as not coming down with the touchdown catch.
The depth at the position coupled with the fact Summers doesn't give you much on special teams means he really doesn't have a role on this roster right now.
Nothing against Summers at all. There is a good chance he has a role on this team on the practice squad initially while he develops. Even still these next two preseason games are important for Summers to show the Bears and the rest of the league what he can do.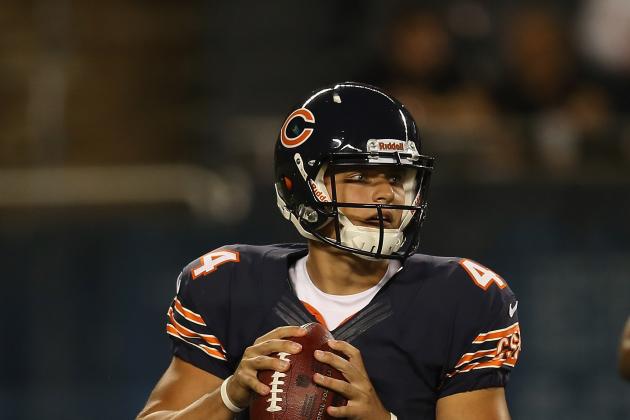 Jonathan Daniel/Getty Images
Matt Blanchard
The last remaining rookies are between a rock and a hard place at this point. The best they can do is gain valuable experience, possibly show another team something of benefit and play these last two games out in hopes of getting a chance somewhere else.
Joseph Anderson, Matt Blanchard, Adrien Cole, Trevor Coston, Terriun Crump, A.J. Greene, Jeremy Jones, Nick Pieschel, Ryan Quigley, Ronnie Thornton, Brandon Venson and Aston Whiteside really cannot earn a grade right now.
These guys have not been on the field much and when they have it has been in limited time. Too limited to even get an impression one way or the other. For the most part they are the extra bodies needed in camp. You might hear some of these names again, but for now they are just the other guys.