Projecting the Buffalo Bills' 53-Man Roster After Preseason Week 2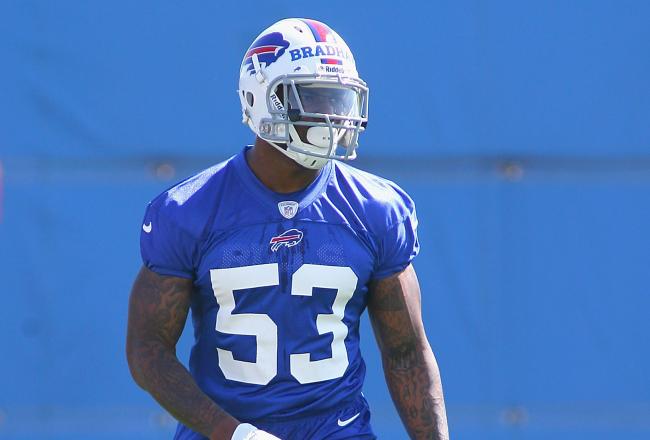 Nigel Bradham will probably be one of 53.
Rick Stewart/Getty Images
I would be very interested for someone a little more learned in the history of American football to let everyone know how we've gotten to the glitzy modernity of the sport's current mode that offers two absolute certainties every year: there will be a Super Bowl Champion, and every team will play with exactly 53 players on their active roster.
Why 53? Is there any significance to it being a prime number? You know, just like a number that cannot be divided by any other number than one, a team is a single corporation of multiple parts, working as one?
Wouldn't other numbers seem more reasonable? There's 11 guys on offense, 11 guys on defense. So if you give each guy a backup there's a roster of 44. Add a kicker, a punter, and specialist of some sort and there you have 47. Another prime number. Hmm...
I guess my point is that the number seems arbitrary and, well, small. It's the biggest active roster in pro sports, but still every year it's surprising to scan the roster and see how guys who started recently in the NFL might be on the bubble because of the number crunch.
This year's cuts promise to be a little different for the Buffalo Bills. First of all, they have more roster depth than they've had in years, and will invariably cut a few players that probably would have started for the team a few short years ago.
Shawne Merriman, for one, who was curiously cut by the Bills this week is one example. Secondly, the Bills seem like they're moving on from former projects like the behemoth seventh-round pick of yore, Mike Jasper, who was cut after the first preseason game.
And lastly, GM Buddy Nix has shown he's not above cutting players who he feels are making too much money to play in a reserve role.
Call it the Geoff Hangartner rule, after the Bills' interior lineman, who had fallen down the depth chart to backup, was cut for little other reason than to save money. Merriman might have fallen prey to the same ax, and I would put Dwan Edwards and Spencer Johnson on warning for the same reason.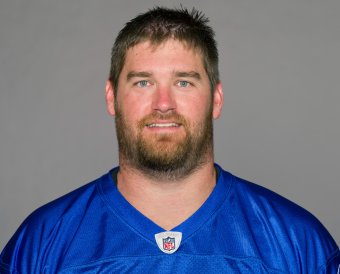 The ghost of Hangartner still looms over the Bills' vets.
Handout/Getty Images
Here's the way I think the Bills 53-man roster will look, organized by positional unit and position on the depth chart.
Quarterbacks (3)

1. Ryan Fitzpatrick. After watching Vince Young's 64-yard rainbow to T.J. Graham, anyone else wonder how long Fitzpatrick's leash might be?
2. Vince Young. Is there anyway the Bills may be thinking of using Young as the Bills' version of Tebow in the Wildcat?
3. Brad Smith. Nah. The Bills will dump Tyler Thigpen and his $2.5 million salary and keep the utility gadget guy Smith.
Running Backs (4)

4. Fred Jackson. Here's hoping Jackson can recover his Thurman-like form of recent years now that he's another year older and with a leg injury under his belt.
5. C.J. Spiller. It really seems like Spiller needs a lot of carries to establish his rhythm, but we'll see.
6. Tashard Choice. Let's hope Spiller and Jackson can carry the mail and spare us the question mark of Choice's abilities as a prime running option.
7. Corey McIntyre. Fan favorite, solid traditional backup, strong special teams player.
Who will the Bills 5th receiver be?
Tight Ends (2)

8. Scott Chandler. 50 catches with 8 touchdowns seems reasonable.
9. Lee Smith. Fendi Onobun might push Smith aside here, it's hard to tell. Neither has really separated themselves.
*I think the Bills will keep kickoff specialist John Potter, meaning they'll have to trim a spot from elsewhere on the roster, which I believe will come from the tight end or defensive line position.
Wide Receiver (5)

10. Stevie Johnson. It's no secret the Bills are expecting big things from Stevie.
11. Donald Jones. Bills beat reporter for WGR, Joe Buscaglia, is calling Jones one the team's most improved player in camp this year.
12. David Nelson. The sure-handed possession receiver gives the Bills an option in the middle of the field.
13. T.J. Graham. The rookie receiver came into camp very raw and appears poised to leave camp ready to play a significant role.
14. Derek Hagan. The Bills would probably love to keep Naaman Roosevelt here too, but Hagan is their best remaining all-around receiver.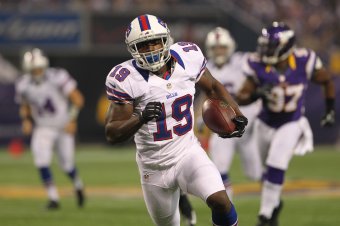 Donald Jones' TD catch against the Vikes was a thing of beauty.
Brace Hemmelgarn-US PRESSWIRE
Offensive Line (9)

15. Cordy Glenn. AKA the newly-announced starting left tackle.
16. Andy Levitre. Poised to have a Pro Bowl-type season.
17. Eric Wood. Ditto, if he can stay healthy.
18. Kraig Urbik. The former waiver-wire addition appears to be a solid guard for the Bills now.
19. Erik Pears. Could possibly be facing competition from second-year man Chris Hairston, now that Hairston has been dethroned from LT.
20. Chris Hairston. Young, able, and experienced backup with upside.
21. Chad Rinehart. Also experienced and able, but not as much upside, but still gives the Bills good depth at guard.
22. Colin Brown. Given Wood's injury history, the Bills need a backup at center/guard.
23. Zebrie Sanders. Might be headed to practice squad if Sam Young supplants him. That Young has seen more snaps in the preseason might be a sign, but I'm still giving the nod to the fifth-round pick.
Defensive Line (9)
24. Mario Williams. Ready to stop dreaming about this guy and actually see what he can do.
25. Kyle Williams. Looks like he's back in top form so far.
26. Marcell Dareus. We'll see how strong the young tackle's work ethic is this season.
27. Mark Anderson. Looks to be a dynamic speed-rusher.
28. Chris Kelsay. I suppose there's a chance he'll get cut according to the Hangartner rule, but I think the team loves what this guy brings.
29. Spencer Johnson. If he were paid more, he'd probably be cut. I have a sneaking suspicion that Dwan Edwards will get Hangartnered.
30. Dwan Edwards. His $4 million salary and backup status makes him the Bills' prime candidate for Hangartner 2012.
31. Kyle Moore. A direct beneficiary of the Merriman release.
32. Alex Carrington. Who I think will be a direct beneficiary of the Edwards release, if it occurs.
Linebackers (7)
33. Nick Barnett. Unquestionably the leader of the Bills' linebacking corps and will probably see the most playing time as he won't sub-out on passing downs.
34. Kelvin Sheppard. Unquestionably the biggest question mark on the team. No one without a red beard has as much to prove as Sheppard.
Who on the D-Line is most likely to be cut?
35. Bryan Scott. He's not the technical starter, but no one should be surprised if he plays the majority of defensive snaps in the pass-crazy NFL. Solid tackler, always seems to be in the right place. Probably doesn't scare Gronk any, though.
36. Arthur Moats. Lots of potential is the best you can say here. This is the Bills' weakest positional unit. Cue the youngsters.
37. Nigel Bradham, and 38. Tank Carder. Both athletic rookies who will be on the team and will be expected to contribute.
39. Kirk Morrison. He would probably be on the Hangartner list if he made more than $1.25 million.
Cornerbacks (6)
40. Stephon Gilmore. Bills fans really want this guy to be the man right away, but should expect growing pains.
41. Aaron Williams. Still looking for that early 2011 form.
42. Terrence McGee. Rickety vet still figures to have some game left in him.
43. Leodis McKelvin. If you want to drink the Kool-Aid, you can have comfort in knowing that Bills love McKelvin playing a more physical role in the slot. Translation: no one wants to see him try to cover receivers down the field any more.
44. Ron Brooks. Dude looks like a beast...against second-stringers. Still, fans have to like the guy's instincts and ability on the field.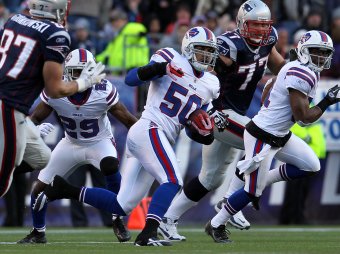 Jim Rogash/Getty Images
45. Justin Rogers. Sure, OK.
Safeties (4)
46. Jairus Byrd. Along with Dareus and Gilmore, Byrd is an All-Pro hopeful on defense.
47. George Wilson. The Senator. The Fred Jackson of the defense.
48. Da'Norris Searcy. Really liked Searcy's play as a rookie.
49. Delano Howell. The Bills announced they were in the market for another safety, put the feelers out, worked out Jim Leonhard, but seem poised to stand pat with Howell.
Special Teams (4)
50. Brian Moorman. Just when he couldn't get any better, Moorman seems to have perfected the Aussie kick designed to put punts inside the 10-yard line when within range.
51. Rian Lindell. Let's hope he's recovered from that awful missed 23-yarder against the Redskins. The preseason is mostly irrelevant, except for the kickers, right?
52. Garrison Sanborn. One of my favorite positions in all sports: the long snapper.
53. John Potter. The Bills are seriously considering spending a roster spot on an insurance policy against opponents' drives starting ahead of the 20-yard line from kick-offs.
This article is
What is the duplicate article?
Why is this article offensive?
Where is this article plagiarized from?
Why is this article poorly edited?

Buffalo Bills: Like this team?