Stock Up, Stock Down of Each New England Patriots Positional Unit This Preseason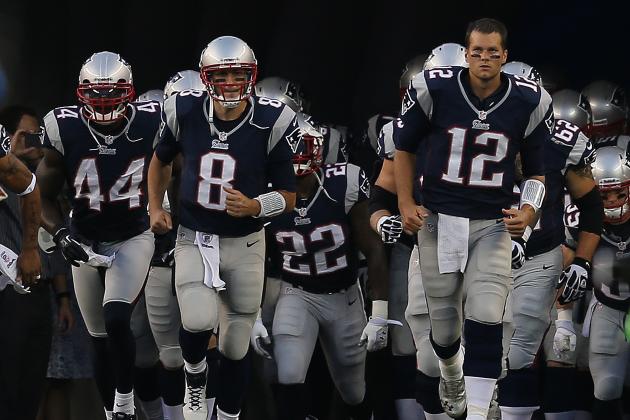 Jim Rogash/Getty Images

The 2012 New England Patriots are a team of high hopes coming off of their fifth Super Bowl appearance in the Bill Belichick era. To finally go back over the top this season and collect their fourth Lombardi Trophy, they will need strong contributions across the board.
Here is a look at how the stock is at each position thus far this preseason.
Begin Slideshow

»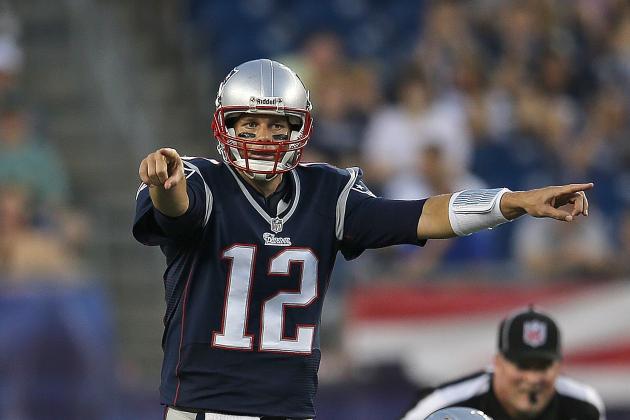 Jim Rogash/Getty Images

Unlike with every other spot on the team, the stock of the quarterback position is mostly dependent on one man.
That man, Tom Brady, did not play on Monday night versus the Philadelphia Eagles, so the only sample of him with his new receiving corps was two weeks ago against the Saints. In that one game Brady was just all right, completing 4-of-7 passes for 30 yards.
To say his stock is going down, though, would be absurd. He will still end up putting up video-game numbers once again this season.
The two backups, Brian Hoyer and Ryan Mallett, have been hit or miss so far, playing better in the second game than the first, but neither is lighting the world on fire.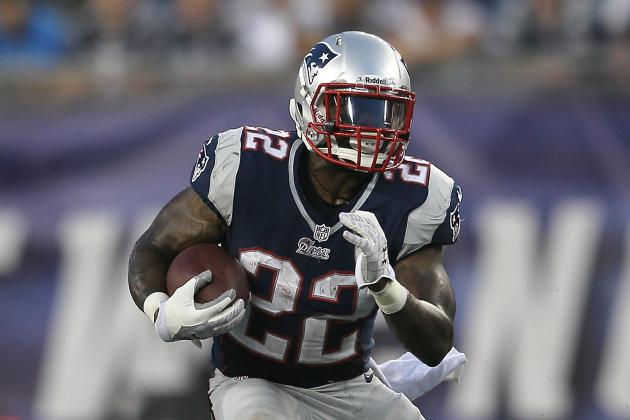 Jim Rogash/Getty Images

When the Patriots lost running back BenJarvus Green-Ellis to the Bengals via free agency, some fans were worried about the running back situation with mostly inexperienced backs.
After the first game this preseason versus the Saints, Stevan Ridley and Shane Vereen put most of those worries to sleep.
Unfortunately for them, they did not keep it up Monday night against the Eagles.
Vereen started the game but danced at times and managed just 20 yards on 10 carries. In his defense, there were times when the offensive line simply let him down and he was struck down in the backfield. His highlight of the night came on a running-back screen which he took 20 yards and into the red zone.
Ridley also handled 10 carries, gaining a slightly better 25 yards.
Danny Woodhead and rookie Brandon Bolden were also quiet.
All things considered, though, including their addition this week of Olympic sprinter and former Florida running back Jeff Demps, the Patriots' backs have given fans reason to believe there could be a spark in the running game in 2012.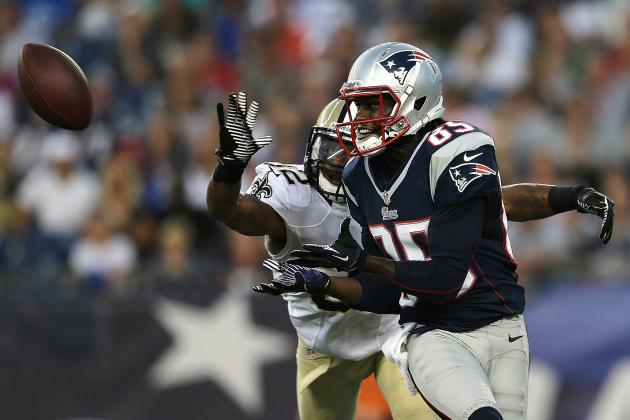 Jim Rogash/Getty Images

All throughout training camp, Brandon Lloyd has been noted for his ability on the outside. Sadly, the only time he has seen the field so far, Tom Brady were unable to connect with him. He was targeted twice versus New Orleans, both going incomplete. The one catch he did have was waived off due to a New England penalty.
No receiver has done much to stand out thus far, except surprisingly Deion Branch.
Branch hauled in three passes from Hoyer and Mallett for 51 yards Monday night, including some key third-down conversions.
Rookie Jeremy Ebert was the most notable on Monday for his lack of ability to make a play. He dropped more than one pass and is a glaringly obvious drop-off in the slot role from Wes Welker or Julian Edelman.
The only wide receiver with a touchdown in the preseason, oddly enough, is already off the team. First-year player Britt Davis was waived/injured by the team last week.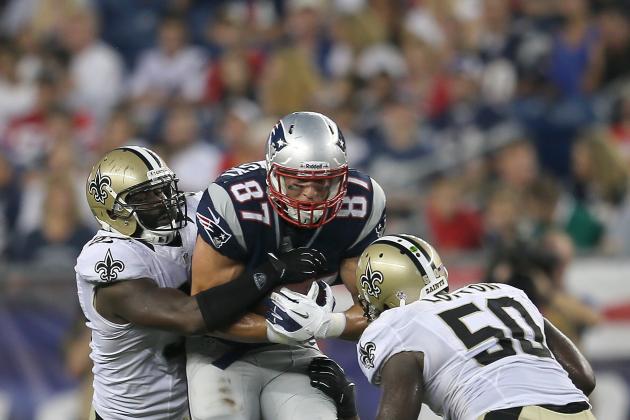 Jim Rogash/Getty Images

It is hard to judge them harshly because the players that will be out there when they take the field in the regular season are not out there. Rob Gronkowski and Aaron Hernandez played sparingly in one game and none in another, so we do not have a lot to pick on them for.
The only disappointment is that the potential third options, Daniel Fells and Visanthe Shiancoe, have both yet to see the field in the preseason. According to Mike Rodak of ESPN Boston, Fells is off of the physically unable to perform (PUP) list, so we may see him very soon.
I will say, despite having no chance to make the team in all likelihood, converted defensive end Alex Silvestro has played decently thus far. His Monday night was capped with a touchdown from Ryan Mallett.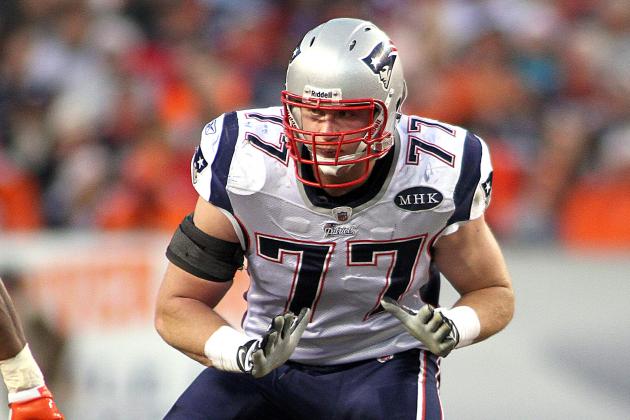 Marc Piscotty/Getty Images

The stock of the offensive line is dropping like a stone mostly due to one player, Nate Solder.
The 2011 first-round pick has struggled visibly is both games thus far in his attempt to replace the retired Matt Light at left tackle. Monday night he was both beaten by power and speed, showing he has a long way to go still in the National Football League.
It is difficult to be hard on anyone else because there is a good chance neither of the other starters will actually be those at the other four spots when the regular season begins.
Marcus Cannon, however, could see some playing time this season with the oft-injured Sebastian Vollmer as the team's starting right tackle. Cannon has had trouble thus far and was beaten badly Monday night on the play where Brian Hoyer was eventually stripped.
I am sure Tom Brady has had this exact thought at least once...Logan Mankins, Brian Waters and Sebastian Vollmer cannot get back on the field fast enough.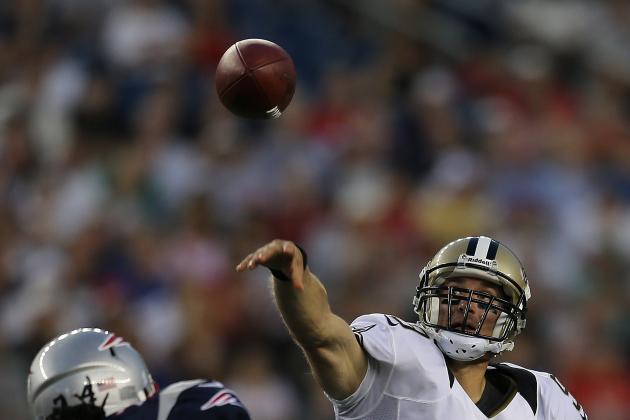 Jim Rogash/Getty Images

A huge question for this year's Patriots was who would rush the passer. Both players who were tied for the team lead a year ago with 10 sacks each, Mark Anderson and Andre Carter, are no longer with the team. Carter may return, but there is no guarantee.
Luckily for Patriots fans, Chandler Jones could be the answer. He has looked tremendous so far, putting obvious pressure on the passer in both games.
In addition to Jones, Kyle Love, Ron Brace and Jermaine Cunningham all had success against the Eagles' first-team offense Monday night. All three of them were in the backfield on more than one occasion. As Michael Vick was releasing a deep ball, Cunningham absolutely unloaded on Vick and forced him out of the football game with what appeared to be a rib injury.
The Patriots have so many defensive linemen with undefined roles at this point, but no matter who is out there, it seems they are going to have a versatile and talented group lining up with Pro Bowler Vince Wilfork.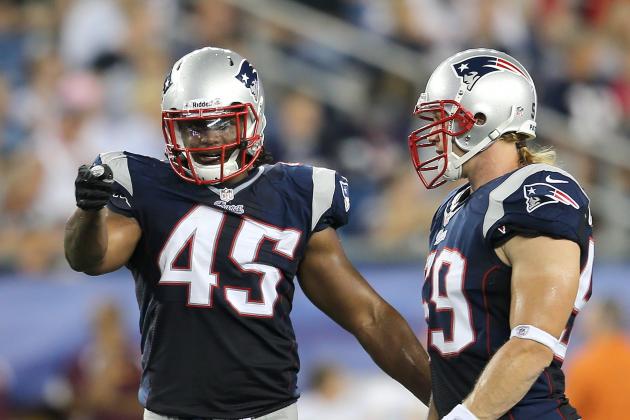 Jim Rogash/Getty Images

Despite being the only position on the team to lose a significant player for the year, Dane Fletcher, the linebacking corps is looking solid right now.
Bobby Carpenter and Dont'a Hightower both seem like solid additions to the team. Hightower in particular is so versatile that he will likely start every game in his rookie campaign.
The real thing that is obvious with this group is that they are a different team when they have Brandon Spikes out on the field. Captain Jerod Mayo may be a better overall player, but Spikes makes more plays. Unfortunately for the team, Spikes is often difficult to rely on being in the lineup week to week.
If Spikes remains healthy, a starting lineup of Mayo, Spikes and Hightower may become one of the most outstanding linebacking units in the National Football League.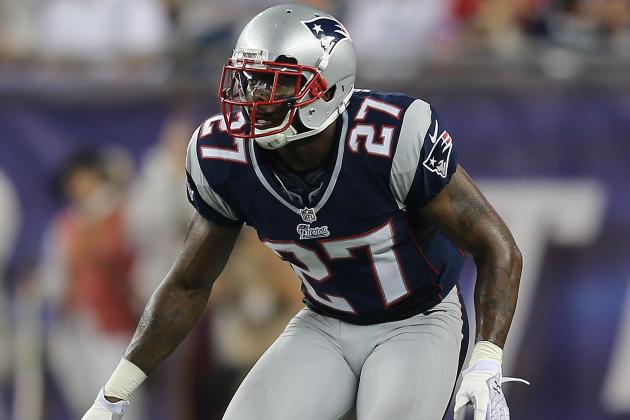 Jim Rogash/Getty Images

There have been some good signs with additions to the safety position like Steve Gregory and Tavon Wilson, but it has not all been rainbows and sunshine.
The team's top four cornerbacks—Devin McCourty, Kyle Arrington, Ras-I Dowling and Sterling Moore—have all been victimized thus far in the preseason.
The good news for Patriot fans is that the pass coverage almost certainly cannot be worse than it was a season ago. McCourty particularly will be yanked off the field this season if he is as detrimental to the team as he was last year; his honeymoon period as a former first-round pick is coming to an end.
The competence of the free safeties who will be behind them this year should make the corners feel better than they did last season with players like Matt Slater and Sergio Brown behind them.
I remain unconvinced for now that the answer to the team's coverage problem is definitely on the current roster.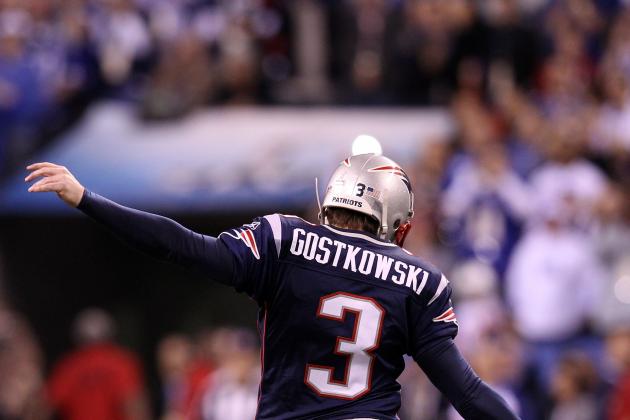 Elsa/Getty Images

Simply put, there have been no real issues with any of these players in the preseason outside of maybe Stephen Gostkowski's rare miss on a field goal versus the Saints.
Gostkowski and punter Zoltan Mesko have done their jobs as usual, and the story should be the same with all of them in the regular season.
Long snapper Danny Aiken has not been perfect, but should still be around unless he melts down over the final two preseason games.