Oregon Football: Why QB Battle Will Be the Most Intense One This Fall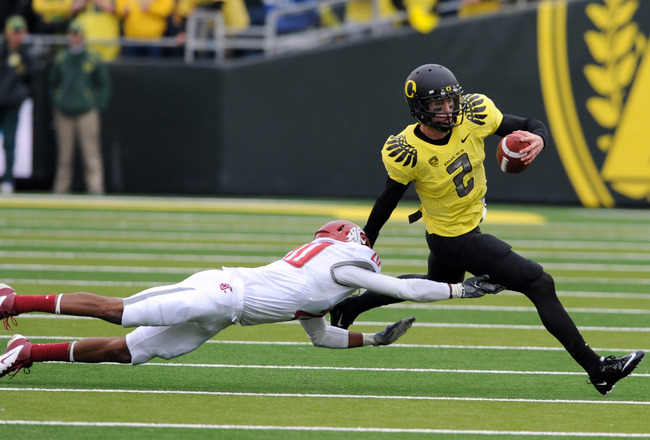 Steve Dykes/Getty Images
There are several very intriguing position battles going on in Oregon's fall camp. Because Chip Kelly does not allow access to the Ducks' practices, we are left with interpreting the post-practice comments of Kelly, his assistant coaches and the players to determine what's really going on.
It's clear that there is drama at the tight end position. We don't know why Colt Lyerla, the presumed starter, missed the first six practices. We do know that this past week that coaches were touting the progress and skills of true freshman tight ends Pharaoh Brown, Terrence Daniel and Evan Baylis. So, this movie will be entertaining to watch until the end.
It would appear that there is also a battle underway to determine the No. 3 running back. Will true freshman Byron Marshall beat out walk-on sophomores Ayele Ford and Kenny Bassett?
Will Kyle "Release the Kraken" Long, use his size and skills to bully his way into a starting role on the offensive line? (Credit to reader QUACK ATTACK for "Release the Kraken" in reference to Long; it's brilliant and we're using it!)
There are many subplots in the Ducks' fall camp, but there is only one made-for-TV movie of the week: Who will be Oregon's starting quarterback? All the other jostling for position pales in comparison to the stakes of winning the QB job.
Here's why.
Coalescing Around an Offensive Leader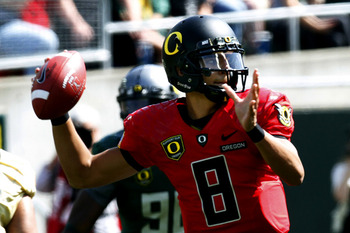 The defense has strong leadership in seniors John Boyett (John Boyett for Heisman) and Dion Jordan to rally around. Boyett is practically another assistant coach to the younger guys, and I know that I would certainly do whatever Jordan told me to. So, the defense understands whom to look to for leadership.
Who's the leader on the offense? Perhaps it's Kenjon Barner, the senior starting running back. Or maybe it's senior Carson York, the steady, vocal presence on the O-line who's pretty much seen it all during his time at Oregon.
However, the quarterback is traditionally the leadership position on a football team. Think back to Joey Harrington and Dennis Dixon, for example. There was absolutely no question who was in charge on those Oregon teams.
The battle between Marcus Mariota and Bryan Bennett is so intense because the leadership of the team is up for grabs. It has to be somewhat awkward for the rest of the offense in practice not knowing who will ultimately be its leader.
This Is the Year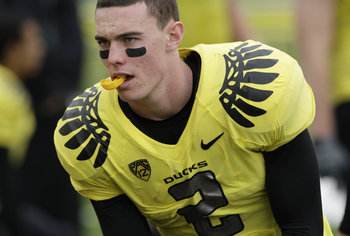 OregonLive.com
There is the consensus in Duckville that THIS IS THE YEAR. The year that the Ducks win it all. SEC—meh. That conference is so last year. And the year before.
SI.com says Matt Barkley didn't return to USC to play in the Holiday Bowl. Well, Chip Kelly didn't turn down millions at Tampa Bay to play in the Holiday Bowl either. (No offense, Holiday Bowl, you people run a really nice event.)
This is the year for the Ducks to run the table. The schedule, the rankings, the big-game experience, the hunger—it's all in place for Oregon to take advantage.
Bryan Bennett and Marcus Mariota know this. How many QBs get a real chance to lead a college football team to the national championship? And how many of that miniscule number get the opportunity to do it more than once?
Not very darn many.
All or Pretty Much Nothing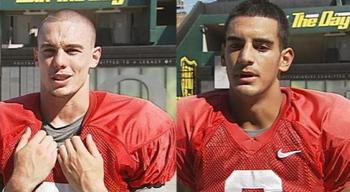 kpic.com
Pharaoh Brown and Evan Baylis, even if they don't win the starting TE job as freshmen, will most likely get some quality minutes on the field.
The only opportunity for whoever is the No. 2 QB to play is usually if the No. 1 goes down. If No. 1 stays healthy, we don't usually even notice the No. 2 quarterback.
Talk about intensity: You either win the starting role and possibly lead your team to Miami in January, or you stand on the sidelines all season holding up cards. Ugh.
Nobody ever said life was fair.
What Will Happen After One QB Earns the Job?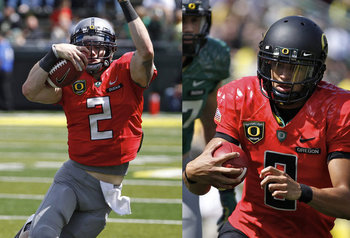 Oregonlive.com
I don't know either of these young men—Mariota and Bennett. Odds are you don't either. But we do get a feel from listening to them being interviewed, or reading their words.
My gut feeling—and let me be clear, this is pure speculation on my part—is that if Bennett wins the job, Mariota will assume the No. 2 position with dignity and responsibility. He will continue to work hard and keep himself ready if Bennett gets injured. Mariota will be hugely disappointed, for sure, but he will suck it up for the team.
If Mariota earns the starting role, I'm not sure Bennett will behave in the same fashion. Guys have been known to transfer in similar situations.
Let's hope it doesn't come to that. In the meantime, perhaps we should take a harder look at freshmen Jake Rodrigues and Jeff Lockie.
Intense competition? Yeah, you could say that.
Keep Reading

Oregon Ducks Football: Like this team?