Report Card Grades for Every Arizona Cardinals Rookie Through Preseason Week 2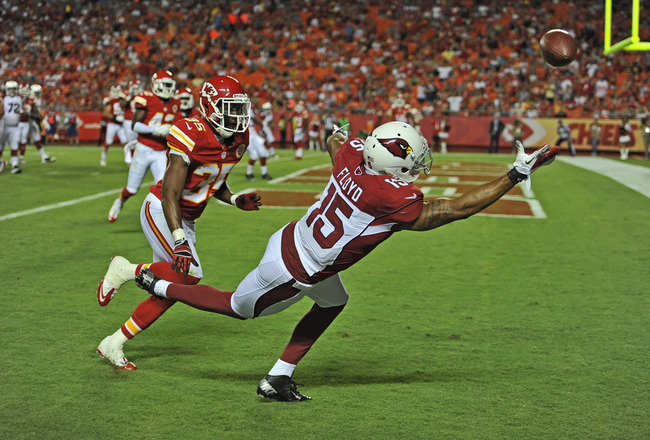 Michael Floyd has yet to crack the starting lineup.
Peter Aiken/Getty Images
Through Week 2 of the 2012 preseason, Arizona Cardinals rookies have done some extraordinary things. We will grade every rookie on their overall body of work so far; it's that simple.
Though the present may not look very good to fans after the defense struggled during two of the three games and starting left tackle Levi Brown went down with a possible season-ending injury, the future looks to be bright because of the young players at Arizona's disposal.
We will cover all 2012 draft picks and the undrafted rookies who have made an impact thus far.
Michael Floyd, WR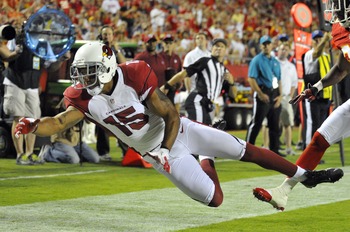 Denny Medley-US PRESSWIRE
Grade: C+
Michael Floyd has caught only two passes for 18 yards this preseason.
He has not gotten much work with the starting unit, but he has made the most of his time on the field by providing exquisite run-blocking and downfield help on long offensive plays.
I highlighted one such play last week.
His effort is unmatched by any rookie on the team, but his production—that which is quantifiable—has not shown up yet. He will have a big impact with Arizona at some point; most just assumed it would be immediate.
The other receivers ahead of him on the depth chart—Andre Roberts, Early Doucet—have not been overly productive either, so if Floyd can do something good against the Tennessee Titans this week (Aug. 23 at 8 p.m. ET on ESPN), he still may move into the starting lineup by season's beginning.
Regardless of his preseason role, he will see plenty of action once real games begin.
Jamell Fleming, CB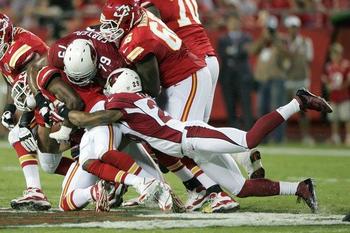 Jamell Fleming helps out on a tackle. (AZCardinals.com)
Grade: B+
Against the Oakland Raiders on Friday night, Jamell Fleming was on the wrong end of two bad calls from the replacement referees.
He did not let that get to him.
Fleming had a nice game overall, and though he was targeted by Raiders quarterbacks early and often, he did not allow many yards after the catch.
Leading the team with eight total tackles, he proved to be a sure tackler—just the kind of cornerback Ray Horton needs defending NFL wide receivers.
With last week's performance added to William Gay's struggle against Oakland, he may find himself with early playing time against No. 2 receivers instead of those residing in the slot.
Bobby Massie, RT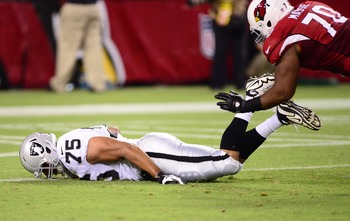 "LOL" at this picture.
Mark J. Rebilas-US PRESSWIRE
Grade: C
Another rookie who could potentially see early first-team action this season, Bobby Massie has been average through three exhibition games.
The Cardinals are now in need of a left tackle.
They could "promote from within," if you will, by moving either Jeremy Bridges or D'Anthony Batiste over. They could also start D.J. Young, an undrafted free-agent signee last season who spent all of 2011 on the practice squad (don't expect that).
Or, they may wait for a round or two of cuts to see what shows up on the market.
The former would almost guarantee the starting right tackle spot to Massie; the latter could mean an early spot on the bench when the games matter.
With how much both Bridges and Batiste have struggled while starting at right tackle this preseason, Massie should at least get a chance to show why he should have been a higher draft pick last April by getting an exhibition start.
He can't possibly perform any worse.
Massie struggled against the New Orleans Saints during the Hall of Fame game but has since settled down, improving over the next two games and perhaps giving head coach Ken Whisenhunt some things to think about before the team leaves for Nashville.
Senio Kelemete, LG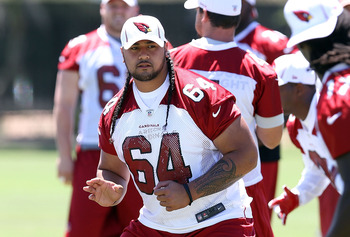 Christian Petersen/Getty Images
Grade: B-
Senio Kelemete is not expected to challenge either offensive guard for a starting spot.
He hasn't, but he has been solid when given playing time with the second unit.
Kelemete looks the part of an NFL offensive lineman. He's big, strong and has enough quickness to pull to the right and left on running plays.
He has the potential to develop into a starting-caliber guard or even a tackle if needed, but for now, he will be the backup to Daryn Colledge at left guard.
No one has a problem with that, as he's been steady in both run and pass protection.
Justin Bethel, S/ST Extraordinaire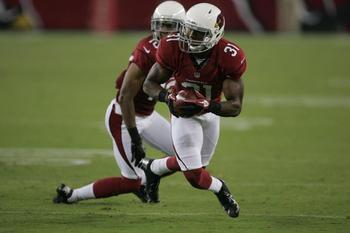 Justin Bethel during his block, scoop and score.
Grade: A++
Everyone, please welcome Justin Bethel to the Arizona Cardinals roster.
With three total blocked kicks (one each off a punt, field goal and extra point) in three games, Bethel has proven to be a steal way down in the sixth round of the 2012 NFL draft.
And if there's any doubt he will be on the initial 53-man roster, this tweeted quote from Darren Urban of AZCardinals.com should put that to bed:
Whiz on rookie 6th rounder Justin Bethel making the roster: "I think that's a pretty good bet." Makes sense after 3 blocked kicks so far.

— Darren Urban (@Cardschatter) August 18, 2012
Ken Whisenhunt being as coy as possible, there is no doubt Bethel has earned a spot with the Arizona Cardinals. Whether that means any early playing time on defense is unknown (doubtful), but he will be a key member of every special teams unit going forward.
His coverage as a gunner on the punt team is unrivaled among rookies. You've seen his three blocks—one returned for a touchdown.
He has received some playing time in the secondary with backups, and he hasn't shined there yet, but he has shown good coverage and tackling skills, both of which will help him gain playing time at some point.
Ryan Lindley, QB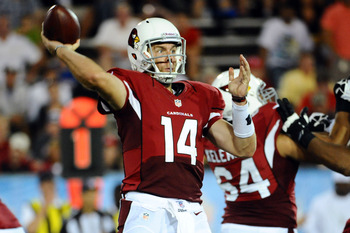 Tim Fuller-US PRESSWIRE
Grade: C+
He shows promise, but Ryan Lindley has a lot of work to do to make his NFL career worth anything.
With Rich Bartel not getting a single snap against Oakland and Lindley playing the entire second half, there isn't any doubt the sixth-round pick has made the team.
But 21 of 42 (50.0 percent) for 250 yards, zero touchdowns, two interceptions and a 48.7 QB rating is not a great start.
The main concern about him coming out of San Diego State was his accuracy. Admittedly, poor footwork contributed to his inaccurate motion and subsequent low completion percentage (55.5 percent in college), so it is understandable to see the below-average percentage this preseason.
He will enter the 2012 season as the No. 3 quarterback, but he will have to put his nose to the grindstone if he is to improve.
Lindley is in the exact position John Skelton was in as a rookie in 2010, but Lindley will have a chance to sit and soak it all in this season, whereas Skelton was forced to play early.
Nate Potter, LT
Nate Potter (76) throws balls at camp.
Mark J. Rebilas-US PRESSWIRE
Grade: C-
Nate Potter hasn't played a lot through three games.
The rookie seventh-round pick out of Boise State came into the NFL as an undersized tackle in need of adding bulk.
He came to the perfect organization to do that, as strength and conditioning coach John Lott will take him under his wing and make Potter a bruiser within the trenches. He has the body type to add muscle, at 6'6" and a thin 303 pounds.
His lack of strength has showed, routinely being stalemated by third- and fourth-string defensive linemen.
He's not a wide-bodied lineman full of blubber, so he won't add much weight. But toning up and adding brute strength will give the Cardinals a nice option down the road at left tackle.
LaRon Byrd, WR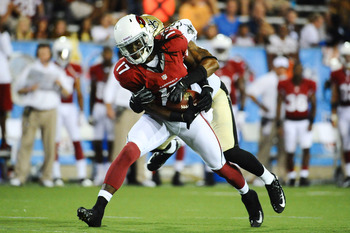 Tim Fuller-US PRESSWIRE
Grade: A-
Those who follow my work know what I think of LaRon Byrd.
I predicted early that he would be one to watch throughout camp and preseason, and he has been just that so far.
Byrd missed the Oakland game with a shoulder injury, stemming from the game in Kansas City. But he had done so much in the two games prior that it might not matter that he missed reps.
In two preseason games, Byrd has amassed seven catches for 87 yards (12.4 yards per catch) and has shown he has great hands and is strong enough to break tackles.
He figures to make the roster as either the No. 5 or No. 6 receiver, and he will get his opportunities to make plays—especially in the red zone.
He stands 6'4", and if he makes the roster it could mean Stephen Williams' chances have run out. He would be the tallest receiver on the team and would be valuable as a possession-type receiver.
Byrd has enough physicality and speed to get deep on occasion and the vertical to win a jump-ball situation.
Depending on how he progresses this season, he could become a solid contributor in the passing game.
Blake Gideon, S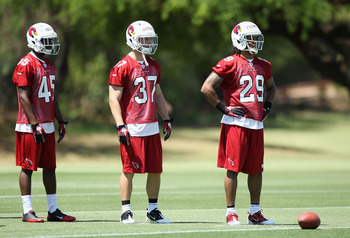 Blake Gideon (37) has a slim chance to make the 53-man roster.
Christian Petersen/Getty Images
Grade: B+
It is not likely Blake Gideon makes the 53-man roster.
He's had a good preseason, but so has Justin Bethel.
With Bethel also playing the safety position and being a Cardinals draft pick (and contributing like a veteran on special teams), he would get the nod over Gideon in a tie.
But that doesn't take away from what Gideon has done so far.
He recorded the first Cardinals interception of the preseason against the Saints, a touchdown-saving grab in the end zone on a perfect read.
Gideon could be signed to the practice squad, but in order for that to happen, Arizona must first release him, and he must pass through waivers—meaning every NFL team will have an opportunity to sign him without giving up any players for him.
It's a risky move, but one that seems inevitable with the Cardinals already likely to carry five safeties. That is something they normally would not do but under the circumstances is necessary.
Keep Reading

Arizona Cardinals: Like this team?