Preseason College Football Rankings: Breaking Down Georgia's Spot in the AP Poll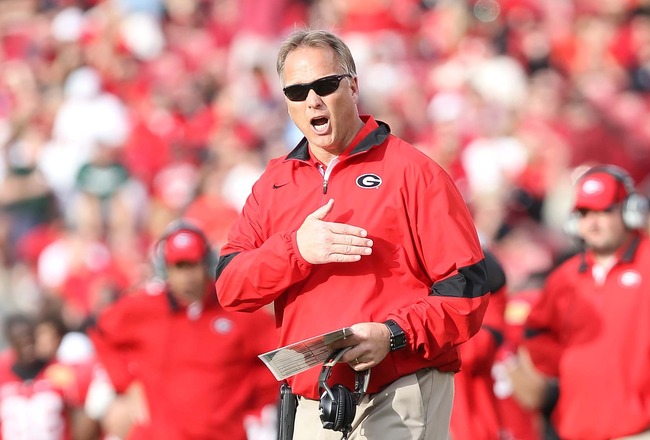 Kim Klement-US PRESSWIRE
The AP Top 25 preseason poll was released Saturday, and the Georgia Bulldogs came in at No. 6, which was expected by fans, players and coaches.
This is the same spot where the Bulldogs are ranked in the USA Today Coaches' poll, which came out a few weeks earlier.
What this means is the media and coaches think the Bulldogs are expected to have a better season than last year when they won 10 games and clinched the SEC East.
This also means that the coaches and media think USC, Alabama, LSU, Oklahoma and Oregon are better than the Bulldogs, which is not a good thing since the Bulldogs are still looking up at the Crimson Tide and the Tigers.
Here's a breakdown of more reasons why the Bulldogs are ranked No. 6 in the AP poll.
Aaron Murray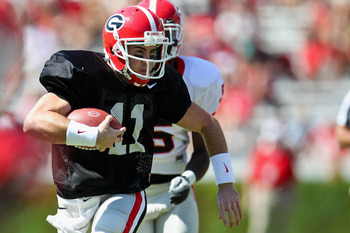 Daniel Shirey-US PRESSWIRE
Aaron Murray progressed as a quarterback last year, which was needed since the running game was inconsistent. Murray threw for 3,149 yards and a school-record 35 touchdowns. He finished second in the SEC in passing and total offense.
ESPN and Phil Steele placed Murray on their All-SEC First Team, and the Associated Press as well as the SEC coaches placed him on their All-SEC Second Team.
Murray is coming off a great spring, so it would be a shock if he can't post better numbers in 2012.
Jarvis Jones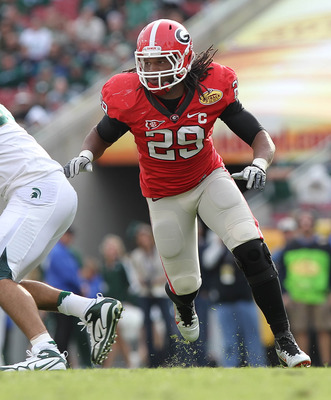 Kim Klement-US PRESSWIRE
Jarvis Jones is as good as it gets when it comes to college football linebackers, but the rest of the linebackers on the squad are no slouches when it comes to making plays, either.
Alec Ogletree missed the first seven games last year and still had 52 tackles, three forced fumbles and three sacks. Michael Gilliard became a full-time starter last year and notched 65 tackles, two sacks and one interception.
Even reserves such as Christian Robinson and Amarlo Herrera made significant plays when their numbers were called.
And let's not forget about Jones, who was a finalist for the Butkus Award and winner of the 2011 CFPA Elite Linebacker Trophy.
Twin Towers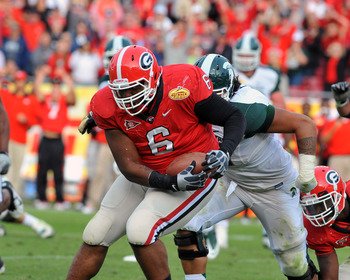 Al Messerschmidt/Getty Images
John Jenkins and Kwame Geathers are two behemoths who will eat space for the linebackers this season. They did it effectively last year, which was a huge reason the Bulldogs were able to have an elite defense.
Jenkins will be the starter since he was able to make slightly more plays than Geathers last year. Jenkins had 28 tackles, three sacks and six tackles for loss.
But Geathers will see a good amount of playing time this year because, when he comes into the game, there is little-to-zero drop-off at the nose tackle position.
Mark Richt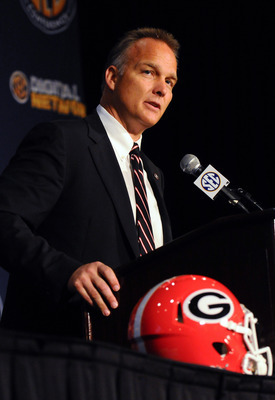 Kelly Lambert
Mark Richt has not had the same success he did in his first five seasons, but it looks like he is slowly getting back to where he was at the start of his career.
Richt may not be on the same level as Nick Saban or Les Miles, but he has been the most consistent SEC coach the last 10 years, which is the reason why he has been with the Bulldogs since 2001.
Richt knows how to get his players ready to play on the road, and when his back is against the wall, he is able to overcome it with a huge season. And there also is the fact that he has two SEC titles to his credit to go along with his 100 career wins in Athens.
Since he has been in this position before where his team comes into the season with high expectations, Richt will handle it like he has in the past. Hopefully the Bulldogs can stay at No. 6 or even higher when the season is all said and done.
Living Up to Expectations
Derick E. Hingle-US PRESSWIRE
That leads to the question that should be on everyone's mind since the AP poll was released: Can the Bulldogs leap over the five teams in front of them and claim the No. 1 spot?
The Bulldogs have a favorable schedule, so they can win the SEC East and make it back to the SEC title game.
And if they make it that far, they have to make plays when they get there.
Last year, the Bulldogs faced an LSU team that was more experienced when it came to big games, and the Tigers were able to take over the game in the second half. This year, the Bulldogs are older and hopefully wiser, and won't make the same mistakes they did in last year's game.
It really just comes down to a matter of how much this team has matured from last year. If Georgia limits the mistakes on offense and becomes stronger on defense, there is no reason why the Bulldogs can't be the No. 1 team in the country by early December.
Keep Reading

Georgia Bulldogs Football: Like this team?