Arsenal: The Gunners' Dream End to the 2012 Transfer Season
Julian Finney/Getty Images
This summer has been far from ideal for Arsenal fans all across the globe. After making some encouraging signings at start the summer, many thought it would be enough to convince captain Robin Van Persie to sign a new contract and stay at the club to pursue trophies.
However, the Dutchmen decided to take a different path and go to long-time rivals Manchester United, a move too painful to even comprehend for many fans. This move was then immediately followed by star defensive midfielder Alex Song heading off to Barcelona to play with another former Gunner, Cesc Fabregas.
There is no denying that it has been a tough few weeks for the club, but that doesn't mean there is no chance at the tides turning before transfer deadline day. Wenger is likely looking at dozens of targets he can bring into the club who will fill the recently created voids and make a significant impact.
The last few weeks have been a nightmare for Arsenal, but here is the realistic dream end to the summer that all Arsenal fans want to see before the squads are locked September 1. Enjoy!
Signings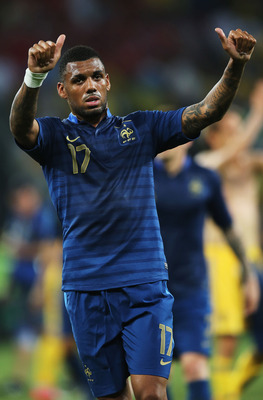 Ian Walton/Getty Images
Yann M'Vila
With the departure of Alex Song declared official yesterday morning, Arsenal are in desperate need of a new strong ball-winner in the middle of the pitch. The Gunners have been linked with M'Vila for most of the summer, but a deal looked to be going nowhere after M'Vila's disappointing Euro 2012.
However, if Arsenal are going to have any chance at finally ending their trophy drought, they are going to need a talented CDM who can break up opposing attacks and help in possession if needed. M'Vila fills a void and wouldn't be too expensive considering the lack of other suitors for him right now.
Nuri Sahin
While it may seem strange to bring in two defensive-minded center midfielders, Sahin offers a far different package to the Arsenal lineup than M'Vila does.
Sahin is a creative central defending midfielder who can help out in the attack, rather than the big-brusing M'Vila. While it may only be a loan deal, the combination plays between Sahin, Wilshere and Cazorla might just be some of the most entertaining things you would see this season.
A move to Liverpool has temporarily stalled, and it may just be because Arsenal are ready to swoop in for the Turkish superstar.
Gregory Van Der Wiel
Dutch right-back Gregory Van Der Wiel has expressed his discontent with current club Ajax and very well could be on the move soon. Arsene Wenger apparently has shown interest in signing Van Der Wiel for his backline, which at times last season looked less than stable against top opponents.
With Bacary Sagna still nursing an injury and Kyle Bartley recently getting sold to Swansea, signing an experienced and talented Van Der Wiel would be very beneficial to the club.
Clint Dempsey
There are a lot of fans of the club that would question the signing of the Fulham star who will turn 30 near the end of next season. However, when you look at other forwards on the transfer market, there aren't really any other reasonable options out there for Wenger to buy.
Robert Lewandowski recently stated his commitment to Dortmund, Klass-Jan Huntelaar hasn't been linked away from Schalke for the last few months, and all other potential targets that Arsenal had earlier in the summer have found new clubs.
Dempsey refused to play for Fulham earlier this week, and Arsenal could easily scoop up the talented American for a very small fee considering the circumstances.
His versatility could be very valuable, and he has already proven that he can put the ball in the back of the net against EPL competition. Dempsey might not be an incredible signing, but it still would be an effective one for a very nice price.
Departures
Julian Finney/Getty Images
Nicklas Bendtner
Bendtner's days at Arsenal have seemingly been over for a while now, but the club hasn't been able to get rid of their discontent striker yet this summer. Considering there has been some interest in the forward so far, it is highly unlikely that Bendtner will be wearing an Arsenal shirt on September 1, which is good news for all parties.
Andrei Arshavin
The 31-year-old Russian winger really fell out of form last season, and Wenger must be looking to get some funds back for the player they spent 15 million pounds on three years ago.
A four-million-pound offer from Galatasaray has apparently been sent to the Gunners, who are evaluating all options before making a decision. In a perfect world, Arsenal would save themselves the contract and make a little money from selling Arshavin before the transfer window closes.
Sebastien Squillaci
Arsenal fans have been dreaming of Squillaci being sold for months now. While rumors of the Frenchman leaving Arsenal for a fee have been very limited this summer, it might just be that Squillaci leaves on a free this summer.
Park Chu-Young
Many might even forget the fact that the South Korean was indeed signed by Arsenal just 12 months ago on deadline day for around three million pounds. In those twelve months, Chu-Young rarely was in the selected 18 and made just one league appearance all season long.
There is no doubt that Arsenal will want at least a portion of their money back this summer for the Park Chu-Young disaster. Fortunately for the Gunners, Blackburn just might take him off their plate.
The Verdict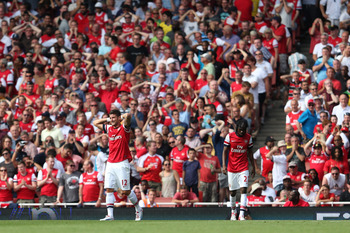 Julian Finney/Getty Images
Arsenal have already made some key signings this offseason (Podolski, Giroud, Cazorla) that sum up to be about 39.5 million pounds. With the recent departures of Song (19 million) and Van Persie (24 million), Arsenal have actually made a profit this offseason of about 3.5 million, which can be added to the 50 million in transfer funds Wenger supposedly had to spend at the start of the summer.
The selling of the four players listed plus the already given transfer funds would be more than enough to bring in players who can make an immediate impact with the club.
In fact, Arsenal likely would still have excess funds to put into next summer's window when there are a variety of different targets on Wenger's radar.
Hopefully for Arsenal fans, when next summer comes, the club will be searching the market with a recently won trophy to use as bait. Thanks for reading!
Keep Reading

Arsenal: Like this team?