Redskins vs. Bears: Washington's Biggest Winners, Losers from Preseason Week 2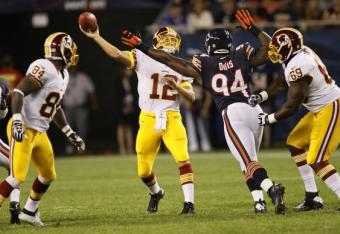 Kirk Cousins showed up RGIII by carving up the Bears in Chicago. AP

On Saturday night in Chicago, the Redskins were upended by the Bears, 33-31.
The loss occurred on a 57-yard field goal by Robbie Gould with 36 seconds left, but a handful of Washington's players made names for themselves—they burst onto the national stage with ground-breaking performances in the team's second preseason affair.
A number of Redskins appeared to be more comfortable this week, while others seem to be sliding down a slippery slope. Let's start with the best and brightest before finishing with those whose bubbles are about to be burst. Remember, Washington's first cut down day is Tuesday, August 28 (from 90 to 80 players) and the final cuts (to 53) take place on Sunday, September 2.
BIGGEST WINNERS
Quarterback Kirk Cousins
Redskins fans who didn't get the chance to see the game probably hope that Robert Griffin III is at the top of this list. But that's not the case this week. In fact, RGIII was as wide-eyed as anyone at Soldier Field to see Kirk Cousins put on a passing clinic.
When Cousins was drafted in the fourth-round back in April, media members wondered why. Why would the Redskins choose another rookie quarterback, three rounds after selecting their Heisman Trophy winning savior?
Cousins pedigree at Michigan State includes school records in passing yards, completions, touchdowns and passing efficiency. But on Saturday night, he looked like a guy that is determined to make Washington's front office look like geniuses.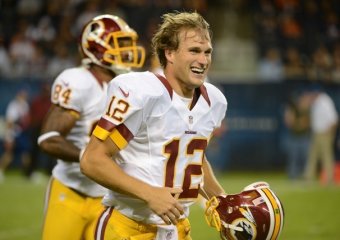 In his second exhibition appearance, Cousins shredded the Bears defense with 18 completions on 23 attempts for 264 yards and three touchdowns. Yes, that's three touchdowns, and it's not a misprint.
Actually, one of Cousins' scoring throws was a five-yarder to tight end Niles Paul, a second went 49 yards to receiver Aldrick Robinson and the last one was a 20-yard frozen rope to former Tampa Bay Buccaneers wideout Dezmon Briscoe.
Cousins led Washington back from a 20-point deficit to take a 31-30 lead, before Chicago's late surge for the game-ending kick.
RGIII played okay, finishing five for eight for 49 yards, but he was held scoreless and did not display patience in the pocket like Cousins did. Of course, Griffin faced Chicago's No. 1 defense, which sacked him three times. But he scrambled far too often, when he should have thrown balls away.
We'll have more on Robinson and Paul in a moment, but let me digress to leave a public service announcement for Rex Grossman, in case he's reading this. "Your backup job is officially in jeopardy, Rex." Sorry old pal.
Wide Receiver Aldrick Robinson
As a fairly new Redskins beat writer, I've had my eye on Robinson from the moment I saw his highlight reel, which I unabashedly have posted here again for your viewing pleasure. I personally have never met Aldrick, but he should be proud to know that his performance allowed me to scream at a group of friends (who were non-believers in his ability) that "I told ya so!"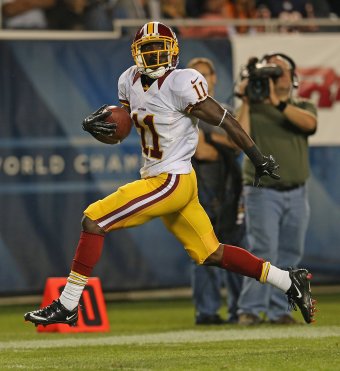 Jonathan Daniel/Getty Images
Unfortunately, one of those friends will probably snatch Aldrick as a sleeper in our fantasy draft and I'll have to kick myself for being a braggart.
Six catches for 104 yards and a brilliant 49-yard catch and run to pay dirt is a statement all right. Unfortunately, the recipients of it are fellow receivers Anthony Armstrong and Terrence Austin, who may soon be receiving their walking papers.
Tight Ends Niles Paul and Logan Paulsen
Okay. I'll admit it. I wrote a column on August 14 that predicted the trade or release of Captain Chaos (AKA Chris Cooley). Many readers stated their opinions for or against Cooley's 2012 Redskins' status, and I eventually agreed that at the very least, he would have to agree to restructure his enormous $3.8 million dollar salary to stick around.
That idea sounded like a fair way to keep a fan favorite and team leader in the locker room. But after Saturday night's performance by two players competing with Chris, I'm not so sure the Redskins need Cooley as much as he needs them.
Let's begin with Logan Paulsen, who former Redskins Hall of Famer Joe Theismann described as "bigger than [Redskins starting tight end] Fred Davis and bigger than Chris Cooley," via Comcast SportsNet's live television coverage of the game.
As color analyst for the Redskins broadcast team, Theismann added that "Paulsen is a [versatile] guy that Washington can use to block and catch." He also pointed out that Logan is "one heckuva special teams player," which is something Cooley does not do.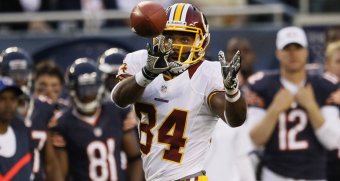 Paulsen then went about his business, with three catches for 45 yards, including a 19-yarder and an 18-yard completion by Cousins that Paulsen caught between two defenders. I'd consider that a statement by a big, versatile player that the Redskins like a lot.
Then there's converted tight end and former receiver Niles Paul. Paul started slow with a first quarter drop of a pass from RGIII that was poorly thrown but catchable. Paul could have sulked, but instead of getting down on himself, he made up for it. First, he hauled in back-to-back receptions from Cousins late in the third quarter. He then snagged a touchdown pass off of a bootleg, which capped a 15-play, 68-yard drive.
In in the fourth quarter, Paul shined once again, but his most notable statement came at an inappropriate time.
During the live television broadcast, the Redskins TV Network cut away to ex-Redskin Antwaan Randle El, who began conducting a sideline interview with Cooley. Cooley graciously praised Paul, but just as he was questioning what role he was going to have this year, the cameras cut away to Niles, who made a nifty nine-yard catch between a pair of defenders.
The moment was unsettling to say the least. Sorry Chris.
Returner and Wide Receiver Brandon Banks
If anybody has nine lives on the Redskins, it's Brandon Banks. Most fans know about Mike Shanahan's ultimatum during June's minicamp, when he told Banks that he had to make the team as a receiver (in no uncertain terms).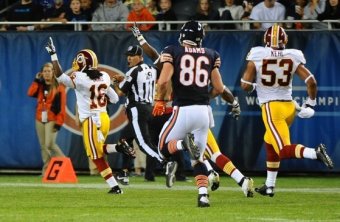 Well Mike, what do you have to say now, after the kid shook, rattled and rolled his way to a 91-yard touchdown return off of a Bears punt? The return, with 1:50 left in the first half, was so electrifying, Chicago's punter pulled a hamstring just trying get a finger on Banks.
Brandon's touchdown was overshadowed later by a 105-yard touchdown return of the second-half kickoff by Chicago returner Lorenzo Booker, but you have to hand it to Banks. His ability to strike at any moment in the return game is a special talent that's rare to find in this league.
Of course, Banks did not catch a pass in the game, so Shanahan may still have some ground to stand on. But it's now uneven ground. Let's just hope a few passes are thrown Brandon's way next week so he can make Mike's decision tougher than it already is.
HONORABLE MENTIONS
In order of preference, kudos go out to Alfred Morris, Richard Crawford, Tanard Jackson and Perry Riley and Rob Jackson.
Morris had his second straight impressive performance. he finished with just 34 yards on 10 carries, but on the very first hand-off of the game, he literally ran over two safeties, en route to a 21- yard scamper. He also earned the praise of Theismann, during Comcast SportsNet's live showing of the game.
Here was Theismann's direct quote, taken first-hand from the broadcast:
To me, Alfred Morris and Kirk Cousins have stood out and progressed in camp. Watching them in practice, they are the two guys that I've seen grow and develop as this off-season has gone on.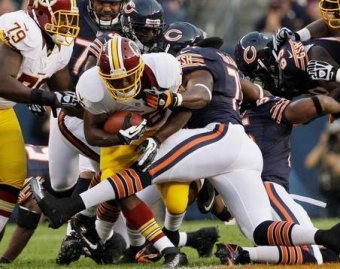 Meanwhile, Richard Crawford and Tanard Jackson had strong showings for the second week in a row.
Jackson more than adequately replaced an injured Brandon Meriweather (knee strain) and Crawford was sent on numerous blitzes from the slot that shook up Chicago's passers late in the game. The rookie from SMU almost got his second pick of the preseason in the fourth quarter, but a good opportunity slipped through his hands.
And finally, we tip our hat to Perry Riley and Rob Jackson. Both men picked up the slack for the linebackers, after Brian Orakpo left the game with a shoulder strain. Riley had a sack-and-a-half on successive plays in the second quarter, while Jackson chipped in on special teams with a fine block that sprung Brandon Banks' 91-yard punt return for a score.
During the broadcast, Theismann said "Riley worked out in the off-season with defensive captain London Fletcher" and it is apparently paying dividends. When the season starts, Riley should be a terror alongside Fletcher, with Ryan Kerrigan and (hopefully a healthy) Orakpo coming off the edges.
London's absence from the game also helped out Lorenzo Alexander, who made a number of tackles in his place. In a post-game press conference, coach Shanahan said that "Fletcher sat out because he didn't feel well," but it was likely done on purpose, so the 37-year old, 15-year vet can stay fresh for the regular season.
BIGGEST LOSERS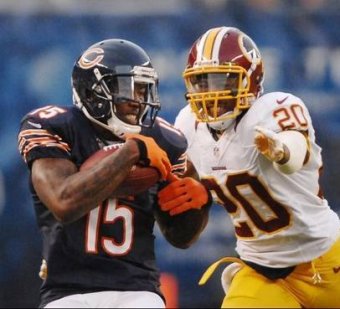 We never like to highlight players who don't do well, but in Saturday night's case, there were a few that need to be mentioned for competition's sake.
The following players should get another chance, at home against Indianapolis, in preseason game No. 3.
But each of them may have an uphill battle to climb.
Cornerback Cedric Griffin
The former Minnesota Vikings All Pro is a shell of his former self after two serious knee injuries. The Redskins signed Cedric Griffin to play the nickel, but he looked bad at corner against the Bears. On Chicago's very first offensive play, Griffin got burned by Brandon Marshall for 40 yards. He then got taken to school by Bears rookie wideout Alshon Jeffrey, who beat Cedric on a slant for a 16-yard gain.
The only good news for Griffin was a dropped ball by Chicago's Chris Summers just before halftime. Summer's gaffe saved Cedric more embarrassment because he was beaten to the corner of the end zone by the rookie free agent.
Griffin is big enough to move to safety, so he could still make the Redskins roster, if an injury occurs at the position. Meriweather's strained knee will be re-examined, but it must not be too serious because he stayed on the sidelines for the remainder of the game.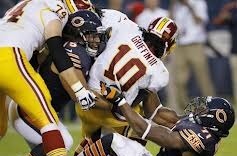 Offensive Tackle Tyler Polumbus
Tyler Polumbus fared well in pass protection against Buffalo, but he looked lost against the Bears. Late in the first quarter, he gave up a sack on RGIII when Chicago's Israel Idonije bull rushed him from his end position. Guard Adam Gettis was guilty on the play as well, for letting go of a block on the Bears Matt Toeaina.
Polumbus' other glaring mistake came in the second quarter, when he got flagged on a third down pass-play.
Linebacker Bryan Kehl
Bryan Kehl is entering his fifth season in the NFL, but he's not playing like a grizzled veteran. The former Giants and Rams linebacker is in competition with a deep set of Redskins at the position and is on the outside looking in, after a poor showing Saturday night.
During the game, Bryan was beaten a pair of times by Bears tight end Evan Rodriguez. Rodriguez is a rookie out of Temple.
To make matters worse, Kehl missed a number of tackles on defense and was out of position on special teams, when Lorenzo Booker took a punt to the house for 105 yards.
But the final nail in Kehl's coffin was his drop of a sure interception on the Bears final drive that would have sealed the win for Washington. The missed pick opportunity was his second one in two weeks and broke the hearts of the Redskins and their fans.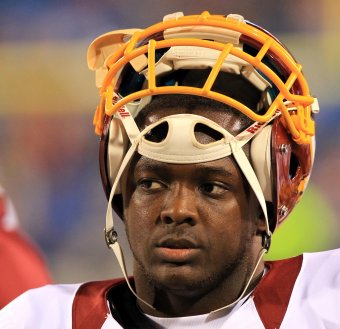 Kevin Hoffman-US PRESSWIRE
Running Back Antwon Bailey
Antwon Bailey was a star at Syracuse, where he averaged over five yards per carry. But as a Washington, DC native, he is just happy to suit up with the Skins at running back. Unfortunately for Bailey, he'll be lucky to wear the burgundy and gold again, after fumbling away a hand-off in the second half.
With Morris running so well, Bailey's chances of making the team were slim to begin with. But he totally blew it when he tried to hurdle some tacklers, when a hurdle was not necessary. Coach Shanahan's evil stare at Bailey when he came to the sidelines wasn't pretty, either.
DISHONORABLE MENTIONS
Terrence Austin had a 31-yard kickoff return and saved another touchdown return by the Bears when he tripped up Eric Weems, but he had just one catch for 11 yards. Austin and Anthony Armstrong are in serious trouble of retaining roster spots because of Robinson's breakout performance and Banks' electrifying return.
The handwriting may already be on the wall for Armstrong, who did not play for the second straight week, despite his apparent recovery from a shoulder injury.
And finally, the days appear to be numbered for rookie Jordan Bernstine and second-year pro Brandyn Thompson, who continue to miss tackles on defense. Thompson, in particular, failed to contain on special teams on Booker's 105-yard return. Rookie free agent Samuel Kirkland was also to blame on that play and was berated on television by Theismann, who said that Kirkland's job responsibility was to make sure the returner didn't get outside.
"Good returners let defenders use their momentum to get out of position," said Theismann, per Comcast SportsNet's live telecast. "You don't let him get [to] the perimeter."
Joe Versage is a Redskins Featured Columnist for Bleacher Report. Unless otherwise noted, all television quotes were obtained first-hand via Comcast SportsNet Mid-Atlantic's live broadcast of the Redskins-Bears Preseason Contest.
This article is
What is the duplicate article?
Why is this article offensive?
Where is this article plagiarized from?
Why is this article poorly edited?

Washington Redskins: Like this team?