Chiefs vs. Rams: Kansas City's 10 Biggest Winners & Losers from Preseason Week 2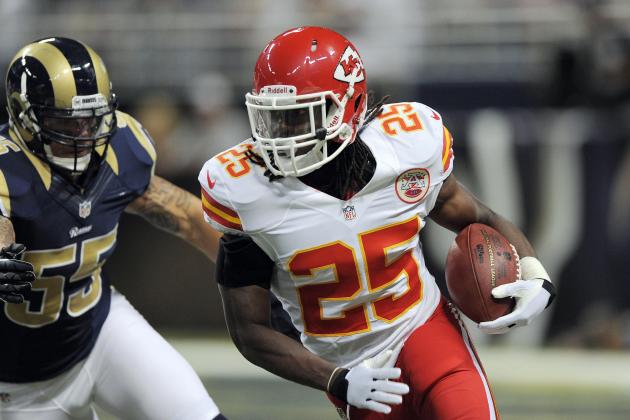 Jeff Curry-US PRESSWIRE

In the Kansas City Chiefs' bitter 31-17 loss to the St. Louis Rams Saturday night, the stock of five Chiefs players declined while five other players exhibited what they have to offer in the Show-Me State showdown.
In Week 1's preseason game against the Arizona Cardinals, the Chiefs led 14-0 after their first two drives. The Rams flipped the script in Week 2. This time, it was the Chiefs who found themselves on the uninviting end of a 14-point deficit.
To varying degrees, the following 10 players made an impact on last night's contest.
Begin Slideshow

»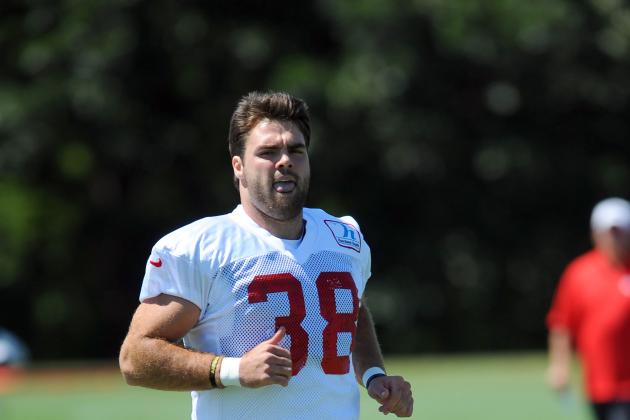 Denny Medley-US PRESSWIRE

Matt Cassel's stats contained one minor blemish: a sack. And it fell on the shoulders of fullback Shane Bannon.
As Cassel dropped back, he was wrapped up and sacked quicker than a 40 Oz.
Out of Kansas City's starters—on both sides of the ball—Shane Bannon's role is easily the most one-dimensional. He's supposed to block.
St. Louis' defender baited and blew by the fullback before pouncing on Cassel. Bannon barely managed to lay a finger on him.
If Bannon continually whiffs in blitz pickups, a minor issue could become a major problem.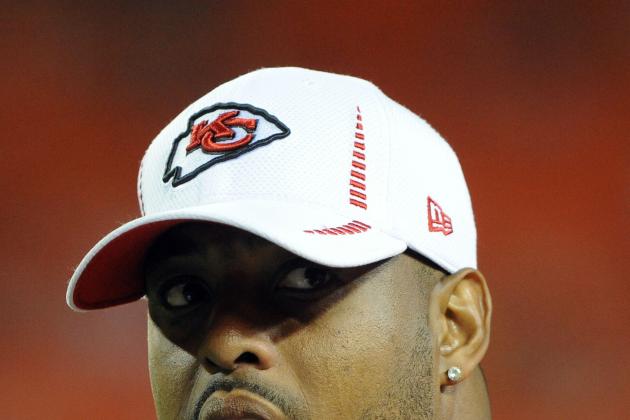 John Rieger-US PRESSWIRE

For reasons unknown, Derrick Johnson annually produces attention-grabbing numbers yet rarely garners any headlines.
But the former Texas star continues to shine when it matters the most.
As St. Louis snapped the ball on a third-and-one, Johnson missiled through a crevice on the right side of the Rams line and stopped the rushing attempt dead in its tracks.
The Pro Bowl inside linebacker also negated a fresh set of downs for St. Louis by batting down a pass near the sideline.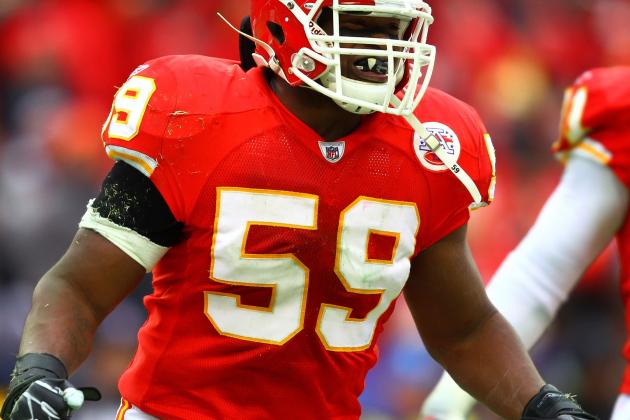 Dilip Vishwanat/Getty Images

Jovan Belcher is universally regarded as the weakest link of the Chiefs' linebacking corps, a group that includes Pro Bowlers Tamba Hali and Derrick Johnson, and second-year standout Justin Houston.
Belcher's vulnerabilities are routinely exposed in pass coverage.
Sam Bradford coordinated an opening-drive blitzkrieg on Saturday. On the fourth play, Belcher backpedaled as his eyes peeked into the backfield. Bradford then fired a 23-yard strike to Lance Kendricks and tacked six on the scoreboard like it was child's play.
Belcher's replacement, Brandon Siler, continues to make strides this preseason after missing the entirety of 2011 with an Achilles tear.
Although each only managed one tackle, Siler also registered a quarterback hit.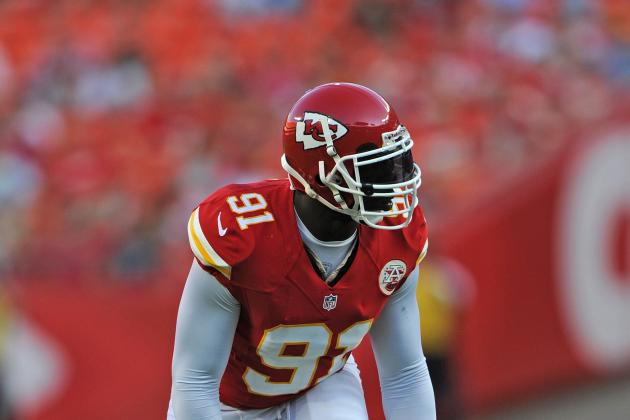 Peter Aiken/Getty Images

Tamba Hali always brings it—he doesn't discriminate against the preseason. During the course of a 16-game schedule, Hali makes offensive tackles look like amateurs on a weekly basis.
While honing in on a targeted John Skelton last week, it took Hali less than a quarter to induce his first holding call of 2012.
This week was no exception. Another yellow streak sliced through the air as Hali was dangerously close to capturing his first quarterback takedown of the preseason.
He also made his presence felt after Amon Gordon bulldozed his way through the Rams' five-man privacy fence and forced rookie running back Isaiah Pead to make a wide left turn in the backfield. It was there that the rookie was first introduced to Hali, who dragged him down for a 10-yard loss.
Business as usual.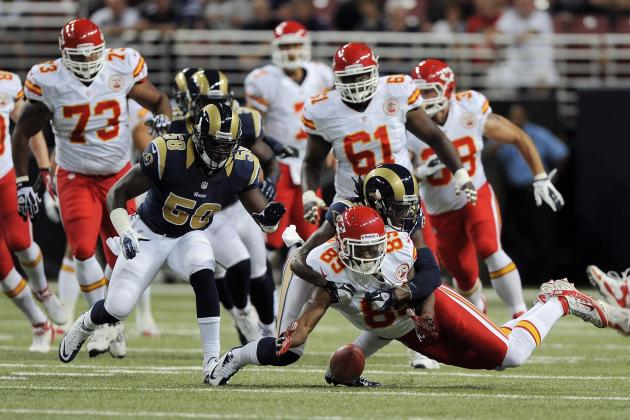 Jeff Curry-US PRESSWIRE

Coming into the 2012 offseason, the bar was set significantly higher than it had been previously for Jon Baldwin. But he laughed and used it for pull-ups.
One word kept being attached to Baldwin's name: "impressive."
The NFL sophomore developed a rapport with Matt Cassel during the offseason and constantly supplied highlights like it was his job. As a result, the absence of Dwayne Bowe became less noticeable.
But in Week 1's onslaught of the Arizona Cardinals, Baldwin didn't infiltrate the box score.
Last night, he only snatched one reception for seven yards, and it resulted in a fumble recovery for St. Louis. As the final first-half seconds ticked off, Baldwin also appeared to temporarily decelerate while looking for a pass that was obscured by the stadium lights. By the time he found it, the ball dropped a yard longer than his diving reach.
Baldwin's slow start is nothing to be alarmed about. The wideout is still destined to have a breakout season. He is just as talented as he was yesterday morning.
However, news of Bowe's signing will gain a few additional Facebook "likes" after Saturday night.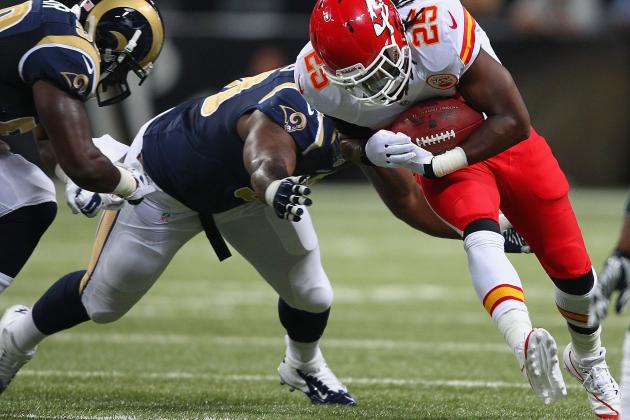 Dilip Vishwanat/Getty Images

Coming into 2012, a sea of questions circled Jamaal Charles' knee like a school of great whites. Charles answered them quicker than Watson.
He's back like he never left.
Against St. Louis, Charles rushed for 17 yards on three carries. The fleet-footed All-Pro also snagged two receptions for 18 yards.
Any skeptics had to be converted to believers after last night's performance. Charles' most signature play wasn't his longest gain, but it went the longest in laying any remaining doubts to rest.
As Cassel floated a pass in the flat to his favorite rusher, a St. Louis pursuer had a clear path to the Pro Bowler and darted toward him like a greyhound out of the gates. Charles snapped the man's ankles like a Slim Jim, and a sure loss abruptly evolved into a seven-yard gain.
It's not common to hear fans "ooh'' during a positive play for the away team. But in Charles' most recent case, it was infinitely reassuring.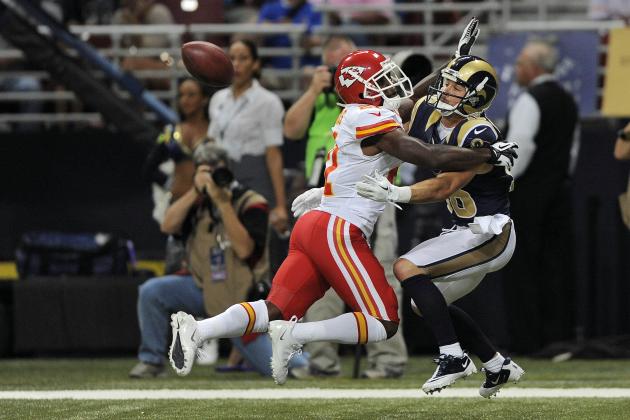 Jeff Curry-US PRESSWIRE

Heading into training camp, there were two Chiefs who—despite playing on opposite sides of the ball—found themselves in the same position.
Both were promising second-round selections in the 2010 NFL Draft. The pair individually evolved into the team's most diverse players. However, Scott Pioli drafted potential competition for the two in 2012.
Dexter McCluster shined against the Arizona Cardinals in 2012's preseason debut. On Saturday, he started where he left off and provided another three receptions for 23 yards.
As opposed to 2011, coach Romeo Crennel has listed McCluster as a wide receiver the past two weeks. The eclectic offensive weapon seems to have finally solidified his role with Kansas City, and his status is not going to be challenged by Devon Wylie anytime soon.
Javier Arenas is, without question, Kansas City's most dynamic talent. The previous season, he served as the nickel back, kick returner, punt returner and was even on the receiving end of an offensive touchdown at Oakland.
However, Devon Wylie is an immensely talented return man and could take over Arenas' special-teams duties. Rookie De'Quan Menzie is also currently listed as a cornerback on the depth chart and excelled in slot coverage at the collegiate level.
Arenas jumped off TV screens for the wrong reasons against St. Louis. After the Rams booted a low-angled punt, Arenas caught the one-hopper and began to sprint with room to operate. But two moves quickly landed him between two Rams jerseys following a minimal gain.
Defensively, he was beaten by Danny Amendola for a touchdown (pictured) while flagged for pass interference.
Is Arenas in any kind of imminent danger of seeing his playing time drastically decrease? No. His foreseeable competition is inexperienced, it's one exhibition contest and he's ultimately too talented. But he didn't do himself any favors on Saturday.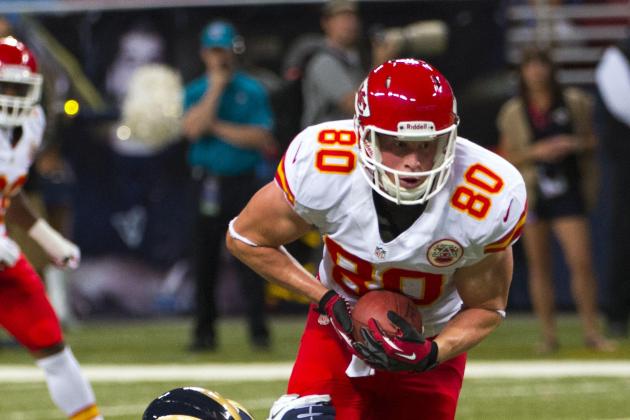 Scott Rovak-US PRESSWIRE

When Romeo Crennel released Kansas City's first depth chart of 2012, one listed starter seemed to partially surprise most fans: Kevin Boss.
Abundantly talented tight end Tony Moeaki—the founder of 2011's ACL club—was sidelined before the first snap of last year and never saw the field. But in 2010, Moeaki's rookie statistics dwarfed even those of the legendary Tony Gonzalez.
However, when taking a glimpse at Week 2's box score, No. 80 was on top (like a Boss, NSFW). Boss grabbed four receptions and racked up 64 yards before his night was finished.
For the second consecutive week, a Kansas City Chiefs tight end proved to be the game's leading receiver.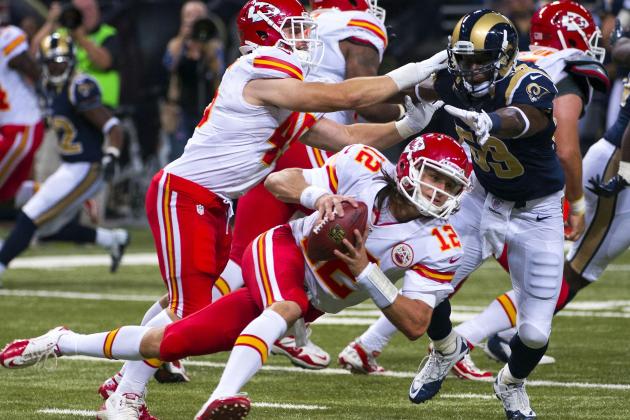 Scott Rovak-US PRESSWIRE

As a quarterback, it's not a good day at the office when you're responsible for more sacks than completions.
Ricky Stanzi finished 3-of-4 passing for 21 yards.
However, he was also the victim of four sacks and lost one fumble. Rookie Trumaine Johnson doused the wounds with salt as he punched an intended pass for Terrance Copper into the air, eventually turning it into an interception for St. Louis.
Last week, any edge between Stanzi and Brady Quinn—his competition—appeared to be marginal. But this week Quinn (5-6, 70 yards, 1 TD, 1 fumble) put a feather in his cap with a 38-yard touchdown strike to Jeremy Horne.
While Stanzi embodies every tangible required to become sufficient NFL backup, the slinger's only consistent trend has been his inconsistency.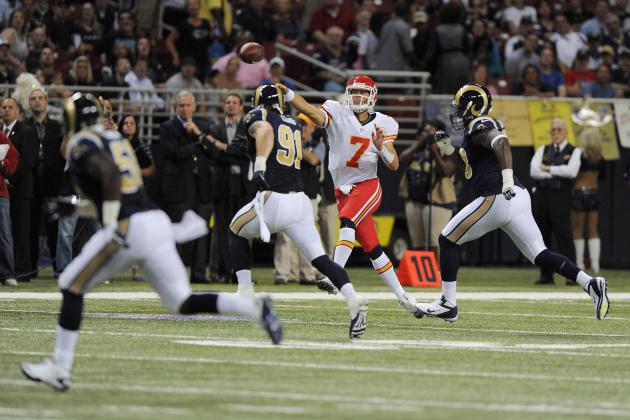 Jeff Curry-US PRESSWIRE

Throughout this offseason, Matt Cassel was as popular in Kansas City as celery at a Chiefs tailgate.
He soared throughout the regular season in 2010, but has encountered flocks of boo birds since the team's wild-card loss in the same year. In 2011, Kansas City's rushing attack hit a brick wall following Jamaal Charles' ACL injury, and Cassel accounted for just one fewer interception than touchdown (10 TD, 9 INT). An injury ended his season after nine games.
But No. 7 is back now and better than ever.
At least, that is what his three preseason quarters of play would indicate.
On Saturday, Cassel filled the stat sheet with 142 yards and was successful on 13 of his 18 pass attempts—two of which were knocked down at the line of scrimmage, with one being a first-half-ending heave to Jon Baldwin, who seemingly lost track of the ball within the stadium lights.
His signature play (pictured) of the night came on a third-and-long. Cassel sensed the makings of a collapsed pocket, rolled to his right and bulleted a pinpoint chain-mover to Dexter McCluster.
Throughout two exhibitions, Kansas City's starting quarterback has strapped muzzles onto his critics.
Cassel's preseason play and silence have one thing in common: both are golden.