7 Reasons New York Knicks Can Win the NBA Championship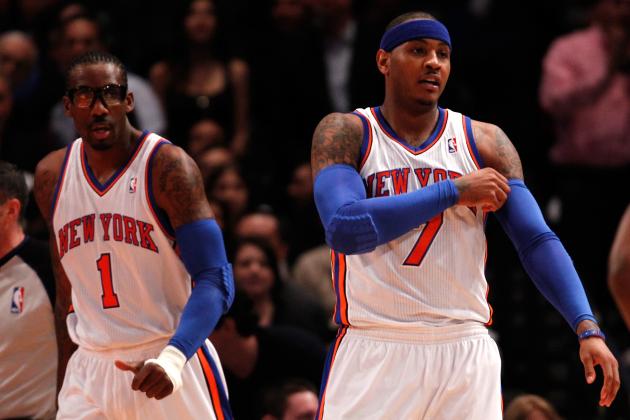 Jeff Zelevansky/Getty Images

Though they may have had a modest offseason, the Knicks have positioned themselves well to gun for an NBA title next season.
Last season was defined by the team's sky-high potential and the dysfunction that derailed it. Even as Linsanity ensued, the Knicks were beset by struggles. Mike D'Antoni resigned, Carmelo Anthony and Amar'e Stoudemire failed to coexist on offense, and New York stumbled to seventh in the East and a first-round playoff exit.
The team has not changed dramatically, but next year will be different. With Mike Woodson at the helm and another year of roster continuity, the Knicks are poised to make the leap they couldn't before.
Here are seven reasons why this year's Knicks have a chance at a championship in 2013.
Begin Slideshow

»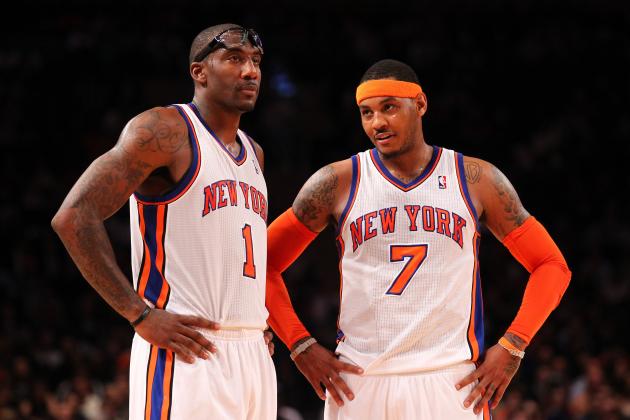 Al Bello/Getty Images

Carmelo Anthony played his first game as a New York Knick on February 23rd, 2011. One and a half years later, it's easy to forget that Melo and STAT have yet to have a real offseason as teammates.
Robbed of his practice time due to the lockout, D'Antoni never completely figured out how to integrate Anthony into the starting five alongside Stoudemire. Together, they struggled.
According to 82games, the Knicks were better when their two stars were separated. Last season, units with both Anthony and Stoudemire outscored their opponents 28 times, but were outscored 34 times. With just one of the two in the lineup, New York units beat their opponents 40 times and lost 34.
Surely the main priority for Woodson must be to find a way for Anthony and Stoudemire to thrive together on the court. Unlike his predecessor, he will have the time to figure it out as he establishes his own system in New York.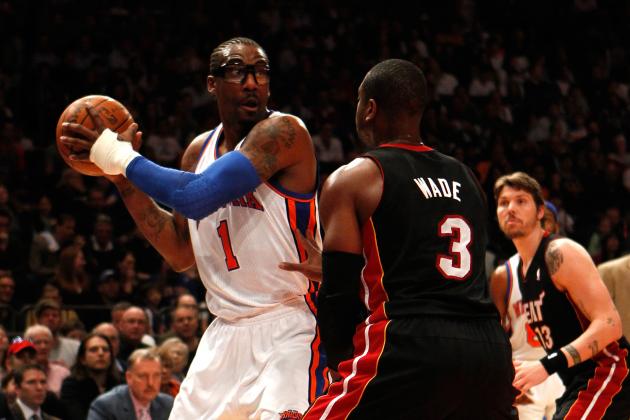 Jeff Zelevansky/Getty Images

If Amar'e Stoudemire wants to produce in Woodson's halfcourt offense, he is going to have to play in the post for the first time in his career. That means he must stop relying on his athleticism, which is quickly diminishing due to aging and injury, and learn some post moves.
Mike Woodson knew just who to call.
The New York Times reports that STAT was Hakeem Olajuwon's latest pupil, learning the art of the paint at the feet of the master. Though it was the coach's idea for Stoudemire to work with Olajuwon, Woodson's former teammate, the student has relished the experience most of all.
Stoudemire has proved a quick study, assimilating moves and countermoves as fast as Olajuwon can demonstrate them.

"It's night and day," Olajuwon said. "What's so nice is he wants it; he likes the post. He's always wanted to play there, but he doesn't have the moves that would give him that option."
Spending two weeks with the post guru rather than the usual four days, Stoudemire is determined to evolve and reclaim his title as an elite big man. That means more scoring from STAT, which means a more balanced and more dangerous Knicks offense next season.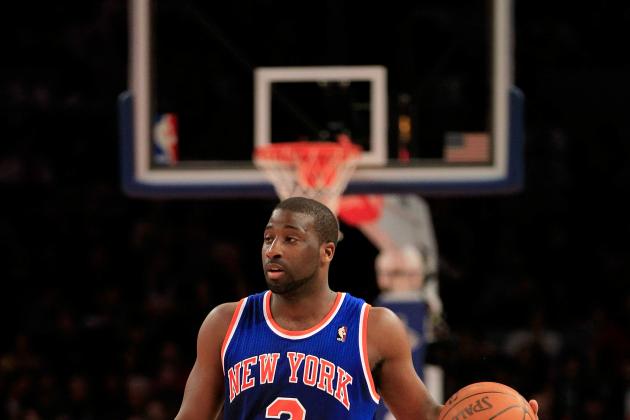 Chris Trotman/Getty Images

Knicks fans, let's step back from the ledge a second. Take a look at Raymond Felton and Jeremy Lin, and look at the bright side of the end of Linsanity.
Of course it would be a stretch to argue that Felton is a better point guard than Lin.
Looking at the New York's old guard versus the new (though Felton's been here before), Lin posted PER numbers last season (19.3 for, 16.9 against) that were significantly better than his replacement's (12.8 for, 16.0 against). Even if we take Felton's numbers from his first stint in New York (17.7 for, 17.2 against), Lin is still the superior point guard.
However, he's just not the right player for the Knicks as currently constructed. Lin is a score-first, pass-second point guard playing with two guys who demand the ball. As the Knicks transition from D'Antoni's point-powered philosophy to Woodson's more traditional system, they need a passer to facilitate the offense.
People cynically smirked and said that the Knicks always throw money at guys, so why not Lin? That sentiment is correct; New York used to be home to a collection of overpaid players who did not fit together as a team.
Felton is the point guard the Knicks need, and they are better off with the inferior player.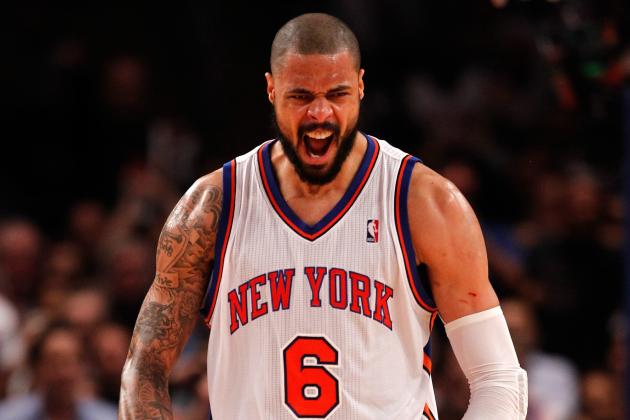 Jeff Zelevansky/Getty Images

Here's a fun fact: did you know that in terms of points per 100 possessions, the 2011-12 New York Knicks had the fifth-most efficient defense in the league?
It's true. Only the Bulls, Celtics, Sixers, and Heat allowed fewer than New York's 98.4 points per 100 possessions. Even as D'Antoni's reputation as a defensive agnostic preceded him, Woodson was making an impact even as an assistant.
How profound was the improvement? Consider the NBA defensive efficiency standings from the 2010-11 season. The Bulls and Celtics were also in first and second, respectively, while the Heat were fifth and the Sixers on the edge of the top 10.
The Woodson-less Knicks? They were 21st.
Tyson Chandler probably has even more to do with the scoring lockdown than Woodson, and this year he'll have even more friends on the defensive end.
Marcus Camby will give Chandler some much-appreciated assistance patrolling the paint. On the perimeter, Iman Shumpert will continue to be a defensive terror when he finishes rehabbing his knee. New acquisition Ronnie Brewer will pick up the slack in the meantime.
With the pieces in place and Woodson in charge of putting them all together, the days of defensive indifference are over in New York. Somewhere, there is a guy in a Charles Oakley jersey, and he is smiling for the first time in ages.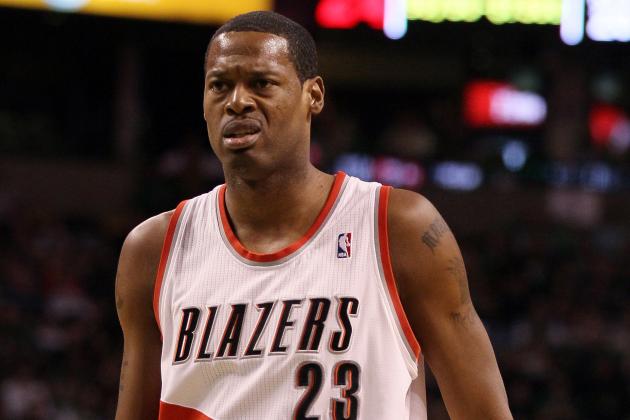 Elsa/Getty Images

Defense is something that only seemed to be missing in New York. Depth actually was.
Look at the Knicks' reserves last season.
The only reason Lin got a whiff of court time to begin with was because Baron Davis, Mike Bibby, and Toney Douglas were all either injured or ineffective. If Chandler wanted to catch a breather, his replacements were Jared Jeffries, who lacked the strength to be a presence inside, or Josh Harrelson, who lacked the agility and the ability.
What a difference a year makes.
The deck has been cleared at point guard, with this bunch running deep behind Felton. Jason Kidd may be 39-years old, but no one can match his instincts at the point guard position. Should someone go down in front of him, the 35-year old rookie Pablo Prigioni has shown strong court vision and passing ability at the point for Argentina's national team.
In the post, Chandler's new reinforcements are some familiar faces. Marcus Camby and Kurt Thomas are both making Knicks revival tours this season. Why neither is the player they were the last time the Knicks made a run at a title, they can still do two things: bang around inside and bring a bulldog mentality onto the court.
True to the Big Three formula, the Knicks trotted out a shallow roster in their first year with Anthony, Stoudemire, and Chandler. Now the Knicks have a full team, and they're ready to show it on the court.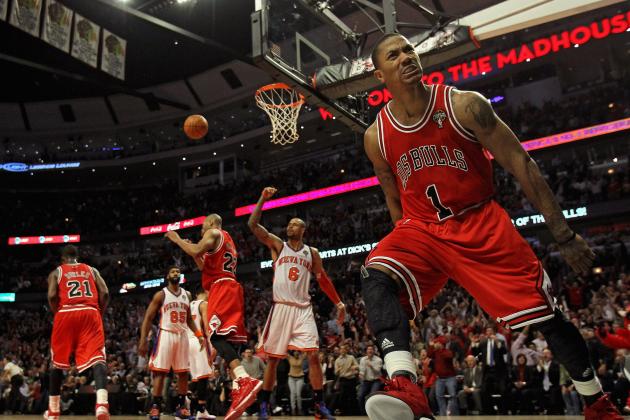 Jonathan Daniel/Getty Images

Six teams in the Eastern Conference finished ahead of the Knicks last season. That is not going to happen this time around.
Not only are the Knicks improved, but there are fewer teams to challenge them.
Most notably, the Bulls will be without Derrick Rose for a chunk of next season, and it will likely be even longer before he is playing up to his full potential once again. That will knock Chicago off the top of the conference standings.
Of the other contenders from last season, the Hawks and Magic have taken big steps backwards this offseason, while the Knicks have risen to the level of teams like the Celtics and Pacers.
All this is to say the New York can compete with anyone in the East, but what about beating the Heat?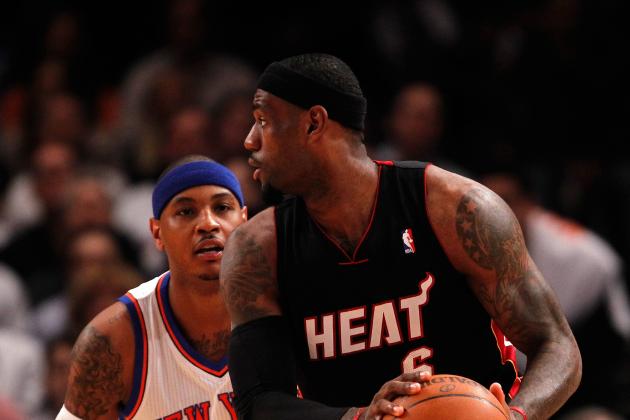 Jeff Zelevansky/Getty Images

The Heat are the best in the league, but the Knicks now match up much better against the team that ousted them last season.
Playing together in a system built to feature both of them, Melo and Amar'e should be a better match for the scoring of LeBron James and Dwyane Wade. On the defensive end, New York now has two lockdown defenders to throw at Miami's wings in Shumpert and Brewer, a luxury not available a year ago.
Ultimately, Miami is still the better team, and there is no disputing that. However, New York will throw out a roster that is better, deeper, and more cohesive than it was last time these teams met, and that gives them a shot in a seven-game series.
The Knicks might not be favored, but they can get past Miami in 2013, which wasn't true the year before. If they can beat the Heat, they can beat anyone in the league, and they can win an NBA title.