Baltimore Ravens: Projecting the Final 53-Man Roster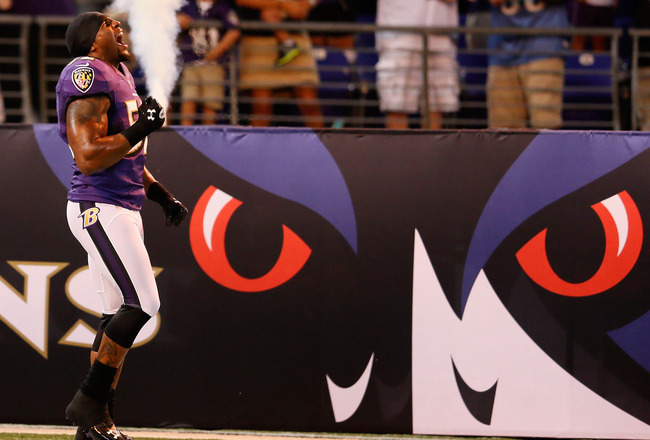 Rob Carr/Getty Images
After three weeks of training camp and two preseason games in the books, the Ravens roster has slowly started to take shape.
Rookies like Deonte Thompson, Bobby Rainey and Omar Brown have made a case for a roster spot while guys like Anthony Allen, David Reed and Chykie Brown might be looking for a job in a couple weeks.
Coach Harbaugh still has some hard decisions to make, however; so, here is how I see the team shaping up as they prepare for their Week 1 battle with their AFC North rival Cincinnati Bengals.
Quarterback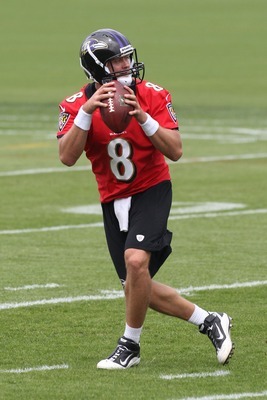 Mitch Stringer-US PRESSWIRE
1) Joe Flacco
2) Curtis Painter
3) Tyrod Taylor
Obviously, Flacco is the unquestioned starter here, but I think there has been a shift in the backup role this preseason. Curtis "Thor" Painter isn't a future Hall of Famer or anything, but he's got experience starting in the NFL and has looked much better in the two games than Taylor.
Tyrod is still a work in progress, but I'd love to see them use him more this season in nontraditional ways, similar to how Troy Smith was used during his time here.
Running Back/Fullback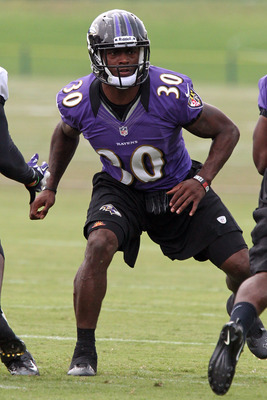 Mitch Stringer-US PRESSWIRE
1) Ray Rice
2) Bernard Pierce
3) Bobby Rainey
4) Vonta Leach
In two preseason games, Ray Rice has a total of 16 rushing yards. If you're worried about that then...well...I feel sorry for you. Rice has nothing to prove during the preseason.
The rest of the running backs on the Ravens roster, however, do need to prove themselves. Pierce returned from a injury for the team's second preseason game. He didn't finish with gaudy numbers, but looked good making cuts and running between the tackles.
Bobby Rainey will likely make the team because of his versatility and the poor play from Anthony Allen. There's still a chance the Ravens add a veteran before the regular season starts.
Wide Receiver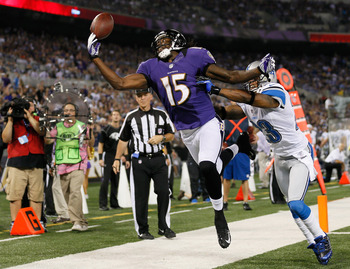 Rob Carr/Getty Images
1) Anquan Boldin
2) Torrey Smith
3) LaQuan Williams
4) Jacoby Jones
5) Deonte Thompson
6) Tandon Doss
Torrey Smith didn't play in last week's game against the Lions, but he returned to practice on Sunday. I expect a big year from the second-year speedster.
Didn't see much potential in LaQuan Williams last season, but he's been really impressive in camp. Despite average performances in the first two preseason games, he may end up getting more snaps than former Texan Jacoby Jones at this rate.
With his outstanding play during training camp, look for undrafted rookie Deonte Thompson to make the team as well. He probably fits best as a special-teams guy unless an injury pops up.
Once David Reed is back from his knee injury, he'll likely be cut. He was horrible on special teams last season and has yet to catch a regular-season pass in his unimpressive NFL career.
Tight End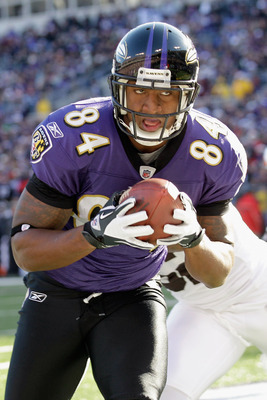 Rob Carr/Getty Images
1) Ed Dickson
2) Dennis Pitta
3) Billy Bajema
The Dickson/Pitta combo is safe, but takes a bit of a hit because of Pitta's injury. He should, however, be back in time for Week 1.
The team had to bring in veteran Billy Bajema whose roster spot comes at the expense of Davon Drew catching a touchdown in the team's preseason opener.
Drew has had problems with drops in training camp, and Bajema is a better option to fill in until Pitta is 100 percent.
Offensive Guard/Center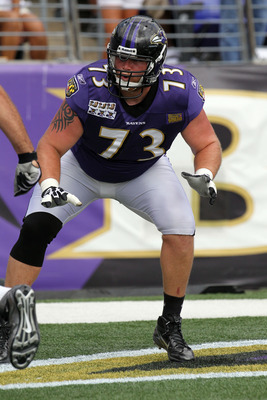 Mitch Stringer-US PRESSWIRE
1) Marshal Yanda
2) Matt Birk
3) Bobbie Williams
4) Kelechi Osemele
5) Gino Gradkowski
When Matt Birk decided to return for the 2012 season, it helped solidify the center position and provide a veteran mentor for rookie Gino Gradkowski.
After Ben Grubbs decided to leave via free agency, it left a huge hole at left guard. Veteran Bobbie Williams looks to get the starting gig, but Osemele has performed extremely well in training camp and could steal the job if Williams struggles.
Offensive Tackle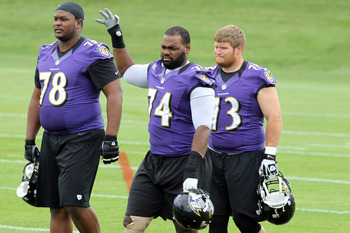 Mitch Stringer-US PRESSWIRE
1) Bryant McKinnie
2) Michael Oher
3) Jah Reid
4) Ramon Harewood
Even though he reported late to camp and failed a conditioning test, Bryant McKinnie worked with the first team at left tackle on Monday, according to CBS Sports. He is a bit past his prime, but with the state of the Ravens offensive line, he's a necessity.
That means Michael Oher shifts back to right tackle. This is a huge year for Oher. If he continues to struggle, it's likely the team will move on when he becomes a free agent after the 2013 season. Let's hope he can cut back on the penalties this season.
Jah Reid is a guy the team really likes because of his versatility. If injury or poor play crops up during the season, he could fill in a guard or tackle.
Harewood makes the squad solely based on his size. He's still raw, but could be a valuable asset if the team can continue to develop his skills.
Defensive Tackle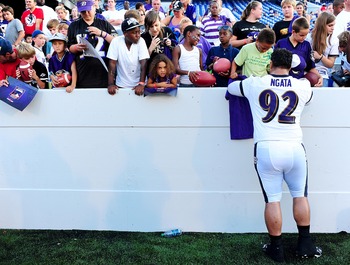 Evan Habeeb-US PRESSWIRE
1) Haloti Ngata
2) Terrence Cody
3) Ma'ake Kemoeatu
There was a lot of noise made about Ngata's subpar 2011 season, but he's still only 28 years old and in the prime of his career. Without Suggs, Kemoeatu deserves to make the team for having one of the coolest tattoos ever.
A dislocated ankle will sideline Ryan McBean for the 2012 season. The Ravens will probably only keep three interior linemen since they primarily run the 3-4 defense.
Defensive End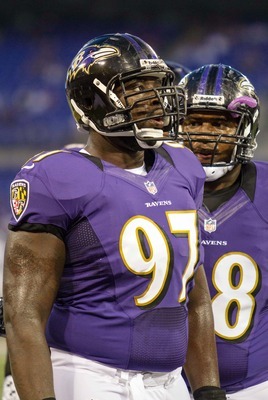 Paul Frederiksen-US PRESSWIRE
1) Arthur Jones
2) Pernell McPhee
3) DeAngelo Tyson
4) Terrence Moore
It won't really matter who starts Week 1; I think Jones and McPhee will see equal work, and both should be helpful in replacing the production of Terrell Suggs.
DeAngelo Tyson and Terrence Moore are on the team strictly for depth and special teams help. You can never have too many defensive ends.
This is another position where I could see the Ravens adding veteran depth if someone they like is released from another NFL team at the end of training camp.
Linebacker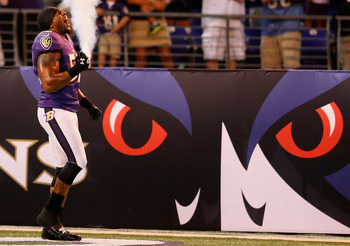 Rob Carr/Getty Images
1) Ray Lewis
2) Jameel McClain
3) Albert McClellan
4) Courtney Upshaw
5) Paul Kruger
6) Sergio Kindle
7) Brendon Ayanbadejo
Terrell Suggs (PUP List)
Year after year, this is the deepest (and my personal favorite) unit on the Ravens roster. They have yet to find Ray Lewis' eventual replacement, but luckily, Ray played last season like he was 27, not 37 years old.
Courtney Upshaw has battled injuries and hasn't looked exactly sharp in limited action, but I wouldn't worry. It will take a few games for him to really adjust to the speed of the pro game. Temper your expectations. He isn't a difference-maker yet.
Ellerbe, McClellan and McClain need to prove their worth this season. With Jarret Johnson in San Diego, Suggs injured and Ray Lewis in the twilight of his career, someone needs to step up as a difference-maker.
Ayanbadejo has primarily been used as a special teams gunner, but look for him to play on defense more this season. He had a nice interception last week against the Lions.
I'd like to see rookie Nigel Carr make the squad, but they won't keep eight linebackers. Looks like he will land on the practice squad to start the season, barring any unforeseen injury.
Defensive Back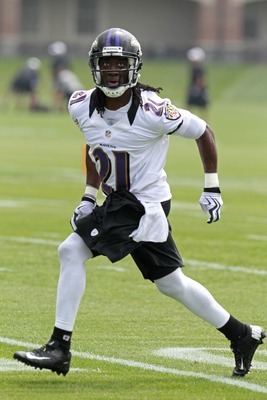 Mitch Stringer-US PRESSWIRE
1) Lardarius Webb
2) Jimmy Smith
3) Cary Williams
4) Corey Graham
5) Asa Jackson
6) Danny Gorrer
Not much has changed in this group since I wrote my "Training Camp Preview" back in July. Webb and Smith are your starters and possibly the best young cornerback duo in the NFL if they both play up to their potential this season.
Cary Williams is an ideal nickelback. He is great in small doses, but as we've seen in the preseason, he sometimes looks overmatched against superior competition.
Corey Graham is a special-teams ace, brought in to help a unit that gave up three return touchdowns last season. Asa Jackson might help in the return game, and Danny Gorrer is likely the dimeback in four-receiver sets.
Safety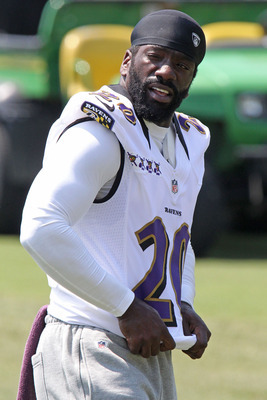 Mitch Stringer-US PRESSWIRE
1) Ed Reed
2) Bernard Pollard
3) Sean Considine
4) Christian Thompson
5) Omar Brown
Future Hall of Famer Ed Reed threatened to hold out for a new contract, but eventually showed up at camp for his 10th season. He has become a tackling liability, but still excels in coverage.
The Ravens typically don't keep five safeties, but with the preseason Omar Brown has had, he HAS to be on this team. He's the type of player whom the team loves. If the ball is on the ground or in the air, he's got his eye on it.
The depth at the safety position is lacking after the departures of Nakamura and Zbikowski in the offseason. Considine is not the answer. They need rookie Christian Thompson to be ready to play if/when Ed Reed gets hurt.
Special Teams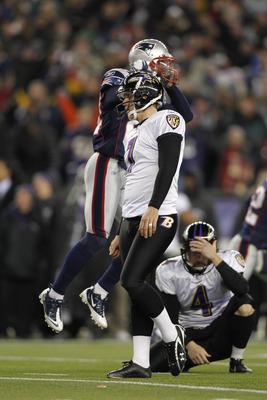 Greg M. Cooper-US PRESSWIRE
Kicker: Billy Cundiff
Punter: Sam Koch
Long Snapper: Morgan Cox
As much as fans would love to see undrafted rookie Justin Tucker win the kicking job, I doubt Coach Harbaugh lets it happen. This is ridiculous. Why have a competition if there is no way for Tucker to win?
I know I'm biased, but Sam Koch is one of the best punters in the league and one of the most underrated players on the Ravens. His 46.5 yards per punt average is only half the story.
When the offense struggles, he is able to change field position, pin the opposing team deep and give the Baltimore defense a chance to do what they do best.
Keep Reading

Baltimore Ravens: Like this team?