Cardinals vs. Raiders: What to Watch for in Preseason Week 2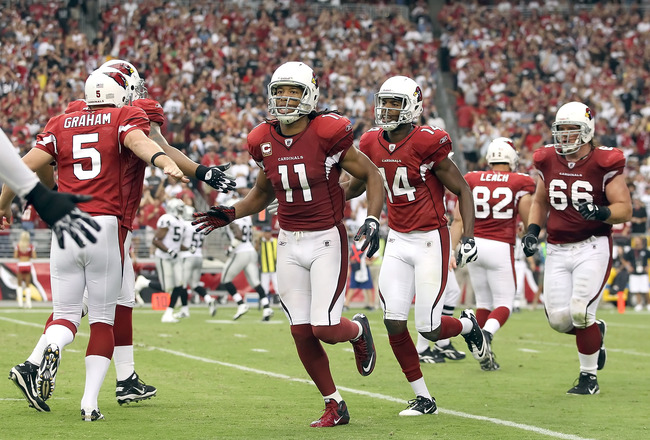 Christian Petersen/Getty Images
After a rough two-week stint against the Saints and Chiefs, Arizona looks to correct its prior mistakes and turn things around.
Albeit, it won't be easy as Darren McFadden and the Oakland Raiders roll into the desert. The Cardinals defense can't afford to make the same mistakes they made before because the Raiders have a high-flying offense that can put points up in a hurry.
The Cardinals will be looking to get their offense kick-started, as they've only managed a measly 13.5 points a game in their first two contests.
Let's take a look at the five most important things to keep in mind while you watch the game.
Stewart Bradley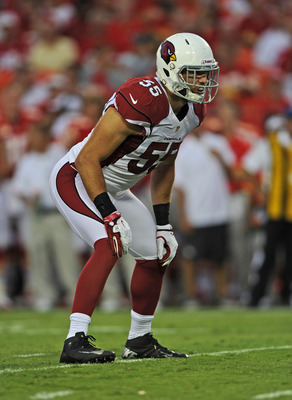 Peter Aiken/Getty Images
Ever since Paris Lenon went down with an ankle injury in the Hall of Fame game, backup Stewart Bradley has been working hard to take away his first team spot.
As a fill-in against the Saints, Bradley showed his worth, finishing the game with seven tackles and a sack. An encouraging sign, in light of the fact Lenon has been on a downward spiral since the beginning of last season.
Pro Football Focus had Lenon as its second-lowest graded inside linebacker. In limited pass rushing opportunities he failed to generate much pressure at all, yet his biggest downfall was playing the run.
Bradley has had his fair share of rough moments as well, especially against the Chiefs. He failed to make little impact and was swallowed up in the run game by Tony Moeaki time after time. Moeaki's best block of the night came on Shaun Draughn's four-yard touchdown run. The block blindsided Bradley and completely sealed him off from the play.
Look for an uptick in play tonight if he wants to keep making progress on the inside linebacker position next to Daryl Washington.
Kolb vs. Skelton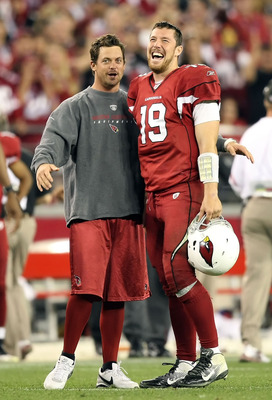 Christian Petersen/Getty Images
It feels like there isn't a day that goes by where someone isn't either writing or talking about the Cardinals quarterback competition. Quarterback competitions fill the news cycle with hourly updates and they make for a good storyline, but I can guarantee Arizona doesn't want one.
They want either Kevin Kolb or John Skelton to take this job and run with it. Preferably Kolb, only because there is a lot of money tied up in his contract and they gave up a pretty penny to get him.
However, based on previous weeks performances, the leg up has to go to Skelton, as he's slightly outperformed the 65 million-dollar man. Neither player has had eye-popping statistics, yet Skelton has separated himself by throwing the ball to Larry Fitzgerald, showing good pocket presence and having a better command of the huddle.
It appears as if Kolb will get the nod tonight, but both players should see equal reps for a fair evaluation.
Tonight may be the night where one player has that breakthrough moment and seals the deal, or it may be another painful night for the Arizona Cardinals first-team offense.
First-Team Defense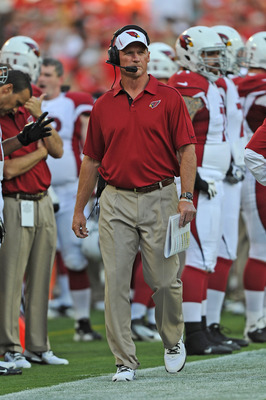 Peter Aiken/Getty Images
There's no question that Head Coach Ken Whisenhunt and Defensive Coordinator Ray Horton are disgusted and baffled by the poor tackling and bonehead mistakes on defense.
As I mentioned in a previous article, the Cardinals first 17 out of 20 defensive plays against the Chiefs resulted in an error made by at least one player. A number that high is unacceptable, considering this is their second year in Horton's defense.
You can almost bet practice this week included a lot of tackling drills and installation periods. Sometimes a step back will help you move two steps forward in the right direction.
A fifth preseason game could end up helping this team quite a bit as it allows for one more week of preparation and live game action.
The Cardinals had the eighteenth-best defense in the NFL and they came on strong at the end of the year, so it shouldn't be too far fetched for them to turn things around—they only have one or two new starters from a year ago.
Ryan Williams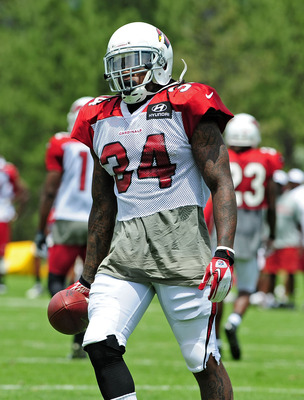 Jennifer Stewart-US PRESSWIRE
For the first time since being drafted by the Arizona Cardinals in 2010, it appears as if Ryan Williams will suit up and take the field.
Williams was a second-round draft selection out of Virginia Tech. When he was drafted it appeared as if he was going to come in and split carries with the then-faltering Beanie Wells. At the time Wells hadn't shown he could stay healthy or be overly productive.
But before the preseason even started he blew out his patella tendon and was placed on injured reserve. Wells went on to rush for over 1,000 yards and ten touchdowns.
LaRod Stephens-Howling has filled in the first two preseason games as the primary back with Wells and Williams both on the shelf. We will probably see a good mix of Stephens-Howling and Williams tonight, but don't count on too much exposure—they will want to play it safe since it's his first live action in over a year and a half.
Offensive Line Play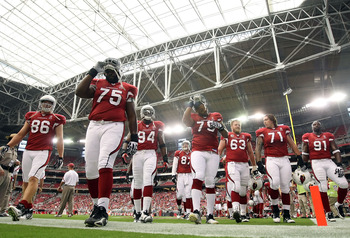 Christian Petersen/Getty Images
This past offseason, the Arizona Cardinals threw a lot of money around on the offensive line. And up to this point they haven't lived up to their end of the deal.
Adam Snyder and Levi Brown received a large chunk of the money, but that hasn't seemed to help their skills any. Both Brown and Snyder are regarded as two of the worst pass-blocking linemen at their respected positions.
Which could be a major reason as to why the protection schemes have been awful the first two games. Todd Heap provides quite a bit of help in pass protection, so don't be surprised if he is kept in to help out either Brown or Jeremy Bridges.
Arizona would prefer not have to keep the tight ends in, but with the way Kolb and Skelton have had to run for their lives, it would make the most sense to keep them in.
One player to keep an eye on tonight is rookie right tackle Bobby Massie. He has flashed some ability at times over the past couple of weeks, let's see if he can even out his play and string together a couple of consistent drives.
Keep Reading

Arizona Cardinals: Like this team?