Washington Redskins vs. Chicago Bears: 5 Things to Watch Not Named RG3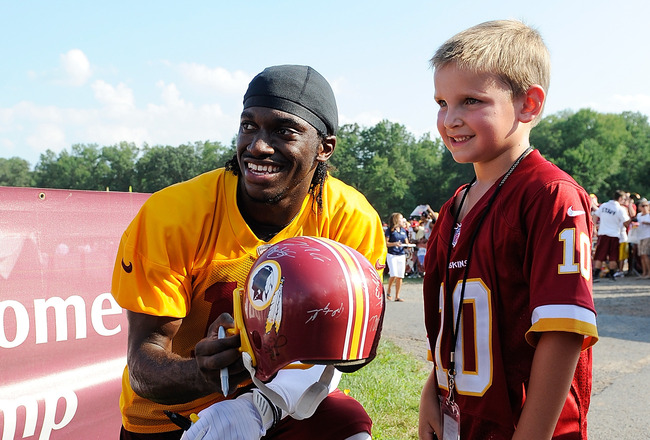 We'll be watching this guy...on the left
Patrick McDermott/Getty Images
This Saturday at 8:00 p.m. ET, The Washington Redskins take on the Chicago Bears in a preseason game sure to be watched by millions. All Redskin faithful will have eyes on Robert Griffin III to see if he can build upon last weeks strong outing against the Bills.
But besides RG3, what should we be watching for in this game? Well, the Washington Redskins have questions everywhere, and, despite the excitement of the fans, there is plenty of work to be done.
This week, the first string should play a full quarter of football, giving us a more realistic view of where Washington is with regards to other NFL teams.
Here are five story lines within the Washington Redskins that will play out during the game against the Bears on Saturday.
The Offensive Line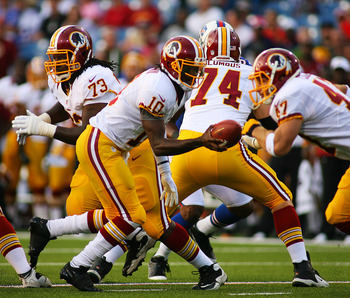 Can they run block?
Rick Stewart/Getty Images
It seems obvious to many that the offensive line of the Washington Redskins is a huge question mark for several reasons. For example, they have already suffered four injuries to starters, and the season is still three weeks away from opening.
Last week, the "starting" line had three backups in it and they performed admirably in the seven pass plays, protecting RG3 from the defense. However, they struggled in opening running lanes for the running backs.
This week, they get a full quarter of play with RG3 under center to show they have ironed out their blocking assignments and are ready to face an entire season of protecting their quarterback.
It is my belief that the Redskins can go only as far as their line can take them this year. With that in mind, watching the right tackle position (I don't believe we're going to see Jammal Brown as starter this year—he may be done) and the left guard position might be a good idea. The starters of those positions during preseason may be the starters for the whole season.
This line needs to open running lanes and continue to protect RG3 for the entire quarter of play he's in the game.
Watch to see if they do.
Defensive Pressure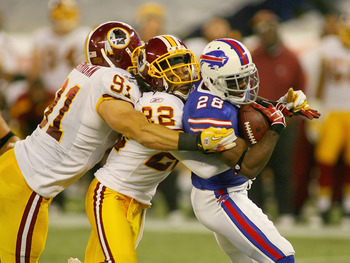 Rick Stewart/Getty Images
This week, we should be watching the front seven to see if the much anticipated pressure becomes a reality.
With Chris Neild out for the year due to a knee injury, watch to see if former practice squad member Chris Baker continues to tear it up. Last week, he looked fantastic in limited playing time, and he is now the primary back up to Barry Cofield.
Look to see if Jim Hasslet continues using the outside linebackers in new ways, such as last week when they lined up at the 4-3 defensive end position for a few plays.
The pressure the Redskins can bring against the Bears will be a telling indicator of whether the Washington defense is going to be able to bring enough pressure to support their suspect secondary this year.
Interceptions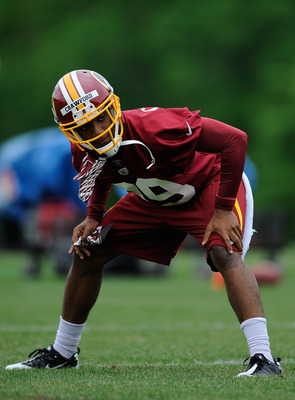 Richard Crawford
Patrick McDermott/Getty Images
Last week, only Richard Crawford manged to hang onto his interception opportunity. The rest of the defense was channeling Carlos Rogers and kept dropping the ball.
Did the defensive coaching staff work on this over the last week? Will the pressure brought by the front seven provide for more opportunities this week? Will they hang on to the ever-loving ball?
Turnovers are a big part of the Redskins defensive philosophy, but they have come up woefully short on them for the last few years. This year, it seems they have a lot of ball hawks fighting for roster spots in the secondary.
Watch to see that the secondary knows their assignments, communicates with each other and begins to develop a rapport with each other.
And, of course, see if they can catch the stupid football.
New Blood to Watch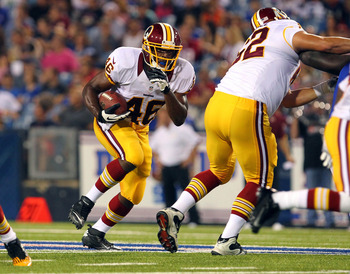 Alfred Morris
Timothy T. Ludwig-US PRESSWIRE
Last week at Buffalo, several young players showed that they were hungry for roster spots.
Alfred Morris might be able to steal a spot away from constantly-injured Roy Helu, or even Tim Hightower, if he keeps up the solid running he showed last week.
Richard Crawford pulled in the only interception of the night.
Chris Baker looked like a beast at both nose and end.
This week, look to see if these players continue to impress the coaches and strive to make themselves a valuable commodity.
Also watch Josh LeRibeus and Adam Gettis to see if they show improvement in their play. Both of these linemen may find themselves with considerable playing time this season if they can impress the coaches over the next few weeks.
Look to see if Jordan Bernstine, who was almost assuredly playing for a position on the practice squad, gets into the game as a defensive back or kickoff returner. He has impressed in camp, and the coaches may want to see him in action against the Bears.
Old Blood to Watch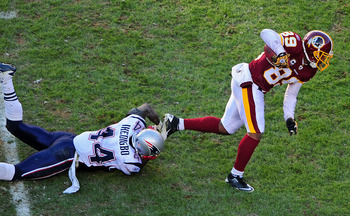 Santana Moss
Scott Cunningham/Getty Images
While preseason is always about gauging the rookies and young guys, this year the Redskins have a few battles going on for roster spots and playing time involving, not just established players, but fan favorites as well.
Santana Moss has been nothing short of reborn in training camp, but didn't see any action last week. Will he get out there with the first team this week? Will he show us why he belongs on this team at a crowded receiver position?
How about Chris Cooley? Will he get to step into that tight end position and put to rest the speculation that he's looking at third team on the Washington depth chart? Personally, I think Cooley is one stupid mistake by Fred Davis away from starting as tight end, so I doubt he'll be traded or let go this season. He's fighting for the chance to retire as a Redskin, and be part of the Washington turn around we all see coming.
Will DeAngelo Hall fit into his new role inside and at nickel? Will he show the ball hawk skills he is supposed to be famous for and snag an interception this week?
And finally, will fan favorite Brandon Banks be offered another chance to prove he belongs in this league as a receiver?
Keep Reading

Washington Redskins: Like this team?