AFC South Week in Review: Are the Texans Still Favorites?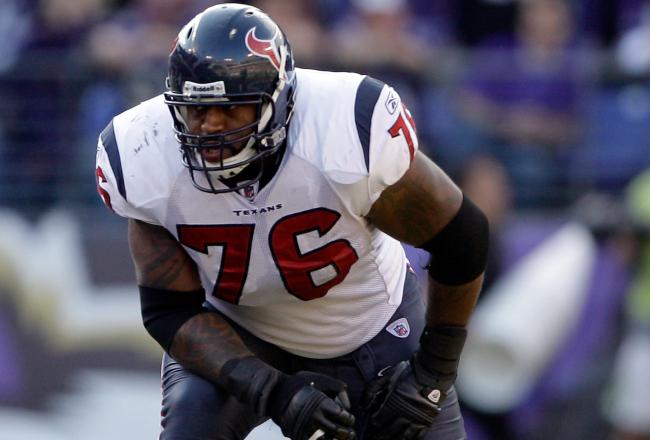 This man is ready to knock you down. He'll stay that way for a long time.
Rob Carr/Getty Images
There were big stories all over the AFC South this week. Here's what they were and how it changes our perspective on how the division race will stack up in 2012.
Houston Signs Duane Brown to an Extension
The Texans get the top spot in this week's list, because by all measures they are still favorites to win the division.
With no bad news for the Texans, and the fact that they signed one of the game's premier linemen to a long-term extension, I can't find any reason to knock the Texans off the top spot.
Until further notice, they are still the class of the division and have gone to work putting their house in order for the years to come.
Jake Locker Closes in on the Starting Spot
Jim Wyatt of The Tennessean wrote that Jake Locker will start the second preseason game for the Titans. That's good for the Titans, but there hasn't been much to go with it.
As Kenny Britt still waits for word on his suspension and Chris Johnson looks eerily like he did last year, it's hard to feel like things are going well for Tennessee.
It's interesting to hear how perspective on the Titans' battle has chaned in just a few weeks.
Before the season, I ranked the Titans behind the Texans but closer to first than third place. I could see a scenario where the team took off and made a strong showing, but much of that depended on Britt.
With Britt hurt and likely suspended for the start of the year, I can't see the good news about Locker as enough to elevate the team to the next level. In fact, I think the Titans are closer to the Jags and Colts than they are to the Texans.
Who is the favorite to win the AFC South?
Injuries Mount for the Jaguars' Offensive line
Vito Stellino of the Florida Times-Union tells us that Eugene Monroe was taken out of practice with a head injury. This is just the latest in a string of bumps and bruises for the Jaguars on the offensive line.
I am strongly considering moving the Jaguars down a spot in my division rankings, but want to hold off one more week.
No matter how you feel about Blaine Gabbert, everyone agrees that he doesn't handle the pass rush well. I don't buy the "crumbles" meme or that he's scared. However, he obviously needs good protection to thrive.
The Colts have the opposite problem as the Jaguars. The Jags have a strong roster with a weak line (at least until players get healthy) and a quarterback who can't handle pressure. Indianapolis has a weak roster with a quarterback who was spectacular when rushed last week.
It doesn't matter if Gabbert has improved or not if the Jaguars can't protect him. This is a team that is offensive line-centric, and injuries up front make it hard for me to see them as any better than a third-place team at this point.
They are trending the wrong direction, but if they get everyone healthy, there's obviously more than enough time to rally.
Pat Angerer is Lost for Six Weeks
Chuck Pagano announced that the Colts starting linebacker is out for more than a month with a broken foot, and it's this news that keeps me from elevating Indianapolis over Jacksonville.
Andrew Luck is vastly superior to what I could have imagined, and I can't help but wonder what he could have done with the Colts' roster last year.
The current Colts simply don't have the kind of talent, especially on defense, to win a lot of games in 2012, and losing Angerer is a bridge too far for the Colts to recover from.
Luck will have a monster year, but he'd have to play at a Pro Bowl level to get this team more than five or six wins.
Indianapolis will be better than I thought simply because Luck is better than than I realized, but I'm still not ready to push this roster past the five win plateau in 2012.
Current 2012 Projections (original projection)
Houston Texans 11-5 (10-6)
Tennessee Titans 8-8 (10-6)
Jacksonville Jaguars 5-11 (6-10)
Indianapolis Colts 5-11 (4-12)
This article is
What is the duplicate article?
Why is this article offensive?
Where is this article plagiarized from?
Why is this article poorly edited?