Three combined NBA MVP awards, 33 combined All-Star appearances, eight combined NBA championship rings and four combined Defensive Player of the Year awards make the starting lineup of the 2012-2013 Los Angeles Lakers the best in the NBA.
To put those 33 All-Star appearances among the starting five in perspective, the starting lineup of the Boston Celtics has 27 All-Star appearances, the Miami Heat's starting five has 23, and the veteran San Antonio Spurs' starters have 19.
Even before the Lakers' impressive offseason—clearly the best offseason of any NBA team this summer—they sported an impressive core of Kobe Bryant, Pau Gasol and Andrew Bynum.
Now, with the additions of two-time MVP Steve Nash and three-time Defensive Player of the Year Dwight Howard, the Lakers are back to being serious championship contenders with the best starting five in basketball.
For the first time in over a decade, the Lakers have a true point guard. Even though Nash is at the tail end of his career at 38 years old, he's still playing at an extremely efficient level. He led a supporting cast of role players to a .500 record last season, nearly leading the Phoenix Suns to an improbable playoff berth. Although Nash may no longer be considered a top-five point guard in the NBA, he's certainly still among the top 10.
During his three MVP-caliber seasons with the Suns from 2004 to 2007 (within which Nash accumulated back-to-back MVP awards), the South African-born floor general led Phoenix to 177 regular-season wins.
If we estimate that the Charlotte Bobcats would have won nine games total had the NBA had a normal 82-game schedule last season (instead of winning seven in their 66-game season), it would still take the Bobcats 20 seasons to win as many games as Nash and the Suns did in three seasons.
Nash has simply made a living in the NBA by running an efficient offense, making all of his teammates better and winning games. If he's given the same opportunity in Los Angeles, there's no reason why that trend shouldn't continue.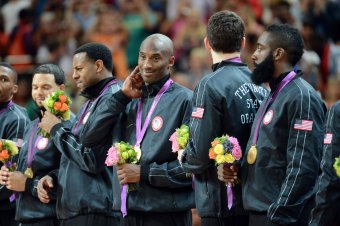 Harry How/Getty Images
At shooting guard, ho hum, the Lakers have one of the best players in the NBA. Bryant has five rings to his name, two of which he won as the Lakers' unquestioned alpha dog, and three more from when Shaquille O'Neal was on board.
Even though Bryant will turn 34 years old on August 23rd, he's still the Lakers' leader and is always hungry to win.
At small forward, Metta World Peace sticks out as the Lakers' lone weak link in the starting five.
Even though World Peace hasn't had his best NBA seasons in Los Angeles and his name change didn't make him any more peaceful, he's still a former NBA Defensive Player of the Year who prides himself on locking down opponents. Sure, he was rumored to be amnestied this summer, but at least the Lakers upgraded with the trigger-happy Antawn Jamison off the bench.
At power forward, Gasol has become one of the most underrated and underappreciated players in the entire NBA by a mixture of trade rumors, his "soft" label and a minor tendency to fade statistically in the postseason.
Even though Gasol's stats (17.4 points and 10.4 rebounds per game) last season were seen as a down year, 90 percent of players in the NBA at his position would love to be able to call those numbers a "down year."
Also, fans often forget just how dominant Gasol was in the NBA Finals in 2009 and again in 2010 when the Lakers won back-to-back titles. Over the course of those two series, Gasol averaged 18.6 points, 10.4 rebounds and 2.2 blocks per game. So much for fading in the clutch.
Finally, although he's currently recovering from back surgery, Howard brings a dominant post presence that Lakers have gotten used to seeing over the decades (joining a list that includes Kareem Abdul-Jabbar, Wilt Chamberlain and O'Neal).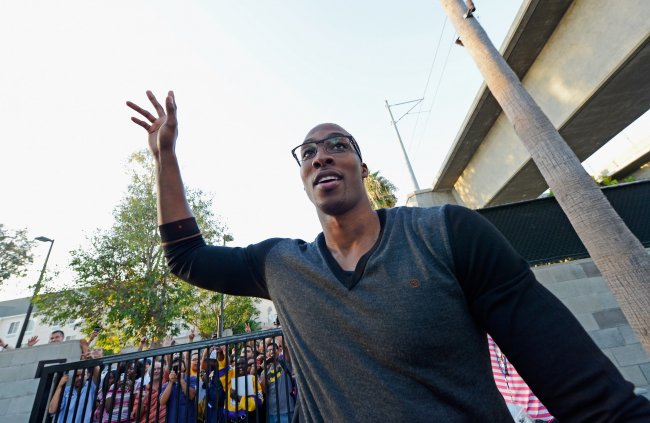 Kevork Djansezian/Getty Images
Last season, Howard ranked No. 1 in the NBA in rebounds (14.5 per game), No. 2 in field-goal percentage (57.3 percent) and No. 3 in blocks (2.16 per game). He was the only player in the NBA to rank in the top five in all three categories.
Howard is simply a dominant interior presence who has already shown the ability to carry a team to the NBA Finals. He did so in 2009 with the Orlando Magic.
On paper, the Lakers have the best starting five in the game. But that's the problem. Right now, the Lakers' success is only reflected by names and numbers.
Nash and Bryant are getting up there in age, while Howard's health is very much a question mark coming off of back surgery. Howard may not start the season healthy, and there's sure to be some growing pains along the way (a la the Miami Heat when they first assembled their Big Three).
At the moment, we can only speculate as to what this band of superstars can do out on the court. Even so, this team's championship odds are right up there with the Miami Heat and Oklahoma City Thunder.
If they fall short of winning the Larry O'Brien Trophy, the season will undoubtedly be viewed as a failure. But regardless of what happens at season's end, this team will be fun to watch.