4 Things We've Learnt About New FC Barcelona Manager Tito Vilanova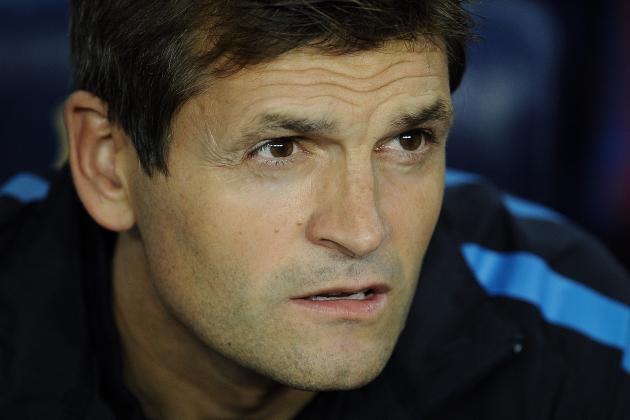 David Ramos/Getty Images

Barca's preseason is winding up and the real business now begins for Tito Vilanova's side this weekend with their La Liga clash against Real Sociedad.
The Catalans were less than convincing in their preseason campaign. While they went unbeaten, it took penalty shootouts to overcome their only real tests in Paris Saint-Germain and Manchester United.
Similarly, little can be taken from their emphatic 0-8 victory over Morrocan club Raja Casablanca. Who? Exactly, that is my point.
However, preseason is preseason and Vilanova has already stated he prefers a tough one. It is less about results and more about performance and fitness levels.
On that note, Barca's mediocre preseason results are nothing to worry about.
So what have we learnt about the new boss Tito Vilanova?
Begin Slideshow

»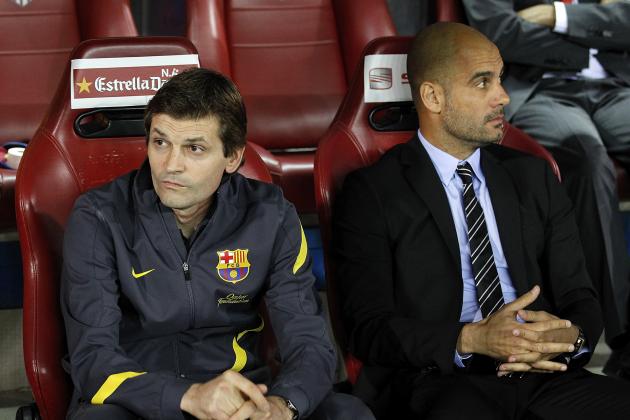 Angel Martinez/Getty Images
Tito Vilanova, in Pep's shadow no longer.
You would be forgiven if you tuned in this weekend to watch Barca play and thought Pep Guardiola had never left.
The reality is that Tito Vilanova is not new to this Barcelona squad. He's always been there.
Like Guardiola, he was part of La Masia as a boy, and he later joined his childhood friend as assistant manager when the pair took over Barcelona B in 2007. He has since continually been in Guardiola's ear during four years of unprecedented first team success.
One gets the feeling that the man previously in the shadows has had more to do with Barca's success than he is often given credit for. Javier Mascherano has praised Vilanova's influence, claiming the new figurehead has "always been an important part of the team's successes."
Vilanova's philosophy is the same and the Blaugrana will continue to play their unique, fluid, possession based game.
That being said, every new manager brings his own flavour to a team and Vilanova will undoubtedly make subtle adjustments to Barca's game.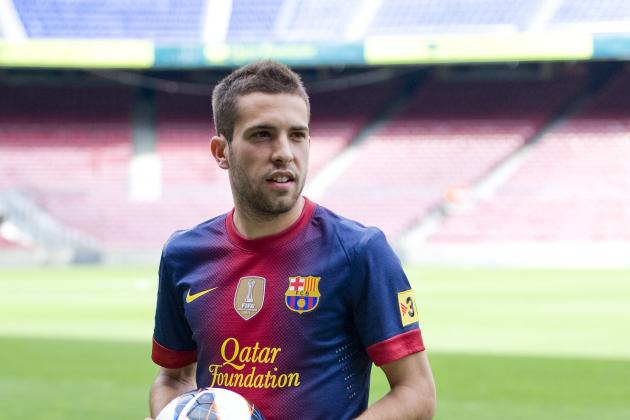 David Ramos/Getty Images
Jordi Alba will be a key part of the new back four.
Pep Guariola's 3-4-3 experiment garnered mixed results.
While it accommodated Cesc Fabregas, it did little other good for Barca.This tactic congested Barca's midfield and made play much narrower. While it would sound like having less defenders would benefit Barcelona's attacking game, it did not. Playing without fullbacks did, however, make Barcelona more shaky at the back and they were brutally exposed on the counter attack a number of times.
What Guardiola forgot was the importance of fullbacks in Barcelona's play, particularly the pivotal role of Dani Alves. In Barca's famous 4-3-3, the fullbacks provide width, which stretches the opposition defence and creates space for the front three. Further, they provide necessary outlets for the likes of Xavi, Iniesta and Busquets.
Vilanova played with a traditional back four in each of Barca's preseason games and there is every indication that this will be the norm for the coming season. The signing of Jordi Alba and the promotion of Martin Montoya also points to Vilanova's recognition of the importance of fullbacks in his team's game.
Expect to see plenty of bombing runs from the likes of Alba and Alves this season.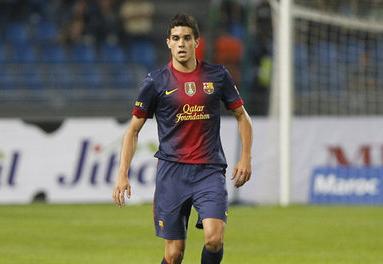 Marc Bartra has proven to be a favourite of Tito.
Tito Vilanova knows the quality of Barca's famous youth system as well as anyone. Not only did he grow up in it as a player, but he also began his career in management with La Masia's Cadete B team in 2001.
Preseason saw Vilanova cast his eye over a number of bright youth prospects from Barca's B team, and there is every indication that he liked what he saw.
Twenty-year-old midfielder Sergi Roberto played the second most minutes in preseason, with 293, and looks to have caught the eye with a number of impressive performances. In a recent article, I praised the midfielder's rounded game, along with other players who also shone in preseason games, including Deulofeu and Rafinha.
It is, however, newly promoted centre back Marc Bartra who has probably benefited the most from his preseason chances. His performances have earned him praise from his captain Carles Puyol and he could provide Barca with much needed depth at the back.
Indeed, Jonathan Dos Santos, one of the other three players promoted from the B team this season, has confirmed that Vilanova will "continue to rely heavily on the youth teams."
While Guardiola did not fail to promote youth himself, he also struggled to give promising players like Bojan, Jeffren, Thiago and Fontas the minutes they deserved. Perhaps the Vilanova era will see even more homegrown players blossoming.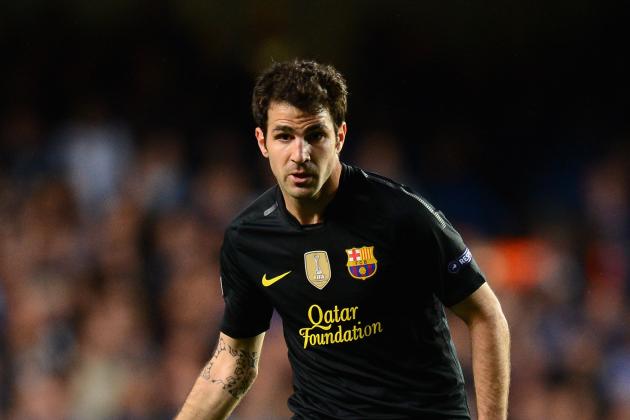 Mike Hewitt/Getty Images
Fabregas will be looking to improve this season.
Earlier I mentioned that Vilanova coached the 2001 Barcelona Cadete B team. This was not any old youth team, but possibly Barca's best in recent years. The team included Lionel Messi, Gerard Pique and Cesc Fabregas, three players that are likely to be key to Barcelona's future in the coming years.
Fabregas' first year at Barca has been reviewed with mixed enthusiasm. At times he looked lost in Barca's midfield and Guardiola struggled to accommodate his presence. This week, Fabregas spoke out himself about never really understanding Guardiola's system.
Vilanova, however, knows Fabregas better than anyone and has, according to FCBarcelona.com, already given the dynamic midfielder new instructions.
"Tito has made it clear that I need to play the way I know. I have to be mobile, look for space and help my team-mates by playing the easy ball."
Indeed, in preseason Fabregas appeared more aware of his role in midfield and showed an eagerness to make things happen in the final third.
Fabregas is not the "next Xavi." He is a player of different strengths and weaknesses and Vilanova must find different ways to make Fabregas fit. Barcelona based tabloid SPORT is already spreading rumours about how this could be done.
Either way, Xavi and Iniesta will not be around forever.
You can also check out another of my recent articles: