Updating Arizona Cardinals' Key Position Battles in Training Camp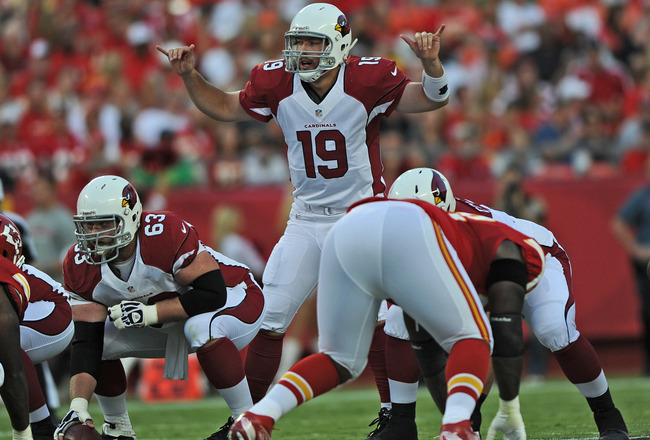 Does John Skelton have the starting job locked up?
Peter Aiken/Getty Images
We are now almost halfway through the preseason, and while that is great news for most football fans, some have grown concerned.
Arizona has lost its last two games to the New Orleans Saints and the Kansas City Chiefs. In both games, the team has looked sloppy. From missed tackles to interceptions, it certainly has not been fun to watch.
Through all the negative, however, there is still some positive. There are three preseason games left to play and a lot of practice time between now and September 9.
There have been a lot of developments over the past couple of weeks, both positive and negative, that will have a pretty big impact on this team.
The Cardinals have several key position battles taking place, and every player involved is under the microscope.
Now that we are almost halfway through camp, it is time to take a look at those position battles once again.
Who has the edge and who will come out on top in each matchup is just a few clicks away.
Quarterback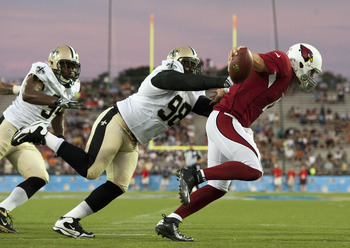 Jason Miller/Getty Images
The battle between Kevin Kolb and John Skelton for the starting quarterback job is usually the first thing that people think about when discussing the Arizona Cardinals.
By now, most of you are probably aware of the controversy at this position and the main argument that can be made for each player. Last year, Skelton had a 6-2 record, but was statistically worse than Kolb.
It is not about last year, though. It is about what these two do in practice and in the preseason games, which, to this point, has not been much.
Kolb has completed just two of his nine passes for 25 yards. He has also thrown an interception and has a 0.0 quarterback rating.
The sad thing is that Skelton has not been much better, either. He completed seven of his 12 passes for 67 yards and a pick.
Coach Ken Whisenhunt is not the most outspoken guy in the world, but he is getting frustrated with the quarterback play as of late.
At this point, all signs seem to be pointing towards Skelton. Despite the reports that he is the favorite to start, Whisenhunt says that they are going to "stick to the process."
Kolb is getting the nod against Oakland this Friday, and he is on his last legs. Another bad outing should result in a spot on the bench to start the season.
Wide Receiver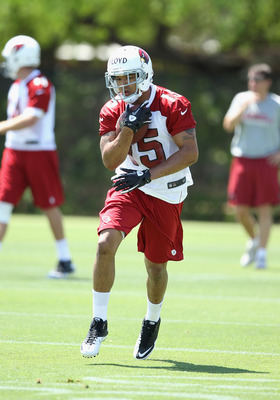 Christian Petersen/Getty Images
One of the positives over the past two games has been the battle for the No. 2 wide receiver spot. Mistakes are going to happen, but for Michael Floyd and Andre Roberts, that doesn't seem to be the case.
In limited playing time during the two games, Roberts caught four passes for 30 yards. The 24-year-old looks like he has put in some work this offseason and he is doing things that we did not usually see from him in 2011.
Michael Floyd on the other hand has received more reps, but only caught two passes for 18 yards. He has, however, made a difference in the run game, lighting up Chiefs cornerback Jacques Reeves in the third quarter of their preseason Week 1 matchup.
I did mention in a previous article that Andre Roberts would start the year as the No. 2 wideout, but with the way Floyd is playing, he could steal that role from him.
Right Tackle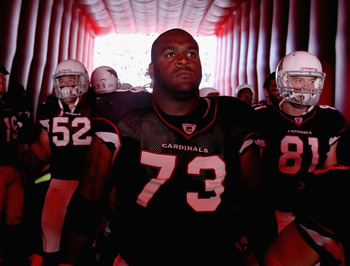 Christian Petersen/Getty Images
Ever since Arizona drafted Bobby Massie back in April, the thought was that he would challenge Jeremy Bridges for the starting right tackle spot.
Heading into their second preseason game, however, career backup D'Anthony Batiste has been named the starter.
Bridges' play has not been much of an issue to date, so it may mean that they really like what they are seeing from Batiste.
Massie will continue to occupy the backup role and Bridges will kick inside, backing up Adam Snyder at right guard.
It would be great to see Batiste step up, but I believe that it is the rookie, Bobby Massie, who will end up starting at right tackle.
Cornerback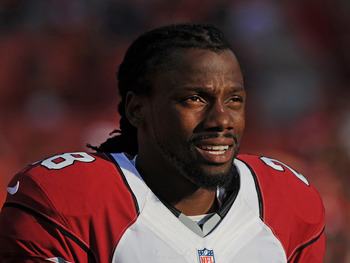 Peter Aiken/Getty Images
Heading into the 2012 season, Arizona has a lot of depth at the cornerback position. Second-year special teams star Patrick Peterson is pretty much a lock for the No. 1 spot, but aside from that, there are some question marks.
I have Greg Toler penciled in as the No. 2 corner across from Peterson; however, his health is still a concern. The 27-year-old has played in both preseason games, but he says that he can feel his knee tweaking when he speed turns or tries to get leverage.
The battle at nickel corner has been narrowed down a little bit, with the two favorites being former Steeler William Gay and rookie Jamell Fleming. Gay will likely get the nod early on, but Fleming is making a pretty good case as to why he should be the man for the job.
Against the Kansas City Chiefs, the rookie recorded three tackles and one for a loss. He has been solid in run defense, and his coverage has been up to par so far. Expect him to take over for Gay at some point during the season.
Keep Reading

Arizona Cardinals: Like this team?