Ricky Romero's 2012 Woes Continue: 10 Possible Solutions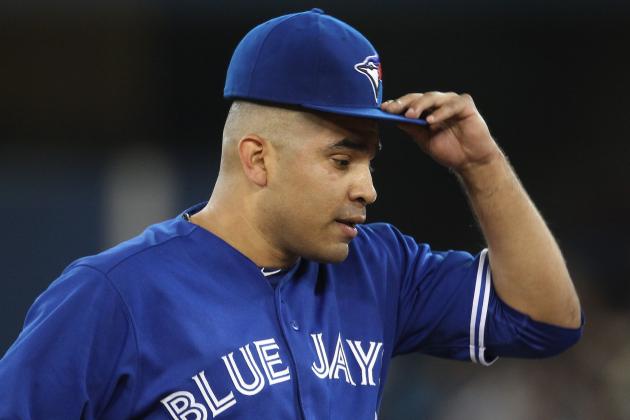 Tom Szczerbowski/Getty Images

Romero is win-less since June 22, having lost nine games since his last victory against the Marlins in interleague play.
Though he has pitched well as of late, Romero is far from the dominant ace he was last season. With a WHIP of 1.57 and a K/BB ratio of 104/79, Romero might have been sent down if he were a player by another name.
He has the same amount of walks (79) that he had all of last season (80) and has already allowed 18 more earned runs.
So what can the Toronto Blue Jays do with the guy that everyone tabbed as their ace? Everyone but me that is, as I predicted he was due for a regression.
Here are 10 possible solutions to Ricky Romero's 2012 woes.
Begin Slideshow

»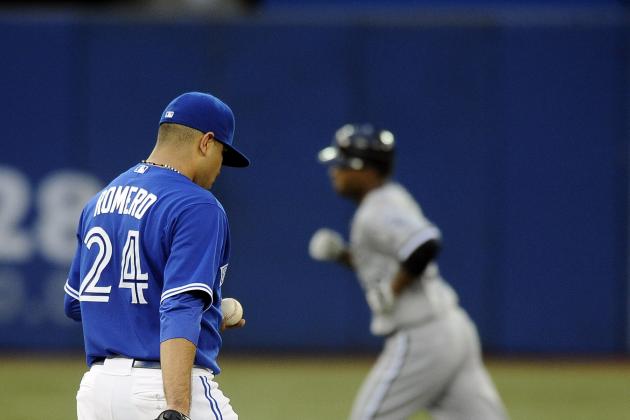 Brad White/Getty Images

Farrell has already stated that this is not an option. But that was weeks ago, and yesterday Romero gave up six earned runs (to his credit, two of those six were left on base when he left the game) in six innings.
If fans were excited that Romero threw three consecutive quality starts in a row prior to tonight, then they surely sighed in disappointment. Three consecutive quality starts sounds nice, but couple it with last night's start, and he has an ERA over 4.15 during those four starts. And don't forget his previous start, in which his ERA was over 65.00.
Perhaps Romero needs to be sent down, not as a punishment, but to work out those kinks that have plagued him all season.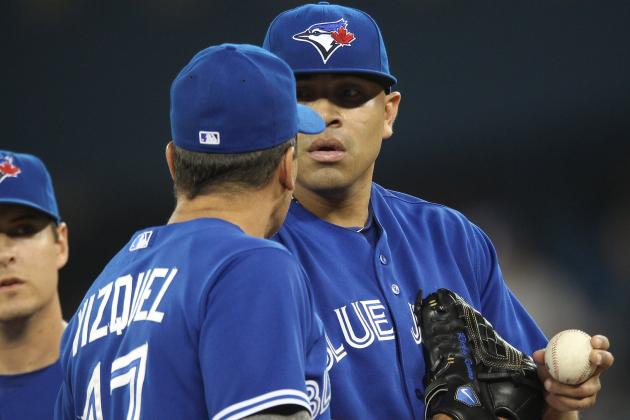 Tom Szczerbowski/Getty Images

Probably the worst solution to this mess as his value is at an all-time low.
Moreover, he is part of a young nucleus and is one of the main pieces of a tight knit clubhouse.
Trading him would lower morale and wouldn't net anything of merit.
I had to say it, yet let's pretend I did not.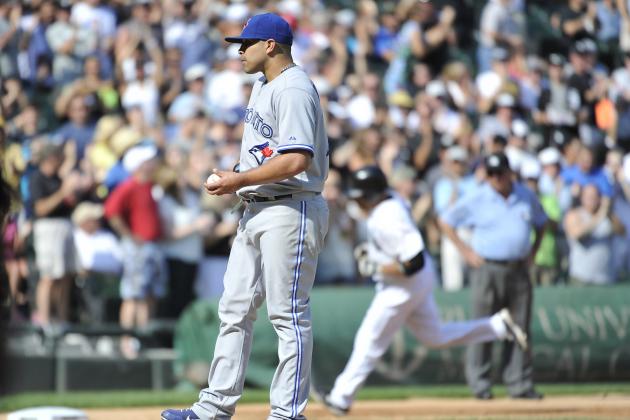 Brian Kersey/Getty Images

Let Ricky take some time off to rework some things and get his head right.
One of the biggest problems with this idea is that Romero is known as a fierce competitor and you know he always wants to get right back out there and fix his mess.
If he were to skip a start it would allow him to have roughly 10 days to really take the time to work with Bruce Walton, watch more tape of last season and get back to the guy everyone thought he was.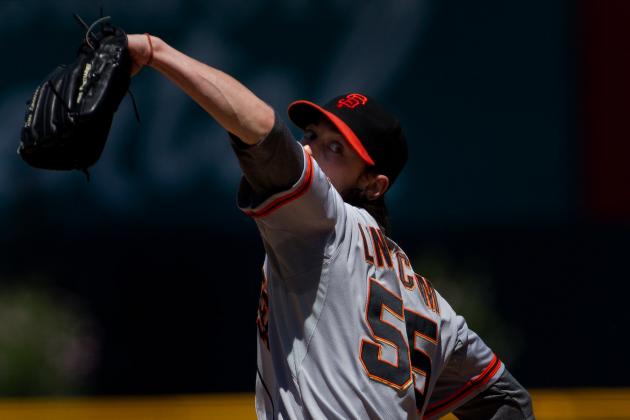 Justin Edmonds/Getty Images

I personally have never thought that Romero could be the ace of a staff that would make the post-season. He is a solid pitcher, yet cannot compete against the ace of other teams.
For argument's sake, let us look at the aces of the teams that made the playoffs last year:
TB: David Price
NYY: C.C Sabathia
TEX: C.J Wilson (16-7, 2.94 ERA)
DET: Justin Verlander
PHI: Halladay, Hamels, Lee
MIL: Greinke
ARI: Kennedy (21-4 last year)
The Jays need to attract an ace to their staff because going into any series with Romero up against any of these guys would put Toronto in a hole.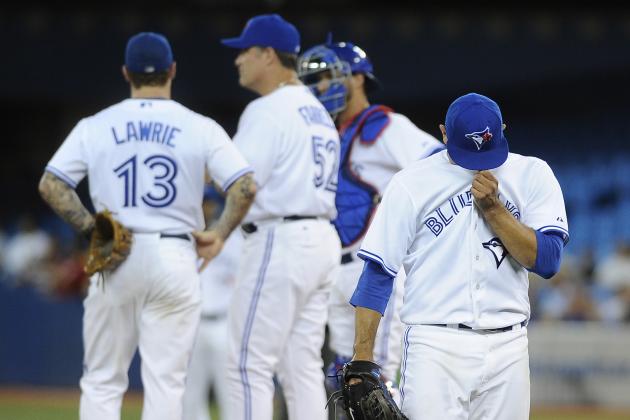 Brad White/Getty Images

I am not advising that they turn Romero into a reliever, but give him an inning or two in the 'pen to get some extra work in, and he might have some success once again.
It wouldn't hurt if Romero pitched the seventh or eighth and had a clean inning.
He needs to work on his mechanics and rediscover what made him great: command of his fastball and throwing changeups for strikes.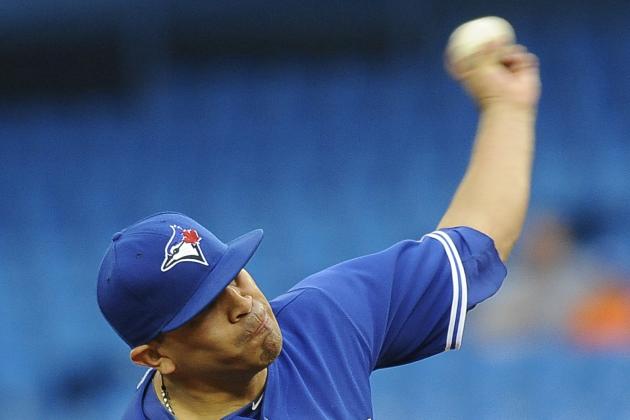 Brad White/Getty Images

Ricky needs to reestablish his fastball and get his changeup over the plate.
According to fangraphs.com, Ricky is using his fastball only 48 percent of the time, down from 60 percent last season.
His WAR is one fifth of what it was last season (2.9/0.6) and unless he recovers his fastball and makes more people swing at his change, he won't return to success.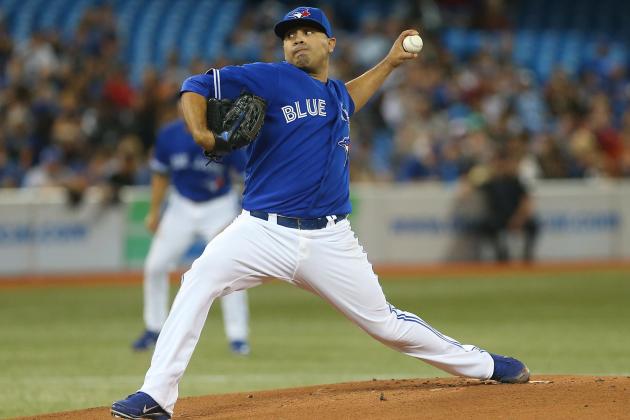 Tom Szczerbowski/Getty Images

A much tougher task this late in the season, but Romero needs some drastic changes.
I could sit here, being a former pitcher, and tell you that he could move to the other side of the rubber, alter his arm angle or follow through on his pitches, but that would just be me spinning the wheels.
With former pitcher and pitching coach John Farrell and current pitching coach Bruce Walton, I think they are smart enough to right the ship how they see fit.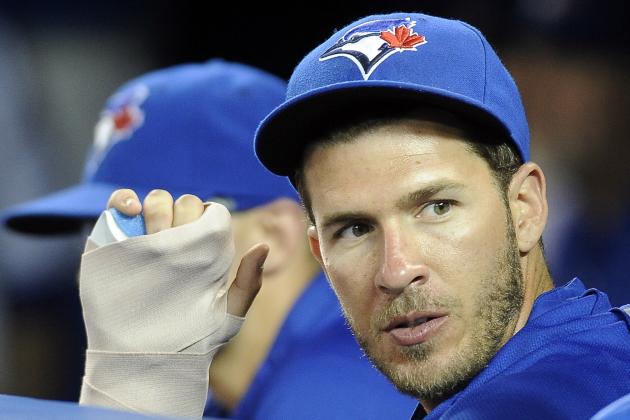 Brad White/Getty Images

J.P Arencibia and Romero are close friends, but perhaps Romero needs someone else to call his signs.
In his last six starts before J.P went down Romero gave up 33 earned runs in less than 30 innings. Since that start, he has pitched well (save last night), giving up six in 20 innings.
Maybe #teamunit should not pitch to each other.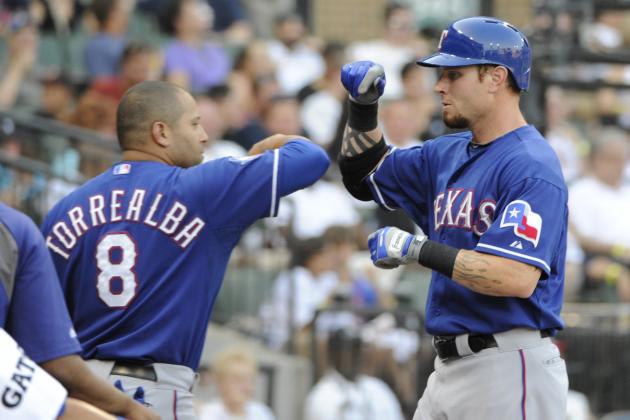 David Banks/Getty Images

Romero has made strides with Mathis behind the dish, but perhaps another veteran defensive catcher could help right the ship.
With the signing of Yorvit Torrealba a couple of days ago, maybe he could harness Romero's strengths.
According to Shi Davidi, Torrealba will be up soon as GM Alex Anthopoulos stated that Torrealba and Mathis "will share the role to start and from there we'll see how it goes."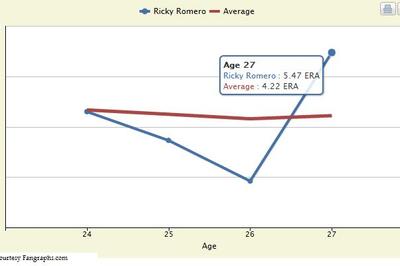 I've always hated it, and I always will.
In all fairness though, this season is definitely the anomaly along Ricky Romero's career path as the chart shows.
These things happen to young pitchers. Remember Cole Hamels' 2009? Zack Greinke's 2010? Justin Verlander's 2008?
Romero will come back strong in 2013, hopefully as the No. 2 in the rotation.
Get at me on Twitter @the__ste (Double Underscore) for fantasy advice, fantasy articles, Jays news and discussion, as well as anything else I find awesome.