Giants vs. Jets: TV Schedule, Live Stream, Radio, Game Time and More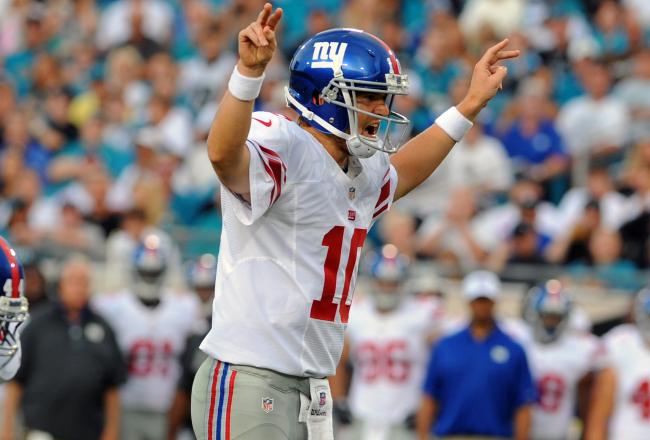 Al Messerschmidt/Getty Images
The defending champion New York Giants continue their preseason slate with a game against the rival New York Jets. As always, expectations are high for both teams in the media frenzy known as New York City, and this game is a building block toward living up to the hype.
Normally it would be the team coming off a Super Bowl victory that would receive all of the attention, but the Jets' acquisition of Tim Tebow has shifted the focus to their side throughout the offseason.
The Giants probably don't mind one bit.
These two teams faced off in Week 16 last season, and a Giants victory helped propel the team to its Super Bowl run. Saturday night's game won't carry nearly as much importance, but both sides will have a couple of goals in mind as the regular season inches closer.
Here's a look at all the important information for the game followed by what to watch for as the longtime rivals battle once again.
Where: MetLife Stadium in East Rutherford, N.J.
When: Saturday, Aug. 18 at 7 p.m. ET
Watch: NFL Network or WCBS-TV
Radio: WFAN 660 AM (Giants) or WEPN 98.7 FM (Jets)
Live Stream: Preseason Live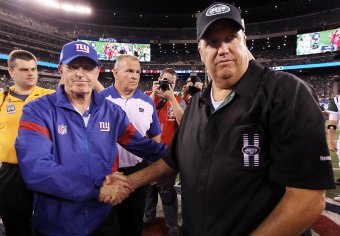 Jim McIsaac/Getty Images
What's At Stake?
Even though it's only a preseason game, the battle of New York always brings a little extra intensity to the table. That alone will make the Giants and Jets game one of the more interesting games of the weekend when most teams are just going through the motions.
The starters for both teams are likely to receive a little more playing time this week as they start gearing up for the regular season. At this point, it's all about building chemistry so they can hit the ground running when Week 1 arrives.
Both coaching staffs would be happy just to make it through with a little progress and no major injuries. Playing it safe definitely reigns supreme in exhibition games.
Key Injuries (via CBS Sports)
Giants: Shaun Rogers (out, leg), Terrell Thomas (out, knee), Martin Parker (out, back) and Justin Trattou (out, ankle/heel)
Jets: Eric Smith (doubtful, knee/hip), Santonio Holmes (doubtful, back/rib/hamstring), Stephen Hill (questionable, finger) and Jeremy Kerley (questionable, hamstring)
Fantasy Prospect to Watch: Victor Cruz (Giants)
Last season, fantasy owners were able to either snag Cruz late in their drafts or pick him up from the waiver wire after a couple of weeks when he started producing big numbers. That certainly won't be the case this season.
Cruz is now a borderline top-10 wide receiver on draft day. The key for owners will be determining if he's worth that type of investment, since Hakeem Nicks is still around and defenses should be more prepared to defend him.
A game against an elite pass defense like the Jets' will be a good test to see how he holds up with the added focus on stopping him.
What They're Saying
The Giants players have a problem. It has nothing to do with football, though. It's the beds they have been sleeping on, according to Ralph Vacchiano of the New York Daily News. Martellus Bennett summed it up best:
"I mean, we're big humans," added tight end Martellus Bennett. "Every bed is small. You can't put a damn dinosaur in a twin-sized bed, you know? Unless you've got a California king, the bed's going to be small to these guys. A large, big human jumps into a regular-sized bed, the bed's too small."
Jets linebacker Bart Scott has high hopes for quarterback Mark Sanchez this season, saying he's capable of taking his game to the next level, based on a report from Brian Costello of the New York Post:
"In year four, the game slows down for you," Scott said. "[It's] a little hiccup with a new offensive system, but when you're in the fourth year, a route is a route. You understand route combinations. You understand reading the safeties and the game should be a little slower for you. I think last year you saw [Ravens quarterback] Joe Flacco take the next step in the fourth year. You could see Mark do the same."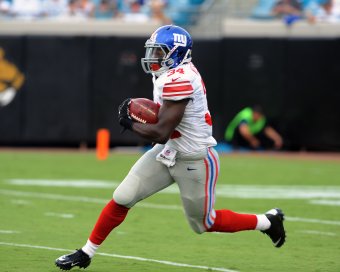 Al Messerschmidt/Getty Images
Giants Player to Watch: David Wilson
Ahmad Bradshaw is still penciled in as the Giants starting running back, but Wilson definitely turned some heads in his preseason debut last week. The rookie out of Virginia Tech gained 43 yards on seven carries and also had two catches for 26 yards.
The Giants wouldn't have drafted him in the first round unless they thought he was going to make an immediate impact. Although it was only the preseason opener, he showed a nice burst and will likely carve out a niche for himself.
If he can make big plays while giving Bradshaw a breather, the Giants offense is going to become extremely difficult to stop.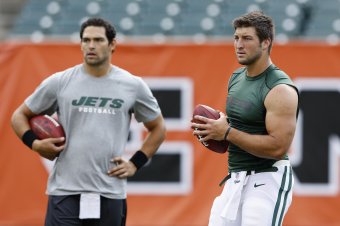 Joe Robbins/Getty Images
Jets Player to Watch: Mark Sanchez
Sanchez finds himself in a tough spot heading into the season. He knows the first sign of trouble will lead to endless talk about Tim Tebow taking over. In fact, it's already kind of started, with people guessing when Tebow Time will begin.
The bottom line is that he must improve on his career numbers. Through 47 games, he's completed just 55 percent of his passes and has only thrown four more touchdowns than interceptions. That's not good enough, but there have been signs of progress each year.
While it's only a preseason start, there will be no shortage of eyes on Sanchez to see how he performs. He needs to elevate his game and take firm control of the job.
Which side will win the battle?
Key Matchup to Watch: Giants pass rush vs. Jets offensive line
The Giants are at their best when the pass rush is clicking on all cylinders. The defense features no shortage of players able to get after the quarterback, and that makes it nearly impossible to contain them all for an entire game.
That will be a great test for the Jets offensive line, at least for a few series. Giving Sanchez a clean pocket should increase his chances of succeeding exponentially. It's easier said than done, of course, especially against the Giants.
More than anything, preseason games are a good measuring stick. The Jets line will get a pretty good idea of where it stands after matching up with the Giants rushers.
Prediction
Giants 20, Jets 14
This article is
What is the duplicate article?
Why is this article offensive?
Where is this article plagiarized from?
Why is this article poorly edited?

New York Giants: Like this team?