The Biggest Winners and Losers of Bears Camp, Preseason so Far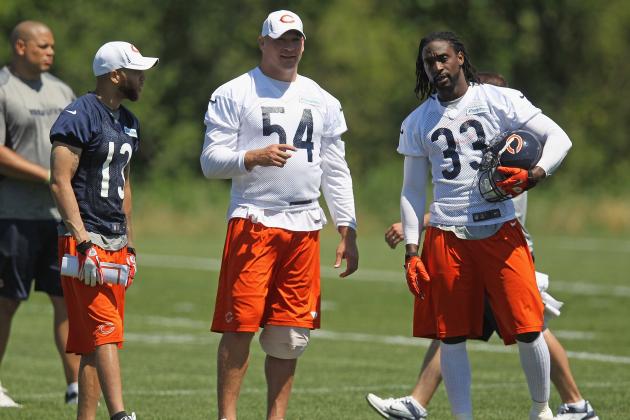 Jonathan Daniel/Getty Images
Johnny Knox, Brian Urlacher, Charles Tillman
The Bears are on the heels of their second preseason game and just about ready to break camp. At this point, we have seen enough to declare some winners and losers.
With the focus of the regular season on the coaches' and players' minds, these next couple of weeks will be key for the team. There have been a good number of players who have stood out so far and some players who have done the same with their poor play.
Here are some of the Bears who are the biggest winners and losers so far in camp and preseason.
Begin Slideshow

»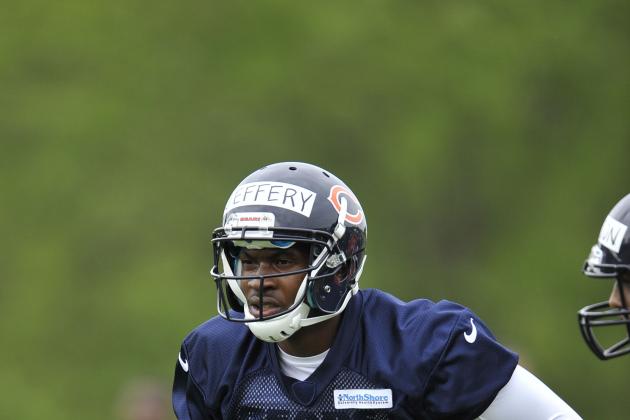 Brian Kersey/Getty Images
Alshon Jeffery
At the time of the draft, wide receiver Alshon Jeffery was considered a high-risk, high-reward player. Right now, the reward is much greater than the risk.
Jeffery has had an outstanding camp. The same guy who was brash and outspoken in college has been the consummate pro. He has kept quiet, worked hard, studied the playbook and absorbed as much knowledge as possible from coaches and veterans.
There is still much room for improvement for Jeffery, but if he stays on the course he's on now, he will not only be a starter, but a huge playmaker for the Bears this season and seasons to come.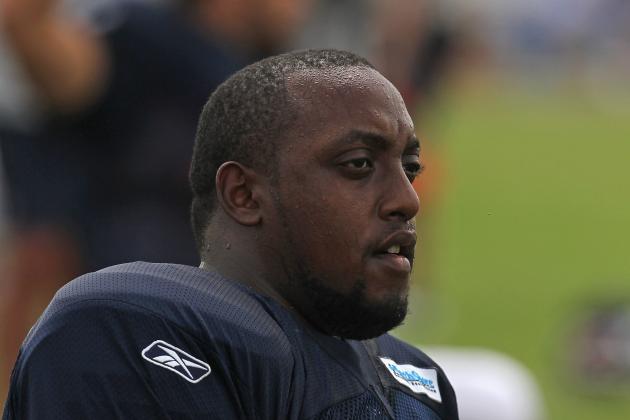 Jonathan Daniel/Getty Images
J'Marcus Webb
Right now, Webb Nation seems to be in turmoil. J"Marcus Webb started camp getting the majority of the snaps with the first team at left tackle. At this point, he seems to be losing his job to the inconsistent Chris Williams.
The spotlight in firmly on Webb right now. If the Bears have any chance to compete in the NFC North, they are going to need their offense firing on all cylinders, and that starts with protecting Jay Cutler. Is he arrogant, unmotivated or just not good? Right now, it seems to be all three.
The first preseason game against the Denver Broncos was an epic disaster for Webb. He played well into the fourth quarter when the other starters were out for quit some time. Whether offensive coordinator Mike Tice was looking to send a message remains unknown, but we do know he wasn't happy with Webb's play.
Tice told reporters recently what he thought about Webb's play from the first game.
"Chris [Williams] is over there on the left side," Tice said. "I felt Chris had a solid game. I didn't feel like the other player was up to par, as far as the standards we're trying to set to protect our quarterbacks."
It is never good when your coach refers to you as "the other player."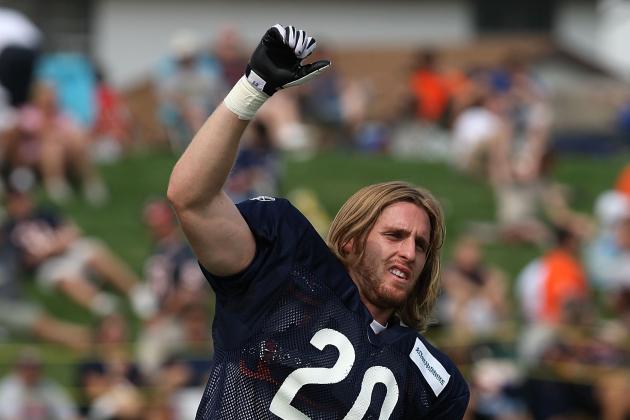 Jonathan Daniel/Getty Images
Craig Steltz
At a position where the Bears have had inconsistencies, Craig Steltz is doing his part to change that. As of now, Steltz is the No. 2 strong safety behind Major Wright, but that could change in an instant.
The strong play of Steltz goes back to last season. He had five starts where he looked strong and posted career highs tackles (48), sacks (1.0), forced fumbles (two) and tackles for a loss (three). He has made plays in camp and had a solid game against Denver in the first preseason game.
Starting the season, Steltz will be one of the Bears' biggest special teams contributors, but if Major Wright continues his career trend of injuries, then Steltz will be the next man up and might not relinquish the job once he gets it.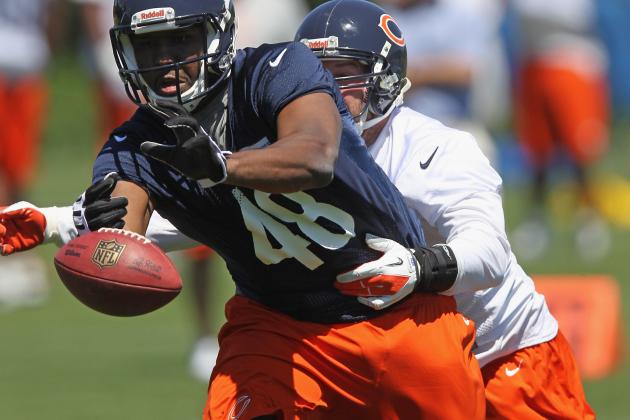 Jonathan Daniel/Getty Images
Blake Costanzo
Blake Costanzo was brought in as a free agent to help on special teams. By the way he played the linebacker position in the first preseason game, he should stay on special teams.
In the past, Lovie Smith has always looked for his backups to provide depth while playing special teams. Right now, there is no way he can trust Costanzo to play defense. Against the Broncos in the first preseason game, he looked lost. Costanzo was often seen out of his gap discipline, over pursuing on run defense and not sure where to be in pass coverage.
In the bigger scheme of things, it may not be a big deal, but if the Bears continue to have injury problems at the linebacker position, it may be a concern. He is going to have to play better in the upcoming preseason games, or the veteran could find himself cut in favor of a younger player.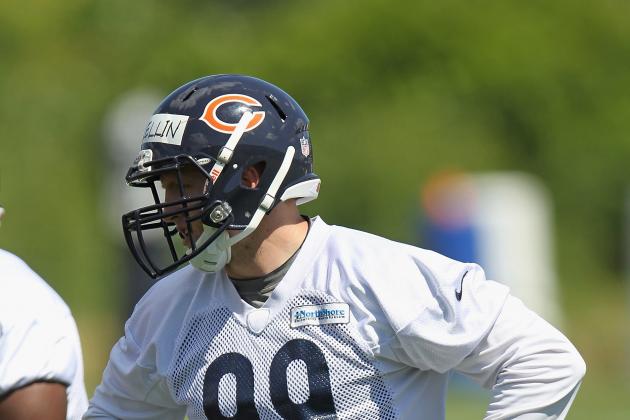 Jonathan Daniel/Getty Images
Shea McClellin
The beginning of camp was a little tough for Shea McClellin. He struggled in drills and was down on himself. Since then, he has worked hard and made good strides.
The first preseason game for McClellin was a success for the most part. The rookie showed great speed and a high motor. He got a lot of on-field experience and finished the game with a sack. There were points where he was pushed off the line and he struggled at times in run defense, but the effort was there.
McClellin has proven one thing so far in camp. He is going to work very hard to get better. The preseason games and time in camp are perfect for guys like him. If he continues on the path he is on, we will all see tangible improvements each week.
It may sound cheesy, but it is nice to see a young player be hard on himself and bounce back from a tough start. He will be a better player in the long run for having that kind of quality.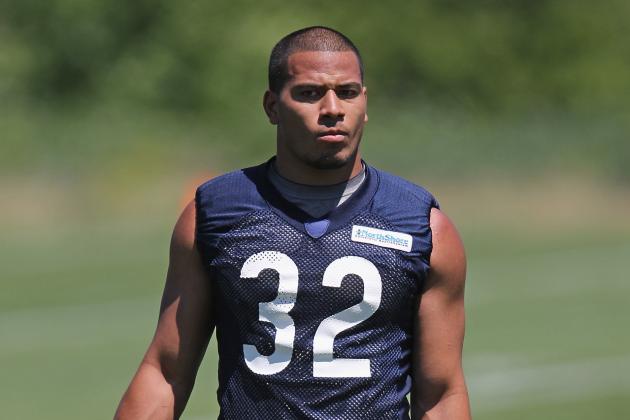 Jonathan Daniel/Getty Images
Kahlil Bell
I'm not sure if Kahlil Bell knows it, but he is in a roster battle for the last running back spot. His fumbling problems have not helped his cause one bit.
Last season, Bell had issues holding on to the football, and not much has changed. Since the start of camp, Bell has still shown an affinity to put the ball on the ground. Armando Allen and Lorenzo Booker are not better runners than Bell, but they can provide a little more stability and give the same effort on special teams at this point.
The running backs did nothing to stand out in the first preseason game, so his spot is still secure at this point, but if Allen or Booker start to turn it on, it will force the coaches to make a difficult decision. He is going to have to be more reliable while making plays in the running game.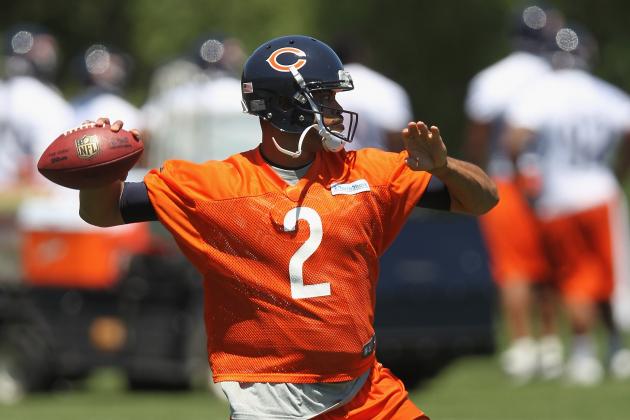 Jonathan Daniel/Getty Images
Jason Campbell
Jason Campbell has been a breath of fresh air. Having a real backup quarterback is a sight for sore eyes to Bears fans everywhere.
Campbell has done and said everything right so far. Most importantly, he has a little bit of a chip on his shoulder since leaving Oakland. This chip has invigorated him, and he is having a good camp. His arm strength and decision-making is strong. Campbell has also bonded well with his teammates thus far.
In the first preseason game, Campbell started in place of Jay Cutler. He was able to make due considering Matt Forte was not there, and the offensive line was poor to put it nicely. He still finished 6-for-10 for 56 yards while being sacked twice.
Hopefully, the Bears will not have to count on Campbell going forward, but it is nice to see him prepare well for his role, and there is full confidence he will be ready if needed.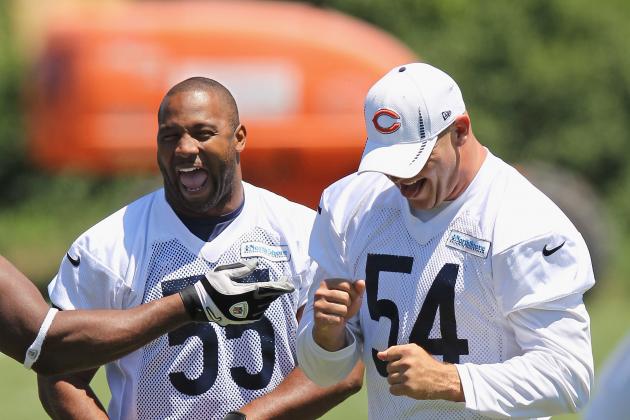 Jonathan Daniel/Getty Images
Brian Urlacher
Ahh, the Brian Urlacher saga. So far, we have seen him in that floppy hat more than a helmet. We have seen the star linebacker miss practice for "personal reasons," knee soreness and now, we have the scope procedure to add to the list.
There is no doubt the worry of Urlacher's readiness is the dominant story thus far in camp. Will he be ready, and how healthy will he be come the start of the season? What started as just a couple days of rest has turned into a big concern.
It is not Urlacher's fault for the injury, and hopefully, the scope was done early enough for him to recover in time for Week 1. Still, not having the leader of the defense on the field everyday has been worrisome and frustrating.
He doesn't want the attention on him, and I'm sure he's tired of answering the same questions. Hopefully, he can come back sooner than later.