Bulls News: Why Derrick Rose Should Sit Out Entire 2012-13 NBA Season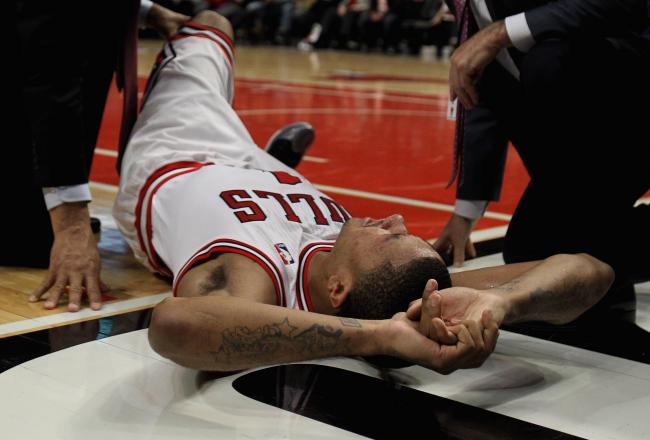 Jonathan Daniel/Getty Images
When Chicago Bulls point guard Derrick Rose went down with an ACL tear in Game 1 of the team's opening-round playoff matchup against the Philadelphia 76ers, most expected the 2011 NBA MVP to miss at least some of the 2012-13 NBA season.
Reports in May (via the Chicago Sun-Times) suggested a January return. That would have only kept the 23-year-old out two months of next season and allowed him to wear off the rust way before the team's playoff run.
Though the initial estimation was optimistic, a July report from the Chicago Tribune (link via CBS Sports) sent most Bulls fans reeling, as Rose's timetable is now pushed back until "likely March."
And according to an interview Bulls chairman Jerry Reinsdorf did with ESPN 1000's Talkin' Baseball, that March date will only be if the point guard is at 100 percent.
Via ESPNChicago.com:
I'm not going to let him back until the doctors tell me that it's absolutely safe for him to come back. I made that mistake with Michael Jordan years ago where I think we let him come back too soon. It worked out OK, but it might not have. This time I'm not going to make that mistake. Until the doctors say he's 100 percent and they put their reputations on the line, he's not coming back.
That position likely explains the Bulls making the acquisition of stopgap solutions the organization's No. 1 priority during this offseason. The team took former Kentucky point guard Marquis Teague in the first round of June's NBA draft and landed veteran guards Kirk Hinrich and Nate Robinson in free agency.
With those stopgaps in place and Rose already set back two months in recovery time, there is absolutely no reason for the Bulls to bring back their superstar at all next season.
Here's why:
Style of Play
If Rose were a spot-up shooter who didn't rely on athleticism to make plays, he could easily return in January and be no worse for the wear.
But that's simply not the case.
Rose is a shoot-first point guard who thrives on slashing into the paint while playing a break-neck open-court game any chance he gets. That style involves a ton of twists and turns in the open court that a knee coming off surgery shouldn't take.
And at this point in his basketball life, Rose isn't changing how he plays. He won't strap on a bulky knee brace, gingerly run the ball up the court and play the Derek Fisher role for the Bulls.
The Bulls offense, much like the LeBron James-led Cavaliers, is almost wholly predicated on the superstar creating shots or taking them himself. Rose's 23.10 usage rate, which is the highest of any NBA point guard, is more out of necessity than ball-hoggery.
If Rose is in the game, he's the superstar. And that's exactly why he should stay as far away from the court as possible next season.
History of Knee Injuries in Guards
As we have seen with Gilbert Arenas and Brandon Roy in recent years, only bad things can happen to guards when they return too soon from a knee injury.
Arenas was a 25-year-old electrifying talent, one of the NBA's foremost superstars, when he went down with a knee injury during the 2007-08 season. Desperate to return from injury before the 2008 playoffs, Arenas left the Washington Wizards locker room disgusted after team doctors refused to clear him to play (via ESPN).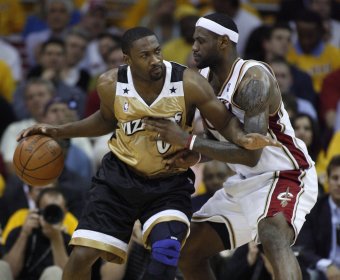 Arenas returned far too soon, as evidenced by his bulky knee brace
Gregory Shamus/Getty Images
Ten days later, Arenas was on the court, and his career never recovered from returning too soon.
Now, at just 30 years old, Arenas has likely played his last NBA game after his run with the Memphis Grizzlies last season exposed him as nothing but a shell of his former self.
Like Arenas, Roy used to be one of the NBA's top-tier guards. But after having surgery on a torn meniscus (via the Portland Trail Blazers' official website) before the 2010 NBA playoffs, Roy ignored the usual four-to-six-week recovery period to return just eight days after surgery.
By December 2011, Roy's knees had deteriorated to the point where he had to retire.
Roy's retirement lasted just one season, but if the Bulls don't want a similar fate for their superstar, allowing for extra rest is the key.
The Bulls Aren't Winning the 2012-13 NBA Championship Anyway
With the Los Angeles Lakers and Miami Heat building Frankensteinian teams to leave the rest of the NBA in the dust, the Bulls will need at least one more superstar to pair with Rose to compete for championships.
As it currently stands, the nucleus of Rose, Joakim Noah, Luol Deng and Carlos Boozer is just good enough to stay in the top tier but nowhere near good enough to compete with Miami or L.A.
Should Derrick Rose sit out the entire 2012-13 NBA season?
But if the team uses its amnesty clause on Boozer's $15.3 million salary next offseason, the Bulls will have enough cap space to land a top-tier free agent like Josh Smith or Andrew Bynum.
Chicago isn't going to land either if it rushes Rose back, he gets re-injured and we're doing all of this again next offseason.
Therefore, it's in the best interest for everyone involved for Rose to sit out the entire 2012-13 NBA season, focus on fully recovering and come back in October 2013 better than ever.
This article is
What is the duplicate article?
Why is this article offensive?
Where is this article plagiarized from?
Why is this article poorly edited?

Chicago Bulls: Like this team?