Chicago Bears: Why Chris Williams Will Win the Starting Job at LT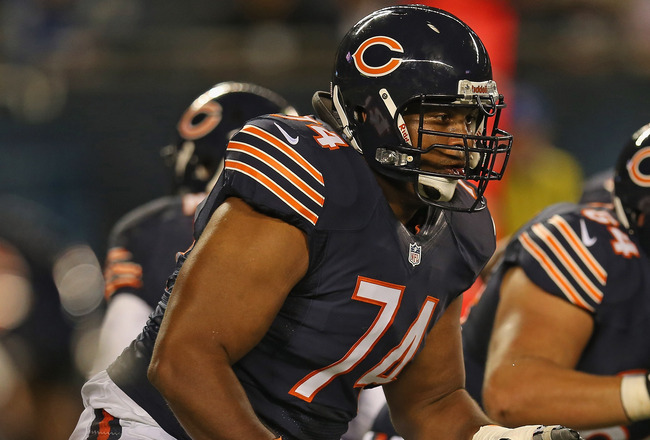 Jonathan Daniel/Getty Images
Say what you want about Jay Cutler's quarterback play and Brandon Marshall's production in his first season in the "Windy City," but no position on the field is more key to the Bears' 2012 success than left tackle.
The Bears offensive line has been anemic, especially in pass protection, the past two seasons, taking more years off Cutler's life than his past relationship drama with wife Kristin Cavallari.
New general manager Phil Emery has already provided his franchise quarterback with some life insurance by taking away Mike Martz's headset. However, a change in coordinators cannot entirely fix faulty protection on Cutler's blind side.
Left tackles J'Marcus Webb and Chris Williams will battle for the starting spot. Webb started all 16 games last season, but continuous struggles have opened the door for competition.
Williams started nine games at left guard in 2011, before being placed on IR with a fractured wrist.
The Bears originally drafted Williams to protect the quarterback's blind side. Here is why he will win the job this season.
Webb's Struggles in 2011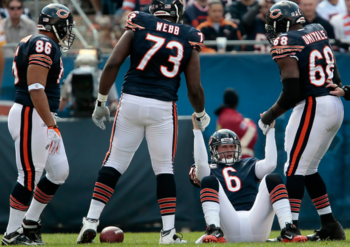 While his starting spot was secure, thanks largely to Gabe Carimi's season-ending injury, Webb struggled at left tackle in 2011.
The former seventh-round pick was a bright spot on the offensive line in 2010, but a change in position (from RT to LT) proved to be a challenging transition.
Webb was the cause for more yellow laundry than a two-year-old in potty training last season, leading the NFL with eight false-start penalties.
Webb tied with Rex Grossman, another fan favorite, for the third-most penalties in 2011. He was also a big reason why the Bears tied for the fifth-most sacks allowed on the season.
To Webb's credit, left tackle is the most difficult position on the offensive line, but the Bears need improvement from the position in order to reach their full potential as an offense.
Webb Caught in Tice's Dog House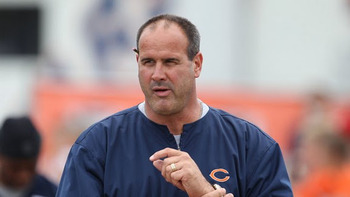 It's probable that Webb's goal this season is to play four quarters every game. Every regular season game that is.
Instead, Tice decided to let his starting left tackle play into the fourth quarter in the Bears' first preseason game against the Denver Broncos. Tice insisted that he wasn't sending a message to his third-year tackle, but it wasn't a coincidence either.
The Bears' first-year offensive coordinator was displeased, to say the least, with the overall performance of his offense, but admitted that some players looked better than others.
This was exemplified by Tice's comments Monday, refusing to call Webb by name. Tice said he was happy with Williams' play, but wouldn't say the same of Webb, according to Brad Biggs' article in The Chicago Tribune. "I felt like Chris had a solid game, and I didn't feel like the other player was up to par as far as the standards we're trying to set at protecting our quarterback," Tice said.
Tice also said that both Webb and Williams will see action with the first-team in Saturday's preseason game against the Washington Redskins.
How they perform against pass-rushing specialist Brian Orakpo will be instrumental in determining their positions on the depth chart.
Williams Will Fulfill Potential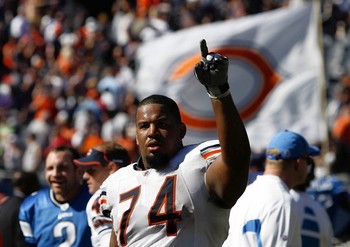 Despite the inconsistency of Webb, Williams hasn't exactly panned out like the Bears had hoped when they took him 15th overall in the 2008 NFL draft.
Selected as the third offensive tackle in the draft, behind two of the best quarterback-protectors in the NFL (Dolphins' Jake Long and Broncos' Ryan Clady), Williams was supposed to be the answer to what has been a revolving door at left tackle.
Williams has battled injuries during his four years in the league, but the Bears hope year five is his best yet.
Williams excelled at lead-blocking for running back Matt Forte last season, but protecting Cutler is the No. 1 goal in 2012, according to Tice in Biggs' article. "I have trouble sleeping at night until I know that our quarterback is protected," Tice said.
The fifth-year tackle is playing in the final season of his rookie contract, providing him motivation to live up to his original hype. Williams has all of the physical tools necessary to win the starting spot, in addition to experience at his natural position.
Williams possesses an edge over Webb in terms of foot speed, which is imperative in staying in front of pass-rushers like Jared Allen. He is also less prone to mistakes, which Tice talked about in Bigg's article. "Chris is a very smart guy," Tice said. "He figures it out very fast. The one thing he doesn't do is make mental mistakes."
With a good performance Saturday against the Redskins, Williams will be on his way to being in the starting lineup on September 9th against the Indianapolis Colts.
Keep Reading

Chicago Bears: Like this team?