Updating Dallas Cowboys' Key Position Battles in Training Camp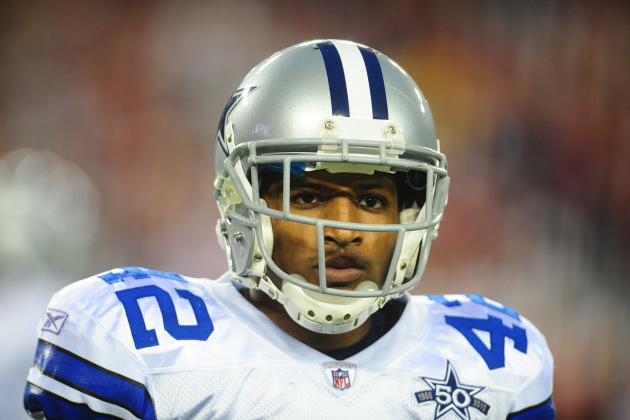 Mark J. Rebilas-US PRESSWIRE

The Dallas Cowboys roster is almost set near the top, but there are quite a few position battles raging in training camp for some important situational and starter roles.
Many of these competitions are fierce, as youngsters compete for only a few slots and their professional football dreams. In some cases, the veterans are the ones fighting for their NFL lifeblood.
Over the last few weeks, certain players have emerged as front-runners in these heated clashes for the opportunity to wear the star on their helmet.
The Cowboys' preseason opener against the Raiders on Monday evening helped to shed additional light on the players who may have the inside track for a coveted spot on the final 53-man roster.
So, let's examine Dallas' key position battles in camp and see who has the edge after the first preseason game.
Begin Slideshow

»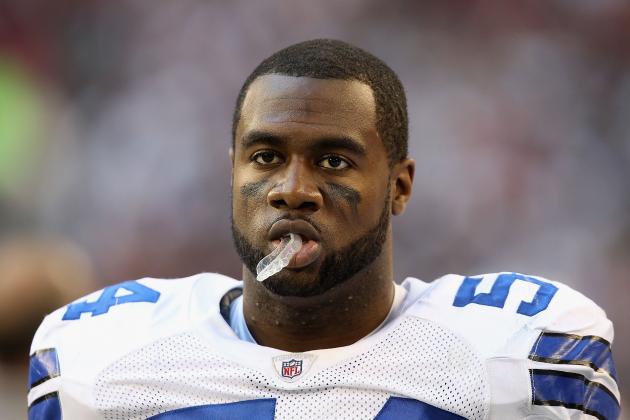 Christian Petersen/Getty Images

Sean Lee is firmly established in the starting lineup, but the middle linebacker who will play beside him is in question.
Dallas selected Bruce Carter in the second round of the 2011 draft to be the future in the middle alongside Lee.
This offseason, the Cowboys inked Dan Connor to provide a stopgap up the middle until Carter fully develops.
But what happens when Carter begins to show signs of emergence, and Connor still plays well?
That's the issue the Cowboys are facing.
Carter and Lee have been splitting first-team reps throughout training camp, and each has been effective.
Connor is just a solid football player. He's always in the right place—even while learning a new system—and always finishes plays.
Carter has been a little more inconsistent than Connor. He's still a rookie in a lot of ways because of the amount of time he missed last training camp and during the season due to injury. So these practices are his first real opportunities to immerse himself in the system.
He hasn't been perfect, but Carter is coming along quickly. Plus, he's shown flashes of a level of brilliance Connor just isn't capable of.
Neither player had a great preseason opener, so there's no real separation there.
However, considering how enamored Dallas is with Carter's potential of playing alongside Lee for a decade, it wouldn't be surprising to see Carter jump into the starter's role in 2012.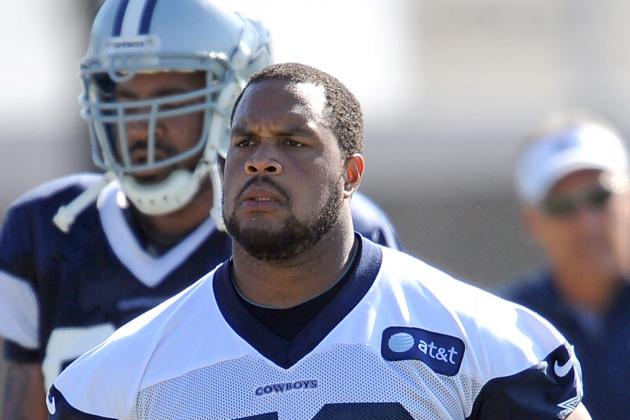 Jayne Kamin-Oncea-US PRESSWIRE

When Dallas signed Mackenzy Bernadeau to a four-year, $11 million deal this offseason, the Cowboys did so with the expectation that he would be the starter.
The only problem is, he can't seem to stay on the field.
Bernadeau started out camp on the PUP list, as he worked to recover from offseason hip and knee surgeries.
He actually didn't have a full-contact workout in camp until last Thursday, more than two weeks after practices kicked off.
His early injury issues have opened up the right guard spot to competition in camp, and now it's a three-way battle for the role.
David Arkin and rookie Ronald Leary—an undrafted right guard from Memphis that the Cowboys are quite high on—have joined Bernadeau and are now battling it out for the spot.
Both Leary and Arkin have looked shaky early on in camp. So, the job is still likely Bernadeau's to lose, though none of the group looked particularly impressive against Oakland.
Unless Bernadeau comes down with another injury, expect him to be lining up on the right side on opening night against the Giants.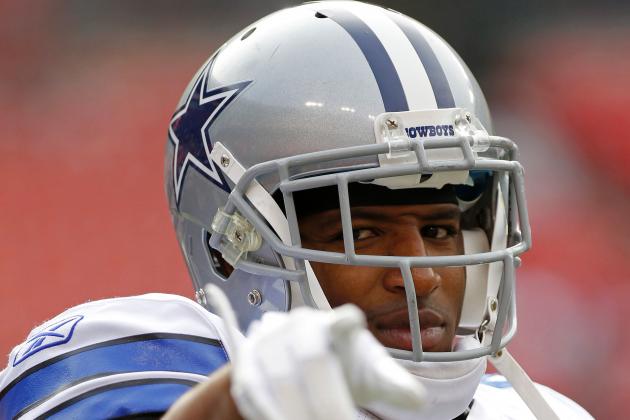 Geoff Burke-US PRESSWIRE

Heading into camp, strong safety looked to be the fiercest position battle for Dallas.
However, veteran Brodney Pool ensured a quick end to that. He arrived at camp out of shape and failed the opening conditioning test.
That seemed to be all the Cowboys needed to see to decide the safety battle, because they cut Pool a week later.
This decision leaves Barry Church as the likely starting safety, and it's well-deserved.
Church had one of the best offseasons out of any Cowboys player and has looked quite impressive early in camp.
He's instinctive with the ball in the air and is capable of making an impact at the line in run protection.
Church showed nothing to change the coaching staff's positive opinion of him against the Raiders. He was effective in coverage, came up with two tackles and made no egregious errors.
Expect Church to line up as the starting strong safety for the remainder of the preseason and well into the regular season.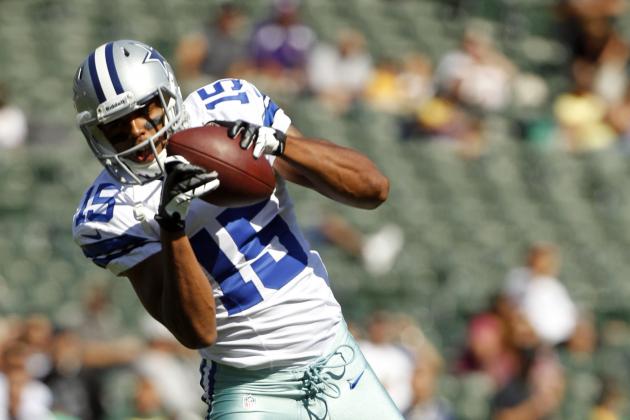 Cary Emondson-US PRESSWIRE

This is by far the most wide-open contest in camp.
Behind Dez Bryant and Miles Austin, there isn't much experience, but there is a glut of young wideouts.
Kevin Ogletree is the veteran of the group competing for the third receiver slot, but he hasn't exactly lit up the NFL in his three years with the Cowboys—he only has 25 career receptions.
However, compared to the other skill players competing for these slots, he's a savvy, battle-hardened vet.
That's because a huge group of first- and second-year players are sitting behind him, including Dwayne Harris, Andre Holmes, Raymond Radway, Danny Coale, Tim Benford and Cole Beasley.
Coale was the Cowboys' fifth-round pick, but he's been out all of camp due to injury.
Harris and Radway have each gone through the exhibition season with Dallas before, but both have been inconsistent thus far. And neither made much of an impact against Oakland.
However, Beasley and Holmes have impressed throughout camp.
Beasley has looked great in practice, working in the slot and returning punts. Holmes has looked good as well, and his athletic 6'5" frame has intrigued many.
In addition, both played very well in the preseason opener.
Homes had three receptions for 40 yards and made a few really impressive catches. Beasley looked solid too. He was good in the return game and looked at home in the slot.
If the season started right now, it would likely be Ogletree, Holmes and Beasley making the roster at receiver, in that order.
But, there is still a lot of camp to go.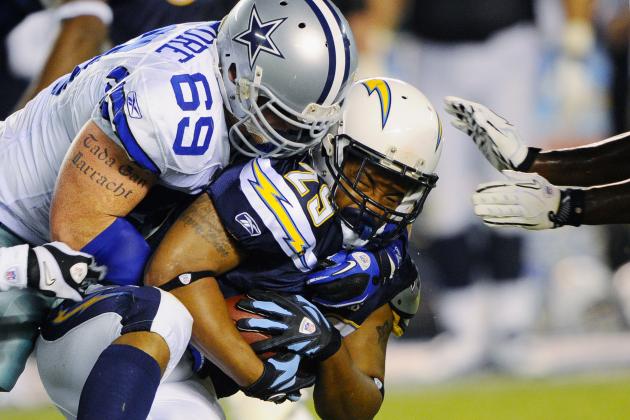 Kevork Djansezian/Getty Images

Kenyon Coleman was brought in last season to start at defensive end, and Marcus Spears was brought back in 2012 to help solidify the line.
However, both have been outplayed in camp by third-year player Sean Lissemore.
Lissemore has been a steady riser over the last few seasons for Dallas. He's a high-motor player who always seems to be around the ball and has the versatility coaches love, thanks to his ability to play all three positions on the line.
Not only that, he's young. And the Cowboys would love to find a place for him on the field.
That means that it could come at the expense of veterans Spears and Coleman, each of whom have contracts the Cowboys wouldn't mind shedding.
There is no guarantee Lissemore can do enough to be the starter; he may actually be better suited as a versatile backup.
But one thing is for sure: Defensive coordinator Rob Ryan will have him on the field, according to ESPNDallas.com:
"Whether he starts or is a backup, he's going to play the same number of snaps as a starter does," Ryan said. "It's no real big difference. I think he's got great position flexibility, which adds to his reps. However it comes out, Sean Lissemore is going to be a big part of us."
This is great news for Lisssemore but could spell trouble for Spears or Coleman—one of which will likely be looking for a new team before the season starts if Lissemore continues his quick ascent up the depth chart.