Andrew Luck: Small Sample Size in Preseason Opener Doesn't Guarantee Success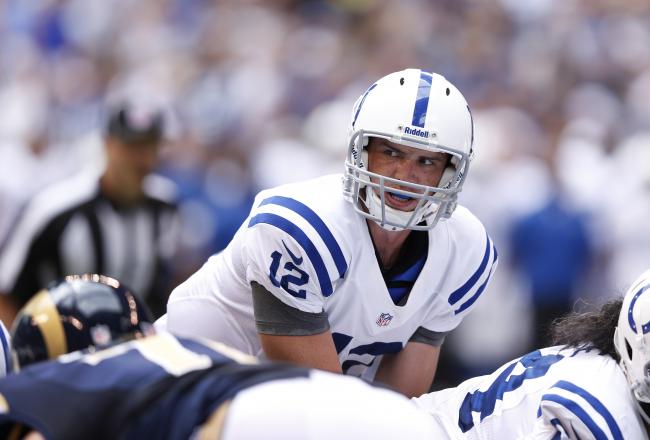 Joe Robbins/Getty Images
Andrew Luck had a great game against the St. Louis Rams on Sunday.
But it's important to remember it was a preseason game. And it was against the Rams.
Having the kind of game Luck had in his first-ever appearance in a professional game was great for his confidence. It was also great for the Colts' confidence as they forge a comeback from last year's disappointment, and as they move forward from the Peyton Manning Era.
But one solid preseason game does not a superstar quarterback make.
In the Colts' 38-3 win over St. Louis on Monday, Luck went 10-for-16 for 188 yards, two touchdowns and zero interceptions. He took the most attempts of any Colts quarterback and had the best numbers. It was a best-case introduction for him.
Already, one guy is buying into the Luck hype: St. Louis coach Jeff Fisher, who told The Associated Press via Yahoo! Sports after the game:
He's going to be a really good player. We knew that before playing him today. He's got that sense and he's smart. We've got unblocked rushers twice and he got out of there to avoid the sacks by spinning out of there.
But St. Louis' defense wasn't exactly a brick wall in 2011. It finished No. 22 in the league and allowed an average of 358.4 yards per game. It's not fair to say the Rams haven't improved at all in the offseason, because maybe they have. But it's impossible to know whether Luck would've lit it up against a storied defense like that of the Steelers or the Ravens.
This isn't about raining on Luck's parade, and it's not about downgrading anything he accomplished on Monday. Compared with Robert Griffin III (4-for-6, 70 yards, one TD) and Ryan Tannehill (14-for-21, 167 yards, one TD), Luck stacked up pretty nicely. Plus, he wasn't sacked once and took 24 snaps, just enough to provide an adequate sample size in his first game.
Nobody is saying that Luck's performance on Monday was a bad sign. If anything, it was a big old positive. But Luck's true worth will be proven during the regular season, in games against the Steelers and the Ravens and the Patriots, during two-minute drills and overtimes, when the pressure is really on.
That is when Peyton Manning really shined, and that is where Andrew Luck is going to have to shine in order to prove that he, too, is worthy of that kind of adulation.
In today's sports culture, we love to hype up players who make a good first impression. When Tim Tebow won a bunch of games in a row, we were suddenly treating him like he was the next league MVP. When Jeremy Lin looked pretty good in fewer than 30 games for the Knicks, we were calling him the next elite point guard in the NBA.
We want to believe these guys are as good as the hype suggests because it's fun to root for them. But that doesn't mean that they're automatic legends.
Luck was good on Monday, but he didn't necessarily prove that he's going to pick up right where Peyton Manning left off. It's just a preseason game.
This article is
What is the duplicate article?
Why is this article offensive?
Where is this article plagiarized from?
Why is this article poorly edited?

Indianapolis Colts: Like this team?